CSX Transportation

CSX Transportation (it's name deriving with the "C" standing for Chessie, "S" Seaboard, and "X" a multiplication symbol meaning that "together we are so much more"), a division of CSX Corporation, was originally created in 1980 as a holding company and its family tree is quite diverse! The company was created when the Chessie System; which was a holding company for the Chesapeake & Ohio, Baltimore & Ohio and Western Maryland Railroads merged with Seaboard Coastline Industries; which was a holding company for the Seaboard Coast Line, Clinchfield, and Louisville & Nashville Railroads as well as the "Georgia Group" which consisted of a few Georgia shortlines, and (very confusing, right!). Together this new company called itself the Family Lines, however, the new company only lasted a few years when all of the companies under the banner were merged to form the Seaboard System.
Clad in the old stealth grey livery, CSX C40-8 #7543 and two mates pass the historic B&O CPLs at Magnolia, West Virginia as they power autorack train #R217 on October 17, 1992.
CSXT, however, would not remain a holding company only, as just seven years later all of the lines under its banner, other holding companies and all, were merged directly into it. While the Southern railroads were merged into their holding company in 1982 the Chessie System roads survived all the way until the end, albeit as "paper' companies only. The year 1987 found much history disappearing as the fabled Baltimore & Ohio Railroad, which ironically celebrated its 160th birthday just before formally being merged out of existence on April 30th; its owner since 1962, the Chesapeake & Ohio (with a history of nearly 120 years) followed suite just a month later and was folded into its parent that May.
After the merger of the two railroad systems into CSXT Transportation, the new railroad became the largest east of the Mississippi, dwarfing the then recently formed Consolidated Rail Corporation (Conrail) (a government created and financed railroad to restore order to the northeastern rail market that went belly-up after the Penn Central disaster), Norfolk & Western and Southern Railways, which merged just two years later in 1982 to form Norfolk Southern. Even with the creation of Norfolk Southern that new railroad was still much smaller than its rival.
CSXT pig train #R191 led by GP40-2 #6220 and two counterparts scurry past the B&O's now-gone JD tower (razed in 1994) at Hyattsville, Maryland on June 24, 1993. When this photo was taken the interlocking tower had only been closed for a year.
However, unlike the Chessie System, which was an efficiently operated and well-managed railroad these practices never truly carried on into CSXT. Although much larger at the time than its biggest competitor, Norfolk Southern, the latter has consistently earned higher profits with an overall lower operating ratio. As an NS employee once stated, "If CSX ever learns how to run a railroad we could be in real trouble." Likewise, since Hays T. Watkins (CSXT's first chairman) left CSXT in 1988 the railroad seemingly lacked an effective management system until the mid-2000s. Today, CSX Transportation is coming on strong as one of the most efficiently operated railroads in the country (for instance, as of mid-2010 it posted its lowest operating ratio ever).
On a beautiful spring morning a pair of CSXT AC4400CWs led by #44 are in rural Buzz, Pennsylvania with their northbound coal drag on May 3, 2002.
Mr. Watkins' departure, however, was not the beginning of CSX's problems. In 1985 it made a questionable decision by many in abandoning the B&O's St. Louis main line, which connected the aforementioned city with the Port of Baltimore, a direct east-west route. When the intermodal COFC (container-on-flatcar) revolution began to gain momentum just after the 1985 abandonment, the railroad was left without a competitive means to move containers until its acquisition of Conrail in 1999.
However, despite the apparent lack of vision in abandoning the B&O's St. Louis main line, the route through West Virginia was extremely expensive to operate and maintain, not to mention the fact that its numerous tunnels restricted the amount of through traffic such as containers which could be transported over the route. Looking back, at least at the time, abandoning the line did prove successful in saving the railroad money.
Fall has come to the Appalachians of western Maryland as CSX coal drag #B880, led by a pair of AC4400CWs, heads westbound through Morrison and towards the power plant at Mt. Storm, West Virginia on October 13, 2006.
That year, 1999 in which CSXT acquired Conrail, proved to be a very costly battle with Norfolk Southern for the Northeastern carrier, which had direct access to the large markets of Philadelphia, Boston, and New York City. The fight eventually was settled with a split of the railroad as CSXT gained 42% of the railroad and NS taking the other 58%. The disaster across the country with the acquisition of the Southern Pacific by the Union Pacific (the UP almost literally shutdown when operations nearly ground to a halt) repeated itself again just three years later in 1999. While both railroads had their problems in swallowing their half of Conrail, NS did a much better job of righting itself, mostly because of the management practices the railroad had put in place since the days of the Southern and Norfolk & Western Railways.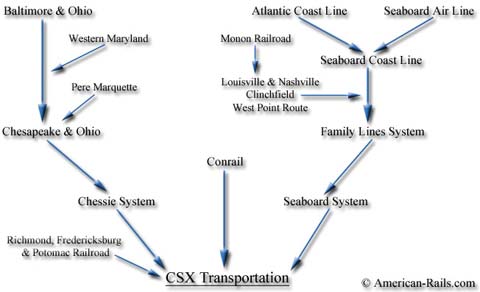 The above map gives a family tree of the largest railroads which have made up CSX Transportation. More information about each can be found in the below links:
Louisville & Nashville Railroad
An aging CSXT GP40-2, #6499, hits a rural grade crossing at Willow Island, West Virginia along the Ohio River Subdivision in February of 2006. This workhorse began life on the Chesapeake & Ohio/Chessie System in January of 1980 as #4391.
While the future of CSXT is as much of a guess to anyone as its past has already been, many in the industry and those who study it see two mega-railroads evolve with CSX merging with one of the western railroads (it has been studied that BNSF Railway) and Union Pacific likely joining with Norfolk Southern although only the future will tell how it all plays out. CSXT is often criticized for its lack of vision and its practice of habitually abandoning rail lines simply because they do not meet a particular profit margin. However, despite this and even if the railroad deserved said criticism it has been a well managed railroad over the last handful of years, which looks to continue through the foreseeable future.  Whatever happens with CSX Transportation one thing is certain; it is a railroad rich in history, which stretches from the Northeast to the Southeast, and points west to Chicago and New Orleans. Perhaps one day, before the merger movement begins again CSXT will find its true identity and direction with an efficient and effective management team.
---
---
CSX AC4400CW #561 leads eastbound autorack train #Q226 along the New Castle Subdivision and past the venerable B&O CPLs at Niles, Ohio on September 21, 2007.
To learn more about CSX Transportation please click here to visit their official website. For more reading about CSX consider the book CSX by Brian Solomon. The author does a great job of giving a general history of the railroad from its earliest beginnings in 1980 to its present day system that includes Conrail. Along with being filled with photographs within its 160 pages (it is put out by MBI Publishing which always features top-notch photography in its books) if you have any interest in the present-day CSX system you will very likely enjoy Mr. Solomon's book. If you're interested in perhaps purchasing this book please visit the link below which will take you to ordering information through Amazon.com, the trusted online shopping network.
---
---