The Delaware and Hudson Railway, The Bridge Line

The Delaware and Hudson Railway, our country's oldest still-surviving transportation company has been in operation for three centuries now. Indeed, while the railroad itself is now buried within the Canadian Pacific and no longer operates as an independent company and has lost almost all of its identity, it still technically continues to carry its original name on paper. While the D&H never carried a celebrity status or owned more than 1,000 route miles it soldiered on and did its job well for over a century operating independently. It also outlived its Northeastern competitors by several years!
The little railroad, tucked away in the northern reaches of New England for much of its independent life carried on in relative obscurity. Its life began in 1823, originally as the Delaware & Hudson Canal Company to haul anthracite coal from Carbdondale, Pennsylvania to New York City. It was not until six years later in 1829 that it began using steam power to move goods between Carbdondale and Honesdale, PA, roughly 16 miles of main line.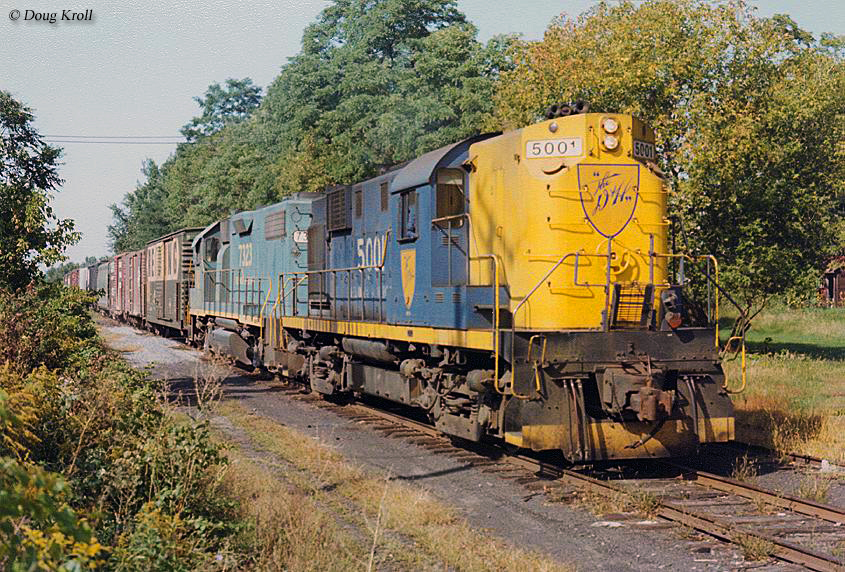 The Delaware & Hudson loved its Alcos as witnessed here with RS11 #5001 leading a local freight through Eagle Bridge, New York on September 28, 1980.
From this point on, of course, steel rail was the way to go and after the Civil War the D&H began to expand both north and south. Like most now-famous fallen flags the system came together through a series of new construction and outright takeover of smaller railroads. By the late 19th century the D&H had, for the most part, reached its pinnacle in route miles (at least until the Conrail formation in 1976), operating over 700 miles of track. Its lines extended as far south as Wilkes-Barre, Pennsylvania, and New York City courtesy of a strong ally in the New York Central. To the north the railroad served Montreal, Quebec and a branch to Lake Placid, New York.
The railroad did not extend much to the east or west and held mostly its main line between Pennsylvania and northern New York as its chief source of traffic. Aside from Albany, New York (the railroad's headquarters), Binghamton, NY, and Rutland, Vermont the railroad's other branches did not extend to large towns or cities and mostly served the anthracite regions. Anthracite, as was the case with so many other Northeastern carriers that had banked their livelihoods on the coal, would cheat the Delaware & Hudson following the Great Depression (the railroad at one point earned over half its yearly revenues from anthracite). To make up for the major loss in traffic the railroad turned to a source of revenue that would sustain it for the rest of its independent life, bridge traffic.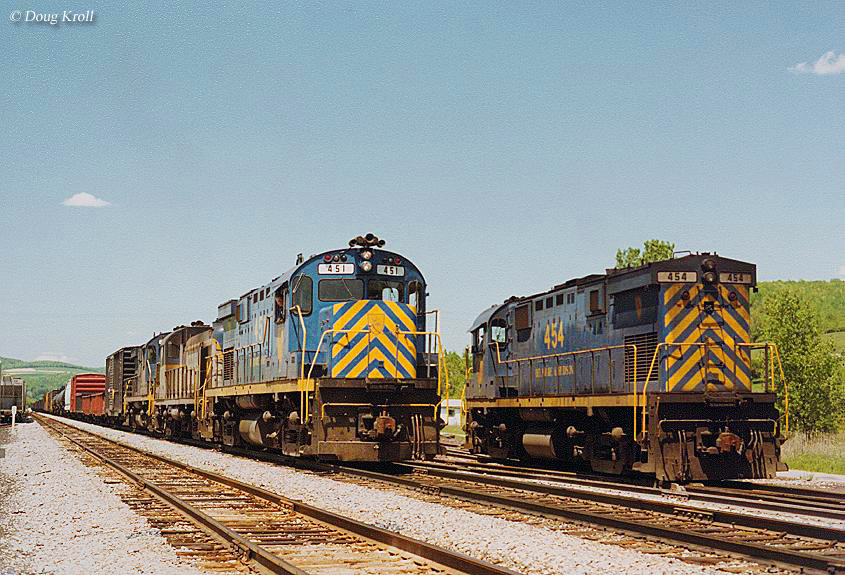 Two C424ms and an RS3 lead an eastbound train through Hornell, New York as it passes C424m #454 on May 31, 1981.
While it continued to carry originating traffic from a number of different sources, bridge traffic would be the main stable of its revenues.   The railroad never had a significant or large passenger fleet, obviously due to the railroad's small size. However, it did have a few notable passenger trains including the Montreal Limited and Laurentian, the latter of which was the best known of its fleet. The Montreal Limited provided overnight service between New York City and Montreal, courtesy of help from the New York Central, while the Laurentian provided daytime connections throughout upstate New York as well as through the Great Lakes region.
Perhaps most interesting aspect of the railroad's passenger operations is that they grew in popularity following the arrival of new president Frederic Dumaine in 1967. Dumaine was a big proponent of passenger and rail and upgraded the fleet with newer secondhand equipment. Purchasing two former AT&SF Alco PAs, a very beautiful locomotive design, and streamlined equipment the D&H's two flagship trains transformed into rather stunning trains, featuring a splendid and eye-catching mix of blue, yellow, and silver livery. Curiously, while both trains were axed by Amtrak following its startup in the spring of 1971 a push by the Delaware and Hudson and State of New York actually worked in returning the New York-Montreal run back into service with Amtrak naming the train the Adirondack (which still operates to this day).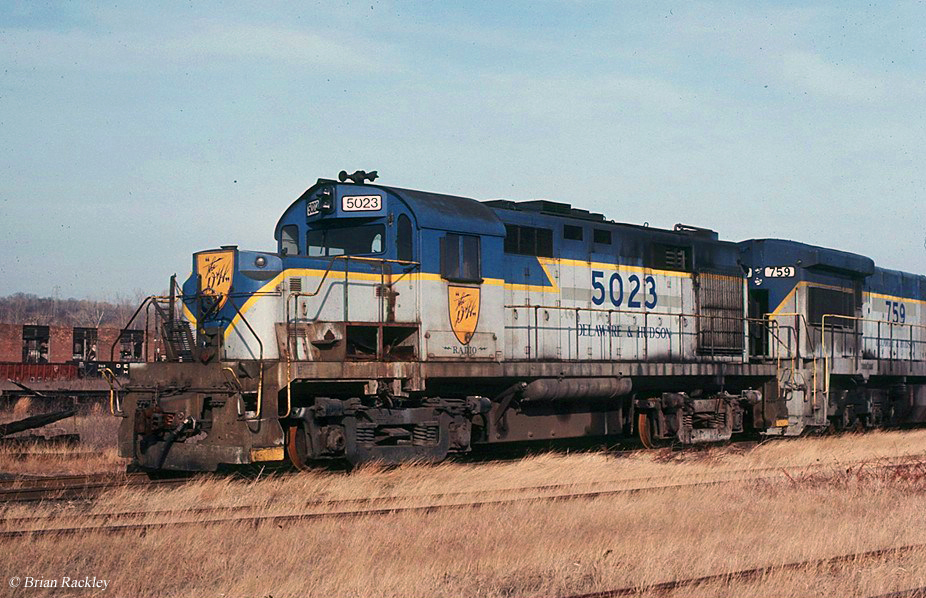 RS36 #5023 sits at Watervliet, New York with U33C #759 on January 5, 1983.
The D&H, a company that probably should no longer exist, remains today (at least on paper) because of a series of events which took place in the 1970s beginning with the downfall of the Northeast rail industry. With the collapse of the Penn Central and almost all other Northeastern carriers the railroad was destined to likely disappear into either Conrail, which followed, or another large carrier as well. Instead, in an effort to retain some type of rail service in the northeast the government decided to not only allow the D&H to remain but also give the road a broader market to serve. The result was a railroad, which nearly doubled in size when Conrail started up in the spring of 1976! The new routes given to the D&H included trackage rights over Conrail between Binghamton and Buffalo (and a connection with the Norfolk & Western Railway) as well as Newark (New Jersey), Philadelphia and Washington, D.C.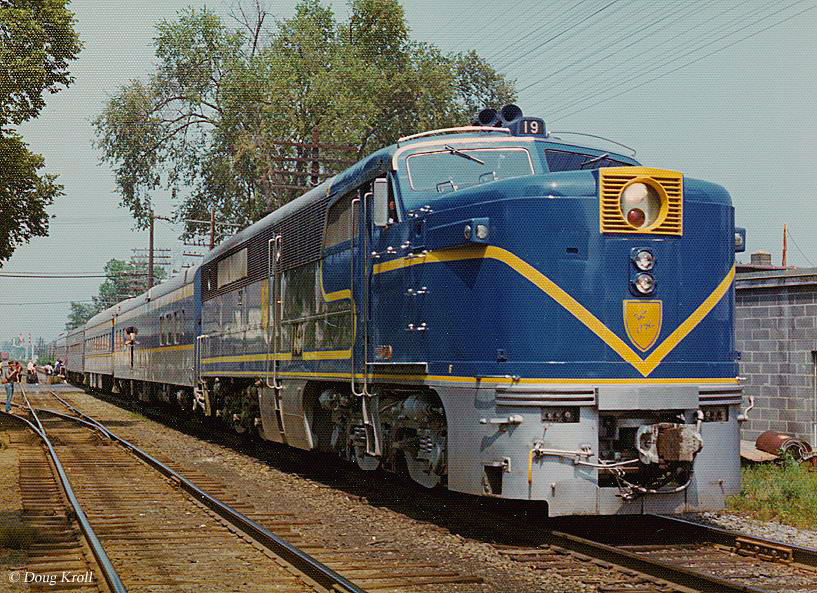 The railroad's quartet former Santa Fe PAs made quite a public relations splash; seen here is PA-4 #19 (rebuilt by Morrison-Knudsen before acquired by the railroad) loading passengers at Fort Edward, New York as it leads the Adirondack on July 8, 1975.
Alas, however, due to the railroad's small size it was eventually destined to be purchased, which happened in 1981 when Guilford Transportation took over the railroad. The D&H lasted a number of years in the Guilford system before being purchased by the Canadian Pacific which slowly began merging the railroad into its own system. Today, the D&H is all but another part of the vast CP system, although its name technically still remains. The little railroad has certainly lived an interesting and fascinating life, a big reason why it has gained such a devoted following over the years. While the railroad itself is all but a memory it continues to live on in a historical society dedicated to preserving its past.
Diesel Locomotive Roster
The American Locomotive Company
| Model Type | Road Number | Date Built | Quantity |
| --- | --- | --- | --- |
| PA-1/4 | 16-19 (Ex-AT&SF) | 1947-1948 | 4 |
| C420 | 200-209 (Ex-LV), 404-415 (Ex-LV) | 1963-1964 | 22 |
| C424 | 451-463 (Ex-EL and Ex-Reading) | 1963 | 13 |
| C628 | 601-618 | 1964-1965 | 18 |
| S2 | 3000-3032 | 1944-1949 | 33 |
| S4 | 3033-3050 | 1950 | 18 |
| RS2 | 4000-4024, 4050-4051 | 1944-1949 | 27 |
| RS3/m | 4026-4129 | 1950-1954 | 104 |
| RS11 | 5000-5011 | 1960-1961 | 12 |
| RS36 | 5012-5023 | 1963 | 12 |
The Baldwin Locomotive Works
| Model Type | Road Number | Date Built | Quantity |
| --- | --- | --- | --- |
| RF16 | 1205, 1216 (Ex-NYC) | 1951 | 2 |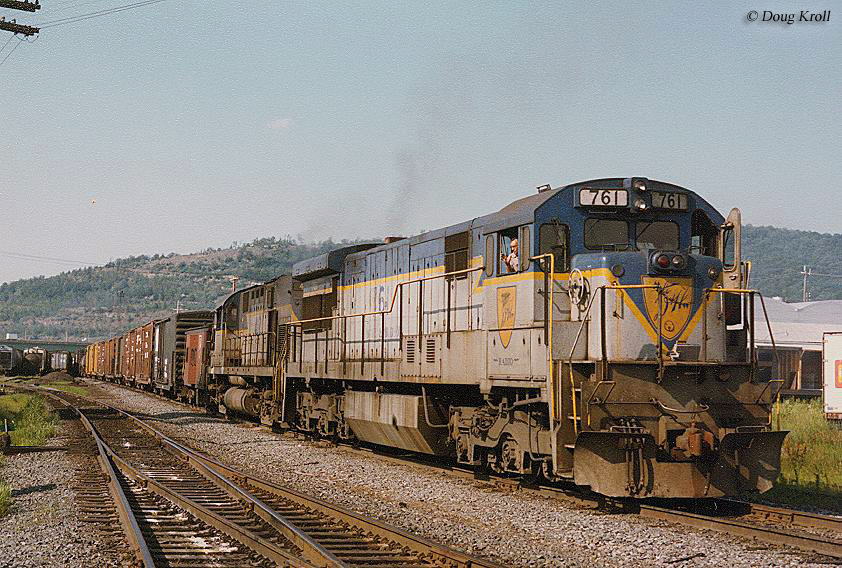 U33C #761 and C420 #412 are helpers on train PYRO, assisting the climb out of Binghamton, New York on July 14, 1984.
The Electro-Motive Corporation/Electro-Motive Division
| Model Type | Road Number | Date Built | Quantity |
| --- | --- | --- | --- |
| SD45 | 801-803 | 1966 | 3 |
| GP38-2 | 7314-7325 (Ex-LV) | 1972 | 10 |
| GP39-2 | 7401-7420 (Ex-Reading), 7601-7620 | 1974-1976 | 40 |
General Electric
| Model Type | Road Number | Date Built | Quantity |
| --- | --- | --- | --- |
| U23B | 301-316 | 1968 | 16 |
| U30C | 701-712 | 1967 | 12 |
| U33C | 650-656 (Ex-PC), 751-753 (Ex-EL), 754-762 | 1968-1970 | 19 |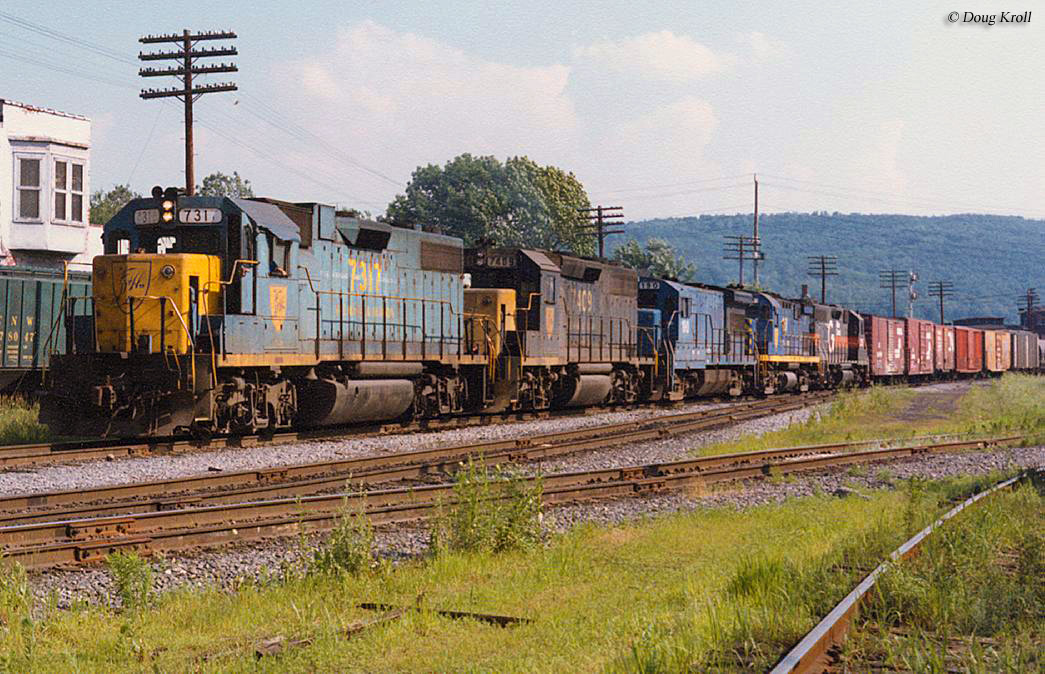 A parade of colorful locomotives lead train PYRO out of Binghamton on July 14, 1984 with GP38-2 #7317 up front.
Steam Locomotive Roster

| Class | Type | Wheel Arrangement |
| --- | --- | --- |
| B-4 Through B-7 | Switcher | 0-6-0, 0-8-0 |
| C-1, C-2 | Mogul | 2-6-0 |
| D-3 (Various) | Ten-Wheeler | 4-6-0 |
| E-2 Through E-7 | Consolidation | 2-8-0 |
| E-7 | Twelve-Wheeler | 4-8-0 |
| H | Articulated | 0-8-8-0 |
| H-1 | Articulated | 2-6-6-0 |
| J | Challenger | 4-6-6-4 |
| K | Northern | 4-8-4 |
| P, P-1 | Pacific | 4-6-2 |
Notable Passenger Trains
Laurentian: (New York - Albany - Montreal)
Montreal Limited: (New York - Albany - Montreal)
---
---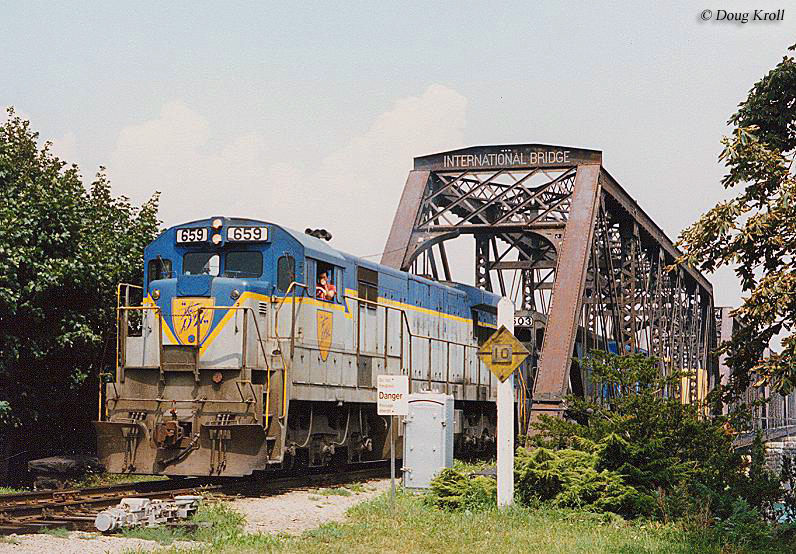 U33C #659 leads train SKCN across the International Bridge as it is bound for Ft. Erie, Ontario on July 25, 1987.
For a detailed look at the D&H through color photography consider, Delaware and Hudson: Thunder & Lightning Stripes, from Jaime Serensits. Included is a general history of the railroad and with the book's fine color photography any fan or historian of The Bridge Line will surely enjoy the publication. You may also want to consider the book Delaware & Hudson: The History of an Important Railroad Whose Antecedent Was a Canal Network to Transport Coal by author Jim Shaughnessy which gives a general history of the D&H from its earliest beginnings in the early 19th century before it was even in the railroad business. The book is a very good read and excellent resource on the D&H that has received excellent reviews by readers. If you're interested in perhaps purchasing either (or both) of these books please visit the links below which will take you to ordering information through Amazon.com, the trusted online shopping network.