"Laurentian" (Train)
Published: November 13, 2023
By: Adam Burns

The Laurentian was a passenger train service operated by the Delaware and Hudson (D&H) between New York City and Montreal, Canada.
The service began in 1923 and was named after the Laurentide Uplands near the St. Lawrence River. The train was known for its scenic route through the Adirondack Mountains and along Lake Champlain.
The daytime Laurentian, and its overnight countepart, the Montreal Limited, were D&H's premier passenger trains along its 375-mile New York-Albany-Montreal corridor hosted in conjunction with the New York Central.
After World War II, D&H management became disenchanted with passenger service as ridership sharply declined.  However, public outcry spared the trains from cancellation.
When Frederic Dumaine became president in 1967 he heavily reequipped the Laurentian, even purchasing ex-Santa Fe PAs to lead the train.  It continued to run until April 30, 1971.  The following day Amtrak took over most intercity services throughout the country.
Interestingly, the train's cancellation also meant an end to all Montreal-New York passenger service.  It subsequently returned under Amtrak on August 6, 1974 as the Adirondack.
The train initially ran with D&H equipment, including the road's venerable Alco PAs. This setup continued until 1977. Today, the Adirondack continues to operate the same Montreal-New York corridor.

Photos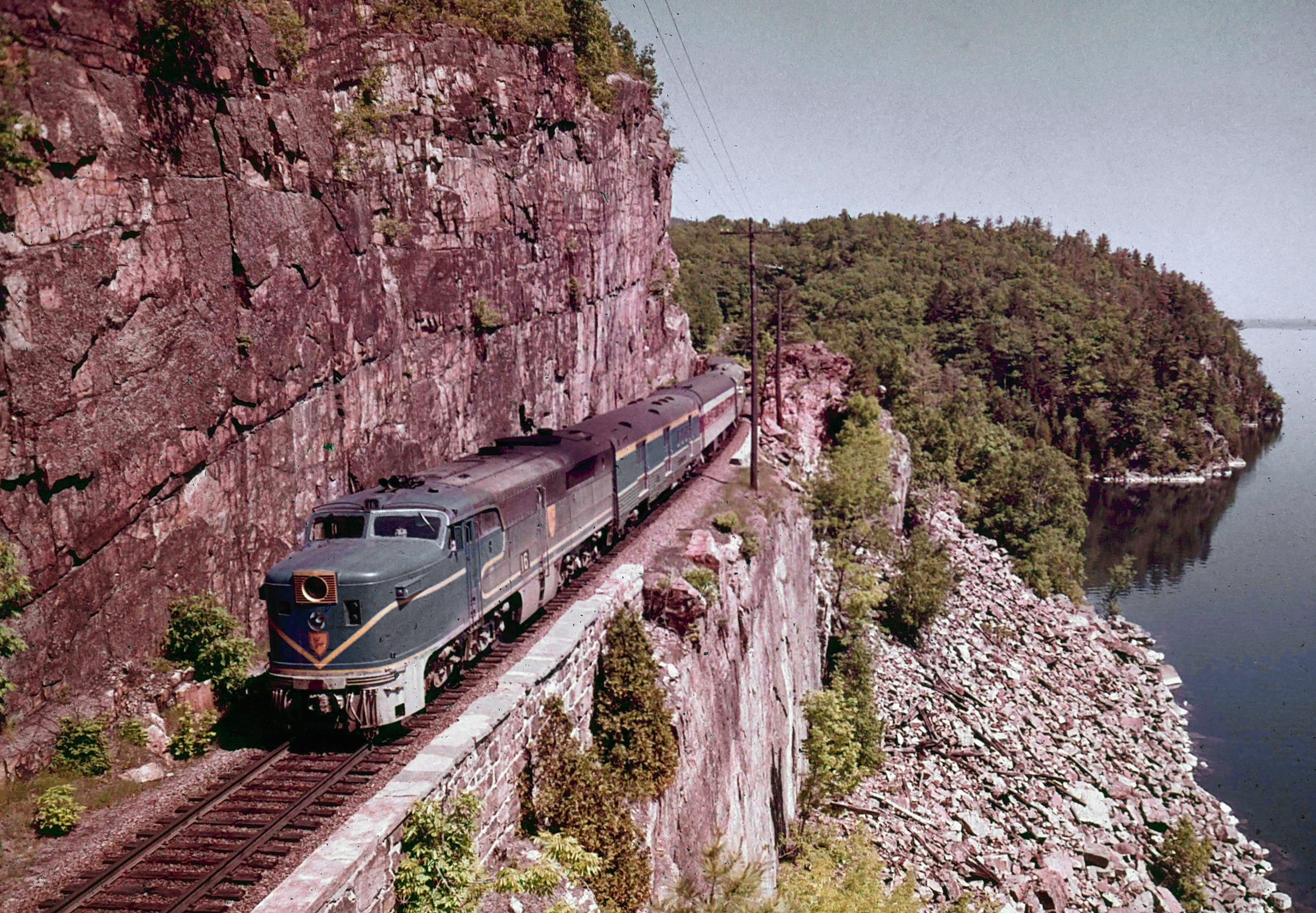 Delaware & Hudson PA #16 leads the "Laurentian" southbound along the scenic Red Rocks of Lake Champlain's Willsboro Bay during the late 1960s. Jim Shaughnessy photo. American-Rails.com collection.
History
As Mike Schafer notes in his book, "More Classic American Railroads," neither the D&H's 241-mile Albany-Montreal corridor north its southerly extension reaching Binghamton, New York and Wilkes-Barre, Pennsylvania, were large enough to warrant extensive passenger services.
Its primary competitors in this region included the Central Vermont, Rutland, and Boston & Maine although only the D&H enjoyed a friendly connection with the New York Central for a through service to New York Central.
The Laurentian, was Delaware & Hudson's premier daytime service to Montreal.  The train was inaugurated in 1923 and was generally successful until World War II, in large part due to its NYC connection.
Navigating an integral route, the Laurentian covered approximately 375 miles. It offered a straightforward connection between these two vibrant cities, bringing their cultures, businesses, and landscapes closer together.
During its peak years the train's onboard services reflected the train's emphasis on passenger comfort and convenience.  
Offering a full dining car, parlor service, and reclining seat coaches, the Laurentian ensured an enjoyable journey experience. Passengers onboard could also indulge in the awe-inspiring landscapes through large viewing windows, enhancing the travel experience.
As early as 1964, the Delaware and Hudson considered discontinuing the Laurentian due to rising costs and declining ridership. However, significant public outcry, particularly from New York state residents, resulted in the service's continuation.
At A Glance
Route

New York - Albany - Montreal

Travel Time

10 Hours and 15 Minutes (1952)

Service History

1923 - April 30, 1971

Train Numbers

37/35 (D&H)

95/143 (NYC)

Distance

375 Miles

End Terminals

Grand Central Terminal (New York)

Windsor Station (Montreal)
Soon after Dumaine became president in 1967, he completely changed the railroad's stance towards passenger service stating if the D&H was going to be in the railroad business, it should be in it all the way.
As Jim Shaughnessy states in his book, "Delaware & Hudson: The Bridge Line To New England and Canada," it wasn't quite clear what Dumaine meant by such a statement. 
Nevertheless, he sunk considerable resources into a service that most other railroads were attempting to abandon.  To upgrade the Laurentian he quickly brought back dining service by first leasing New Haven equipment and then later Chesapeake & Ohio cars.
In October, 1967 he purchased a dozen streamlined cars from the Rio Grande, including a tavern-lounge, and also returned hostess service to the train. 
His most radical acquisition was a group of four former Santa Fe PA-1s in December, 1967.  Numbered 16-19 (a fifth, former New Haven #0783 was used for spare parts) the locomotives wore an attractive version of the "Warbonnet" livery.
The D&H retained the scheme's basic appearance but simply changed the colors and applied a "V" pinstripe to the nose.  Much of the streamlined equipment was also repainted into D&H colors. 
Final Years
Despite its commendable operations, the Laurentian was discontinued on April 30, 1971. The discontinuation was primarily due to operational challenges, rising maintenance costs, and changing passenger preferences. However, its legacy lived on, with rerouted services continuing under new management.
The Laurentian's run was characterized by a delicate balance between maintaining operational profitability and fulfilling its commitment to its passengers. The ongoing discussions concerning the train's discontinuation were eventually overpowered by the collective voice of its passionate ridership, allowing it to continue its services even amidst shifting railroad trends.
The journey on the Laurentian boasted remarkable views of varied landscapes, particularly due to its trajectory on the Delaware and Hudson and New York Central tracks.
Passengers on board had exclusive access to mesmerizing vistas of sparkling water bodies, elevated terrains, picturesque rural landscapes, and vibrant urban panoramas throughout New York.
Adirondack
Following the Laurentian's official discontinuation in 1971, its services didn't die out entirely. Instead, public support again saw the service return under Amtrak.
What was known as the Adirondack resumed operation on August 6, 1974, interestingly using the same D&H equipment - even the handsome PAs for a time.  Today, the train remains one of Amtrak's popular services, witnessing more than 100,000 riders annually.
Legacy
Despite being replaced by modern services, the Laurentian is not forgotten. Through vintage photographs, retro train models, and historical narratives, the tale of the train continues to be told, educating new generations about this iconic train's contributions.

In its running years, the Laurentian's trajectory navigated a course rich with significant landmarks, bustling cities, and rural landscapes sharing a taste of the regional life. This made the train not just a simple train route, but a moving window into the culture and geography of North-East America and South-East Canada.
Reflecting on the Laurentian's operational run reveals it as more than just a passenger railroad service. It was a platform that promoted interstate mobility, fuelled regional economies, spurred cultural exchange, and physically embodied technological advancements of its time.
Despite the discontinued services, the Laurentian's reputation as a robust, reliable, and comfortable railroad service continues to endure. Its operational prowess and commitment to passenger comfort set a high standard for following train services.
Stories of the train continue to resonate in the railway enthusiast community, with individuals reminiscing about delightful journeys along the scenic route or conversations with fellow passengers. These memories and stories underline the sentimental value of the Laurentian, making it more than just a service in railroad history.
Even after its operational termination, continues to form a significant part of the Delaware and Hudson's legacy. While the Laurentian was popular for its comfort and scenic route, its discontinuation brought forth a renewed focus on the need for sustainable rail transportation, especially considering rising operational costs.
This underlined the need for advancing rail technology and infrastructure, intending to meet evolving market demands.
---
Consist (1952)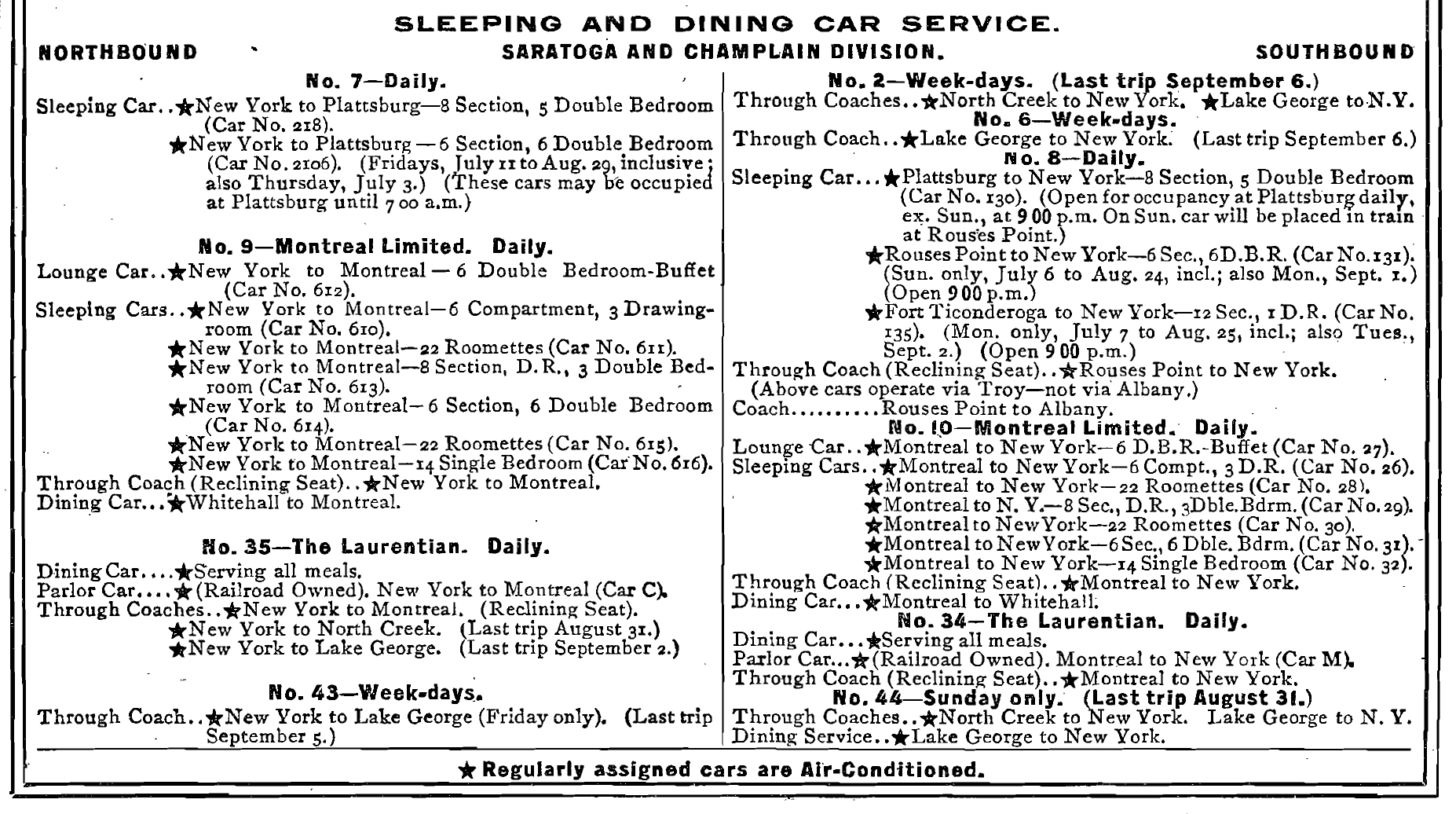 In conclusion, the Laurentian, operated by the Delaware and Hudson, was a critical player in the industry, carving its unique space in the annals of North American railroad history.

Despite the passage of time, the echo of its whistle lives on, whispering tales of an era marked by steel, steam, and untiring journeys across northeastern America and southeastern Canada.
With its name eternally etched in railroad annals, the Laurentian continues to inspire modern railway services, encouraging them to push the envelope of efficiency, comfort, and sustainability.
Sources
Schafer, Mike. More Classic American Railroads. Osceola: MBI Publishing, 2000.
Shaughnessy, Jim.  Delaware & Hudson: The Bridge Line To New England And Canada.  Syracuse:  Syracuse University Press, 1997 edition.