The Detroit and Mackinac Railway, The Turtle Line
The Detroit and Mackinac Railway was an interesting fallen flag railroad that operated exclusively in northern Michigan. The railroad never did reach Detroit and lived primarily off of timber traffic and carfloat operations.  During the railroad's height of operations it spanned across most of northern Michigan reaching towns such as Bay City, Alpena, Mackinaw City, and Cheboygan along Lake Huron.  Additionally, thanks in part to the purchase of a former New York Central line in the late 1970s nearly doubled its size during that time.  The D&M was affectionately known as the Turtle Line and operated for nearly a century before calling it quits in the early 1990s as profits dipped and expenses rose.  However, the road has not completely disappeared. Today its lines live on as the Lake State Railway (and sister Saginaw Bay Southern Railway).  
The Detroit & Mackinac Railway dates back to December 31, 1894 when it came about by a reorganization of the Detroit, Bay City & Alpena Railroad, a railroad which had been operating for some time between Bay City and Alpena, Michigan a distance of 125 miles. After this time the D&M expanded its main line as far north as Cheboygan. From this point the railroad fanned out from its Bay City - Cheboygan main line building a series of branches and serving the region's timber industry. The D&M also expanded through taking over smaller short lines in the area of northern Michigan, such as its purchase of the Alpena & Northern Railroad between Alpena and La Rocque during April of 1895.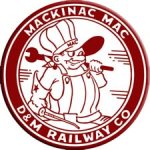 Timber and lumber products would always be the Detroit and Mackinac Railway's primary source of traffic. However, it did have a basis in other types of traffic such as limestone (where it served a quarry at Millersburg), gypsum, carfloat operations at Mackinaw City (after it had purchased remnants of New York Central Railroad operations in the region) and some merchandise. The D&M did have some minor passenger operations but as one might expect these were minimal. However, by 1951 it gave up on money-losing passenger trains and focused solely on freight from that point forward. Today, though, some of its railroad depots still stand such as at Lincoln and Standish. 
By 1970 the timber business in northern Michigan was beginning to play out, at least that which was served by railroads. By this time the railroad operated only three of its original branches; the Alabaster Branch (Alabaster Junction to Alabaster, about 4 miles), the Hillman Branch (Aplena to Emerson, about 12.5 miles) and the Rogers City Branch (Posen to Rogers City about 15 miles). The D&M also had two primary connections with the large Class I railroads; the Chesapeake & Ohio Railway, Grand Trunk Western and New York Central Railroad at North Bay City, Michigan; and with the New York Central at Cheboygan.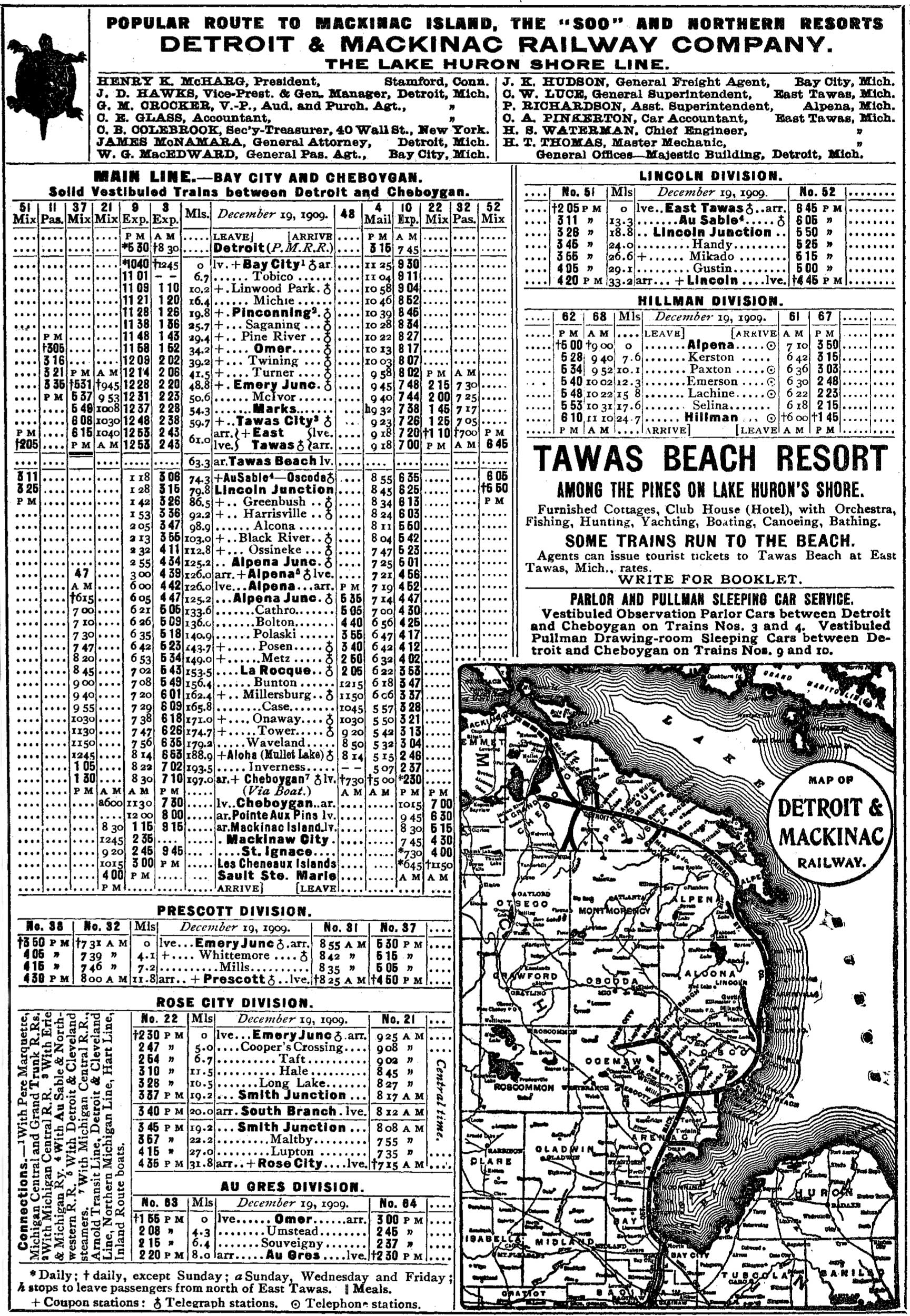 However, interestingly it was during this time the D&M actually grew, nearly doubling in size! Following the bankruptcy of Penn Central and subsequent takeover of Conrail of all former PC lines the D&M purchased the remnants of NYC operations in March of 1976 between Linwood and Mackinaw City (a total of 72 miles), essentially giving the railroad a "double track" main line serving much of the same markets (the NYC line was a bit to the west of D&M's operations). The railroad's original length totaled over 230 miles and now stretched over 300.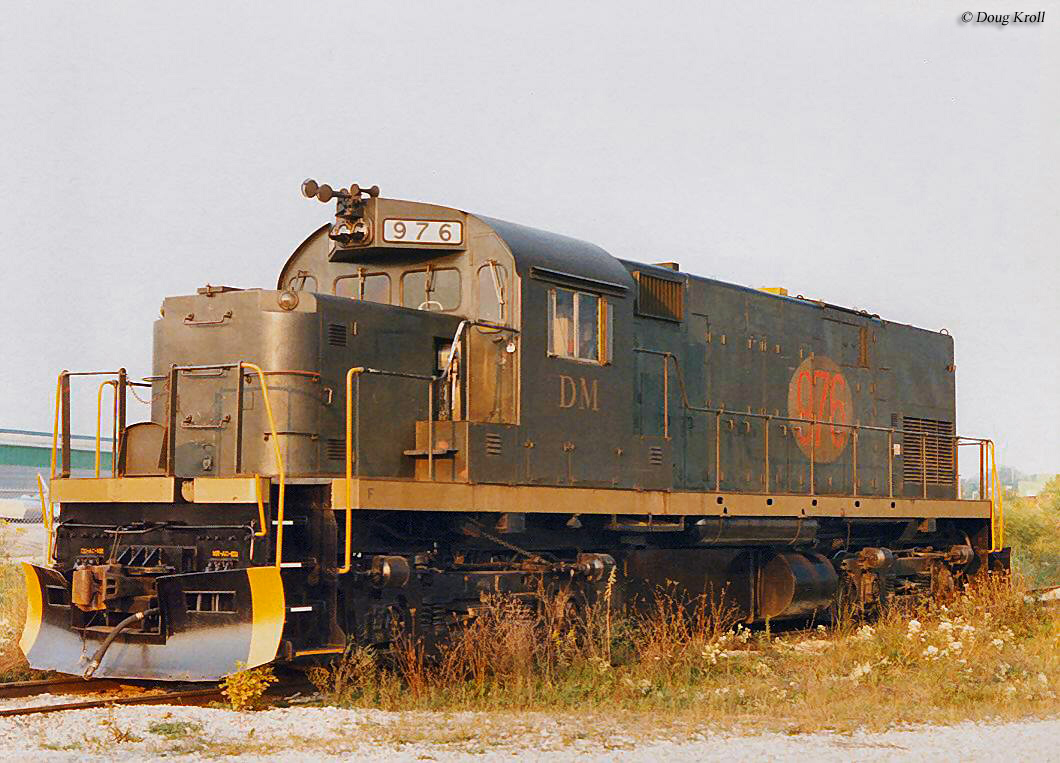 ---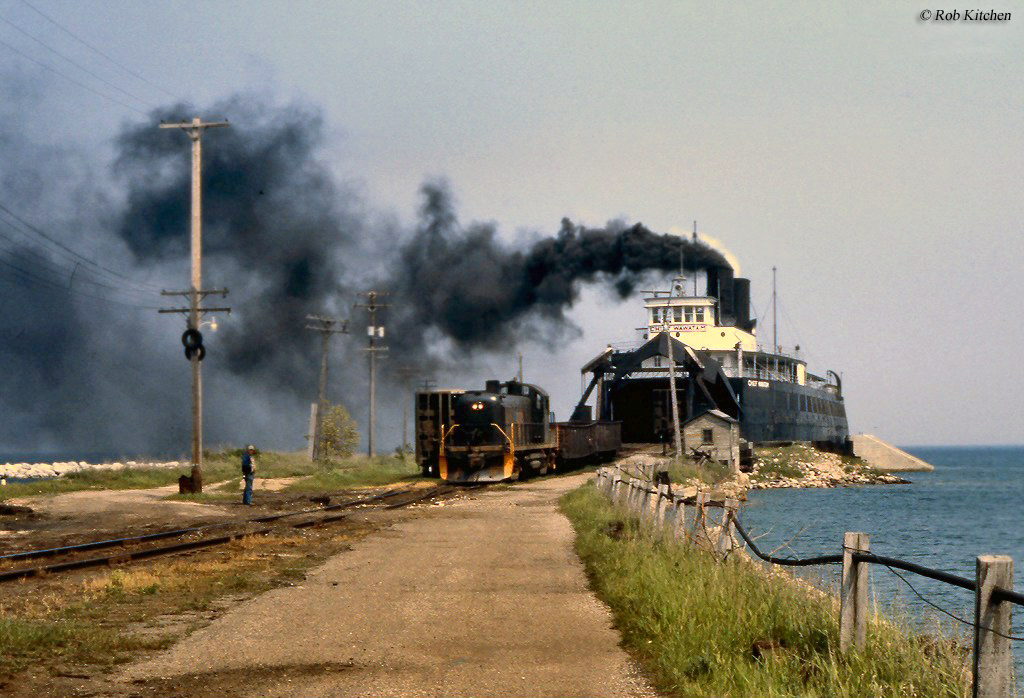 Diesel Locomotive Roster
| Builder | Model Type | Road Number | Date Built | Quantity |
| --- | --- | --- | --- | --- |
| GE | 44-Ton | 10 | 1942, Ex-M&StL | 1 |
| Plymouth | DLC/6 | D-120 | 1927 | 1 |
| Alco | C425m | 181, 381 | 1965, Ex-PRR | 2 |
| Alco | C425 | 281 | 1965, Ex-PRR | 1 |
| Alco | RS2 | 466-469, 481, 4610 | 1946-1948 | 6 |
| Alco | RS3 | 481 | 1948 | 1 |
| Alco | S1 | 646 | 1946 | 1 |
| Alco | TE56-4A | 974-975 | 1954, Ex-B&M | 2 |
| Alco | C420 | 976 | 1964, Ex-LIRR | 1 |
| Alco | RS3 | 977, 1077 | 1949-1955, Ex-LIRR | 2 |
| Alco | C425m | 1280 | 1965, Ex-PRR | 1 |
| Alco | RS2u | 4610 | 1946 | 1 |
Still, as the 1980s gave way to the 1990s traffic was simply drying up in the northern Michigan area. Finally, on February 17, 1992 the D&M sold out to the Huron Acquisition Company creating the Lake State Railway. Today, Lake State operates the D&M's main line between Bay City and Alpena as well as the ex-NYC trackage between Linwood and Gaylord. However, the rest of the D&M north of Alpena and all branches have since been abandoned.  Interestingly, Lake State continues to operate some of the D&M's historic Alcos including two RS2s and its sole S1 switcher. Also, at least one of the D&M's steam locomotives survive on display at the restored Lincoln depot, along with other artifacts house in the building. Lastly, the D&M's depot in Standish still stands and includes a museum with rolling stock on the grounds.  

Related Reading You May Enjoy


Home

›

Fallen Flags

› Detroit & Mackinac