Early passenger trains also suffered from cut-throat businessmen.  As the industry greatly expanded during the 1850s railroad tycoon with endless bank accounts were more interested in earning more money for themselves than concern for public safety (this lack of safety foresight helped bring stiff, arguably overbearing government regulation, which later in the 1960s and 1970s resulted in the near collapse of the industry). These businessmen included names like Jim Fisk, Daniel Drew, Jay and George Gould, Cornelius Vanderbuilt, and others.  Additional problems for early passenger trains included Indian sabotage and attack, particularly an issue in Western states where Native Americans fought for control of their land. After years of bitter fighting, for better or worse a truce finally came in the way of Native Americans ceding defeat and settling for peace (which resulted in today's many Indian reservations).
As the years progressed so too did the track structure and equipment. In 1831, Robert L. Stevens, of the Camden & Amboy Railroad developed the common "T-rail," which is the design still used exclusively today as railroad rail. First made of iron it was later produced using much stronger steel. Railroads also found that stone gravel (known as ballast) acted as stronger support base that did not give way like the large stone blocks (as it was much more forgiving).  Other important inventions for early passenger trains (as well as freight transportation) included the knuckle-coupler from Major Eli H. Janney in 1868 - it replaced the deadly link-and-pin system that often times resulted in the maiming of limbs and fingers - and the air-brake from George Westinghouse, introduced a year later in 1869.   This new device allowed for a constant stream of pressured air that could automatically apply brakes throughout the train instantly, rather than having the brakeman do the dangerous task of walking across car rooftops on a moving train to manually apply brakes to each car. 
All of these early inventions are still widely used throughout the industry, more than a century later.   The early equipment railroads employed was, naturally, quite primitive with passenger cars comprised mostly of simple horse-drawn stagecoaches with iron wheel axles simply attached to the bottoms. Technologies quickly improved with two-axle trucks (these devices usually employ two wheel axles situated within a cast frame to support the car as well as provide cushioning for the ride via springs and suspension) becoming standard by the 1830s with the common passenger coach (a long, corridor-like car with seating to either side with an aisle in the center) also developed during the same decade.  With this foundation of equipment introduced by 1850 for early passenger trains, and the industry as a whole, new and better technologies helped make traveling by rail more comfortable, efficient, and faster (although safety and comfort would continue to improve in the succeeding years).
Please Click Here To Return To The Passenger Travel Section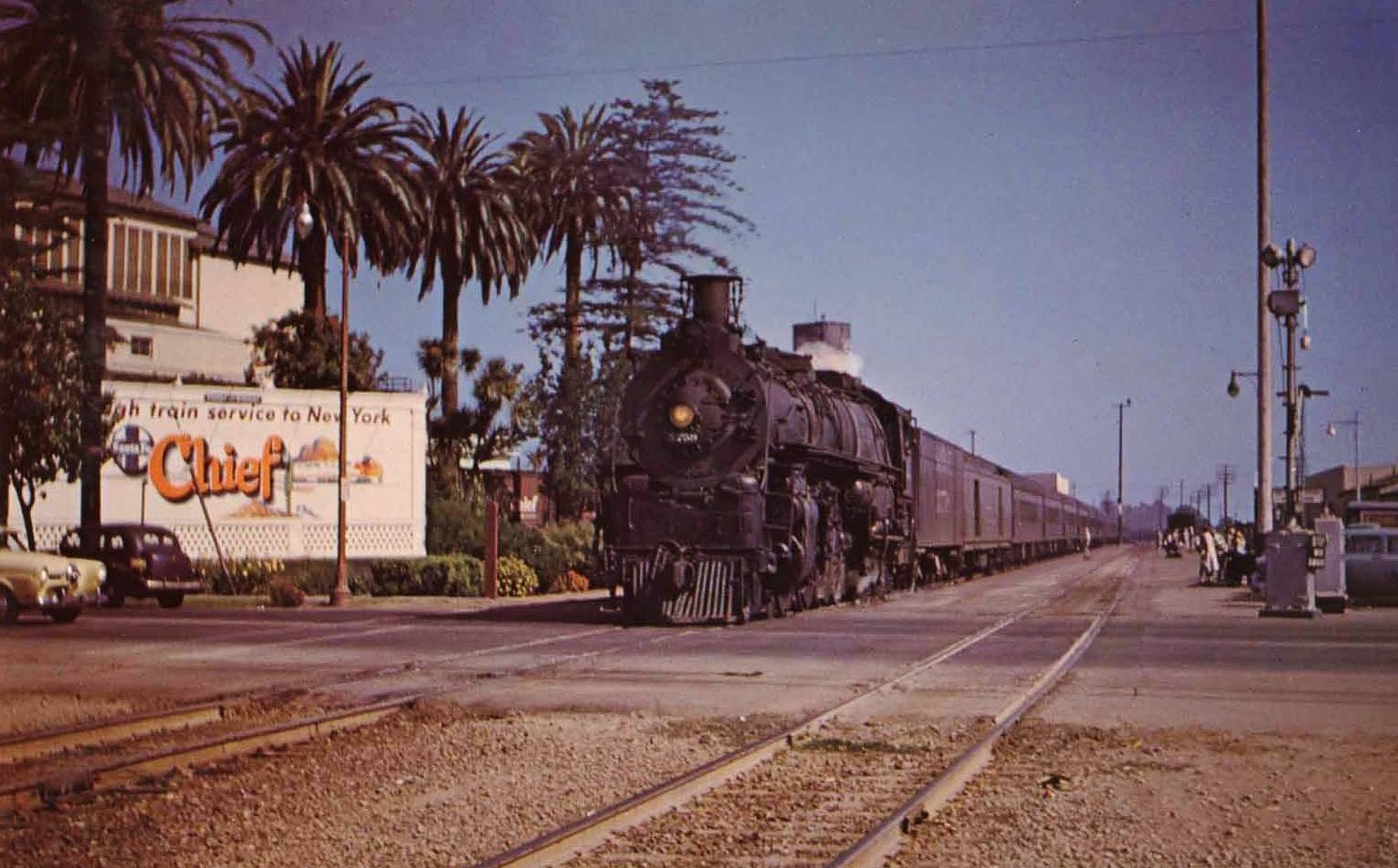 Nickel Plate Road #765 leads the annual "New River Train" seen here in Charleston, West Virginia during early October of 1986.
These included specialized cars like diners, sleepers, club cars, parlor cars, and observations. Likely the most famous passenger cars to ever grace the rails were those built by George Pullman and his Pullman Palace Car Company, which began building cars in 1867 (later reorganized as just the Pullman Car Company).  Its base of operations was Pullman, Illinois and its cars would become legendary by the peak of passenger rail travel in the late 19th century through the mid-1940s. While the company is perhaps most famous for its sleepers it also built other types of cars like parlors and diners.  By the 20th century, particularly by the 1920s, rail travel was truly becoming a smooth, comfortable experience; cars were stronger (steel, and later aluminum was used), quieter, and offered an increasing level of amenities and accommodations.  To read more about the streamlined era please click here.

Related Reading You May Enjoy