The railroad itself saw a lot of history happen around it throughout its years of operation. For example, because the railroad is located in the area once served by dozens of granger roads it has seen the passing of famous names (a number of which it had connections with) such as the Milwaukee Road, Chicago & North Western, Chicago Great Western, and Rock Island. Also because the EJ&E was located in the Chicago area it had connections with numerous railroads including nearly all of the major Class Is. These include CSX, Norfolk Southern, Union Pacific, BNSF Railway, now-parent Canadian National, and Canadian Pacific.
To give a brief history of the Elgin, Joliet and Eastern Railway, the railroad has its official beginning dating to December 4, 1888 although its history actually goes all of the back to 1884 when the Joliet, Aurora & Northern Railway was incorporated to connect Aurora and Joliet with the Mississippi River.  Although the railroad only made it as far as connecting both cities (Aurora and Joliet) its segment was picked up by the Elgin, Joliet & Eastern Railway Company of Illinois which connected Valparaiso, Indiana with Joliet, Illinois and then built to Elgin, Illinois to interchange traffic with the Chicago, Milwaukee, St. Paul & Pacific (The Milwaukee Road). The other half of the EJ&E was the Elgin, Joliet & Eastern Railway Company of Indiana which connected Griffith and Hobart, Indiana with McCool. These two lines were merged on December 4th of 1888 to form the modern-day EJ&E.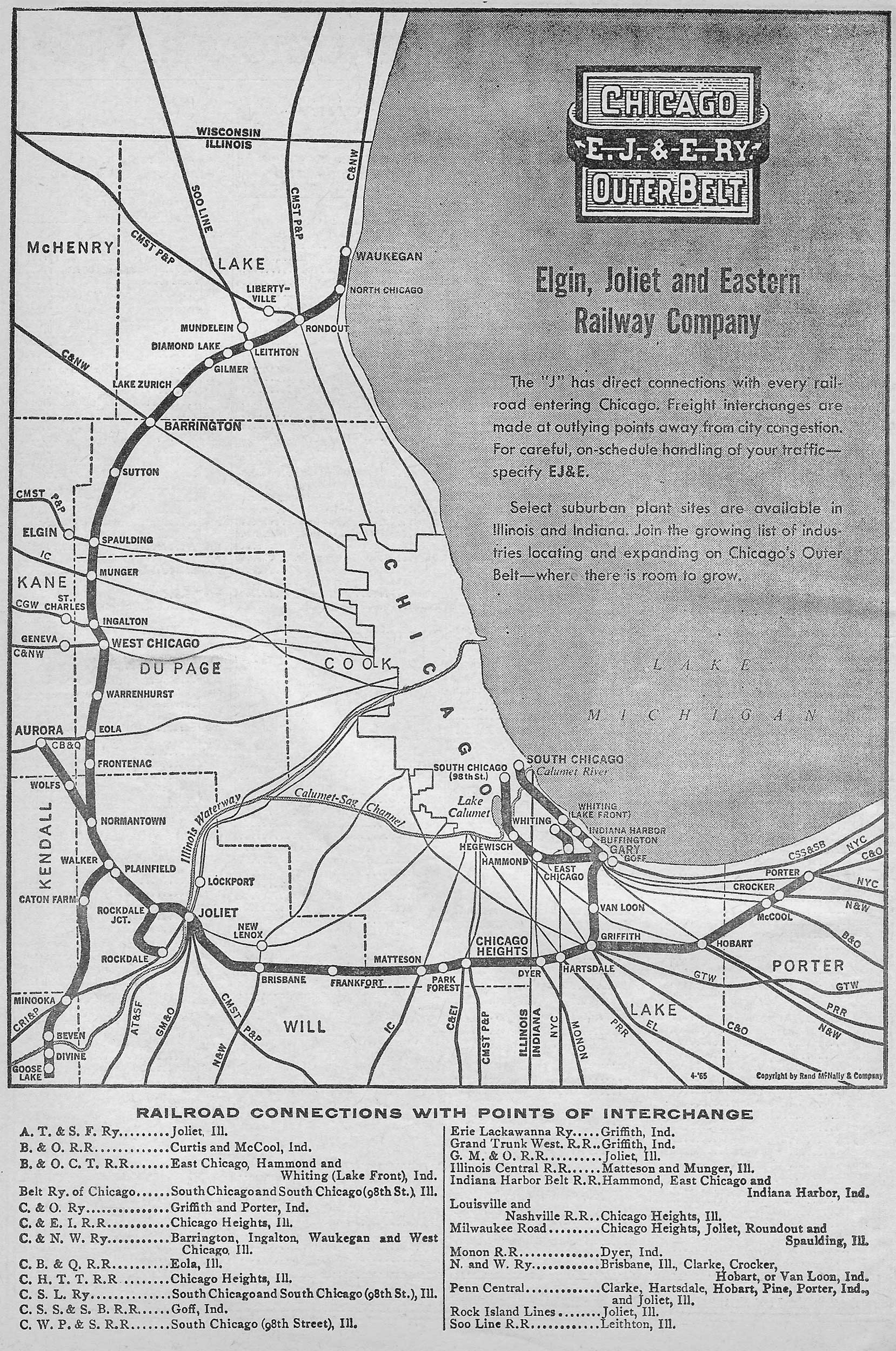 As is typical with railroading of that time, the EJ&E grew and expanded through ownership and takeovers of smaller systems. Some of these systems included the Waukegan & Southwestern Railway; Gardner, Coal City & Northern Railway; Western Indiana Railroad; and the Chicago, Lake Shore & Eastern Railway. In total the railroad's system stretched to reach points such as Waukegan, Dyer, Hammond, Caster, and Chicago, Illinois; and Porter, Indiana.  In all, the EJ&E system map formed a rough "L" shape, bypassing downtown Chicago and connecting points east like Porter, Illinois with Joliet to the west and Elgin/North Chicago to the north. Due to the railroad's age it had an interesting and diverse locomotive fleet over the years. It no longer rosters any steam locomotives although it does still retain a number of classic diesel models such as Alcos and Baldwins. It's unclear whether these will be retained by CN or sold off. 
Diesel Locomotive Roster
Please note this roster does not list all former owners of these locomotives, several of which were purchased used by the EJ&E over the years.
| Builder | Model Type | Road Number | Date Built/Notes | Quantity |
| --- | --- | --- | --- | --- |
| Baldwin | DT-6-6-2000 | 100-126 | 1946-1948 | 27 |
| EMC | SW | 200-208 | 1936-1937 | 9 |
| Alco | HH-600 | 209 | 1937 | 1 |
| Alco | HH-660 | 210-212 | 1940 | 3 |
| Alco | S1 | 213-217 | 1940-1941 | 5 |
| EMC/EMD | SW1 | 220-246, 249 | 1940-1949 | 28 |
| Baldwin | VO-660 | 270-272 | 1940-1941 | 3 |
| EMD | SW1200 | 300-307, 310-324, | 1960 | 23 |
| EMD | TR5Am/Bm | 308-309 | Ex-UP | 2 |
| EMC | NW1 | 400-401 | 1937 | 2 |
| Alco | HH-900 | 402 | 1937 | 1 |
| EMC | NC | 402, 408 | 1937 | 2 |
| EMC/EMD | NW2 | 403-443, 446-452, 454-455, 458 | 1939-1952 | 5 |
| EMD | SW1001 | 444-446 | 1968, 1971 | 3 |
| Alco | S2 | 451-461 | 1940-1944 | 11 |
| EMD | SSB1200 | 451 | 1943 | 1 |
| EMD | SW1001 | 444-445 | 1971 | 2 |
| EMD | SW900 | 453 | 1956 | 1 |
| EMD | SW1001 | 444-445 | 1971 | 2 |
| EMD | SW9 | 456 | 1951 | 1 |
| EMD | SW8 | 457 | 1952 | 1 |
| EMD | SW1000 | 459 | 1971 | 1 |
| EMD | SW1500 | 460 | 1968 | 1 |
| Baldwin | VO-1000 | 475-484 | 1940-1944 | 10 |
| Baldwin | VO-1000 | 475-484 | 1940-1944 | 10 |
| Baldwin | DRS-6-6-1500 | 500-501 | 1949 | 2 |
| EMD | SD9 | 600-605 | 1956-1957 | 6 |
| EMD | SD18 | 606-616, 851-852 | 1957-1962 | 13 |
| EMD | SD38 | 650-655 | 1970 | 6 |
| EMD | SD38-2 | 656-675 | 1973-1975 | 20 |
| Baldwin | DR-4-4-1500 | 700A-701A | 1949, BLW Demos | 2 |
| Baldwin | DR-4-4-1500B | 700B-701B | 1949, BLW Demos | 2 |
| EMD | GP38-2 | 700-704 | 1972-1973 | 5 |
| EMD | SD40M-3 | 750-751 | Ex-C&O | 2 |
| EMD | SD40M-2 | 752 | Ex-WM | 1 |
| Alco | RS2 | 800-809 | 1948-1949 | 10 |
| EMD | SDM | 802, 804, 809, 811, 813-815, 818, 820 | Ex-DM&IR SD9s | 9 |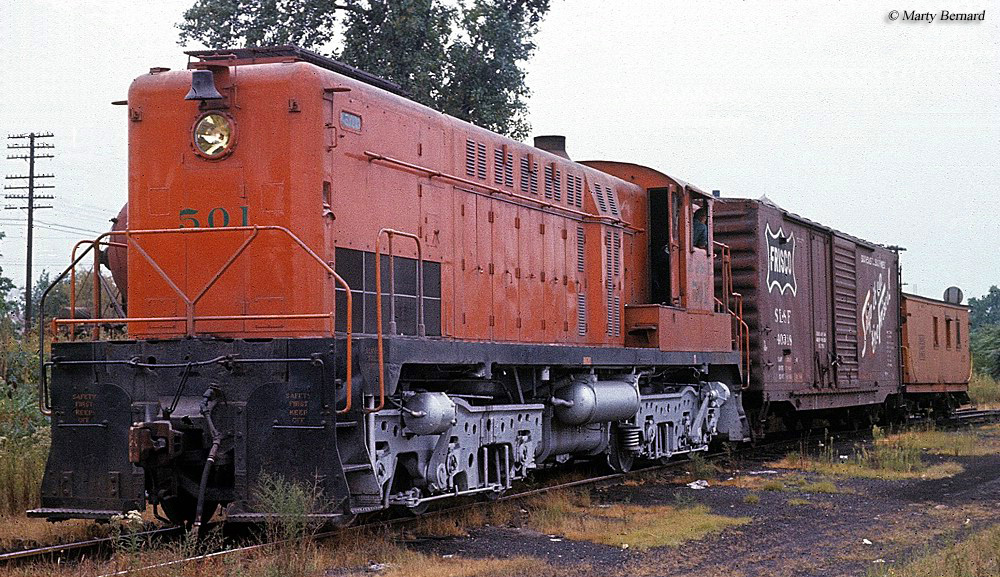 Steam Locomotive Roster
| Road Number/Class | Type | Wheel Arrangement | Quantity/Notes |
| --- | --- | --- | --- |
| 1, 5, 11, 23, 25, 27, 32 | Switcher | 0-6-0 | 7 |
| 150, 156 | Switcher | 0-4-0 | 2 |
| 300, 302, 312, 329 | Switcher | 0-8-0 | 4 |
| 528, 541, 545, 549, 555 | Consolidation | 0-8-0 | 5, Rebuilt From 2-8-0s |
| 410 | American | 4-4-0 | 1 |
| 450, 455 | Ten-Wheeler | 4-6-0 | 2 |
| 528, 541, 545, 549, 555 | Consolidation | 2-8-0 | 5 |
| AB | Mikado | 2-8-2 | 4 |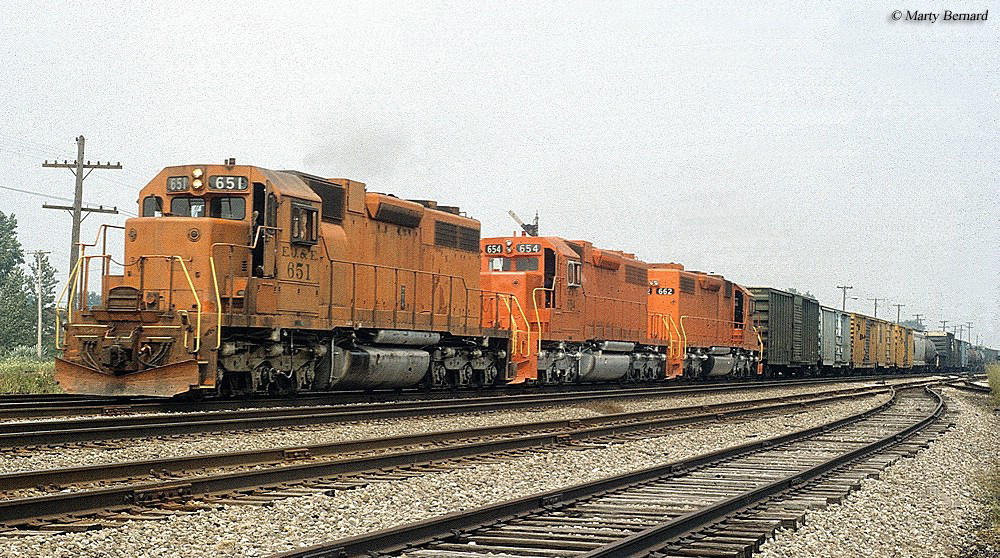 Finally, for more reading on the EJ&E consider the book Elgin, Joliet, and Eastern Railway by authors Paul Jaenicke and Ralph Eisenbrandt. Typically the "Images of Rail" series by Arcadia Publishing is more noted for its fabulous historic photographs than in-depth information so if you're looking for the latter you may not be interested in the book. However, if this is not really of great concern to you, you should very much enjoy the book. In any event, if you are interested in perhaps purchasing this book please visit the link above which will take you to ordering information through Amazon.com.

Home

›

Fallen Flags

› Elgin, Joliet & Eastern