A long time ago, before radios became standard, there was little communication between the head-end crew (engineer, fireman, and brakeman) and the conductor/flagman.  The only way the two interacted was either through whistle signals from the engineer or the  conductor placing the train into emergency for some particular safety reason (i.e., a detected hot box).  The reason for crews on each of the train was simply for  safer operations.  Without the advent of wireless communication and computers, someone needed to be at the rear to visually keep an eye out for any problems ahead (such as the aforementioned hot box) while the flagman provided physical protection for any approaching trains by walking two miles back with a flag, fusees, and torpedoes.  Any problems arose with the train's lading or, worse, a rules violation occurred it was ultimately the conductor's responsibility.
The Passenger Train Conductor
Once upon a time the passenger train conductor was quite common as railroads operated fleets of trains, both long distance and local commuter operations, to serve the public.  It was much less physically demanding than working freight service, and one was always never dirty, although required good people and communication skills as one always interacted with passengers.  Historically, this was the senior position and many conductors spend decades in freight service before being assigned a passenger train.  As one former conductor noted, "As with all conductors, a passenger conductor's first priority is for the safe and efficient movement of the train, responsible for both the crew and passengers, while keeping it on time."  The passenger conductor received better pay and, in the case of local services, allowed one to return home each night.  Today, just as with freight service, those wishing to work as a passenger conductor must spend several weeks in the classroom before climbing aboard a train.
As radios and computers came into widespread use the role of conductor changed dramatically although he was still the train's authority.  The FRED (Flashing Rear End Device) replaced the caboose; a very small telemetry device it monitored air pressure for the train's braking system and carried a small flashing red light to signify the end of the train.  This move placed all of the crew in the head end; coupled with diesels replacing steam as the industry's primary road power the position of flagman and fireman was eventually abolished (although not immediately).  Today, most freight trains carry only a conductor and engineer while occasionally a brakeman is need for switching chores or other reasons (the conductor most often pulls double-duty in this capacity along with his general responsibilities).  The advent of radio has also abolished physical protection (flagman) and dispatchers from far away places such as Jacksonville (CSX), Norfolk (Norfolk Southern), and Omaha (Union Pacific) directly control a train's safe movement over the road (eliminating the operator).

The bane of any train crew was the dreaded hot box, an overheated journal which sometimes caught fire and had to be addressed immediately.  Today, roller-bearings have largely eliminated this threat while automatic defect detectors monitor for them (and other issues, such as dragging equipment).  In the modern world, the conductor keeps in regular contact with the dispatcher along the way to make sure the train safely navigates its way through signals, interlockings, other yards, crossovers, and any other location where another train may be encountered. Aside from these tasks a conductor may need to do anything needed to make sure things operate smoothly, such as throwing switches or cleaning ice and snow from them.    As the above attests, railroading is very hard work and is not exactly for everyone. You truly have to love this line work to make a career out of it, as spending 12 hours a day constantly away from home makes it very hard on family life. I have talked to and read about those who, upon reflecting, wonder if they would do it all over again because of this (some lost their family altogether while others missed out on many family activities). 
Somewhat ironically what was once a senior position, in today's industry the conductor is the entry-level field.  It may seem hard to comprehend but once upon a time train crewmen learned their particular skills on the job and railroads simply hired able-bodied men off the street with little to no prior railroad experience.  After passing a basic physical they were sent out on the road and hoped their coworkers taught them their job over time.  In the modern, structured era potential new employees spend hours in the classroom before even being allowed to climb into the cab.  In addition, depending upon which railroad you work for makes a difference in your day-to-day duties; if hired by a large Class I you can expect to, more or less, climb onto the train, take inventory of its makeup, and off you go.  However, on short lines trains usually need to be blocked by the crew itself, without assistance from a yardmaster.  A conductor also acts as a liaison, talking with customers and addressing any needs they may have.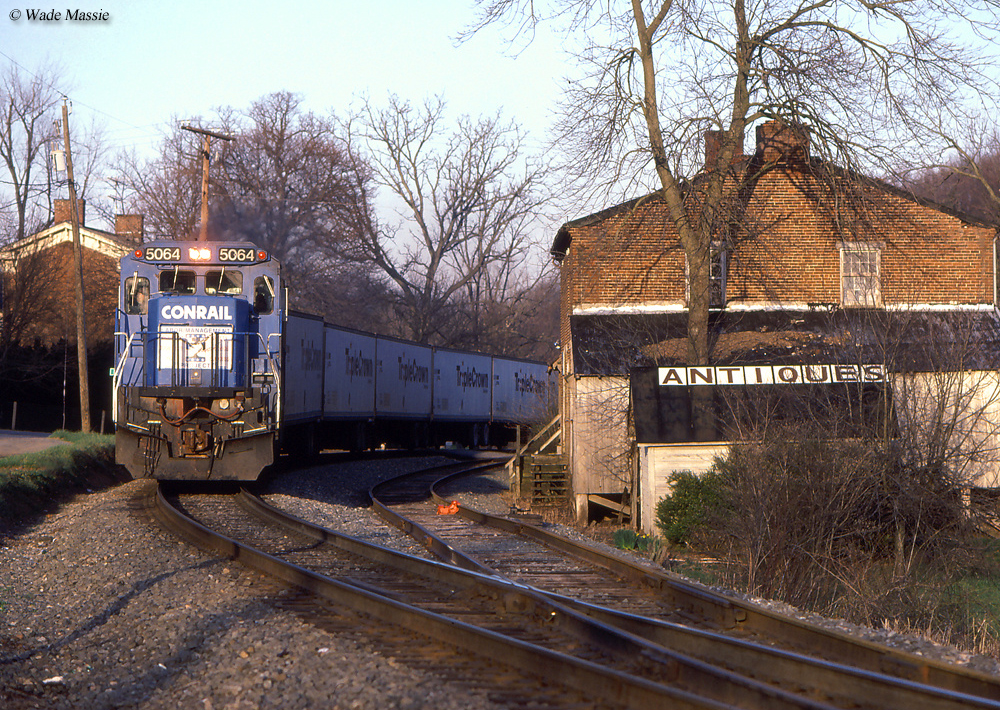 Again, railroading and family life can certainly be attained it just takes much sacrificing. The pay and retirement Class Is, in particular, offer is very tempting and can allow one to earn a very nice living. So, there are great incentives to this line of work it just all depends on whether you believe it is for you. One last thing to keep in mind, some railroaders wait many years, sometimes over 20, to land that "9 to 5" day when they know exactly when they will come in to work and head home. Having said that, if you are able to hire on with a short line (Class III) or regional (Class II) railroad the opportunity for a more predictable schedule is very likely although the pay is not quite as good.  In any event, some Class Is (like CSX and Union Pacific) field their own training centers to teach you the trade of being a freight train conductor while others hire through accredited schools like the National Academy of Railroad Sciences and Modoc Railroad Academy. Many of these organizations are listed above. 

Related Reading You May Enjoy


Home

›

Railroad Jobs

› Freight Train Conductor