The GE U33B began production in December, 1966 at the time of its less powerful counterpart, the U30B. The model continued to carry General Electric's rather simple carbody and relative ease of maintenance. Perhaps the most significant change that came with the U33B was the addition of the flared radiator that gave the unit the appearance of wings at the end of the carbody. This was needed for the increased horsepower and the feature became a trademark of GE's locomotives, which continued through the later Dash 7, Dash 8, and Dash 9 series. The company also continues to employ the design on its latest models.  The GE U33B utilized the builder's standard 4-cycle model FDL16 prime mover which could produce 3,300 horsepower.
It weighed just slightly more than earlier models and was the exact same length of previous U-boats, 60'-02". Somewhat interesting is the fact that GE never changed the tractive effort rating of its four axle U-boats (70,000 pounds starting and 64,000 pounds continuous), unlike many manufacturers which typically increased this with newer designs and additional horsepower. While some railroads had requested high, short hoods on other U-boat models all U33Bs were built using GE's standard short, stubby nose. By the time production had ended on the U33B in March, 1975 just 137 had been built for four different Class Is (with NYC's two U33Bs it purchased before the merger Penn Central rostered the most, 83) making it one of the poorest selling 4-axle road switchers GE ever produced.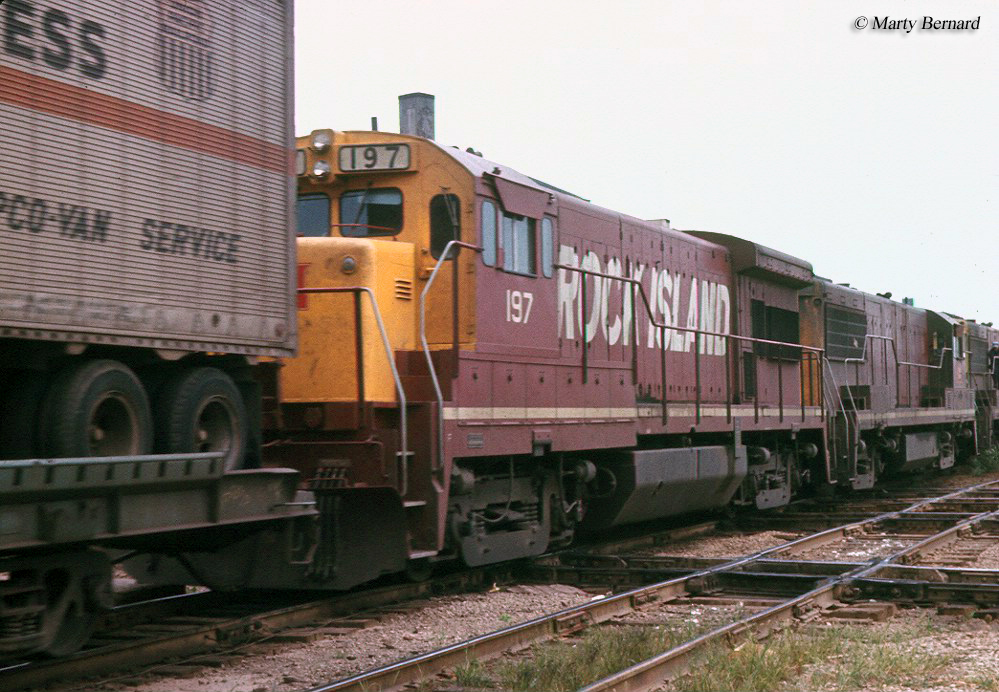 Newer General Electric power including two U25Bs and a U33B work a piggyback train through Joliet, Illinois on June 8, 1964.
As its four-axle designs continued to see fewer sales numbers GE began to phase out the line and offered no more after 1977 when its U23B model, meant for use in light duty yard and freight service, also saw only marginal sales (although interestingly, it sold far better than the much more powerful U30B, U33B, and U36B). In any event, aside from PC's fleet, the Rock Island and SCL also purchased the U33B, the former picking up 25 units and the latter 29. The U30Bs remained in revenue service on these roads through their successors Conrail and CSX Transportation (the Rock's U33Bs went to various new owners) through the 1980s but most were off their rosters by the early 1990s (CSX, for instance had retired all of theirs before 1990).  Short line Reading & Northern of eastern/central Pennsylvania rostered at lest one U33B through the early 1990s but as of today none are known to be used in revenue service. Additionally, if there are any known to be preserved I am not aware of them (if you happen to know of any please let me know). 
Please Click Here To Return To The Diesel Locomotives Section
GE U33B Production Roster
| Owner | Road Number(s) | Quantity | Date Built |
| --- | --- | --- | --- |
| New York Central | 2858-2859 | 2 | 1967 |
| Penn Central | 2890-2970 | 81 | 1968-1970 |
| Rock Island | 190-199, 285-299 | 25 | 1968-1969 |
| Seaboard Coast Line | 1719-1747 | 29 | 1967-1968 |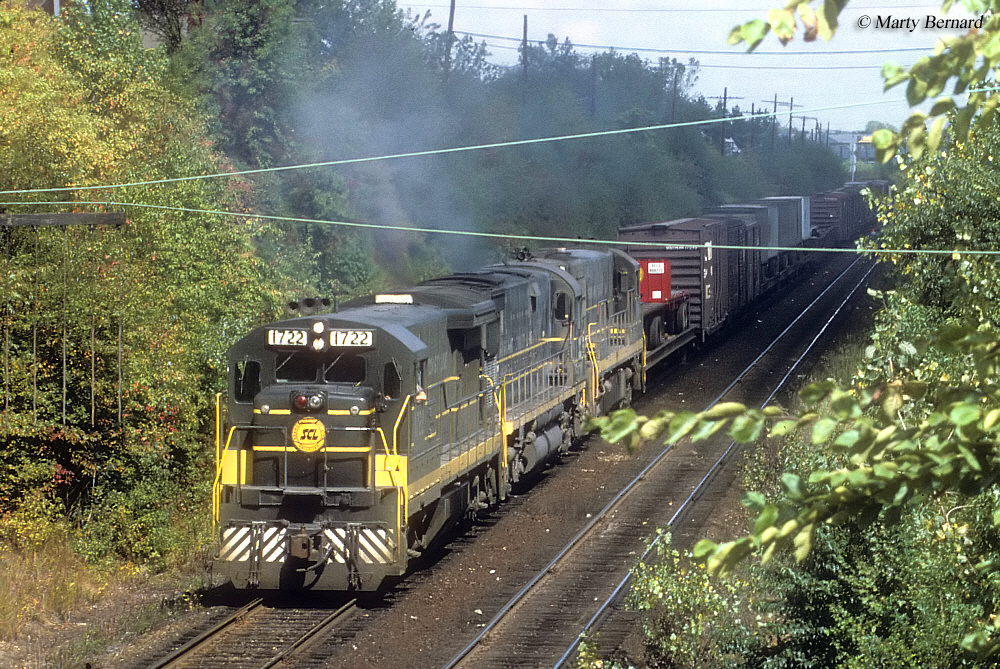 Rock Island U33B #291 is seen here in Houston with other power during September of 1976. The Rock purchased 25 examples of the U33B in the late 1960s, numbered 190-199 and 285-299.
For more reading about GE's U-boat line the bookU-Boats: General Electric's Diesel Locomotive by author Greg McDonnell provides a complete history of the company's first production diesel models.  Also, noted historian Brian Solomon has authored a number of books covering the history and background of GE's locomotives.  Two, which provide a general but thorough coverage include GE Locomotives and GE And EMD Locomotives: The Illustrated History.  As with virtually all of Mr. Solomon's you can expect a well-written title with large, crisp, and sharp photographs.