The Illinois Terminal Railroad, The Road Of Personalized Services

The Illinois Terminal Railroad had a relatively short lifespan. However, it turned out to be the largest interurban railroad in the country and a history that was as colorful and interesting as any of the other classic fallen flags. The IT or "the Traction", as it was known by locals, served small cities and towns throughout Illinois with its major hubs at St. Louis and Peoria (it had hopes of reaching Chicago but never made it that far north). What started out as a hodgepodge of interurban railroad lines turned into a quite profitable freight railroad operation by the time the railroad was taken over by the Norfolk & Western Railway in 1980. Today, the IT is long gone but a portion of its old interurban system remains in use for freight service under Norfolk Southern today.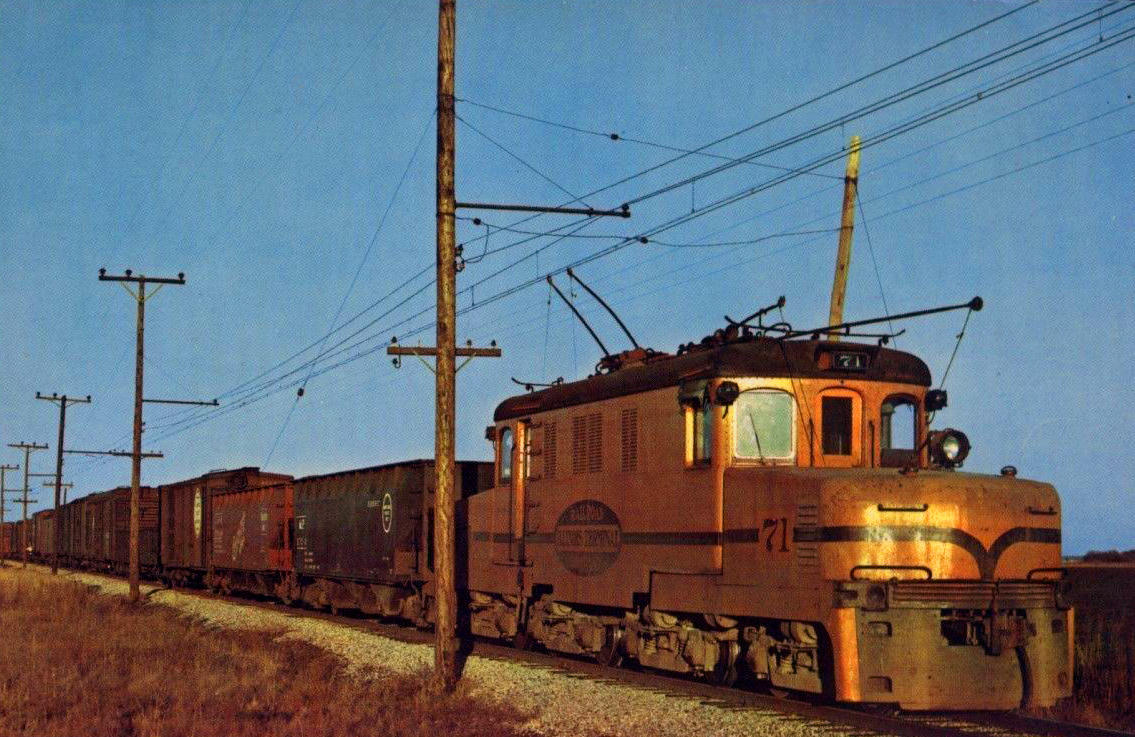 One of the first models of road-switcher the IT ever owned was EMD's GP7. Seen here is #1506 switching the yard in Springfield on January 3, 1981.
What ended up as the Illinois Terminal was the dream of William McKinley, which began purchasing streetcar systems in Illinois as early as the late 19th century and operating them under the name, Illinois Traction System. McKinley had hopes of stretching his system of interurbans to Chicago but only ever made it as far north as Peoria. Still, he was able to put together an impressive webbed system of lines in central Illinois. What transpired into the IT began in 1925 when Illinois Power & Light was formed by the Illinois Traction Company (which was also the parent of ITS) to oversee the company's rail assets. The IP&L then purchased two small railroads the St. Louis, Troy & Eastern and St. Louis & Illinois Belt.
These railroads along with the ITS were then combined into the now-classic Illinois Terminal Railroad. After another acquisition of two more small railroads, the St. Louis & Alton and Alton & Eastern the IT became a 400+ mile system that stretched eastward and northward out of St. Louis. Not only was the railroad now the country's largest interurban it also found itself as a profitable freight carrier as well. Prior to the Great Depression most of the IT's lines were electrified so as to properly serve its large commuter base. While it used standard interurban cars for its passenger services, built from such companies as American Car & Foundry and the St. Louis Car Company, the railroad also had a sizeable fleet of electrics used primarily for freight service.
These motors included the Class A "Steeple Cab" switchers, 800-hp Class B (1910), 1,000-hp Class C (1924), and hefty 1,750-hp Class D (1930) locomotives, the latter of which was more powerful than any diesel-locomotive model of the day!  However, following the Great Depression the Illinois Terminal's passenger operations were hit hard, although it was able to weather the blow much better than most other smaller interurbans across the country who were not as fortunate. Twenty years later the IT decidedly gave up on the increasingly money losing passenger business and called it quits in 1958.
An IT SW1200 takes a short break from switching duties at the Springfield yard on May 28, 1977.
Two years prior in 1956 the IT had also lost its independence when it was purchased by eleven railroads serving St. Louis to help them more efficiently move freight around the city. Those railroads included the Baltimore & Ohio Railroad (B&O); Chicago & Eastern Illinois Railroad (C&EI); Chicago, Rock Island & Pacific Railroad (Rock Island or CRI&P); Chicago, Burlington & Quincy Railroad (CB&Q); St. Louis-San Francisco Railway (Frisco or SLSF); Gulf, Mobile & Ohio Railroad (GM&O); Illinois Central Railroad (IC); Litchfield & Madison Railroad (L&M); New York Central (NYC); New York, Chicago and St. Louis Railroad (Nickel Plate); and Wabash Railroad.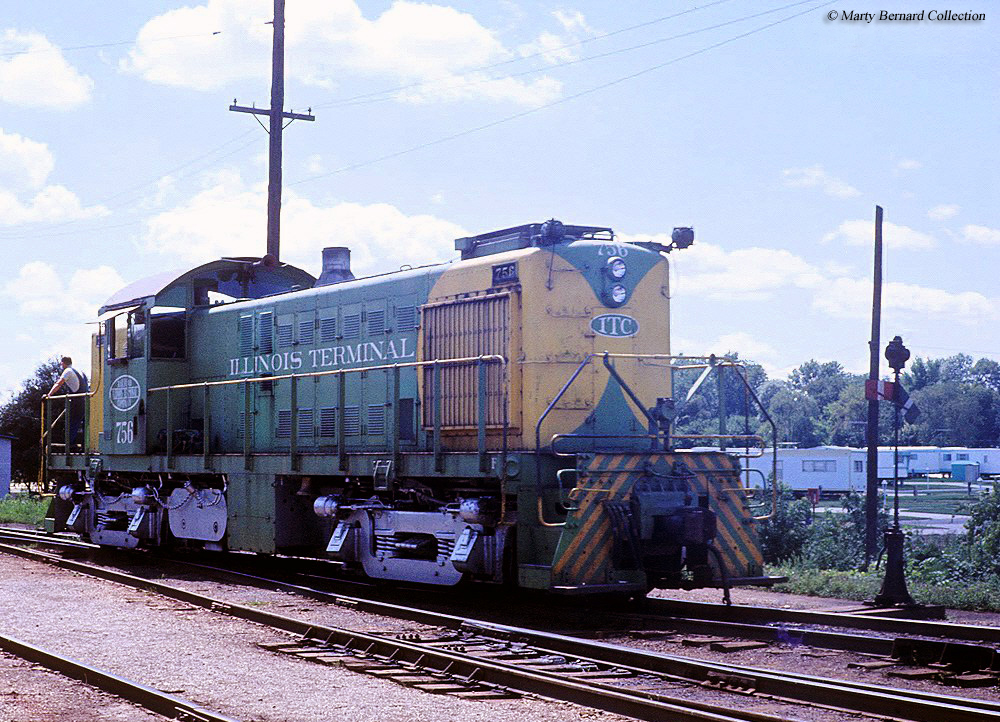 The IT did not own many Alco models although it did roster seven RS1s (as well as twelve S2s), one of which is seen here rolling light through Springfield on August 25, 1966.
Also in the 1950s the IT was facing a dilemma concerning its remaining electrified operations for freight service. Two years prior to the railroad bailing out of the passenger business it shut down its electrified lines for freight service and replaced them with an eclectic assortment of diesel-electric power from Alco and EMD which included models like the S2 and RS1 (Alco), and SW8, GP7, F7, and SW1500 (EMD). These first generation diesels also replaced the IT's small fleet of steam locomotives (used for freight service) as well. Later, in the late 1960s to help keep up with the demands of freight service the Illinois Terminal purchased the largest and most powerful diesels it ever owned, second-generation SD39s and GP38-2s from EMD.  By the early 1980s most of the IT's principle owners were no longer interested in the railroad, save for the Norfolk & Western.
Diesel Locomotive Roster
The American Locomotive Company
| Model Type | Road Number | Date Built | Quantity |
| --- | --- | --- | --- |
| RS1 | 750-756 | 1948-1950 | 7 |
| S2 | 700-711 | 1948-1950 | 12 |
Electro-Motive Division
| Model Type | Road Number | Date Built | Quantity |
| --- | --- | --- | --- |
| SW8 | 725 | 1950 | 1 |
| SW1200 | 775-786 | 1955 | 12 |
| F7B | 1507-1508 (Ex-RF&P) | 1949 | 2 |
| SW1500 | 1509-1515 | 1970 | 7 |
| GP7 | 1600-1605 | 1953 | 6 |
| GP7m | 1750 (Ex-Wabash) | 1952 | 1 |
| GP38-2 | 2001-2004 | 1977 | 4 |
| GP20 | 2008-2009 (Ex-UP) | 1960 | 4 |
| SD39 | 2301-2306 | 1969 | 6 |
Not surprisingly for its once-held status as an interurban, the IT owned many diesel switchers. Seen here is SW1200 #783 at rest in Grandview, Illinois on August 15, 1965.
Electric Locomotive Roster
The below electric locomotive roster is not complete although it does list several of the motors the IT operated. If you may have more information or corrections to add to this roster please let me know, I would be very grateful.
American Locomotive Company/General Electric
| Model Type | Road Number | Wheel Arrangement | Date Built | Quantity |
| --- | --- | --- | --- | --- |
| Class A/Steeple Cab (Ex-Danville Street Railway & Light) | 1559-1560 | B+B | 1907 | 2 |
Danville Car Company
| Model Type | Road Number | Wheel Arrangement | Date Built | Quantity |
| --- | --- | --- | --- | --- |
| Class A/Steeple Cab | 1554 | B+B | 1907 | 1 |
Illinois Terminal Railroad
| Model Type | Road Number | Wheel Arrangement | Date Built | Quantity |
| --- | --- | --- | --- | --- |
| Class D | 70, 72, 74 | 2-B+B-2 | 1924-1928 | 3 |
| Class B/Boxcab | 1561-76 | B+B | 1910-1918 | 16 |
| Class C/Boxcab | 1579-1596 | 2-B+B-2 | 1924-1929 | 18 |
St. Louis Car Company
| Model Type | Road Number | Wheel Arrangement | Date Built | Quantity |
| --- | --- | --- | --- | --- |
| Switcher | 51-52 | B+B | 1929 | 2 |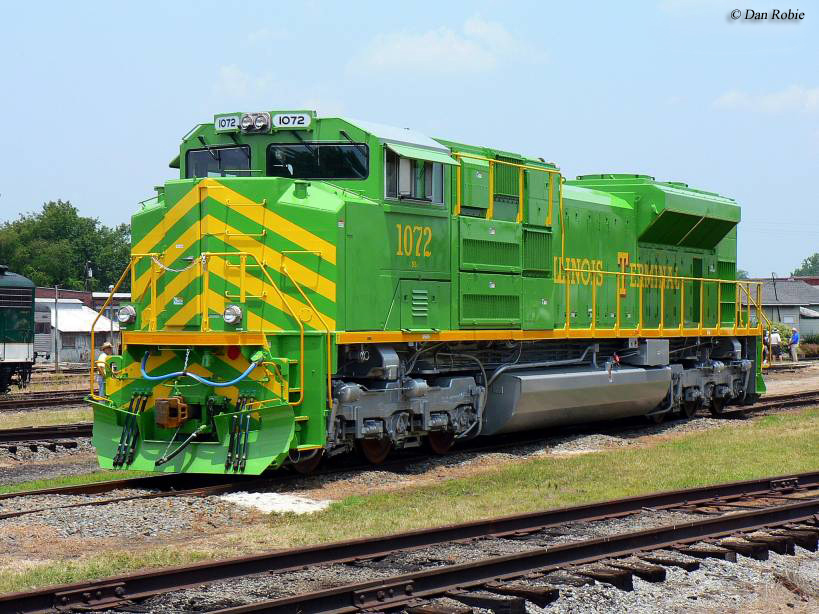 Norfolk Southern's nod to the Illinois Terminal, SD70ACe #1072 at the heritage celebration in Spencer, North Carolina during early July of 2012.
Notable Passenger Trains
Capitol Limited: (St. Louis - Peoria)
City of Decatur: (St. Louis - Decatur)
Fort Crevecoeur: (St. Louis - Peoria)
Illini: (St. Louis - Champaign)
Illmo Limited: (St. Louis - Peoria)
Mound City: (St. Louis - Peoria)
Owl: (St. Louis - Peoria)
Peoria Flyer: (St. Louis - Peoria)
St. Louis Flyer: (Peoria - St. Louis)
Sangamon: (St. Louis - Peoria)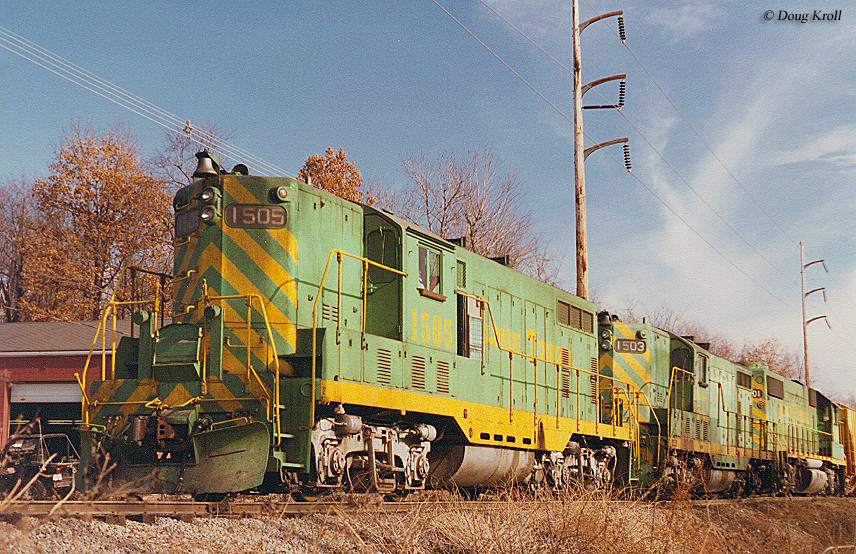 Three IT Geeps led by GP7 #1505 are waiting to move through Decatur, Illinois on January 3, 1981.
It should also be noted that by this time the IT had largely abandoned its web of branch lines, including its line serving Danville, and in other instances was using trackage rights over neighboring railroads to move its freight. In any event, because of the others' disinterest in the IT and the fact that the N&W already owned the Nickel Plate Road and Wabash, two roads with controlling interest in the IT, the railroad decided to merge the system into its own during May of 1982.  Today, while many of the Illinois Terminal Railroad's former lines have been abandoned some continue to remain in use under N&W successor Norfolk Southern, while others have been turned into rail/trails. Of interest it should also be noted that a number of IT's former substations, used when the railroad featured electrically operated lines, still stand, although most are abandoned and in poor condition.