The Road Of Personalized Services proved a good slogan for the Illinois Terminal, which worked hard over the years to develop its carload freight business and provide high quality service to the communities it served.  As Dr. George Hilton and John Due note in their excellent title, "The Electric Interurban Railways In America," the IT blossomed into the largest, end-to-end, traction system in the country with a network of 462 miles by 1950.  The McKinley Syndicate became involved with a handful of interurbans throughout the country (as well as public utilities) although none were as successful as the IT.  McKinley was an investment broker from Champaign, Illinois and got his start in the growing interurban industry by acquiring the local Danville Street Railway & Light Company (DSR&L) on July 18, 1900.  The immediate heritage of the Illinois Terminal begins at this time.  Shortly after the DSR&L purchased, McKinley bought the defunct Danville, Paxton & Northern Railroad (DP&N).  It was originally incorporated on December 2, 1899 to link Danville with Paxton, Illinois, a distance of more than 40 miles.
Getting Started
The original promoters envisioned it as just another steam railroad but later pivoted to the idea of an electrified interurban.  Whatever the case, no work took place prior to McKinley's purchase.  The first segment to enter service took place on October 20, 1901 when the initial six miles opened to Westville, located south of Danville.  Less than a year later, on May 29, 1902, a short branch to nearby Catlin was opened.  A flurry of activity occurred that year as McKinley began expanding his then still-small interurban network.  The first involved reaching Georgetown, situated slightly more than 4 miles south of Westville.  It was not built by his DP&N but rather local interests who wished to see service extended to their town, opening on August 27th that year.  The next move occurred within his hometown of Champaign where the Danville, Urbana & Champaign Railway (DU&C) was incorporated on July 31, 1902 and acquired the assets of the DP&N a year later on April 24, 1903.  The DU&C was intended to link St. Joseph to the east via Urbana (about 12 miles).  With funding in place, right-of-way acquired quickly, and work proceeding rapidly the line opened on November 9th.  Into the following year the project of linking the two disconnected systems continued and through service from Danville to Champaign began on September 6, 1903 after a substation was completed in Fithian (west of Danville).
The entire system utilized the standard 600-volt, direct-current system inherent of most interurbans, particularly in the Midwest (the northwestern lines, interestingly, utilized alternating current technology, explained in more detail later on).  There were two final extensions on this eastern segment; the first occurred on May 25th, 1905 when a short branch to Homer was opened (via Ogden) while later that year, on October 1st, service extended from Georgetown to Ridge Farm.  While all of this was ongoing, McKinley drew up plans to extend his interurban into the second-busiest railroad gateway, St. Louis.  He began by incorporating the Decatur, Springfield & St. Louis Railway (DS&StL) on May 28, 1903.  Although it would be disconnected from his eastern lines the DS&StL carried ambitious plans to connect all three of its namesake points.  To get started, two initial moves were carried out.  For access into Decatur the small Decatur Street Railway & Light Company was acquired while purchase of a defunct right-of-way between Decatur and Springfield provided a corridor nearly ready for construction along the northern segment.  As Hilton and Due's book poignantly notes, the final Illinois Terminal network was comprised of many subsidiaries. 
This was particularly true of the southwestern lines, the details of which will only be briefly mentioned.  The Springfield - Decatur was ultimately built as yet another subsidiary known as the Illinois Central Traction Company (ICT), opening for regular service on September 25, 1904 (direct entry into Springfield was achieved via the Springfield Consolidated Railway).  In his book, "Illinois Terminal: The Electric Years," author Paul Stringham details that during construction ITC encountered difficulty with installing a crossing over the Illinois Central on Capitol Avenue in Springfield.  This issue became a recurring theme as McKinley experienced similar problems with other large railroads regarding either crossings or interchange connections.  Most considered interurbans a threat to their passenger traffic and, to a lesser extent, freight business.  They were openly hostile and usually refused to work with the small electric lines in any capacity at all.  This was nearly universally the case east of the Mississippi River while Midwestern and western carriers were somewhat more receptive, in particular the Chicago Great Western which openly welcomed interchange.  It was an odd reaction considering most interurbans were less than 50 miles in length and carried no, true threat to the big carriers.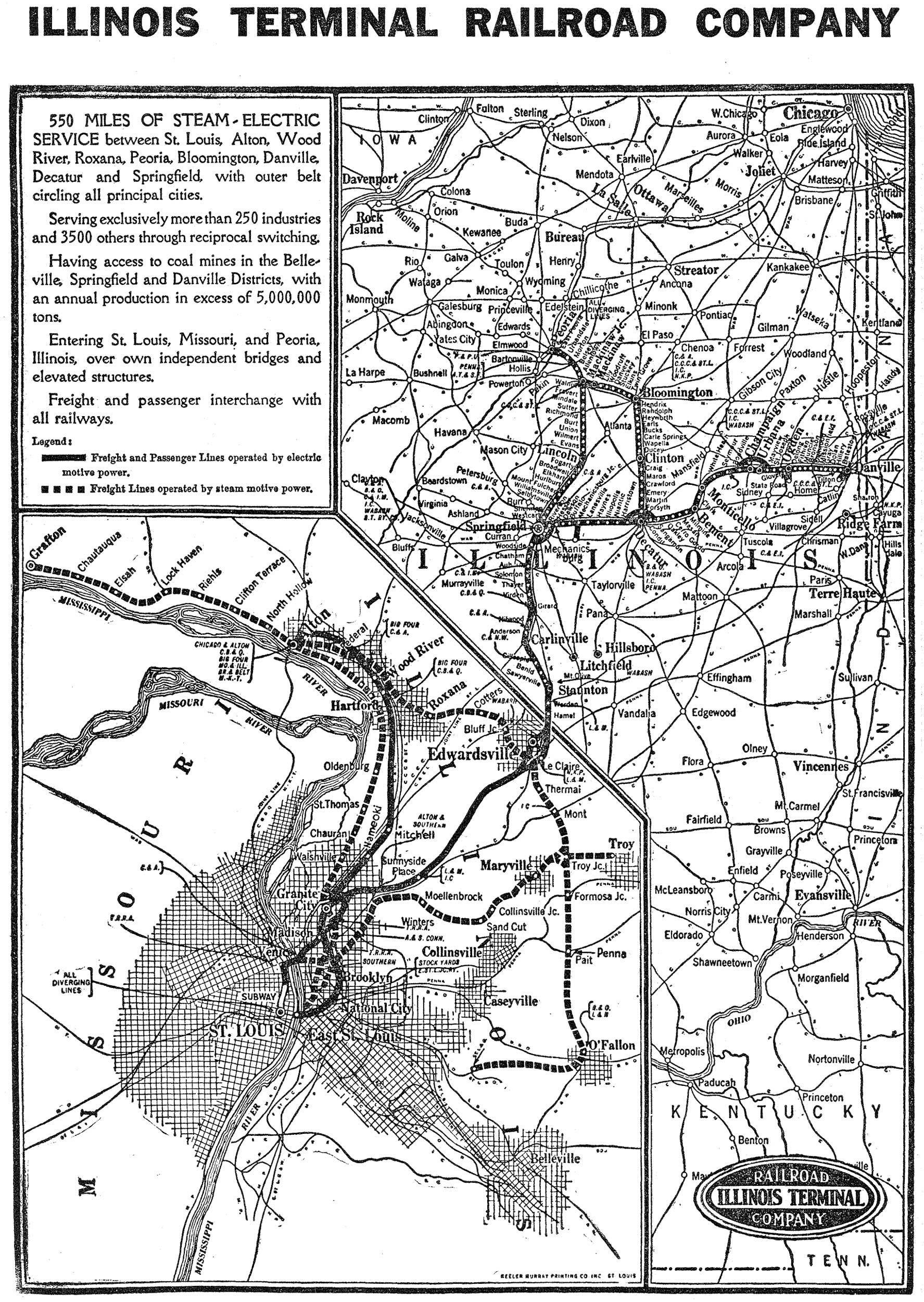 On To St. Louis
Looking to the south of Springfield, McKinley renamed the DS&StL as the St. Louis & Springfield (StL&S) on December 28, 1903 to build as far as Staunton.  From that point, another system was incorporated know as the St. Louis & North Eastern (StL&NE) formed on December 22, 1904 to finish the line to Granite City, on the east side of the Mississippi River from downtown St. Louis.  Why McKinley changed tactics and elected to break up construction into several subsidiaries is unclear but by June of 1903 work on the StL&S began and the road launched full regular service on February 16, 1906.  While this project was underway, so too was the StL&NE building northward from Granite City running via Edwardsville.  The completed line to Staunton was finished on October 31, 1905 but regular service was delayed until February 16, 1906 as a few construction issues were ironed out.  At this time, McKinley did not have a direct connection into St. Louis, relying upon interchange with the Terminal Railroad Association of St. Louis (TRRA) at Granite City via its Eads Bridge.  Even this interchange would prove tumultuous and he also faced hostility in reaching East St. Louis (finally worked out, somewhat tentatively, in late 1906). Such problems surely convinced McKinley that the only way to offer truly reliable, scheduled service was via direct ownership of all his lines.
As he began streamlining operations into a truly unified system the Illinois Traction Company was incorporated in 1904 to control all of McKinley's lines throughout the state.  Beyond St. Louisa, and now enjoying direct service to Danville, he looked northward.  As Mike Schafer points out in his book, "Classic American Railroads: Volume III," the ultimate goal from the start was Chicago.  Unfortunately, five issues doomed the dreamed; overextended finances due to ongoing construction efforts elsewhere (in particular, building the massive bridge over the Mississippi River into downtown St. Louis, the Great Depression, declining ridership by the 1920's, lack of online carload freight, and an inability to connect it with the rest of the system.  It began as the incorporation of the Chicago, Ottawa & Peoria Railway on April 19, 1907 which acquired the Illinois Valley Railway. It slowly expanded east and west of Ottawa in the coming years reaching Joliet, Streator, and Princeton.  Despite this setback, McKinley did achieve further expansion above Springfield and Decatur.  Once again, a series of subsidiaries accomplished the task.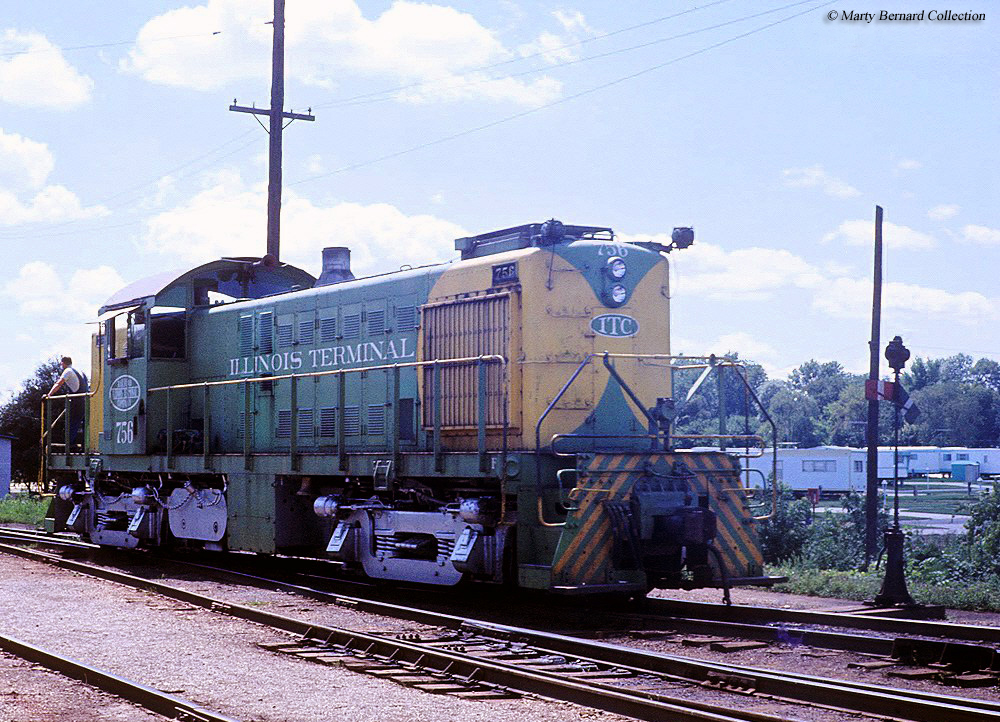 These corporate paper companies included the following: Springfield & North Eastern Traction (formed on April 28, 1906 from the reorganization of the Springfield & North Eastern Railroad, an acquired property) completed the Springfield - Lincoln segment, launching regular service on December 15, 1906; Chicago, Bloomington & Decatur was incorporated on August 19, 1905 to complete the Decatur-Bloomington line, which took about a year and fully opened on August 1, 1906; Peoria, Bloomington & Champaign Traction formed on April 1905 was assigned the Bloomington - Peoria leg running via Mackinaw, opening on April 21, 1907; and finally the Peoria, Lincoln & Springfield Traction would build from Lincoln to Mackinaw, thus providing through service from Peoria to East St. Louis via Springfield.  It was incorporated on April 18, 1907 and opened for regular service on New Year's Day, 1908.  Interestingly, while nearly all McKinley properties utilized the standard 600-volt, direct-current (DC) system the lines between Springfield - Peoria and Peoria - Bloomington were equipped with a 33,000-volt alternating current (AC) operation, stepped down to 3,300 volts at substations.  It was further brought down to just 250 volts by cars (carrying on-board transformers) for regular operation.  The company found the AC system not to their liking and after only two years switched to standard DC power on July 8, 1909.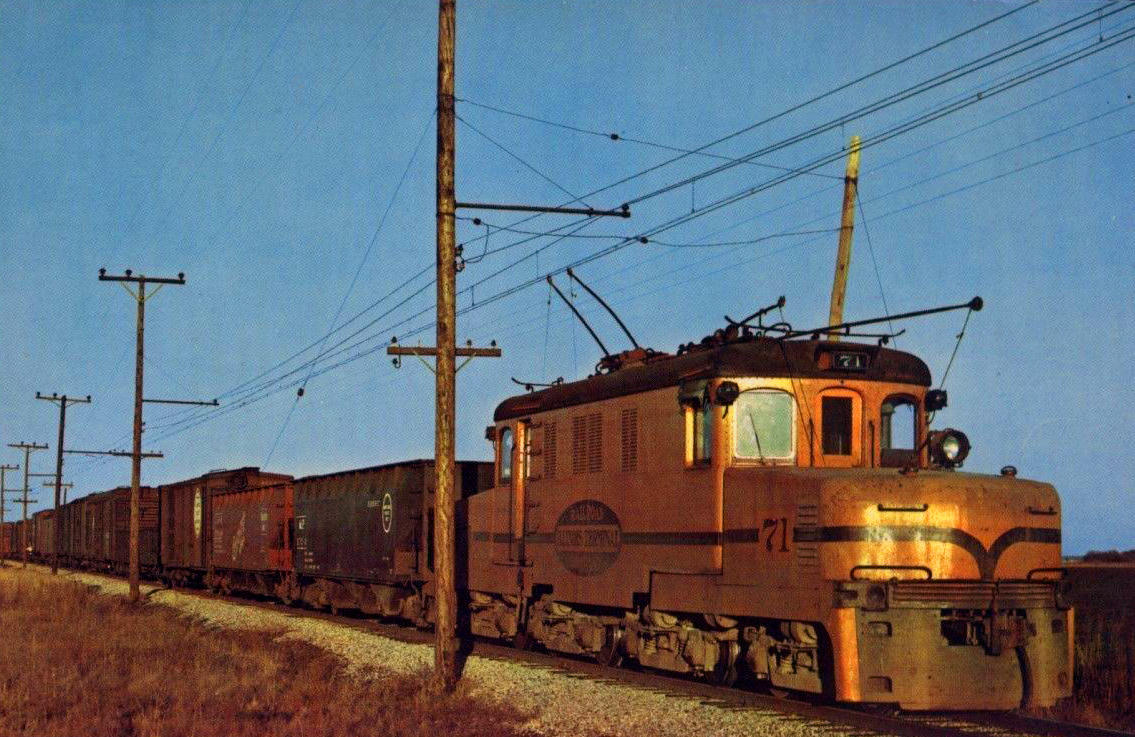 Two final important project remains in forming the modern Illinois Terminal Railroad; linking the Champaign - Danville section with the rest of the system and direct service into downtown St. Louis.  The former got underway in 1906 when, on May 26th, yet another subsidiary was formed known as the St. Louis, Decatur & Champaign Railway.  It would run east from Decatur to reach Champaign, linking Bement and Monticello along the way.  Construction commenced that same spring and regular service launched on June 16, 1907.  The final endeavor proved to be the most costly, crossing the river into downtown St. Louis.  To do so, McKinley formed a subsidiary known as the St. Louis Electric Terminal Railway on March 8, 1906.  By May of 1907 the company had its own line reaching the east bank of the river at Venice.  In addition, private land had been acquired on the west bank near Salisbury Street leaving only the actually bridge's construction to achieve downtown access.  The incredible project was launched that August and required three years of construction.  The McKinley Bridge was quite a feat of engineering at 8,000 feet in length with a 2,700-foot western approach, which included double-tracking and a single-lane highway.  The final price tag was $4.5 million and, ironically, was the great railroad span in the city.  Regular service launched on October 1, 1910 with trains terminating at a station located at Lucas Avenue in downtown St. Louis (in 1933 street running in the city was eliminated when a new terminal opened).
While the completion of this structure marked most of the IT's modern network, a bit more expansion did occur during the 1920's through 1930.  As Hilton and Due's book notes it was all situated near the St. Louis area along the heavily industrialized east bank of the Mississippi River.  These acquisitions included the St. Louis & Alton in 1930 for access to the latter town; St. Louis, Troy & Eastern in 1925 serving the area around Troy; and Alton & Eastern in 1926 provided access from East St. Louis to Grafton.  In addition to new construction, McKinley was serving areas as far south as O'Fallon.  Finally, there was the Illinois Terminal Railroad.  It was a rather insignificant addition which wound up as the face of the entire network.  It was formed on July 8, 1895 as a subsidiary of the Illinois Glass Company to serve as its transportation needs in the Alton area.  Within just a few years further expansion was undertaken to the east, opening to LeClaire/Edwardsville  on January 11, 1900.  It began an independent railroad in 1907 and largely remained so for the next two decades aside from a slight name change in 1922 as the Illinois Terminal Company. 

The Modern Illinois Terminal
Around this time a series of corporate changes to the entire operation took place; the Illinois Traction, Inc. was formed in 1923 to maintain all rail services.  The IT was a subsidiary of the Illinois Power & Light Company (IP&L).  It was quite a confusing corporate entanglement of paperwork but simplified somewhat in 1928 when then Illinois Terminal Company was acquired by the IP&L.  The IT then subsequently leased all rail holdings.  In a further corporation simplification the Illinois Terminal Railroad was created on October 18, 1937 in a consolidation of the Illinois Terminal Company and all of its leased assets.  From that point forward, the interurban was operated as a unified system under one name.  By then, McKinley had left the company to pursue politics and it passed through various owners including Clement Studebaker, Samuel Insull, and then the North American Company acquired direct control after Insull's empire bankruptcy during the depression.  The IT returned to independence during the 1930's and spent the following two decades as such until its 1956 purchase by a consortium of large Class I's including Baltimore & Ohio; Chicago & Eastern Illinois; Chicago, Rock Island & Pacific; Chicago, Burlington & Quincy; St. Louis-San Francisco; Gulf, Mobile & Ohio; Illinois Central; Litchfield & Madison; New York Central; Nickel Plate; and Wabash.
Notable Passenger Trains
Capitol Limited: (St. Louis - Peoria)
City of Decatur: (St. Louis - Decatur)
Fort Crevecoeur: (St. Louis - Peoria)
Illini: (St. Louis - Champaign)
Illmo Limited: (St. Louis - Peoria)
Mound City: (St. Louis - Peoria)
Owl: (St. Louis - Peoria)
Peoria Flyer: (St. Louis - Peoria)
St. Louis Flyer: (Peoria - St. Louis)
Sangamon: (St. Louis - Peoria)
The modern Illinois Terminal varied only slightly from what you might expect of a typical interurban except for its heavy volume of carload freight and numerous interchange connections.  As this business increased the company was forced to employ ever larger boxcab motors.  These included the Class A "Steeple Cab" switchers, 800-hp Class B (1910), 1,000-hp Class C (1924), and hefty 1,750-hp Class D (1930) locomotives, the latter of which was more powerful than any diesel-locomotive model of the day!  While McKinley had envisioned his system as a passenger carrier, like any other, its freight business became so dense it could not be ignored.  As business grew the utilization of street trackage became nearly unbearable.  As a result a series of belt lines were constructed fairly early on to avoid operating through the cities with bypasses built around Springfield, Decatur, and Edwardsville.  It also managed to convince the Wabash and Illinois Central to electrify part of their trackage around Champaign and Urbana in 1927 to bypass the street running in those towns as well.   As the years passed, freight volume grew steadily; $1.6 million in 1924, $2.2 million in 1926, and a whopping nearly $11 million by 1954 (with $600,000 in passenger earnings).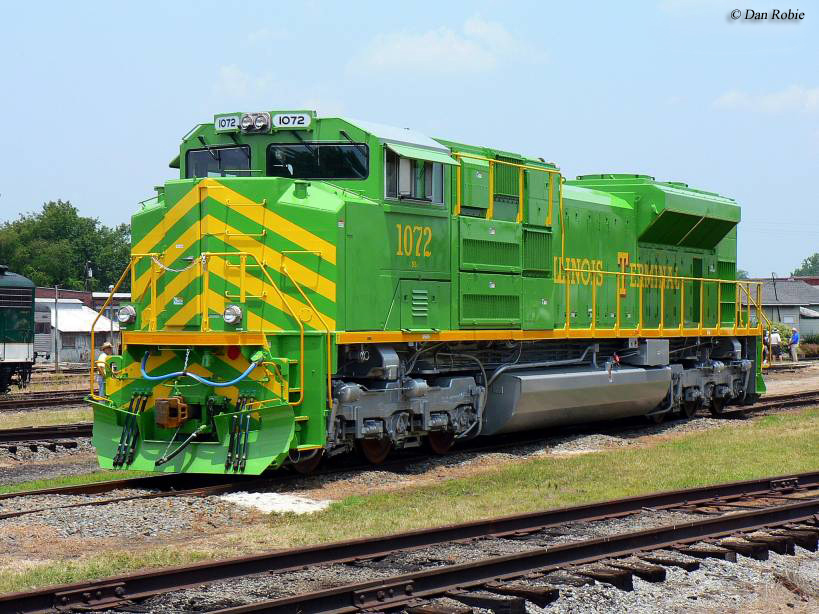 For most interurbans, reaching the six figure mark was an accomplishment making the IT's level of success quite amazing.  As Due and Hilton note, by the postwar period the system's earnings were comparable to that of the Chicago, Indianapolis & Louisville Railway (Monon). After the large Class I's took control stark changes took place as the electrification ended and segments of the system were abandoned in favor of trackage rights.  On June 30, 1950 the last steam locomotive, 2-6-0 #21, was sold and as more diesels arrived the electrification was also cutback. The final through passenger runs took place in 1956 while suburban service between St. Louis and Granite City survived until June 21, 1958.  At that point, the IT became a freight-only, entirely diesel operation.  Interestingly, the IT never heavily upgraded its infrastructure to handle heavy freights over the years outside of the belt lines.  It largely relied on only 70-pound rail although did lay heavier welded rail between Mont and McKinley Junction in 1969.  As Mr. Stringham's book notes, the big Class D motors were too heavy for the track, weighing about the same as Electro-Motive's early GP7 road-switcher.  This light infrastructure could simply not handle the weight and for this reason, much of the network was abandoned beginning in the 1950s in favor of trackage rights; the Danville - Ogden was let go in 1952 (cutback to Champaign a year later); the Forsythe - Mackinaw and Alton - Grafton sections were removed in 1953.  
Steam Locomotive Roster
Numbers

1 (1st)

1 (2nd)

2-3

6 (1st)

6 (2nd)

7 (1st)

7 (2nd)

8 (1st)

8 (2nd)

9

10-23

27

28-29

30-32

33-35, 37-38

36

Wheel Arrangement

0-4-0

4-4-0

0-6-0

4-4-0

2-6-0

4-4-0

2-6-0

2-6-0

2-6-0

0-6-0

2-6-0

2-8-0

2-8-0

2-8-2

0-8-0

0-8-0

Builder

Baldwin

Baldwin

Baldwin

Baldwin

Baldwin

Unknown

Baldwin

Baldwin

Baldwin

Baldwin

Baldwin

Brooks

Alco/Pittsburgh

Baldwin

Alco/Richmond

Alco/Schenectady

Date Built/Notes

9/1889

7/1907

1/1903, 4/1904

1/1900

11/1913

Ex-Chicago & Alton

6/1913

12/1903

1/1913

1920

9/1910 - 10/1928

1910

6/1903, 3/1903

7/1929

2/1924 - 6/1925

6/1925
Diesel Locomotive Roster
The American Locomotive Company
| Model Type | Road Number | 1967-1968 Re-Numbering | Date Built | Quantity |
| --- | --- | --- | --- | --- |
| S2 | 700-711 | 1001-1012 | 1948-1950 | 12 |
| RS1 | 751-756 | 1051-1056 | 1948-1950 | 6 |
Electro-Motive Division

| Model Type | Road Number | 1967-1968 Re-Numbering | Date Built | Quantity |
| --- | --- | --- | --- | --- |
| SW8 | 725 | 801 | 1950 | 1 |
| SW1200 | 775-786 | 1201-1212 | 1955 | 12 |
| F7B | - | 1507-1508 (Ex-RF&P) | 1949-1959 | 2 |
| SW1500 | - | 1509-1515 | 1970 | 7 |
| GP7 | 1600-1605 | 1501-1506 | 1953 | 6 |
| GP7u | - | 1750 (Ex-Wabash) | 1952 | 1 |
| GP38-2 | - | 2001-2004 | 1977 | 4 |
| GP20 | - | 2008-2009 (Ex-UP) | 1960 | 4 |
| SD39 | - | 2301-2306 | 1969 | 6 |
Electric Locomotive Roster
Numbers

51-52

53

61

70-74*

1550 (1st)

1550 (2nd)

1551-1555

1556 (1st)

1556 (2nd)

1557 (1st)

1557 (2nd)

1558

1559-1560

1561 (1st)**

1561 (2nd)**

1562-1578**

1579-1581***

1582-1584***

1585-1586***

1587-1598***

Class

-

-

-

D

A

A

A

A

A

A

A

A

A

B

B

B

C

C

C

C

Builder

St. Louis

Decatur Shops

Decatur Shops

Decatur Shops

Danville Car

Danville Rly & Light

Danville Car

Danville Rly & Light

Danville Car

Danville Rly & Light

Danville Car

Danville Rly & Light

Alco/GE

Alco/GE

Decatur Shops

Decatur Shops

Decatur Shops

Decatur Shops

Decatur Shops

Decatur Shops

Type

B-B

B-B

B-B

B-B+B-B

B-B

B-B

B-B

B-B

B-B

B-B

B-B

B-B

B-B

B-B

B-B

B-B

B-B+B-B

B-B+B-B

B-B+B-B

B-B+B-B

Date Built/Notes

1930

1942

1939

1940-1942

1907

1904

1904-1907

1904

1907

1904

1907

1904

1907

1907

1910

1910

1924

1925

1926

Unknown
*  The Class D motors weighed an astonishing 217,000 pounds and with eight Westinghouse motors producing 225 horsepower offered an hourly rating of  1,800 horsepower.  Their lineage is as follows: #70 rebuilt from #1580 (9/10/40); #71 rebuilt from #1581 (3/27/41); #72 rebuilt from #1591 (12/12/42); #73 rebuilt from #1584 (1/2/42); and #74 rebuilt from #1588 (9/26/42).
**  The Class B electrics carried four, 200 horsepower motors from General Electric offering 800 horsepower.
*** The Class C motors carried eight General Electric motors offering 125 horsepower, providing them an hourly rating of 1,000 horsepower.
The "Streamliners"
Numbers

300-302

330-331

350, Louis Jolliet

351, Shadrach Bond

352, Pierre Laclede

Type

Baggage/Coach Combine

Coach

Parlor-Diner-Obs

Parlor-Diner-Obs

Parlor-Diner-Obs


Builder

St. Louis

St. Louis

St. Louis

St. Louis

St. Louis

Date Built/Notes

1948-1949

1948-1949

1948-1949

1948-1949

1948-1949
All above roster information is thank to William Middleton's "Traction Classics:  The Interurbans, Extra Fast And Extra Fare" and "Traction Classics:  The Interurbans, Interurban Freight" as well as Paul Stringham's "Illinois Terminal: The Electric Years."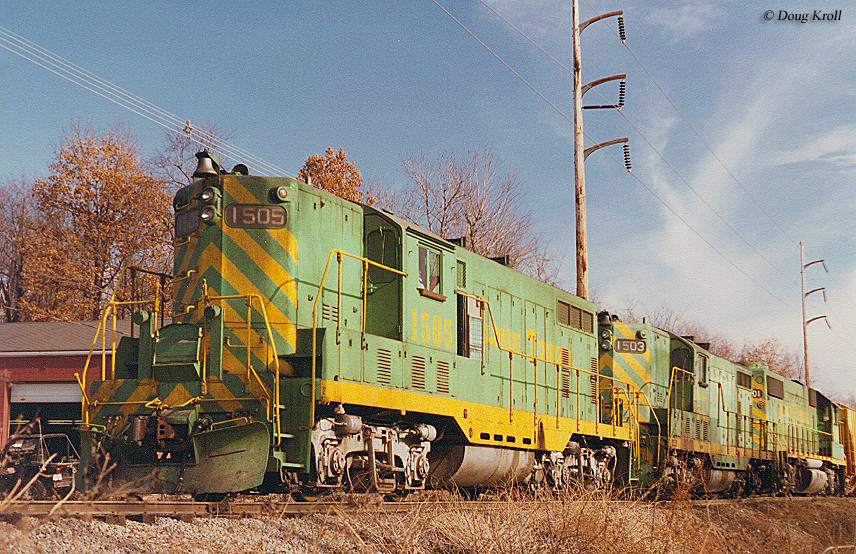 Later, in the late 1960s to help keep up with the demands of freight service the Illinois Terminal purchased the largest and most powerful diesels it ever owned, second-generation SD39s and GP38-2s from EMD.  By the early 1980's most of the IT's principle owners were no longer interested in the railroad, save for the Norfolk & Western which had acquired part of them (Wabash and Nickel Plate) through merger.  As a result, N&W officially took control of the remaining IT property on May 8, 1982.  At that time the remaining trackage was located between Granite City - Alton, Madison - Edwardsville - Alton, and Maroa (Decatur) - Farmdale Junction (Peoria).  Interestingly, the latter, totaling 57 miles, was an April 1, 1976 acquisition following the startup of Conrail, which did not want the former Pennsylvania Railroad branch.  Today, while many of the IT's former lines have been abandoned some continue to remain in use under N&W successor Norfolk Southern, while others have been turned into rail/trails. Of interest it should also be noted that a number of IT's former substations, used when the railroad featured electrically operated lines, still stand, although most are abandoned and in poor condition.
Books Featured In This Article
---
Home

›

Trolleys And Interurbans

› Illinois Terminal