The Lehigh and New England Railroad, Anthracite Coal Hauler

The Lehigh and New England Railroad was likely the least known of the great anthracite coal lines of the Northeast like the Reading Railroad, Lehigh Valley, Erie, Jersey Central, Lehigh & Hudson River and others. The railroad had a very tumultuous history prior to its final organization in 1895 and due to its small size, few markets served, and circuitous main line (which was even slower than the nearby Lehigh & Hudson River Railway); it had a very hard time for much of its life earning healthy profits. By the late 1950s with anthracite demand quickly drying up and no other significant means of traffic to replace the losses, the L&NE called it quits in 1961 with the Central Railroad of New Jersey picking up most of the remaining pieces of the railroad.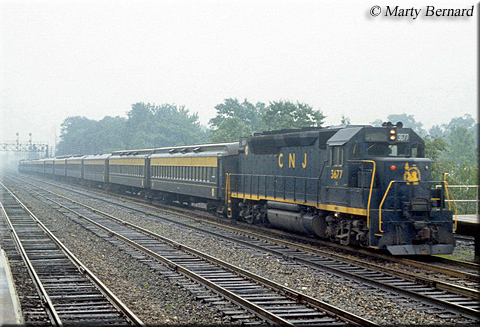 The rear of a CNJ commuter train pulls away from the station at Cranford, New Jersey on a rainy June 19, 1972. The Jersey Central employed power at each end of its commuter runs to eliminate the need for turning the locomotives.
The L&NE's history prior to 1895 is very confusing and difficult to decipher. The original predecessor to the L&NE was the South Mountain & Boston Railroad which had grand dreams of connecting Harrisburg, Pennsylvania with Boston, Massachusetts via a connection with the Massachusetts Central Railroad at the state line. Alas, this dream would not come to pass. After numerous bankruptcies, foreclosures, and name changes, some of which included the Pennsylvania, Poughkeepsie & New England Railroad of 1879; the Pennsylvania and New England Railroad of 1880; Delaware and Slatington Railroad of 1881; Pennsylvania, Slatington and New England Railroad (1882-1887); and the Pennsylvania, Poughkeepsie and Boston Railroad between 1887 and 1895, the Lehigh and New England Railroad was formed in 1895 directly after the Pennsylvania, Poughkeepsie and Boston fell through.
By the time the L&NE was formed the founder's original dream had fallen far short of either Boston or Harrisburg. At its peak the L&NE's system stretched a little over 170 miles with a connection at Tamaqua, Pennsylvania with the Central Railroad New Jersey running to the northeast and connecting with the Lehigh & Hudson River at Maybrook, New York, over the famous Poughkeepsie Bridge. The railroad also had a branch extending south from Benders Junction, a few miles north of Slatington which ran south to Bath, Pennsylvania splitting off as three different branch lines (one of which connected with the L&HR again at Martins Creek to the east). For a complete map of the railroad's web-like system please click here.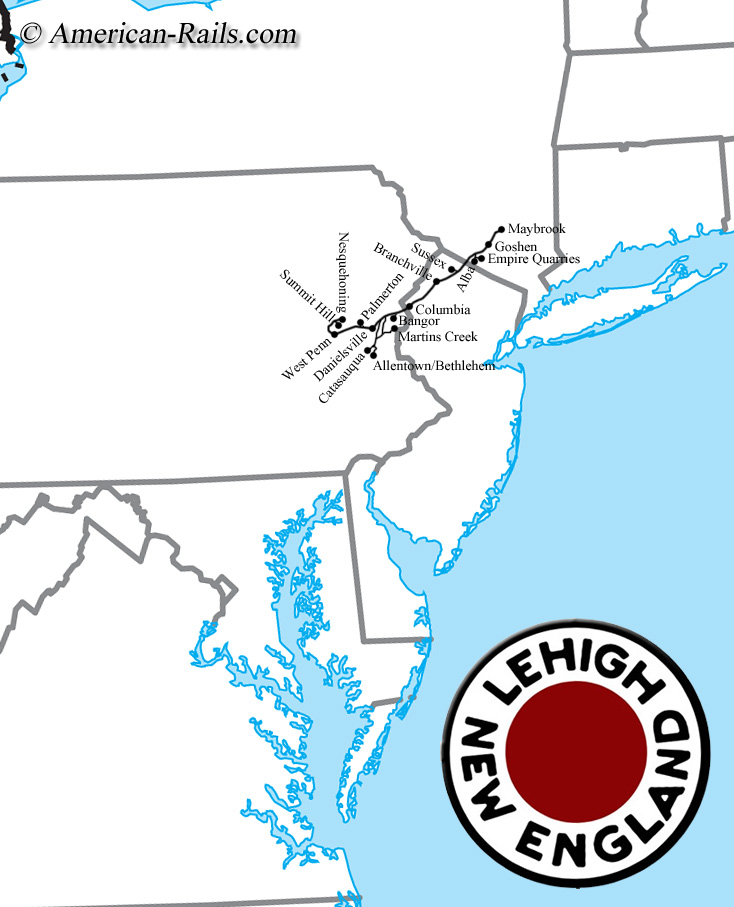 While the L&NE served as a bridge line like neighbor L&HR and predominantly hauled anthracite coal it also moved a large amount of cement from its branch lines around Bath, Pennsylvania. Still, the railroad's reliance on coal and its softening demand, particularly following World War II force the railroad to call it quits in late October 1961 handing over much of the system to the CNJ which managed it under the name of the Lehigh & New England Railway. The Central Railroad of New Jersey has gone by a number of different names from CRRNJ and CNJ to Jersey Central and the aforementioned. Regardless of its many names the CNJ was a New Jersey institution for years although it was only regional in operation and was, at its peak, only 711 miles in length.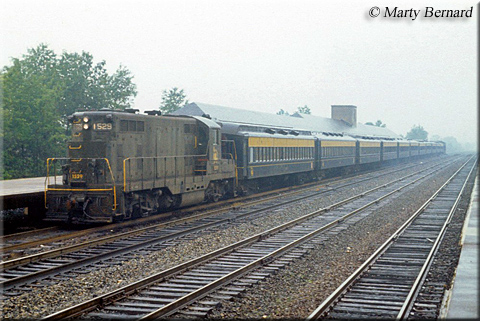 A Jersey Central GP7, #1529, is still clad in the road's classic dark green livery as it loads a commuter train at Cranford, New Jersey on June 19, 1972.
The Jersey Central served much of New Jersey along with northwestern Pennsylvania, Philadelphia, and Washington D.C. via a partnership with the B&O. The demise of the CNJ was the result of a number of factors including a region too saturated with railroads, stiff government regulation, and markets already served by more efficient competitors (such as the Penn Central). However, for all of these setbacks it did not help that the railroad was taxed so stiffly by the State of New Jersey that this also ultimately led to the railroad's bankruptcy and inclusion into Conrail in 1976. After Conrail took over the CNJ much of the L&NE, along with the Jersey Central itself, has since been abandoned as the railroad deemed its trackage redundant and unprofitable.
Of note, while the L&NE never had a large diesel-locomotive roster it did operate a near all-Alco fleet including S-2s, RS-2s, and FAs/FBs. After the CNJ took over operations the railroad included a small fleet of GP7s, RS-3s, and a single RSD-4. One final mention about the L&NE's steam locomotive fleet is that the largest it operated included 2-8-2 Mikados and 2-10-0 Decapods. While the L&NE is often a forgotten Northeastern railroad due to its cessation of operations in 1961 it has an interesting and colorful history, as poignant as the elegant paint scheme worn by its locomotives (of black with white pinstriping), that will continue to be remembered by those who follow it and were able to see it in operation.
Diesel Locomotive Roster
For an all-time diesel locomotive roster of the L&NE please click here. Lastly, there is one former L&NE diesel locomotive known to exist, S-2 #611 owned by the Emporia Grain Elevator in Emporia, Indiana but currently is listed as for sale with a weak generator. There are three others which possibly exist, RS2s #653, #660, and #663.
The American Locomotive Company
| Model Type | Road Number | Date Built | Quantity |
| --- | --- | --- | --- |
| S2 | 611-616 | 1948-1949 | 6 |
| RS2 | 651-663 | 1949 | 13 |
| FA-1 | 701-710 | 1948-1949 | 10 |
| FB-1 | 751-753 | 1948-1949 | 3 |
Whitcomb Locomotive Works
| Model Type | Road Number | Date Built | Quantity |
| --- | --- | --- | --- |
| 65DE19a | 601 (Ex-U.S. Army) | 1944 | 1 |
Steam Locomotive Roster
For a more complete roster of L&NE steam locomotives please click here. Also, for information regarding surviving L&NE steam locomotives please click here.
| Class | Type | Wheel Arrangement |
| --- | --- | --- |
| B-5 | Switcher | 0-6-0 |
| E-14 | Consolidation | 2-8-0 |
| F-1 | Decapod | 2-10-0 |
| G-1 | Mikado | 2-8-2 |
| I-5 | Switcher | 0-8-0 |
---
As a CNJ commuter train sits at the station in Newark, New Jersey on June 19, 1972; the added length of the GP40P model can clearly be seen. The extra space was to allow for a steam generator in passenger service.
For more on the fallen flag railroads like the Lehigh & New England consider one (or all) of Mike Schafer's Classic American Railroads books (listed below is the first in the series). He has published three thus far covering virtually all of the most well known fallen flags. I have all three in my collection and highly recommend them, the photography is excellent along with learning a general history of each railroad. If you're interested in perhaps purchasing this book please visit the link below which will take you to ordering information through Amazon.com, the trusted online shopping network.
Adam Burns, Site Author