The Minneapolis & St. Louis Railway owes its heritage not only to Minneapolis and St. Paul but also the once-stunningly beautiful Falls of St. Anthony.  Today, these falls no longer function in their natural state due to civil engineering for navigational purposes.  However, during the early 18th century the only natural major waterfall on the Upper Mississippi River was not impeded by human intervention.  The first U.S. presence in the region, Fort Snelling, opened in 1825.  It was a major Army outpost to protect growing American interests and frontiersmen.  This gave way to commercial development through utilization of the falls' awesome power.  A sawmill owned by Franklin Steele entered production in September of 1848 to tap the area's rich timber tracts, followed by flour milling which had been ongoing since the fort's early years.  The latter eventually surpassed lumber production although both came to define the region's economy.  In 1849 the town of St. Anthony was incorporated on the east side of the river while directly to the west Minneapolis was formed in 1867.  The area quickly grew to serve these industries, which eventually led to the need for a railroad.  While early predecessors of the Chicago & North Western, Milwaukee Road, and Chicago, Burlington & Quincy had already been established at this time all were located to the east, serving Chicago and Milwaukee.
Business leaders in Minneapolis/St. Anthony (the two merged in 1872) realized that if they hoped to see rail service established to their cities their own railroad would be needed.  In his excellent title, "The Tootin' Louie: A History Of The Minneapolis & St. Louis Railway," author Don Hofsommer notes the first effort in accomplishing this task was the Minnesota Western Rail Road formed in 1853 to build, "from some convenient point to be selected on the Lake St. Croix, or St. Croix River" to St. Paul/St. Anthony.  Unfortunately, the project stalled due to lack of funding.  In the meantime the St. Paul & Pacific (future predecessor of James Hill's Great Northern Railway) managed to link St. Paul with St. Anthony in 1862 but still provided no eastern outlet to the national network.  On May 26, 1870 the Minnesota state legislator authorized construction of the Minneapolis & St. Louis Railroad (M&StL) for the purpose of, again, serving local flour and sawmills.  This time such a railroad proved more successful as several successful businessman pledged to provide financial support.  The M&StL was long regarded as Minneapolis's own but they would need to hurry.  By that point the iron horse was converging upon the Twin Cities region from several points.  According to Jim Scribbins' book, "The Milwaukee Road Remembered," predecessors of the Milwaukee Road had opened through service from Minneapolis/St. Paul to Milwaukee/Chicago by 1867 while the Lake Superior & Mississippi (LS&M) connected St. Paul with Duluth (156 miles) during 1870.
The M&StL's target for an eastern outlet was the LS&M, which would allow it to reach an vital port connection along Lake Superior (Duluth).  The initial task was, ironically, to construct a subsidiary for the purpose of connecting with the LS&M.  What was known as the Minneapolis & Duluth Railroad (M&D) was incorporated on May 16, 1871 to build from Minneapolis to White Bear Lake utilizing the StP&P's bridge over the river.  The line opened for regular service on August 7th that same year.  While this was ongoing a southern outlet was also underway to establish a connection with the St. Paul & Sioux City (a Chicago, St. Paul, Minneapolis & Omaha Railway predecessor, which later joined the Chicago & North Western).  This section was opened only a few months after the M&D in November, at a point one mile south of Carver.  Unfortunately, before further construction towards Iowa could be the financial Panic of 1873 (brought about largely through the failure of Jay Cooke's banking firm) stopped further construction.  This event also brought an end to M&StL's brief control under the Northern Pacific, which was working to establish a transcontinental main line to Puget Sound.
After the economy had recovered, work continued on the M&StL's effort to reach Iowa.  It began construction south from Merriam in the spring of 1877 and had reached Albert Lea on November 12th where established a new interchange with the Burlington, Cedar Rapids & Northern Railway (Rock Island).  The point of this continued growth, of course, was not only to open new outlets for the businesses of Minneapolis/St. Paul but also reach new freight customers.  In particular was the movement of agriculture in the production of flour but the M&StL was also handling anything a customer was willing to ship. As a result, even well into the 20th century the railroad would move everything from wheat and oats to nails and butter along with a wide range of less-than-carload traffic.  But as the company's leaders quickly realized, pushing the railroad ever-further into America's Heartland meant irritating much more powerful interests associated with the Chicago & North Western; Burlington; Chicago, Milwaukee & St. Paul (Milwaukee Road); and Chicago, Rock Island & Pacific (Rock Island).  This began a cautious approach towards further expansion that, unfortunately, led to the railroad never reaching another notable market despite grandiose talks over the years of opening to Lake Superior, extending to St. Louis, pushing towards Chicago, and even once contemplating following in Milwaukee Road's footsteps and breaking for the Pacific coast.
Not long after the M&STL entered bankruptcy in 1888 due to traffic volumes which never developed (and a lack of funds to continue building) the Iowa Central began radiating northward through Iowa as well as southeast towards Illinois where it would eventually connect to Peoria.  In reality, the Iowa Central would come to make up the bulk of the M&StL system as it reached as far south as Albia, Iowa (and a connection with the Wabash Railroad). Through construction and takeovers of smaller systems the Iowa Central featured a number of branch lines and connected to the state's larger city of Des Moines.  A year after entering its first bankruptcy the M&StL leased the western region of the Wisconsin, Minnesota & Pacific Railroad, which was owned by the Chicago, Rock Island & Pacific (Rock Island). This line stretched from Morton, Minnesota to Watertown, South Dakota but was unconnected to the M&StL system. After exiting bankruptcy the railroad was able to finally purchased the route from the Rock Island in 1899 and completed an extension to it from Minneapolis. The completion of this extension gave the M&StL a 200-mile western division which tapped more agricultural reserves.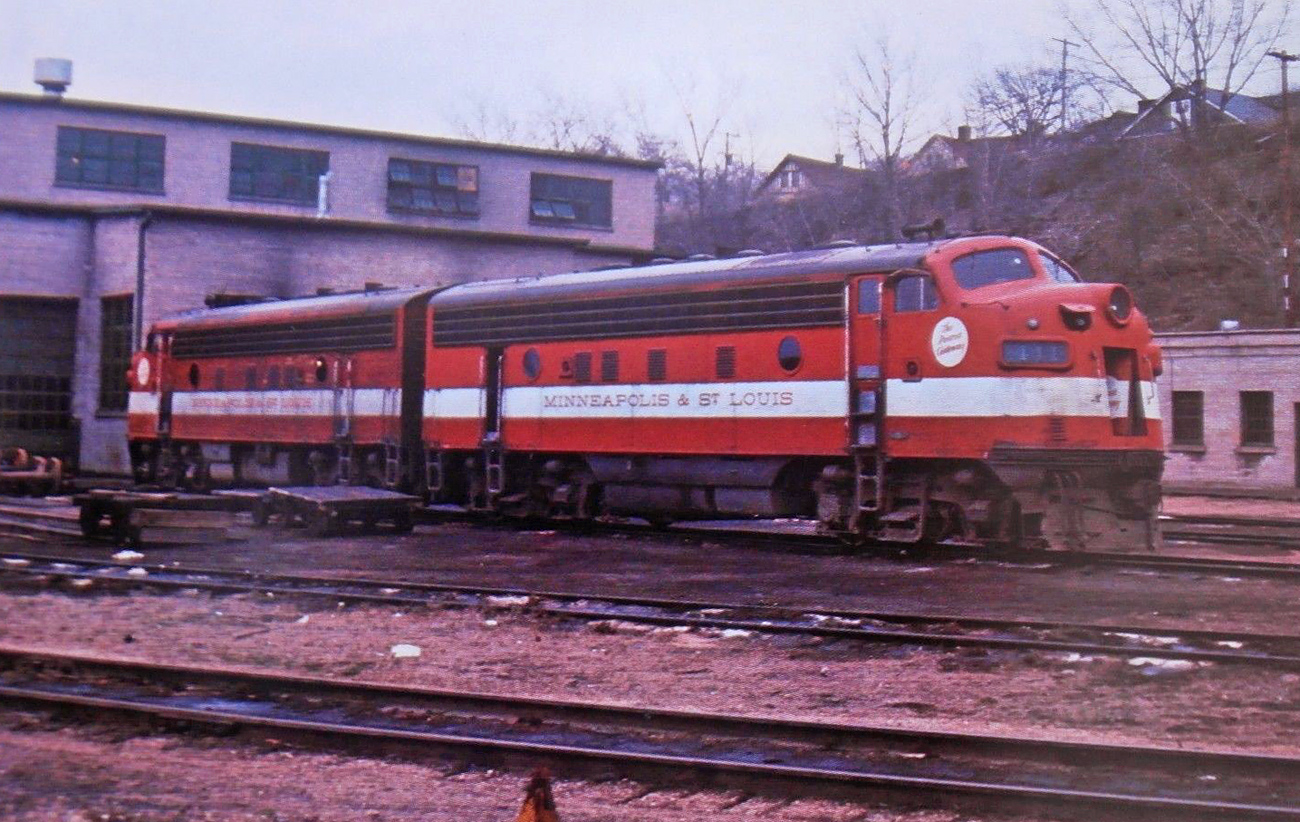 By 1901 the Iowa Central and M&StL officially merged creating although the two lines retained the latter's name, Minneapolis & St. Louis Railway. By around 1920 the company would reach its largest length, reaching as far west as Leola, South Dakota with an additional extension to Fort Dodge, Iowa. Despite the fact that the railroad connected to only one major artery, the Twin Cities region of Minneapolis and St. Paul it became very attractive for freight attempting to bypass increasingly congested Chicago with its connection at Peoria (thus giving it the classic slogan as the "Peoria Gateway", although it was also known as the Tootin' Louie). The M&StL was also able to reach Chicago, St. Louis, Sioux City, and Omaha via the Wabash and Illinois Central. At its final length the railroad stretched more than 1,600 miles.
By 1922, however, the railroad's weak marketing position again saw it dip into bankruptcy where it remained until new management under Lucian Sprague in 1935 streamlined operations and allowed the railroad to exit receivership by 1943. Sprague remained president until 1954 when a shareholder battle saw Benjamin Heineman gain chairmanship of the company. Interestingly, Heineman remained at the M&StL for only two years before becoming president of the Chicago & North Western in 1956. I would be under Heineman's watch that the C&NW gained control of the M&StL recommending that the railroad should be acquired.  Four years later in November, 1960 the Minneapolis and St. Louis Railway came under the control of the C&NW. Ironically, despite the fact that the M&StL's most lean years were during this time and the C&NW wanted control of the railroad it spent little time tearing apart the railroad. By the 1970s much of the M&StL's original through routes had been either abandoned or sold off as the C&NW preferred its own lines in favor of its predecessor's (of course, during this time the C&NW was also having serious financial trouble itself). Today, only small sections of the M&StL remain in use.  
In terms of passenger service, because the railroad served very few major cities directly it did not operate a very extensive operation. It's most well known train would be the North Star Limited, which operated between Minneapolis and the railroad's southern terminus at Albia, Iowa. From there the train was transferred to the Wabash and continued on to St. Louis. However, even that train was short-lived and was discontinued by 1935. With the development of the gas-electric railcar (the "Doodlebug") the M&StL began using it extensively for most passenger services as they were cheap to operate, could be used virtually anywhere and held compartments for both mail and passengers.
Diesel Locomotive Roster
The American Locomotive Company
| Model Type | Road Number | Date Built | Quantity |
| --- | --- | --- | --- |
| HH-660 | D-939 | 1939 | 1 |
| HH-1000 | D-539 | 1939 | 1 |
| S2 | 102 | 1941 | 1 |
| RS1 | 146, 244, 246, 346, 446, 546-547, 645-646, 744-746, 751, 845-846, 849, 851, 944-946, 948-951, 1044, 1046, 1048-1050, 1144, 1148-1150, 1249-1250 | 1944-1951 | 35 |
The Baldwin Locomotive Works
| Model Type | Road Number | Date Built | Quantity |
| --- | --- | --- | --- |
| VO-1000 | D-145, D-340 | 1940, 1945 | 2 |
Electro-Motive Corporation/Electro-Motive Division
| Model Type | Road Number | Date Built | Quantity |
| --- | --- | --- | --- |
| NW2 | D-139 | 1939 | 1 |
| SC | D-438 | 1938 | 1 |
| NW1 | D-538, D-738 | 1938 | 2 |
| SW | D-838 | 1938 | 1 |
| F2B | 147B | 1946 | 1 |
| F7A | 150A-151A, 150C-151C, 250A, 250C, 350A, 350C | 1949-1950 | 8 |
| F3A | 248A, 248C, 348A, 348C, 448A, 448C | 1948 | 6 |
| FTA | 445A, 445C, 545A, 545C | 1945 | 4 |
| FTB | 445B, 445B | 1945 | 2 |
| GP9 | 600-608, 700-713 | 1956-1958 | 23 |
| SD7 | 852, 952 | 1952 | 2 |
General Electric
| Model Type | Road Number | Date Built | Quantity |
| --- | --- | --- | --- |
| 44-Tonner | D-149, D-742, D-842 | 1942, 1948 | 3 |
Steam Locomotive Roster
| Class | Type | Wheel Arrangement |
| --- | --- | --- |
| A1-11, A1-13 | Switcher | 0-4-0/T |
| B1 Through B3 (Various) | Switcher | 0-6-0 |
| D6 Through D9 | >American | 4-4-0 |
| F1 Through F5 (Various) | Mogul | 2-6-0 |
| G1 Through G7 | Ten-Wheeler | 4-6-0 |
| H1 Through H6 (Various) | Consolidation | 2-8-0 |
| K1 | Pacific | 4-6-2 |
| M1, M2 | Mikado | 2-8-2 |
The railroad also experimented with the Budd Company's RDC (Rail Diesel Car) in the late 1950s for Minneapolis-Des Moines service but found them to be of little use and unprofitable.  The M&StL utilized a steam and diesel locomotive roster of mostly medium-sized power. For instance, the railroad's largest steam locomotives were only 2-8-2 Mikados and its heaviest diesel locomotives were six-axle EMD SD7s (the only two six-axle diesels it ever operated). However, given the railroad's geography and size this type of power performed quite well for its needs. The M&StL's final order of diesel locomotives was a batch of 15 EMD GP9s delivered in 1958.
Related Reading You May Enjoy


Home

›

Fallen Flags

› Minneapolis & St. Louis