The Pennsylvania-Reading Seashore Lines

The Pennsylvania-Reading Seashore Lines was a joint operation between the Pennsylvania and Reading railroads. The PRSL, as it was also known, served the popular tourism and beach destinations west and south of Philadelphia in New Jersey reaching such ocean-side towns as Atlantic City, Ocean City, and Cape May. Originally, the two railroads competed fiercely for the lucrative passenger traffic and the high demand brought about by folks wishing to vacation at the beach. Today, much of what was originally the PRSL remains in operation by a number of entities including New Jersey Transit, Conrail Shared Assets, Cape May Seashore Lines, SMS Rail Service, PATCO Speedline, Southern Railroad of New Jersey, and Winchester & Western.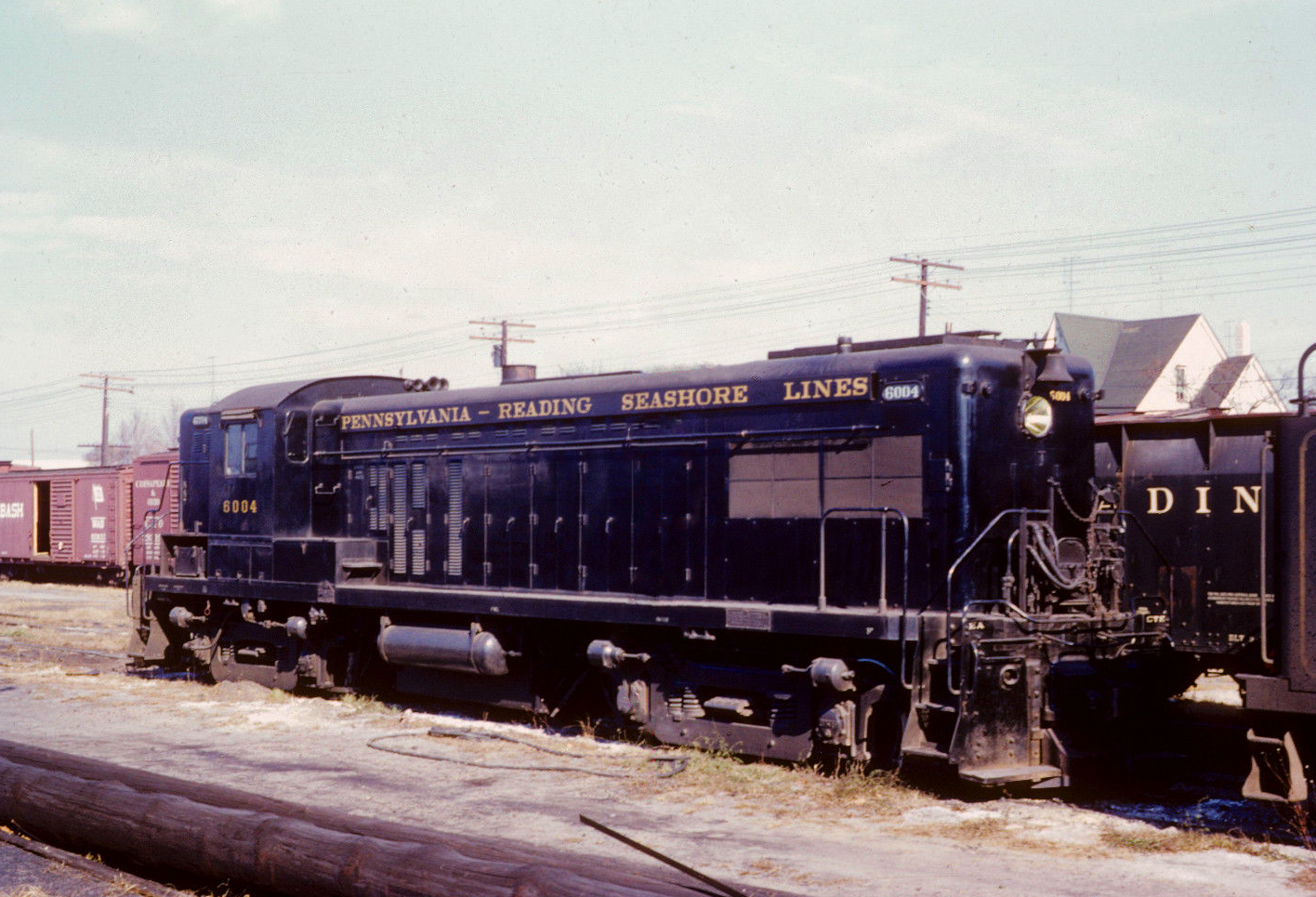 Reading FP7 #900 boards passengers at Franklin Street Station in Reading on June 24, 1977. This unit was preserved and is now restored in its original number and livery, owned by the Reading Company Technical & Historical Society.
While the Pennsylvania-Reading Seashore Lines became a joint operation of the Reading and Pennsylvania it did not start out that way. The PRSL was created only in the early 1930s and prior to that time the two railroads operated their own commuter lines to reach the Jersey shore where folks in the greater Philadelphia area regularly flocked to, particularly during the warmer months (remember, this was during a time before well-paved roads or Interstates). As can be imagined, the two were fierce competitors and regularly tried to beat the other to their final beach destination (since both lines served many of the same lines).
The Pennsylvania Railroad's operation was known as the West Jersey & Seashore Railroad. The WJ&S was created in May, 1896 and was actually a conglomeration itself of smaller lines including:
Camden & Atlantic Railroad: Chartered on March 19, 1852 by the state of New Jersey the C&A connected Camden with Atlantic City. The PRR gained control of the railroad through its West Jersey Railroad in early 1883.
Delaware River Railroad: Originally chartered as the Delaware Shore Railroad in February, 1873 it completed its main line between Woodbury and Penns Grove in July, 1876. The line went bankrupt and became the Delaware River Railroad in early 1879. The WJ&S took over the line in the spring of 1900.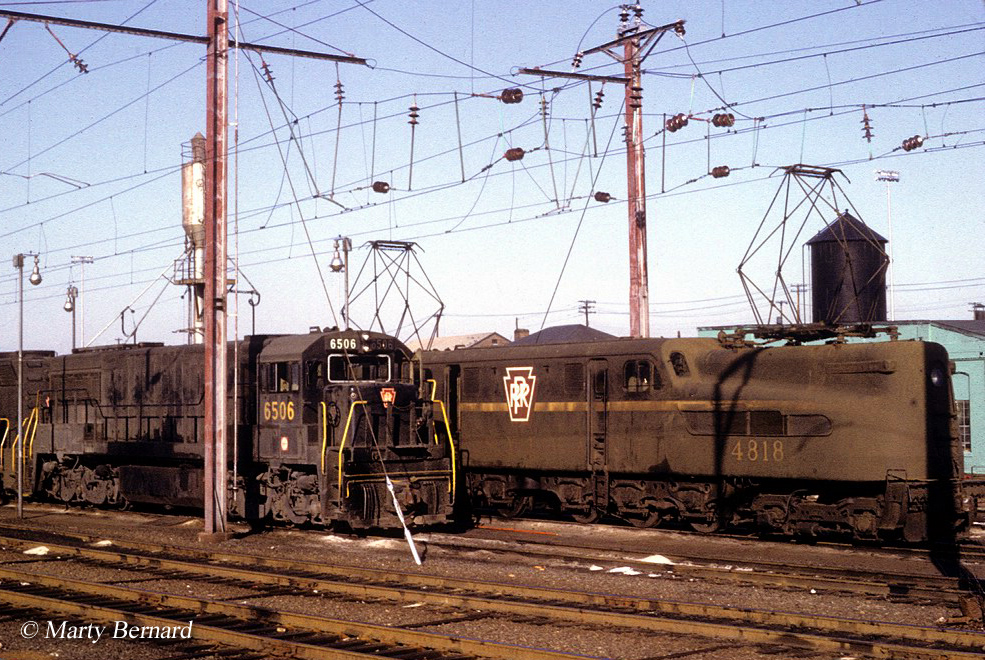 Pennsy GG1 #4818 and U25C #6506 are seen here in Arlington, Virginia just a few months after Penn Central was formed on December 17, 1968.
Millville & Glassboro Railroad: This line was chartered in March, 1859 to connect its namesake towns, completing the line a year later in October, 1860. It attempted to stretch its line to Cape May but ran out of money. The operation was re-chartered as the Cape May & Millville Railroad, completing its route to Cape May in 1867. It was leased to the West Jersey Railroad two years later in 1869.
Philadelphia, Marlton & Medford Railroad: Chartered in January, 1880 it connected Haddonfield and Medford by July, 1881. It became part of the C&A by 1885 and subsequently a division of the WJ&S. It lasted just a few months into the PRSL era before being abandoned in the fall of 1931.
Salem Railroad: Chartered in March, 1856 connecting Pittstown and Salem by 1863. The line was leased to the West Jersey Railroad in early 1868.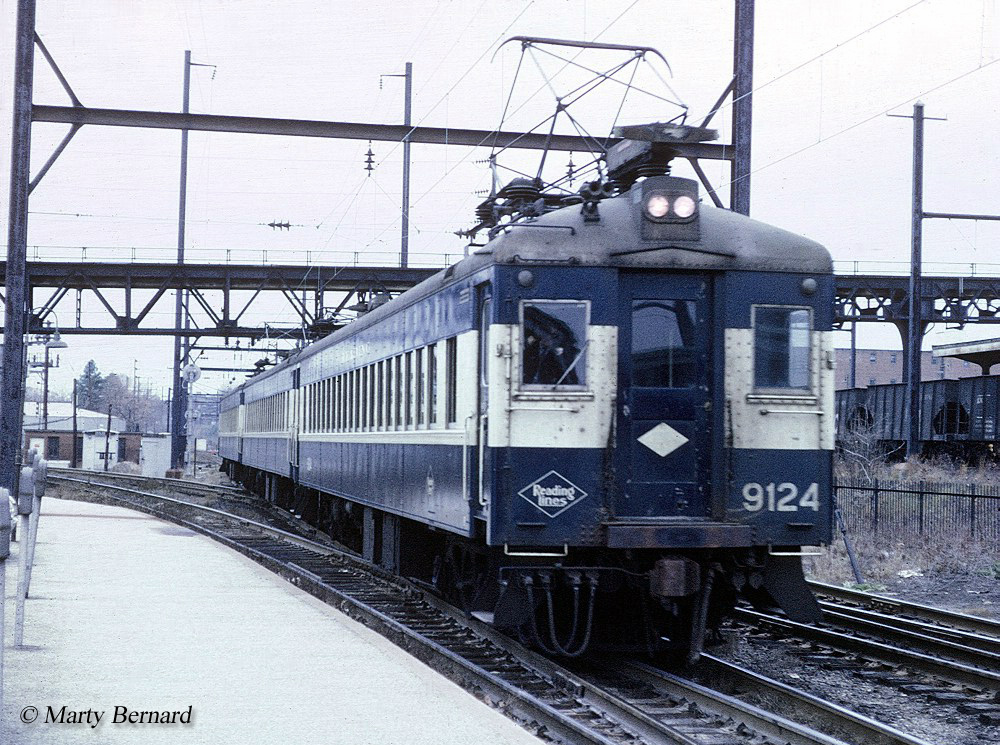 Reading MU #9124 and two other cars carry a commuter train through Norristown, Pennsylvania on November 30, 1968.
West Jersey Railroad: The West Jersey Railroad was chartered by the state of New Jersey in February, 1853. Its original main line stretched from Camden to Cape May. It also reached Glassboro from Camden via the then abandoned Camden & Woodbury. The operation also leased, built, or took over a number of other operations including the Millville & Glassboro, Salem Railroad, and Camden & Atlantic mentioned above. It chartered the Swedesboro Railroad in 1867 to connect Woodbury and Swedesboro, opening the route a year later. The WJRR later chartered the Woodstown & Swedesboro Railroad to stretch the line to Woodstown, completing that line February, 1883. Finally, the WJRR chartered the Maurice River Railroad in June, 1887 to connect Manumuskin with the Maurice River, opening the route in November, 1887.
West Jersey & Atlantic Railroad: Chartered by West Jersey Railroad in November, 1879 it connected Newfield, Atlantic City, and Mays Landing opening the line in June, 1880.
The Reading Railroad's southern New Jersey lines were operated by its Atlantic City Railroad subsidiary, which was created on April 1, 1889 to effectively control them and were composed primarily of four railroads: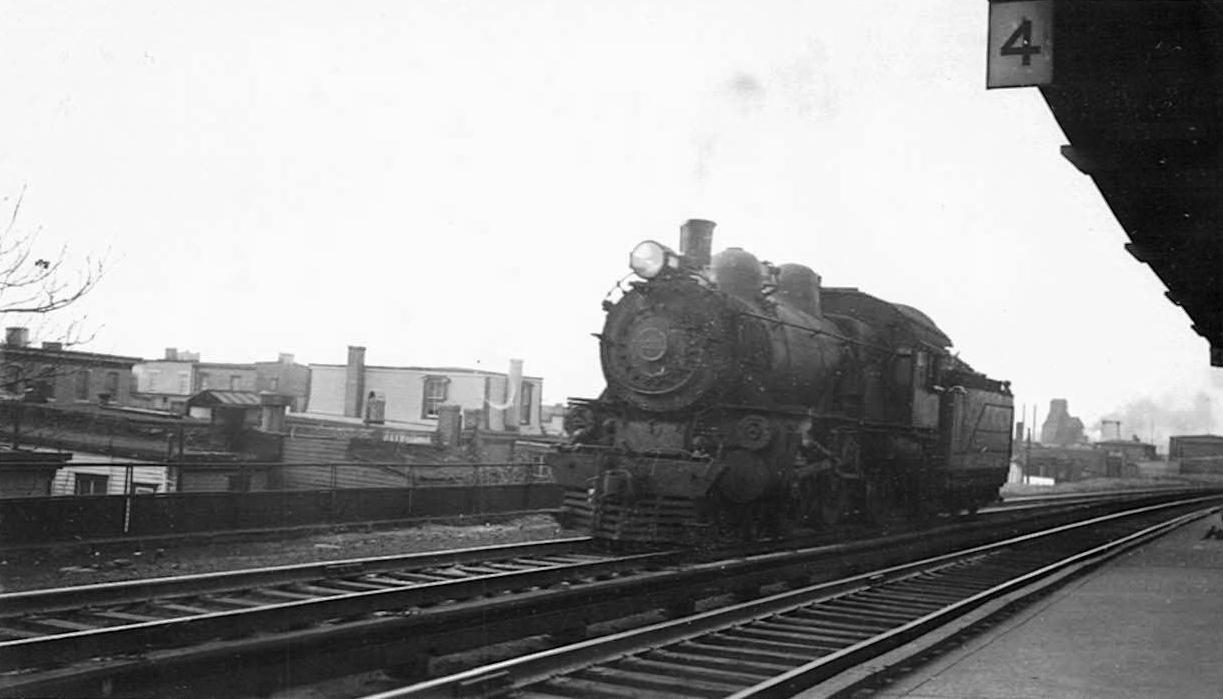 Reading FP7 #900 exits from the Reading Terminal train shed in Philadelphia with a commuter train on November 30, 1968. Today, the tracks are gone to the facility but it still stands and is preserved.
Camden, Gloucester & Mt Ephraim Railway: Chartered in June, 1873 the CG&MtE connecting its three namesake cities by May, 1876. Originally a three-foot narrow gauge line, after its purchase by the Philadelphia & Reading (Reading) in November, 1884 it was converted to standard gauge.
Philadelphia & Atlantic City Railway: Chartered in March, 1876 this railroad looked to connect its namesake cities (via Camden) and opened in just three months completing the 55-mile line by July of that year. Originally a narrow gauge operation it was converted to standard gauge in 1884 with the Philadelphia & Reading gaining full control by December, 1885.
Williamstown & Delaware River Railroad: Chartered in March, 1871 as the Williamstown Railroad this railroad looked to connect Atco with Glassboro, finishing only as far Robanna by 1873 before financial troubles ended the plan. It was reorganized as the Williamstown & Delaware River in 1883 and controlled by the Philadelphia & Reading and Central Railroad New Jersey who completed the route to Glassboro. The P&R gained full control by 1885.
The ACRR also leased the Pleasantville & Ocean City Railroad and Philadelphia & Brigantine Railroad, although it divested itself of the latter operation by 1897. Between 1901 and 1930 the railroad acquired five additional lines including the Camden County Railroad (connecting Mount Ephraim Borough and Spring Mills); Cape May, Delaware Bay & Sewell's Point Railroad (connecting its namesake towns); Ocean City Railroad (connecting Ocean City Junction to Ocean City); and Seacoast Railroad (connecting Winslow Junction, Tuckahoe, Sea Isle City, and Cape May); Wildwood & Delaware Bay Short Line Railroad (connecting Wildwood Junction to Wildwood). After the PRSL it acquired the Stone Harbor Railroad in 1932 which connected Cape May Court House to Stone Harbor.  The PRSL was created on March 4, 1931 by the state of New Jersey which mandated that the PRR and Reading consolidate their two railroads serving the state's southern seaside towns to increase efficiency and streamline operations.
The order gave the PRR roughly 66.6% (two-thirds) ownership of the new line while the Reading received the other roughly 33.3% (one-third).  The PRSL itself was a combination of electrified and non-electrified lines. All of the energized territory was the result of the Pennsylvania Railroad stringing wires along its line between Camden-Atlantic City and Woodbury-Millville, the Reading's operation was all steam/diesel powered.  Steam locomotive power for the Pennsylvania-Reading Seashore Lines consisted of 4-4-2 Atlantics and 2-8-0 Consolidations while it used a small fleet of 0-6-0s for switching. During the diesel era things were much more interesting as the PRSL's original fleet consisted almost entirely of rare Baldwin models like the S-12, AS-16, and DRS-4-4-1500.
Diesel Locomotive Roster
| Road Number | Manufacturer | Model Type | Date Built |
| --- | --- | --- | --- |
| 2000-2009 | EMD | GP38 | 12/67-3/69 |
| 6000-6005 | BLW | DRS-4-4-1500 | 4/50 |
| 6006 | BLH | S-8 | 5/51 |
| 6007-6016, 6022-6027 | BLH | AS-16 | 3-4/53-11/53 |
| 6017-6021, 6028-6033 | BLH | S-12 | 6-7/53 |
As better highways slowly eroded the PRSL's passenger traffic it slowly cut back operations and abandoned some lines. However, by serving a sizable number of industries in the region it remained a buoyant operation. With the bankruptcy of the Penn Central in June, 1970 and the Reading falling a year later on November 23, 1971, Pennsylvania-Reading Seashore Lines had effectively no ownership as it was not itself in receivership. With the creation of Conrail in the spring of 1976 the new entity took over the PRSL and continued to operate commuter service on the line until state agencies took over the task.  Today, as mentioned above, numerous entities operate sections of the former PRSL including New Jersey Transit, Conrail Shared Assets, Cape May Seashore Lines, SMS Rail Service, PATCO Speedline, Southern Railroad of New Jersey, and Winchester & Western. For more information on the railroad please click here to visit the PRSL Historical Society's website.
---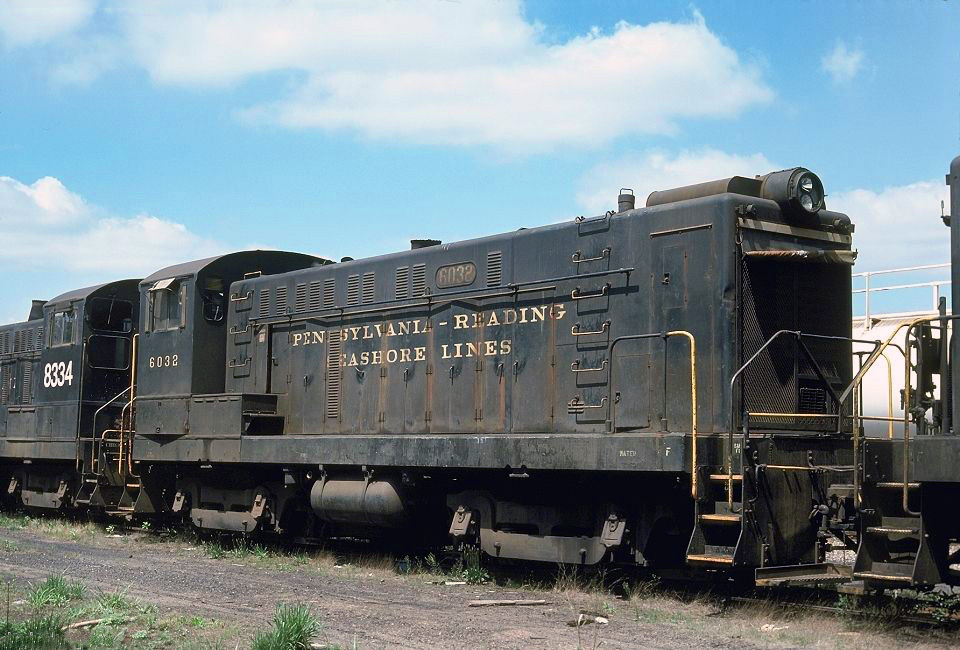 Three PRR MUs are seen here at the Washington Union Terminal on April 28, 1969.
For more reading on the Reading Railroad consider Mike Schafer's Classic American Railroads Volume III. This book, the latest in the series, was published in 2003 and follows up on his original titles, Classic American Railroads and More Classic American Railroads, both of which cover several fabled and well remembered fallen flags (of which the Reading is covered in the third volume). I own all three in this series and can attest to their high quality, so I am sure you won't be disappointed if you decide to purchase one.
You might also be interested in Pennsylvania Railroad from Mike Schafer and Brian Solomon. While the book is just a brief history on the railroad it is very well done and will at least give you a general overview and history of the Pennsy (and it is filled with many, excellent, historical and colorful photographs) at which point you can decide if you are interested in further books of study on the railroad (there are hundreds out there!). Even if you are a historian and/or fan of the PRR and have not seen this book I'm sure you will enjoy it! If you're interested in perhaps purchasing either (or both) of these books please visit the links below which will take you to ordering information through Amazon.com, the trusted online shopping network.