Singer grew its presence in the region when it purchased the Poinsett Lumber & Manufacturing Company that same year (1939), an operation which had just recently set up in the area in 1927 (it had also commenced with its own logging railroad to move timber to its mill near Pickens). In the coming years Singer would consolidate some of its divisions, including its cabinet business and power-tool company, and relocate them near Pickens. It also moved the railroad under the ownership of the Poinsett Lumber & Manufacturing Company, which continued to operate the shortline until 1963 when it was sold to a private individual from North Carolina.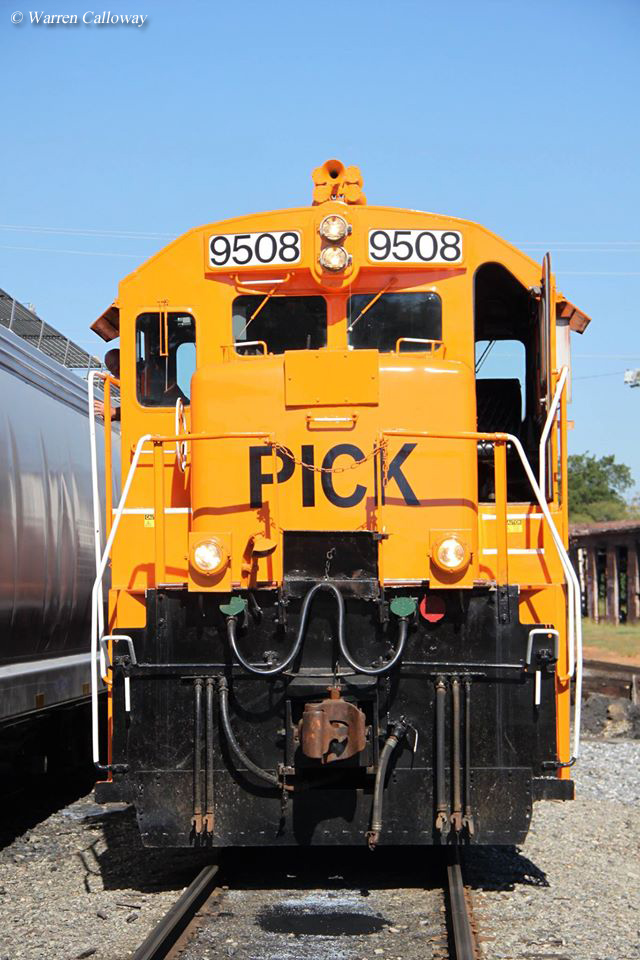 At this point the Pickens Railroad truly become a first class operation. Under new ownership the shortline expanded by building an engine house and carshops to increase its business opportunities by offering freight car repairs and rebuilds. In 1973 the railroad was again sold, this time to the National Railway Utilization Company of Philadelphia (NRUC) which expanded the carshops to also offer full freight car manufacturing.  After owning the company for 23 years the NRUC sold it to the CLC-Chattahoochee Locomotive Corporation in the spring of 1996, which renamed the line as the Pickens Railway. The shortline gained its additional 28.5 miles of track when, in the early 1990s, Norfolk Southern leased its branch between Anderson, Belton and Honea Path). 

Pickens Railway Diesel Locomotive Roster
| Builder | Model Type | Road Number | Date Built | Quantity |
| --- | --- | --- | --- | --- |
| Alco | S2 | 6 | 1943 (Stored Inoperable) | 1 |
| GE | U18B | 9500-9508 | 1973-1974 (Ex-SCL) | 9 |
Following years of declining traffic on its original main line the railroad abandoned its route between Easley and Pickens, 9.9 miles, in 2013 and removed the tracks.  Today, the Pickens operates the former Southern property it acquired from NS along with a few short segments from CSX near Anderson that trace back to the ACL and Piedmont & Northern.  Its current traffic base consists of kaolin, limestone, synthetic rubber, rubber processing oil, plastics, silica, scrap metal, paper, scrap paper, bird feed ingredients, farm supplies, and electrical equipment. While the Pickens Railway has had a locomotive roster ranging from its largest steam locomotive type, the 2-6-2 Prairie, to Alco, EMD, and Baldwin diesel switchers. Its current active roster includes only General Electric U18Bs.  
Related Reading You May Enjoy


Home

›

Short Lines

› Pickens Railway