The Richmond, Fredericksburg and Potomac Railroad: Linking North & South

The Richmond, Fredericksburg and Potomac Railroad was not a large system, connecting only Washington, D.C. and Richmond, Virginia a distance of roughly 113 miles. However, its strategic location allowed it to connect with virtually every major northeastern and southeastern railroad, which made the RF&P very successful.  The RF&P's earliest history can be traced back to the mid-1830s when it was originally chartered to connect Fredericksburg and Richmond.  In time the system was acquired by a consortium of six different southern and Midwestern Class Is including the Pennsylvania, B&O, C&O, and others to continue shuffling passenger and freight traffic between them.  Eventually, the RF&P was acquired in full by CSX Transportation, which merged the road into its operations.  While it no longer exists today the RF&P's main line remains an important and busy corridor under CSX.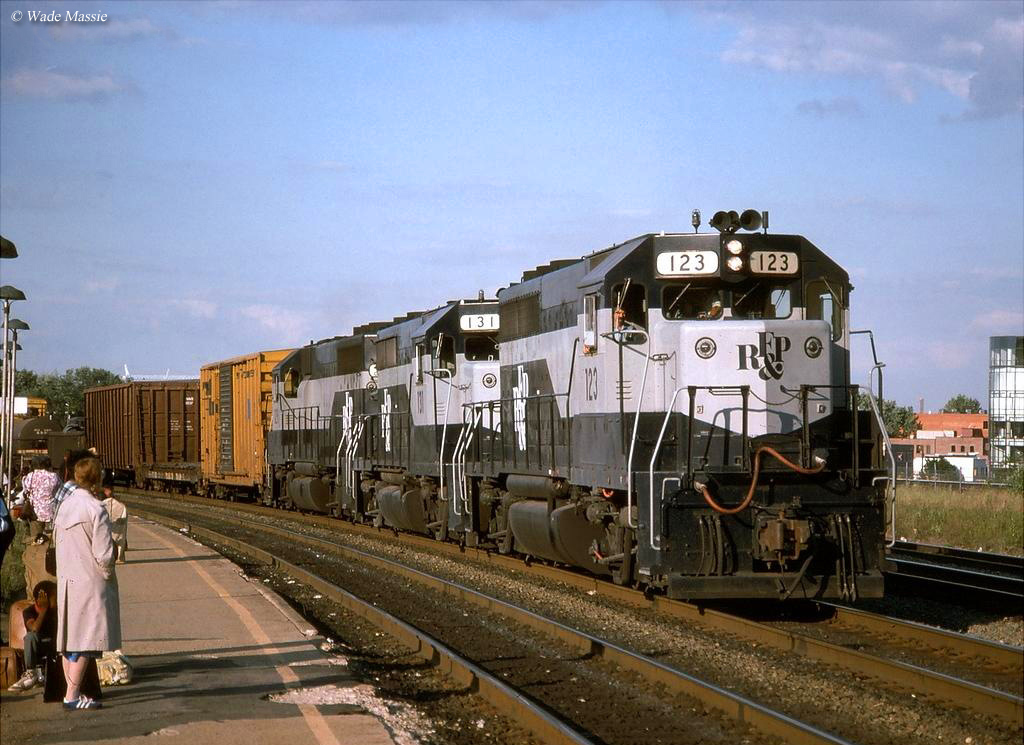 A trio of RF&P GP40s led by #123 passes the station in Alexandria, Virginia as they head southward during the summer of 1988.
As mentioned above, in 1991 after nearly 160 years of continuous service the RF&P was purchased by CSX Transportation that year and merged into its system (it should be noted that throughout most of the RF&P's existence it was owned by six of the large eastern carriers and was never an independent operation, although it did carry its own corporate identity and management team).  The Richmond, Fredericksburg and Potomac Railroad was chartered in February of 1834 (just a few years after the chartering of the Baltimore & Ohio Railroad, our nation's first common-carrier system) to connect the City of Richmond with the Potomac River. Within eight years the railroad had completed its main line where it reached Quantico, just north of Fredericksburg.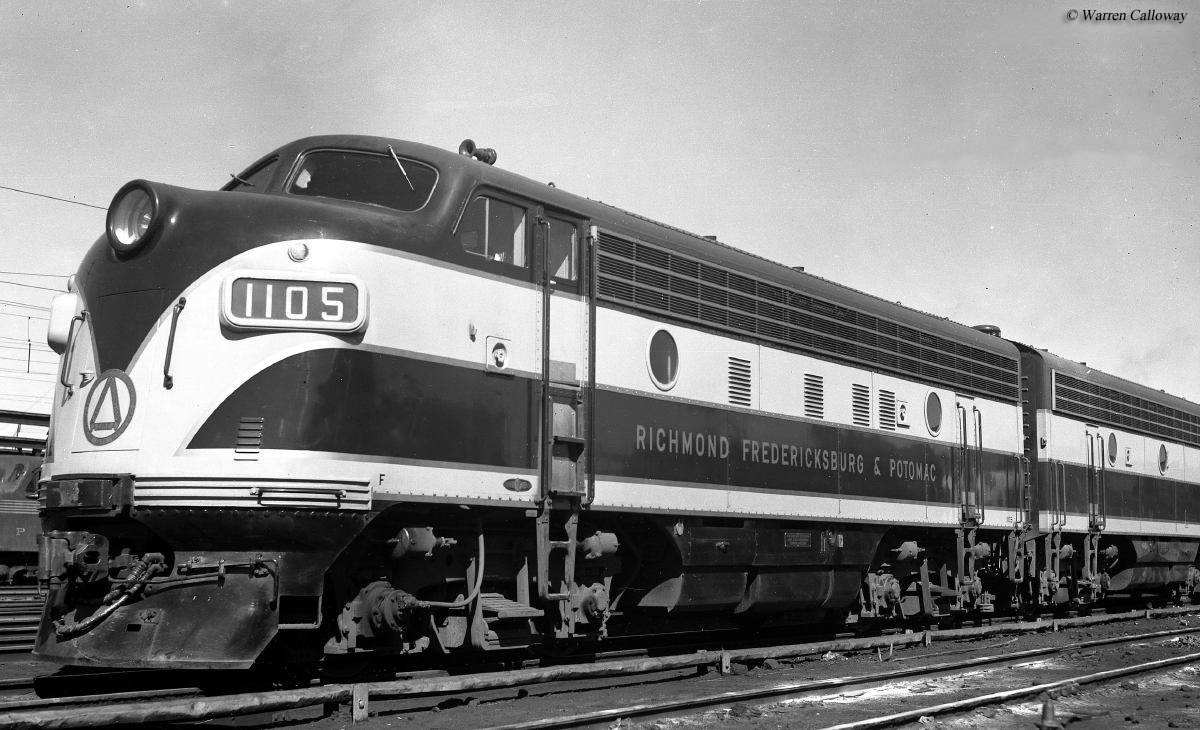 A set of RF&P SW1500s pull switching duty at Pot Yard in Arlington, Virginia during the spring of 1989.
Interestingly, the rest of the system between Quantico and Washington was made up by no less than three separate systems, the Alexandria and Washington Railway (which connected Washington, D.C. and Alexandria); the Alexandria and Fredericksburg Railway (which connected Alexandria and Fredericksburg); and the little two-mile Potomac Railroad, which connected the A&F with the RF&P at Quantico.  In 1901 the Richmond-Washington Company was created as a holding company for the RF&P and Washington Southern Railway (which was created by the merger of the A&F and A&W), which was directly controlled by the Baltimore & Ohio Railroad, Pennsylvania Railroad, Southern Railway, Atlantic Coast Line, Seaboard Air Line, and Chesapeake & Ohio Railway.

While the RF&P had a few branch lines extending to Fort Belvoir and Sealston, Virginia it was essentially a linear bridge route serving its six owning railroads.   How the RF&P came under the ownership of CSX is simply the result of mergers. CSX Transportation, the operating railroad of CSX Corporation, was created in 1987 through the merger of Chessie System and Seaboard System. Chessie and Seaboard came about partly through the mergers of the B&O, C&O, ACL, and SAL. So, once CSX had two-thirds ownership of the RF&P by the late 1980s Norfolk Southern Railway and Conrail (successor to the Pennsylvania) eventually sold their ownership in the railroad to CSX (NS did not even use the RF&P by this time), which merged it into its system in 1991.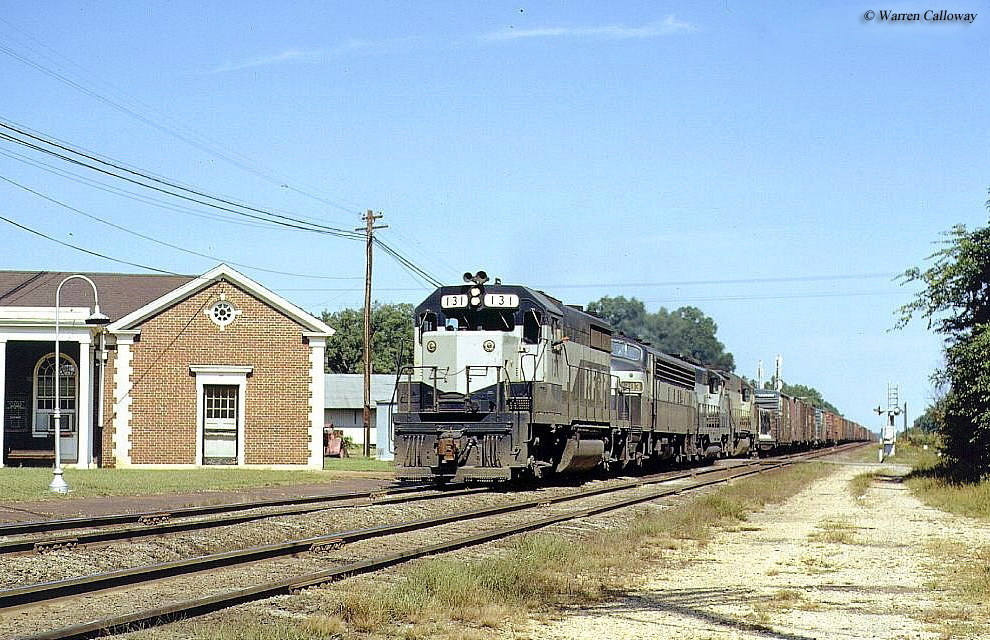 RF&P GP40-2s run light through the Acca Yard at Richmond, Virginia on September 23, 1980.
While the future of CSXT is as much of a guess to anyone as its past has already been, many in the industry and those who study it see two mega-railroads evolve with CSX merging with one of the western railroads (it has been studied that BNSF Railway) and Union Pacific likely joining with Norfolk Southern although only the future will tell how it all plays out.  For more information regarding the Richmond, Fredericksburg & Potomac please click here.   Whatever happens with CSX Transportation one thing is certain; it is a railroad rich in history, which stretches from the Northeast to the Southeast, and points west to Chicago and New Orleans. Perhaps one day, before the merger movement begins again CSXT will find its true identity and direction with an efficient and effective management team.
Diesel Locomotive Roster
The American Locomotive Company
| Model Type | Road Number | Date Built | Quantity |
| --- | --- | --- | --- |
| S2 | 1, 51-71 | 1942-1948 | 22 |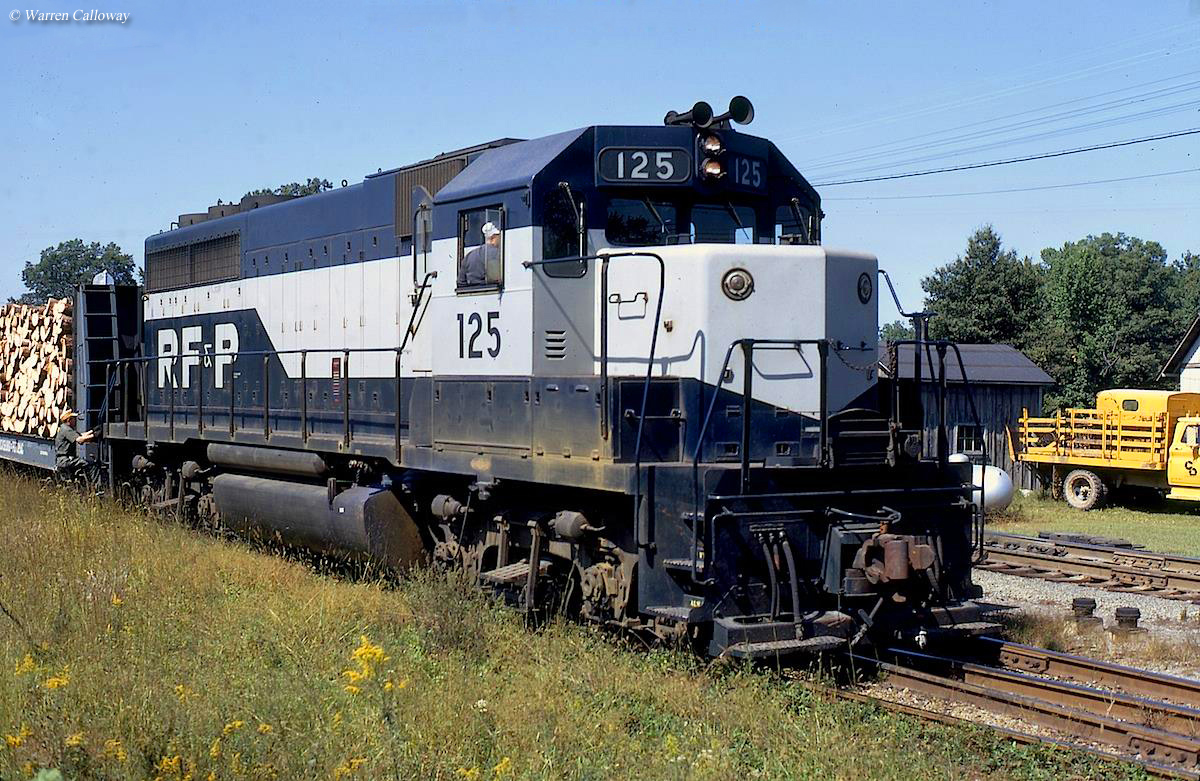 One of the RF&P's 4-6-2 Pacifics, #327, is by itself at the yard in Washington, D.C. during May of 1928.
Electro-Motive Division
| Model Type | Road Number | Date Built | Quantity |
| --- | --- | --- | --- |
| SW1500 | 1-8, 91 | 1966-1967 | 9 |
| SW1200 | 81-85 | 1965 | 5 |
| GP7 | 101-104 | 1950-1953 | 4 |
| GP35 | 111-118 | 1965 | 8 |
| GP40 | 121-127 | 1966-1967 | 7 |
| GP40-2 | 141-147 | 1972 | 7 |
| E8A | 1001-1015 | 1949-1953 | 15 |
| E8B | 1051-1055 | 1949 | 5 |
| F7A | 1101-1110 | 1949-1950 | 10 |
| F7B | 1151-1160 | 1949-1950 | 10 |
| FP7 | 1201-1203 | 1950 | 3 |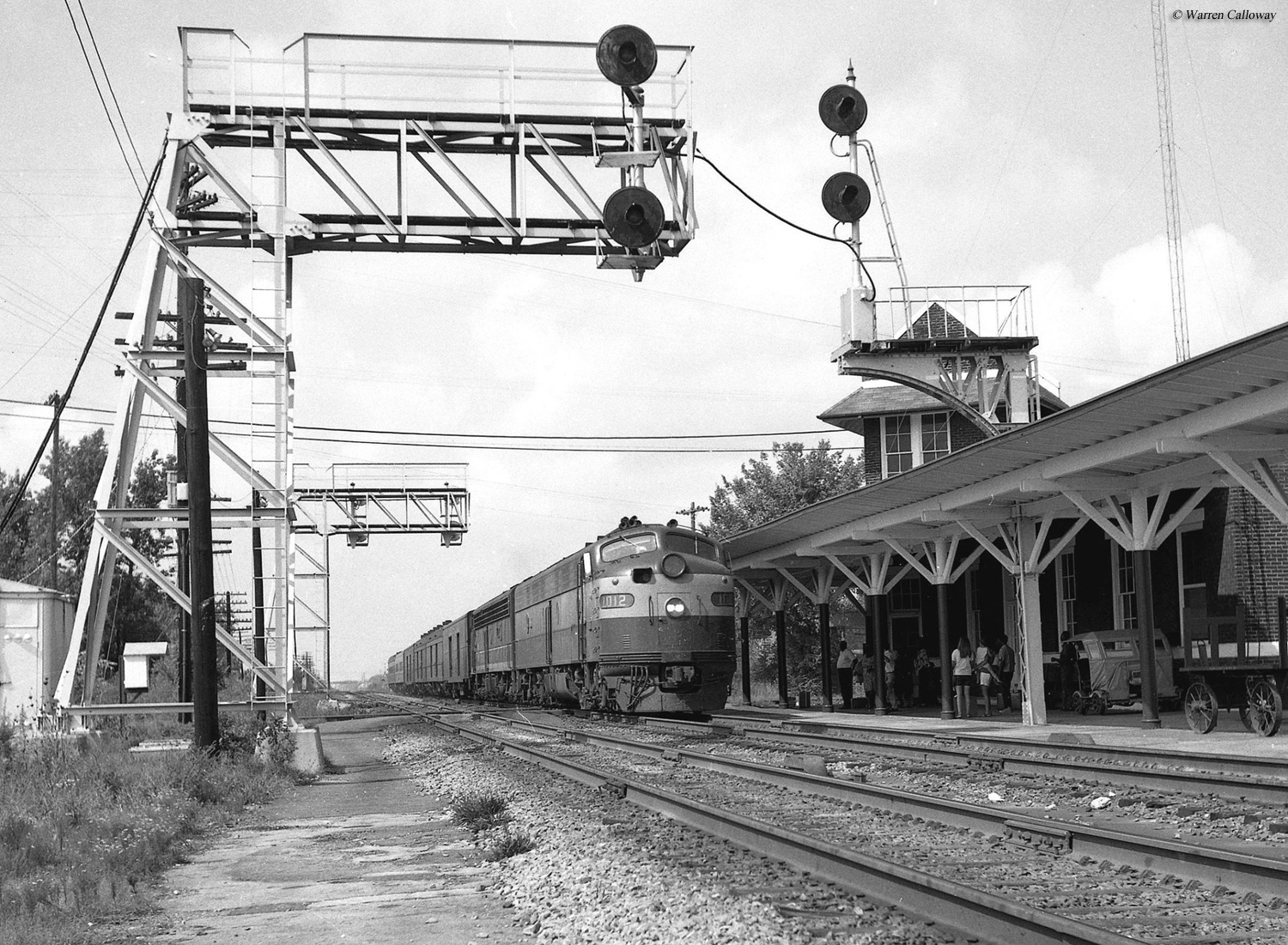 Seen here is another of the RF&P's Pacifics, #305, in Washington, D.C. on June 3, 1940. The railroad owned quite a collection of 4-6-2s for its relatively small size.
Steam Locomotive Roster
| Class | Type | Wheel Arrangement |
| --- | --- | --- |
| 1 | Chesapeake (Ex-C&O) | 2-8-8-2 |
| 25, 30, 36, 101 | Ten-Wheeler | 4-6-0 |
| 31, 35, 41 | Switcher | 0-6-0 |
| 71, 91 | Switcher | 0-8-0 |
| 51, 56, 60, 80, 151, 201, 251, 264, 301, 325, 401 | Pacific | 4-6-2 |
| 501 | Mountain | 4-8-2 |
| 551 | Generals | 4-8-4 |
| 601 | Governors | 4-8-4 |
| 613 | Statesmen | 4-8-4 |
---
Three RF&P GP35s led by #135 are on the move with a pig train as it flies over the Neabsco Creek Bridge in Virginia on November 19, 1991.
For more reading about the RF&P you might want to consider the book The Richmond, Fredericksburg and Potomac Railroad's Passenger Service, 1935-1975 from author William Griffin, Jr. His book gives a superb general history of the RF&P's passenger traffic the railroad ferried for its owners.  For more on the fallen flag railroads like the RF&P consider one (or all) of Mike Schafer's Classic American Railroads books (listed below is the first in the series). He has published three thus far covering virtually all of the most well known fallen flags. I have all three in my collection and highly recommend them, the photography is excellent along with learning a general history of each railroad. If you're interested in perhaps purchasing either (or both) of these books please visit the links below which will take you to ordering information through Amazon.com, the trusted online shopping network.