Rock Island's Rocky Mountain Rocket
The Rocky Mountain Rocket was the Rock Island's first, true long distance passenger train. The Rock Island Railroad (officially known as the Chicago, Rock Island & Pacific) is commonly remembered as The Route of the Rockets, a slogan it marketed for years. Interestingly enough, the Rock Island's fleet of Rocket passenger trains started out as regional, short connections to varying cities, almost as a commuter system, but it turned out to be quite successful for a number of years. This profitable regional service then prompted management to launch a whole fleet of long distance Rocket trains.  Despite providing good service for many years and a stunning livery the Rocky Mountain struggled to remain competitive against the Union Pacific, Burlington, and Missouri Pacific.  Because of this and a crumbling financial record the Rock gave up on the train in the mid-1960s.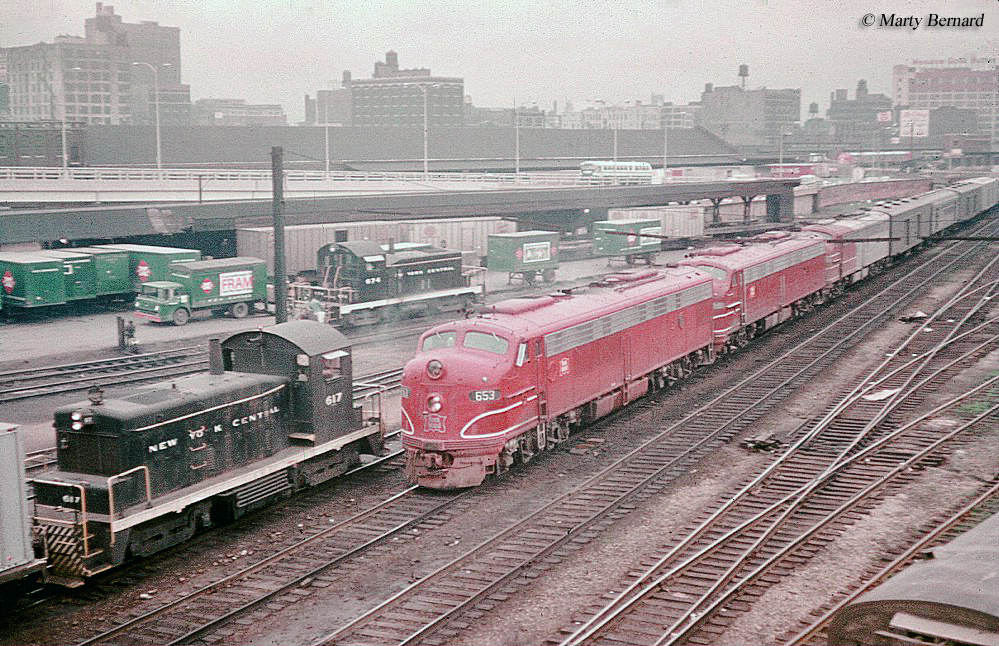 A trio Rock Island E8As, led by #653, power a passenger consist under the 12th Street Bridge in Chicago on May 13, 1964. Note all of the other interesting scenes in this photo.
The Chicago, Rock Island and Pacific Railroad, better known as simply the Rock Island was a legend even during its own time (the railroad even had a song named after it!). And perhaps this is what makes it's ending so depressing. For all of the railroad's fame and recognition, this did not translate into wealth and power. Several times throughout the railroad's history it would go into receivership, its last in 1975 when it would be liquidated five years later in 1980.  Through the early 1900s the Rock Island would continue to grow, build, and acquire railroad lines through either construction or outright purchase of other smaller railroads.
The railroad gained its final name as the Chicago, Rock Island and Pacific Railroad in May of 1866 when the railroad set out to complete its subsidiary, the Mississippi & Missouri Railroad, to Omaha, Nebraska to connect with the newly created Union Pacific Railroad which was building west to link with the Central Pacific Railroad to complete the Transcontinental Railroad (the Chicago, Rock Island & Pacific Railroad was also created as a holding company for both the C&GI and M&M). At the peak of the railroad's size it operated over 8,000 miles of track between cities such as Chicago, St. Louis, Dallas, Denver, and Memphis.
The Rocket passenger trains received their name, interestingly enough, from the first steam locomotive to ever operate on the Rock Island known as the "Rocket." The Rocket fleet has its beginnings in 1937 when the short, regional services began, serving several different cities. These first five trains named the Peoria Rocket, Des Moines Rocket, Texas Rocket, Denver Rocket, and Kansas City Rocket (named for the city they served) were completely streamlined and powered by a unique Electro-Motive Corporation TA-model diesel locomotive (forerunner to the successful E series) that pulled a four-car consist. So successful were these daily services, which featured a beautiful livery of handsome maroon and bright silver that the Rock Island decided it would branch out into true, long-distance passenger service.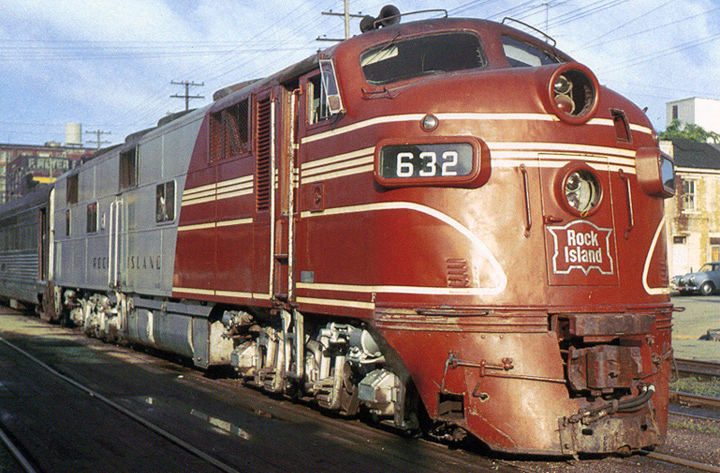 The Rock Island's unique AB6s were quite interesting locomotives, built by Electro-Motive from E6Bs. Seen here is CRI&P #750 in commuter service as it waits at Englewood Union Station on April 21, 1965.
The first of these services was the railroad's Rocky Mountain Rocket, which competed directly with the Union Pacific's City of St. Louis and City of Denver, Missouri Pacific's Colorado Eagle, and the Burlington's Denver Zephyr. Needless to say, competition was very stiff. However, this train, which debuted on November 12, 1939 and featured all stainless-steel equipment from Pullman-Standard and the Budd Company, pulled by Electro-Motive E-series diesels (the original Rock Island Rocket featured an EMC "TA" model, a forerunner to the later E series), held its own for many years with these other trains (part of the Rocky Mountain's success came from the fact that its route was densely populated).
The train featured what would become one of the classic passenger liveries of deep crimson red and stainless steel with white trim. The railroad would eventually use a version of this livery for its freight livery as well although (originally) it featured black and crimson with white trim. Originally the Rocky Mountain employed an EMC E3A but later used E6As, E7As, and even E8As (the railroad also used Alco's early streamlined DL model). Interestingly, the Rock was one of the few Class Is to not purchase matching "B", booster units for its passenger power. Instead, the railroad conceived one of the most unique setups for this service, asking EMD to build them a few blunt-nosed E series units known as an AB6. Essentially E6Bs, these locomotives offered the look of a booster but also employed a cab for crews as well as a baggage compartment and steam generator.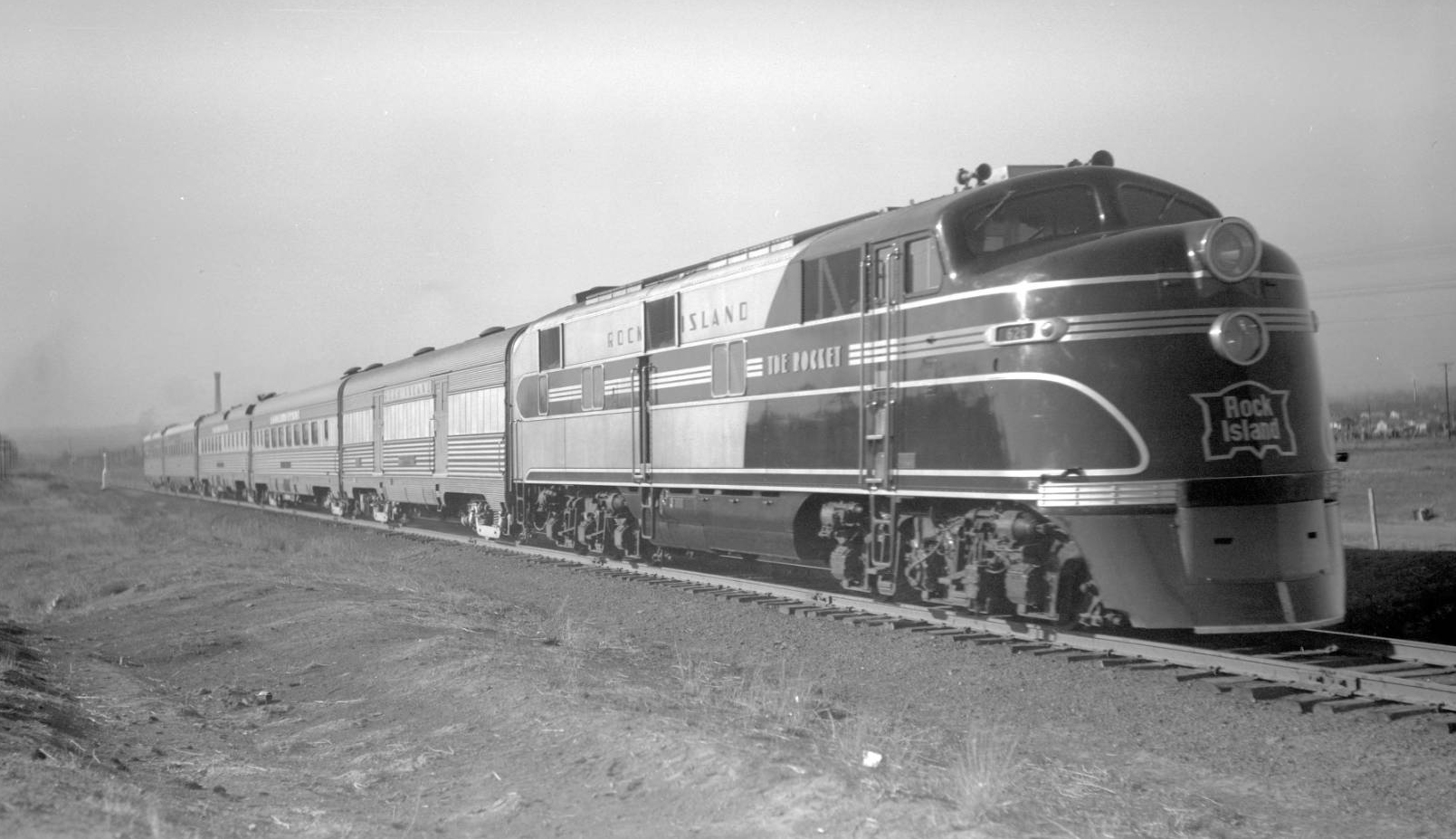 Rock Island E8A #654 boards passengers with the Twin Star Rocket at Minneapolis as Milwaukee Road FP7 #99-C is on point for today's Afternoon Hiawatha on June 8, 1964.
According to the Rock Island's May, 1941 timetable the Rocky Mountain Rocket (listed as Trains #7 and #8 on the railroad's official timetable) left Chicago's La Salle Street Station at 1:55 pm and could arrive in Denver, Colorado by 8:25 am the following day, reaching the railroad's western-most station at Colorado Springs ten minutes later. In total the train could cover the distance in just under 20 hours carrying an average train speed of between 55 and 58 mph. Quite fast by rail! Of course, in later years the Rock had significant trouble achieving such speeds. A typical consist of the Rocky Mountain included reclining-seat coaches, a diner-cocktail lounge, two sleepers, and a lounge-observation. Of note, the train also offered connecting service from Kansas City and Peoria, Illinois.
---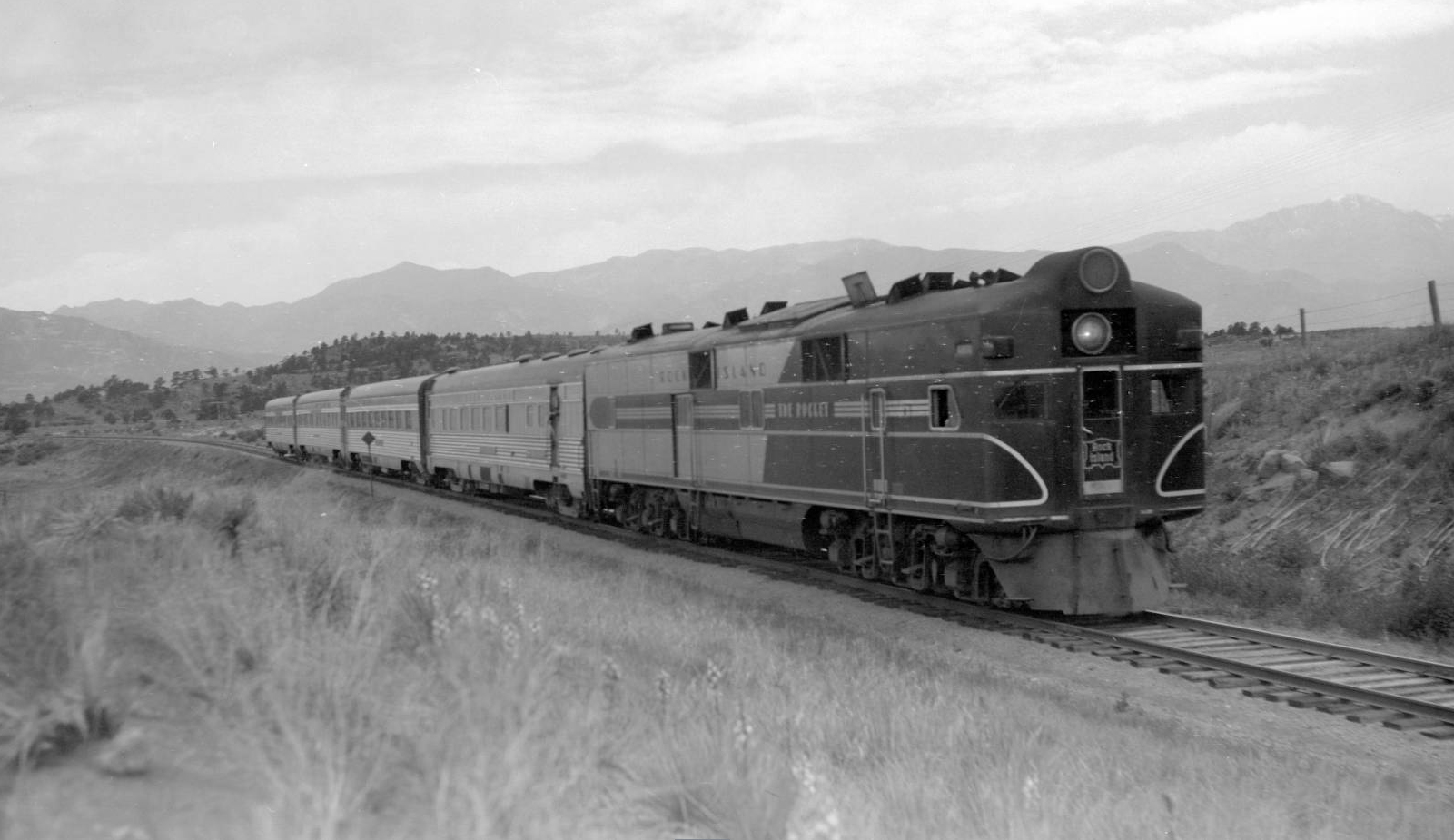 Rock Island E8A #644 hustles a very short Peoria Rocket past 79th Street in Chicago on June 24, 1967.
However, despite its highly populated route and good service the Rocky Mountain was the weak link in the chain and simply could not effectively compete with the faster running times of the competition (not to mention that the Rock Island was in cash crunch for much of its life from the 1950s through its final liquidation in 1980), along with a general loss in traffic to highways and airplanes. After only 27 years of operation the Rocky Mountain Rocket was officially discontinued by the Rock Island in October of 1966. The EMD E series units the railroad assigned its Rockets were used in general commuter service around Chicago after passenger service had ended. For more information regarding the train's schedule and consist please click here.
Related Reading
Adam Burns, Site Author