The SD90MAC and it's related models are, to date, the most powerful locomotive produced by EMD. The model hit the catalog in 1995 and EMD opted not to use its 16-cylinder 710G3B engine but the newly designed 16-cylinder H-engine (sometimes giving the model the name of SD90MAC-H), which allowed for the locomotive's very powerful 6,000 horsepower. Aside from the prime mover the SD90MAC was essentially the same as the SD70 series and SD80MAC (it was also the same length as the SD80MAC at just over 80 feet). The '90MAC was so new when EMD first cataloged it that the 16-cylinder 265H engine it was designed to use was not even ready for production. As such, the builder was forced to use the above mentioned 710G3B for a short time if railroads wanted or needed their orders in a hurry. These units were reclassified as the SD90-43MAC.
While the SD90-43MAC sold fairly well with Union Pacific, which purchased over 300 of them (it began receiving the locomotives in October, 1995), the original SD90MAC did very poorly mainly because the engine was not properly tested and was prone to constant mechanical trouble. The original was also purchased by UP, along with Canadian Pacific and their total production ended at just 40 units. While over 400 units of the series have been produced (almost all of which are SD90-43MACs) the SD90MACs themselves were not well received by railroads because their lack of reliability and constant mechanical troubles (for instance, recently a set of SD90MACs went to work on the Appalachian & Ohio Railroad in central West Virginia only to be taken off the railroad due to mechanical problems).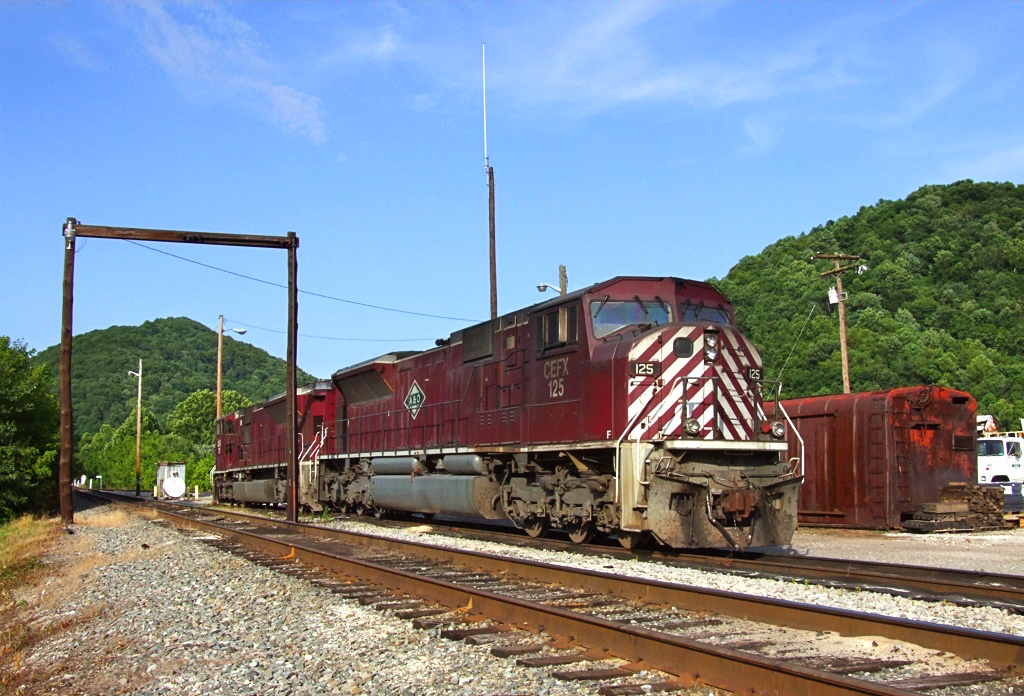 Appalachian & Ohio SD9043MAC #125, on lease from CIT Group/Capital Finance, Inc. (CEFX), and a mate are seen here at the small engine terminal in Burnsville, West Virginia on June 22, 2007. These units acted as helpers during A&O's years operating the Cowen Subdivision.
Perhaps the only bright spot of the SD90MAC was that it featured EMD's highly successful HTCR-II truck (high-traction, six-axle, radial), which could steer itself into oncoming curves instead of just following the rail which greatly reduced wear to both rail and truck/axle components. For Union Pacific it completed its order of SD90-43MACs in January 1999 with a total of 309 units numbered 8000-8308. Additionally, Canadian Pacific purchased another 61, numbered 9100-9160 and CIT Leasing bought 40 numbered 100-139. These locomotives were all built November, 1999 and February, 2000.  These is a slight variation with the original SD90MACs in that early versions featured a Phase I safety cab while later models were equipped with the Phase II design that allowed for better visibility, which located the train crew higher off the ground. The SD90MAC's also offered the highest tractive efforts of EMD model aside from the experimental "DD" series; 200,000 pounds starting effort and 137,000 pounds continuous.
EMD SD90MAC Production Roster
| Owner | Road Number(s) | Quantity | Date Built |
| --- | --- | --- | --- |
| Canadian Pacific | 9300-9303 | 4 | 1999 |
| GM Locomotive Group | GM90-GM91 | 2 | 1998 |
| Union Pacific | 8160, 8201-8205, 8506-8561 | 62 | 1996-1999 |
SD9043MAC Production Roster

| Owner | Road Number(s) | Quantity | Date Built |
| --- | --- | --- | --- |
| Canadian Pacific | 9100-9160 | 61 | 1998-1999 |
| CIT Leasing | 100-139 | 40 | 1999-2000 |
| Union Pacific | 8000-8308 | 309 | 1995-1999 |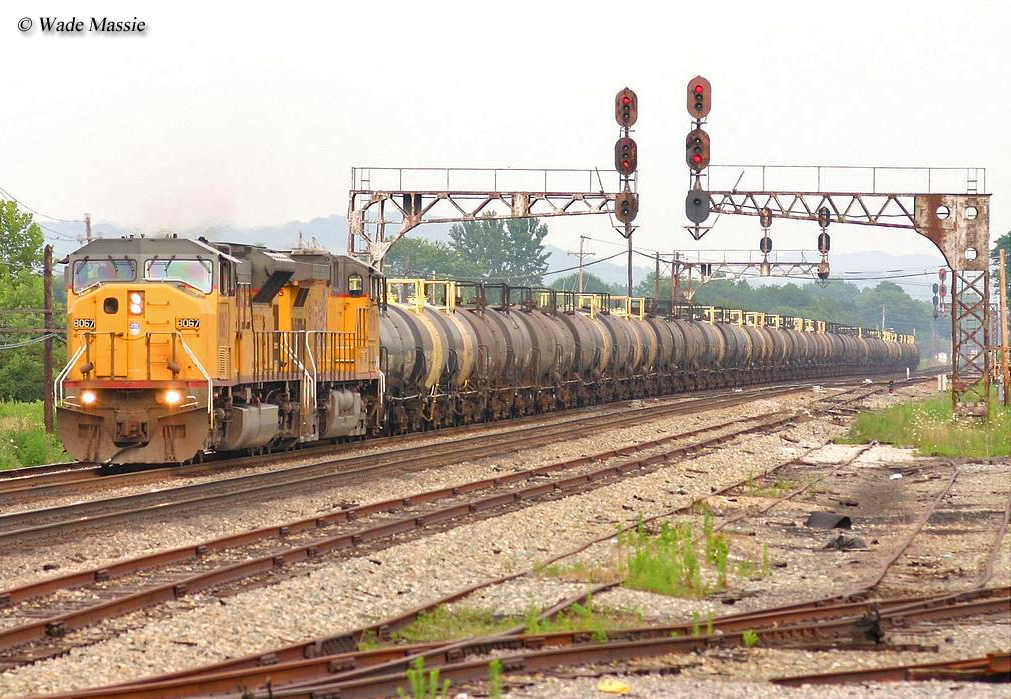 Union Pacific SD9043MAC #8067 and a helper have a CSX sulfur train rolling westbound under the venerable C&O signals at St. Albans, West Virginia along the Kanawha Subdivision on July 1, 2004.
While GE's version, the AC6000CW also had reability it was not nearly to the extent of EMD's model. That company soon fixed its locomotive's issues and most still remain in operation with CSX and Union Pacific.  The designation of the SD90's "MAC" is as follows; the "M" was EMD's designation for the wide, safety cab the locomotive featured while the "AC" regarded the alternator that it featured allowing for increased tractive effort, the model TA22CA8. For railroads, the horsepower race between GE and EMD was a learning lesson that highly powerful, single locomotives is not always a good thing even if they are reliable due to the fact that if a unit goes down so does most of your train's power supply. As such, today the generally accepted horsepower rating for locomotives is between 4,000 to 4,500.

Related Reading