The history of the TC begins with the chartering of the Nashville & Knoxville Railroad in 1884 by Alexander Crawford to link both cities and move predominantly coal between those points. Construction on the line began in 1888 and by 1894 the N&K had opened 76 miles between Lebanon (near Nashville) and Monterey (about the midway point) before Crawford's untimely death. The new railroad quickly ran into funding issues and with the primary leadership gone the construction stalled. Unfortunately, this was just a foreboding of the problems later experienced by the TC. With the N&K stuck where it was the line was purchased by Jere Baxter in August, 1893 as he had just chartered the Tennessee Central Railroad with the same hopes as Crawford, to connect Knoxville with Nashville.
Following a reorganization as the Tennessee Central Railway in 1897 the new operation had completed an eastward extension from Monterey to Emory Gap in 1900, 54 miles in all, leaving about 40 miles to reach Knoxville. The line, however, would extend no further east except to Harriman (about two miles away) and the TC had to settle for a connection with the Cincinnati, New Orleans & Texas Pacific Railway (CNO&TP), a subsidiary of the Southern. Despite this, Baxter was able to see the eastern end of his system fan out quite prodigiously; through 1904 he added coal branches to Wilder, Isoline, and Fall Creek (all of these spurs were between 2 and 21 miles in length). Essentially, this completed the Eastern Division of the TC although at the same it had been expanding westward as well; also in 1904 it had reached Nashville, putting pressure on the Louisville & Nashville (although its hopes to serve the city's downtown area was cutoff by its larger competitor), and purchased the Nashville & Clarksville Railroad.

The takeover of the N&C saw the TC reaching all of the way into southern Kentucky at Hopkinsville and a connection with the Illinois Central. Once again, tragedy struck the company when Baxter passed away in 1904, which also left it in poor shape financially due to the aggressive expansion that had taken place during his watch. As a result, in June, 1905 it was leased to its major interchange partners (IC, L&N, and Southern) which operated portions of the railroad until it returned to independence in 1908. This lasted for only a few years as the TC remained financially weak and again entered receivership in 1912. Here it remained until 1922 when a group of investors purchased the property and kept the Tennessee Central Railway name. Led by Hugh Wright Stanley, which already had experience in railroad management, the company was brought back from the brink and actually began to post profits for the first time in its history.
Stanley remained at the TC for 32 years and under his leadership the railroad also saw one final extension, a branch from Stone River (near Nashville) to Old Hickory along the Cumberland River, which eventually saw the line served by a DuPont chemical plant. He was able to lead the railroad through the depression years of the 1930s, which saw it remain profitable through the end of World War II. As with the original N&K, coal was always the TC's most important source of traffic and it increased its tonnage with the commodity during the 1950s when the Tennessee Valley Authority opened its Kingston Steam Plant near Harriman in February, 1954. Unfortunately, by late that decade it began losing its main source of traffic when the TVA moved its coal contracts to other mines not served by the TC.
Additionally, mines the railroad had served for several years were beginning to play out and, sadly, by 1960 it was again posting deficits, never again to show a profit. As the red ink deepened it tried to diversify traffic by moving other freight, such as trailer-on-flat-car movements (TOFC) and in its desperation even contemplated running passenger trains once more (which it ultimately decided against). While profitable, TOFC accounted for barely $50,000 in annual income and by 1967 its deficits had mounted to $10 million, including a $4.5 million loan owed to the government it had taken out in 1950. The railroad filed for bankruptcy on January 14, 1968 and after an attempt to save the company by the state of Tennessee (which was vetoed by Governor Buford Ellington) the railroad was liquidated as of September 1, 1968. Sections of the line were acquired by neighbors IC, Southern, and L&N.  
Diesel Locomotive Roster

| Builder | Model Type | Road Number | Notes | Quantity |
| --- | --- | --- | --- | --- |
| Alco | HH660 | 50 | Acquired new, 1939 and scrapped in 1963. | 1 |
| Alco | S1 | 51 | Acquired new, 1941, sold to Cadiz Railroad in 1968. Stored. | 1 |
| Baldwin | DRS-4-4-1000 | 75-77 | Acquired new, 1946-48 and scrapped in 1966 after being sold. | 3 |
| Alco | RS3 | 248-260 | Most acquired new between 1950 and 1956; however, 248-250 were ex-Reading. All sold and later scrapped. | 13 |
| Alco | RS36 | 301-305 | Acquired new between 1962-63. All sold and later scrapped. | 5 |
| Alco | C420 | 400-401 | Acquired new in 1966; 400 now operates on the Apache Railway while 401 was sold and later scrapped in 1986. | 2 |
| Alco | FB-1 | 801-B | Acquired new in 1949. Trade-in to Alco for RS36s in 1963. | 1 |
| Alco | FA-1 | 802-805 | Acquired new in 1949. Trade-in to Alco for RS36s in 1962-63. | 4 |
(Thanks to Gary W. Dolzall's "The Tennessee Central Story, Part 1" from the September, 1987 issue of Trains as a primary reference for this article.)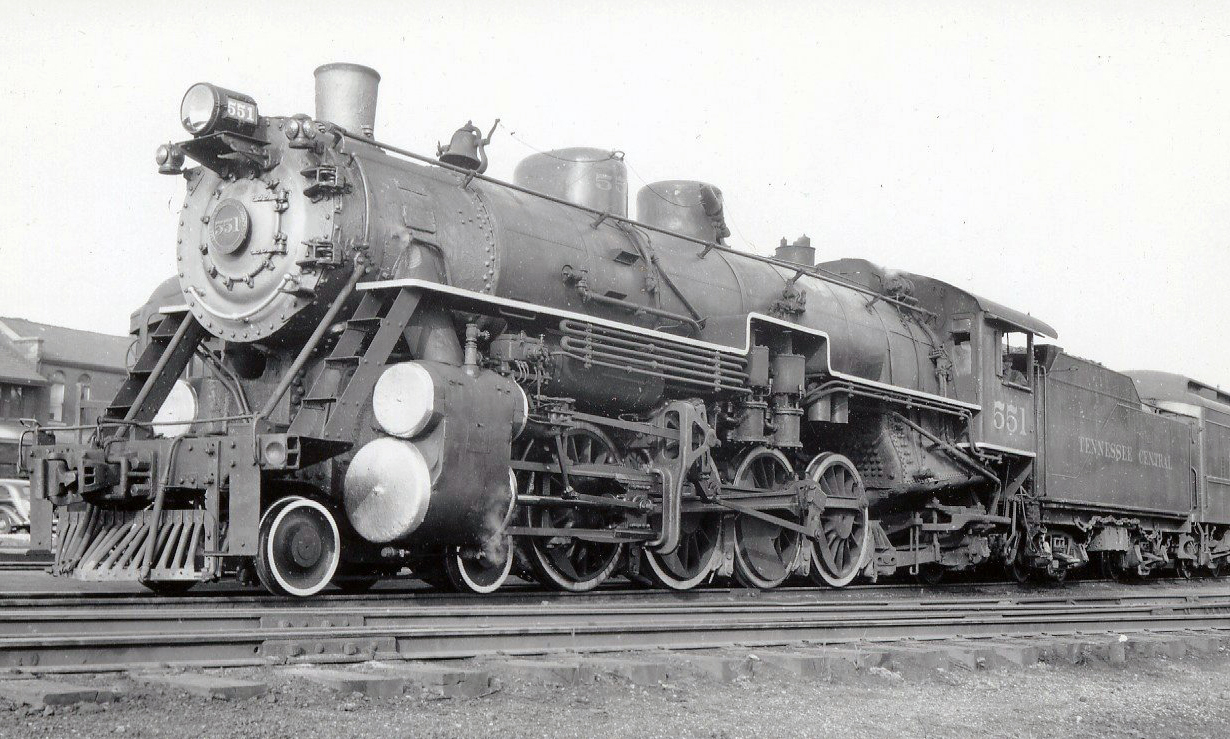 During the steam era the railroad used some quite powerful locomotives to lug heavy coal trains over its main line such as 4-8-2 Mountains, 2-8-2 Mikados, and even 2-6-6-2 Class Z1a Mallets purchased secondhand from the Norfolk & Western. It was the diesel era, however, that really drew in railfans with a roster of Alco models ranging from RS3s and RS36s to FAs and C420s; there were even three Baldwin DRS-4-4-1000s in use at one time (these were later sold). Aside from the TC's remaining lines still in use the Tennessee Central Railway Museum is dedicated to its memory, situated in its former master mechanic's shop that also doubled as its headquarters during the last years of service. 

Related Reading You May Enjoy


Home

›

Fallen Flags

› Tennessee Central