The Frisco's story began in 1849 when the Pacific Railroad was chartered by the State of Missouri. The Pacific Railroad, as you might know, itself would go on to form the later Missouri Pacific which today is part of the Union Pacific system. The SLSF's link to the PR is a line it constructed known as the South-West Branch, built to connect today's Pacific, Missouri with Rolla. Interestingly this line would later become its own railroad known as the Southwest Pacific Railroad when it was sold to General John Fremont from the State of Missouri.  From this point the history becomes extremely complicated up until its final name change as the St. Louis-San Francisco Railway. Fremont's ownership of the line was brief as he defaulted on its payments and it was reorganized as the South Pacific Railroad in 1868, and just two years later was again renamed this time as the Atlantic & Pacific Railroad! Also unable to become profitable it again entered receivership, sold, and emerged in 1876 as the St. Louis & San Francisco Railway.
Soon the railroad was stretching out across not only Missouri but also Oklahoma, Arkansas, and Kansas by the late 19th century. While the Frisco would indeed serve St. Louis as its name implies it would never reach the Pacific Coast and San Francisco or California at all for that matter. It's predecessor, the A&P, was originally planned to do just this and the new St. Louis & San Francisco carried through with these plans but was thwarted by the Santa Fe and Southern Pacific in the late 19th century. That story in itself is quite complicated but in short Santa Fe wound up controlling the SL&SF in 1890 but was forced to spin it off just two years later in lieu of the 1893 stock market panic that caused both railroads to fall into bankruptcy.
Once again independent and now known as the St. Louis & San Francisco Railroad the company lost its rail line into California and would remain a Midwestern road serving points to the south and southwest for the rest of its life, never reaching the coast as its name implied. Still struggling by the early 20th century the railroad again fell into receivership, this time in 1913. It reemerged in 1916 as the St. Louis-San Francisco Railway, as it is best known today.  For the next roughly 30 years the railroad pressed on and actually did quite well upgrading its lines and even signaling a large section of its railroad. This attention to its physical plant would pay off when it fell into yet another bankruptcy during the Great Depression. While it would take the railroad until 1947 to emerge from its final receivership it exited a well-maintained, upgraded railroad very ready for the future.
The SLSF's attention to its property would carry on throughout the rest of its life and a driving force behind shedding its history as a bankrupt-prone company to one that earned healthy profits and revenues. This began in the 1950s when it opened a high tech "Hump" yard in Memphis (whereby an inclined track and computer-controlled switches guided cars into their correct staging track), expedited freight trains across its major markets, consolidating operations, began run-through freights with other carriers (which meant Frisco locomotives were used to haul a train across foreign rails and vice-versa, known as "pooling" or "pooling power") and was able to rid itself of its money-losing passenger operations in the late 1960s (while it always maintained its passenger operations with class the Frisco understood it was a losing battle and protested the ICC until it was able to drop all passenger service, the first large railroad to do so before Amtrak in 1971).
Frisco's Fleet Of Passenger Trains
Black Gold: (Tulsa - Fort Worth)
Firefly: (Tulsa - Oklahoma City)
Kansas City-Florida Special: (Kansas City - Jacksonville)
Memphian: (St. Louis - Memphis)
Meteor: (St. Louis - Oklahoma City/Fort Smith)
Oklahoman: Originally connected Kansas City and Tulsa and later served St. Louis and Oklahoma City.
Southland: (Kansas City - Birmingham)
Sunnyland: (Kansas City/St. Louis - Atlanta/Pensacola)
Texas Special:  (St. Louis - Dallas/Fort Worth - San Antonio)
Will Rogers: (St. Louis - Oklahoma City/Wichita)

Perhaps the largest boost to the Frisco began in the 1960s and 1970s when industries began moving to the south and the regions it served whereby it not only diversified the railroad's traffic base but also increased it exponentially! Of course, as is almost always the case, success does not go unnoticed and as the railroad prospered other larger lines began taking interest, eventually being purchased by the Burlington Northern in 1980.   BN ultimately chose to acquire the Frisco thanks to its much more diversified traffic base, which extended the burgeoning Class I into the southeastern regions of Memphis, Arkansas, Mississippi, Alabama, and the Gulf Coast (which today contains very lucrative chemical traffic business). While the Frisco's corporate history ended in the late fall of 1980 its legacy certainly lives on under the now-BNSF Railway as an important artery to the Gulf Coast and Southeastern regions.
Diesel Locomotive Roster
The American Locomotive Company

| Model Type | Road Number | Date Built | Quantity |
| --- | --- | --- | --- |
| S2 | 290-294 | 1948-1949 | 5 |
| RS2 | 550-554 | 1949 | 5 |
| FA-1 | 5300-5315 | 1948-1949 | 16 |
The Baldwin Locomotive Works

| Model Type | Road Number | Date Built | Quantity |
| --- | --- | --- | --- |
| VO-1000 | 200-237 | 1941-1946 | 38 |
| DS-4-4-1000 | 238-241 | 1948 | 4 |
| VO-660 | 600-601 | 1942 | 2 |
Electro-Motive Division

| Model Type | Road Number | Date Built | Quantity |
| --- | --- | --- | --- |
| GP15-1 | 100-124 | 1977 | 25 |
| NW2 | 250-265 | 1948-1949 | 16 |
| SD38-2 | 296-299 | 1979 | 4 |
| SW7 | 300-304 | 1950-1951 | 5 |
| SW9 | 305-314 | 1952 | 10 |
| SW1500 | 315-360 | 1968-1973 | 56 |
| MP15DC | 361-365 | 1975 | 5 |
| GP38-2 | 400-478, 663-699 | 1972-1976 | 116 |
| GP7 | 500-632 | 1950-1952 | 133 |
| GP38AC | 633-662 | 1971 | 30 |
| GP35 | 700-732 | 1964-1965 | 33 |
| GP40-2 | 750-774 | 1979 | 25 |
| SD45 | 900-948 | 1967-1969 | 49 |
| SD40-2 | 950-957 | 1978 | 8 |
| E7A | 2000-2005 | 1947 | 6 |
| E8A | 2006-2022 | 1950 | 17 |
| F3A | 5000-5017 | 1948 | 18 |
| F3B | 5100-5117 | 1948 | 18 |
| F7A | 5018-5039 | 1949-1950 | 22 |
| F7B | 5118-5139 | 1949-1952 | 22 |
| FP7 | 5040-5051 | 1950-1951 | 12 |
| F9B | 5140-5144 | 1954 | 5 |
Fairbanks Morse
| Model Type | Road Number | Date Built | Quantity |
| --- | --- | --- | --- |
| H10-44 | 270-281 | 1948-1949 | 12 |
| H12-44 | 282-285 | 1951 | 4 |
General Electric

| Model Type | Road Number | Date Built | Quantity |
| --- | --- | --- | --- |
| 44-Tonner | 4-8 | 1943-1944 | 5 |
| U25B | 800-831 | 1961-1966 | 32 |
| U30B | 832-862 | 1968-1975 | 31 |
Steam Locomotive Roster
| Class | Type | Wheel Arrangement |
| --- | --- | --- |
| 1 | Santa Fe | 2-10-2 |
| 40 (Various), 50 (Various), 65, 98, 100 (Various), 200 (Various) | American | 4-4-0 |
| 100 (Various), 410, 500 (Various), 600 (Various), 700 (Various) | Ten-Wheeler | 4-6-0 |
| 300 (Various) | Mogul | 2-6-0 |
| 700 (Various), 800 (Various), 970, 1200 (Various) | Consolidation | 2-8-0 |
| 1000 (Various) | Mogul | 4-6-2 |
| 1060 | Hudson | 4-6-4 |
| 1613 | Decapod | 2-10-0 |
| 2001 | Chesapeake | 2-8-8-2 |
| 4300, 4400, T-54 | Mountain | 4-8-2 |
| 4500 | Northern | 4-8-4 |
| T (Various) | Mikado | 2-8-2 |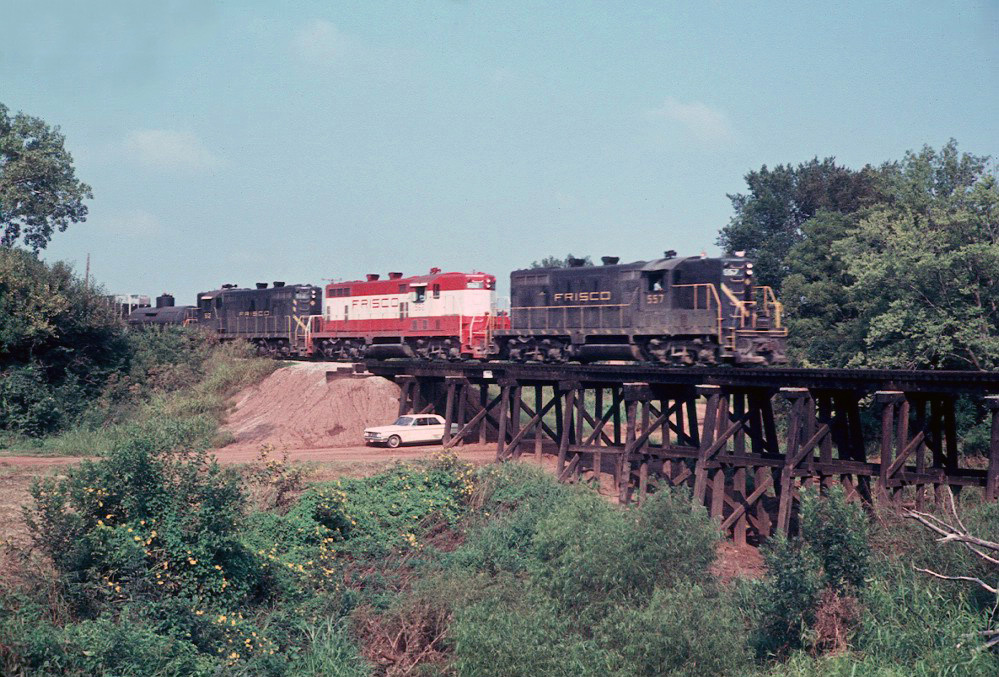 For more reading on the Frisco consider Mike Schafer's Classic American Railroads Volume III. This book, the latest in the series, was published in 2003 and follows up on his original titles, Classic American Railroads and More Classic American Railroads, both of which cover several fabled and well remembered fallen flags (of which the Frisco is covered in the third volume). I own all three in this series and can attest to their high quality, so I am sure you won't be disappointed if you decide to purchase one. If you're interested in perhaps purchasing this book please visit the link above which will take you to ordering information through Amazon.com.

Home

›

Fallen Flags

› St. Louis-San Francisco Railway