The Western Pacific, The Feather River Route

The Western Pacific was perhaps a railroad that should have never been built and had Collis P. Huntington and the railroad magnates of California had their way it certainly would not have! The WP was the longtime dream of Arthur Keddie who wanted to construct a railroad through the Feather River Canyon of Northern California. For nearly 80 years the WP moved freight through its well engineered, albeit high maintenance, main line between San Francisco/Oakland and Salt Lake City although its small size (just over 1,000 of total mileage) and being surrounded by giants ultimately cost it its independence (the railroad, however, was a tenacious fighter). For its small size, however, the railroad was well known for a number of things including being one component of the highly successful California Zephyr passenger train and its Keddie Wye at Keddie, CA (which features a magnificent split-bridge where its Inside Gateway, a line that diverged from its Salt Lake City main line, connected to Bieber, California and a link with the Great Northern).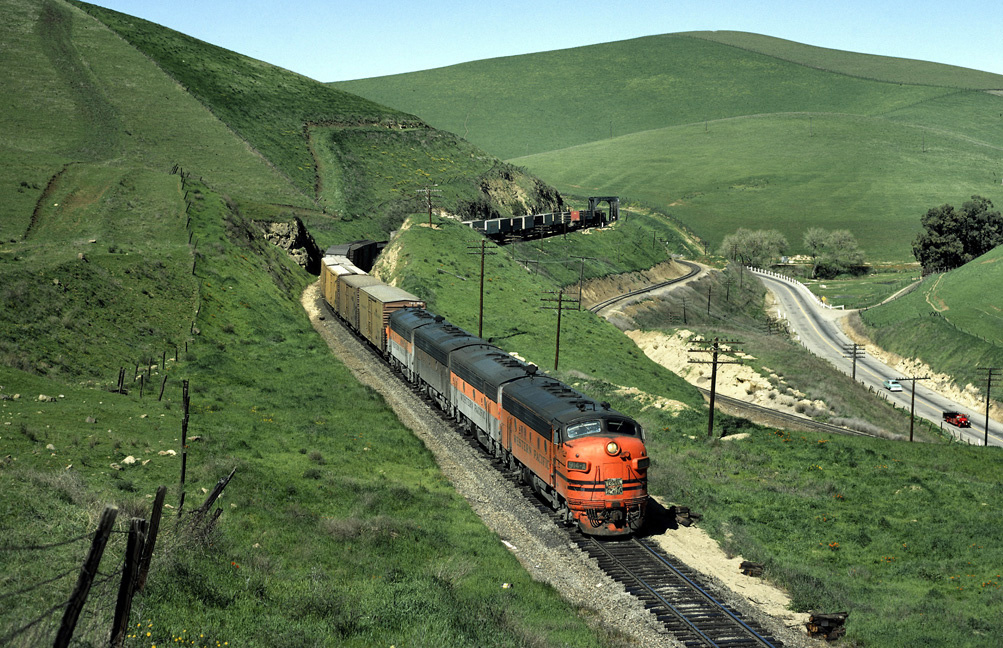 An A-B-B-A set of F7s, led by #914-A, lead an eastbound manifest freight through Altamont Pass during February of 1970. The line below belongs to the Southern Pacific, which is now abandoned.
The WP's beginnings are symbolic of the railroad as a whole; always fighting for respect and survival. Aurthur Keddie tried two times to begin railroads through the Feather River Canyon and both times Huntington and other tycoons denied him, bent on keeping him out of the region they believed was theirs (the 1869 Oroville & Virginia City and 1889 San Francisco & Great Salt Lake). To do so they used their near-infinite resources to pool power in terms of political means to prevent Keddie from receiving either money or land to build his railroads. However, Keddie was just as relentless as his foes to get his railroad built and a near innocent encounter with another mogul finally gave him the break he needed.  George Gould, son of the legendary Jay Gould, had received his father's inheritance and was seeking to build a railroad (to do this he had created two companies the Indian Valley and Butte & Plumas) through the same canyon as Keddie (Keddie had recently started a new railroad known as the Stockton & Beckwith Pass).
With none of the Big Four (which included Collis P. Huntington, Charles Crocker, Mark Hopkins, and Leland Stanford; they all literally owned California railroading at that time) interested in allying with them, Gould joined up with Keddie and the two set about their task creating the Western Pacific Railway in March of 1903, nearly 40 years since Keddie's dream had begun.  Now unable to prevent the railroad from being built Huntington could do little except watch when it was completed in the late fall 1909 linking San Francisco with Salt Lake City. Over 20 years later the railroad built a northern line, known as the Inside Gateway, from Keddie to Bieber, CA to connect with the Great Northern, thereby giving it north-south traffic as well as its famous Keddie Wye.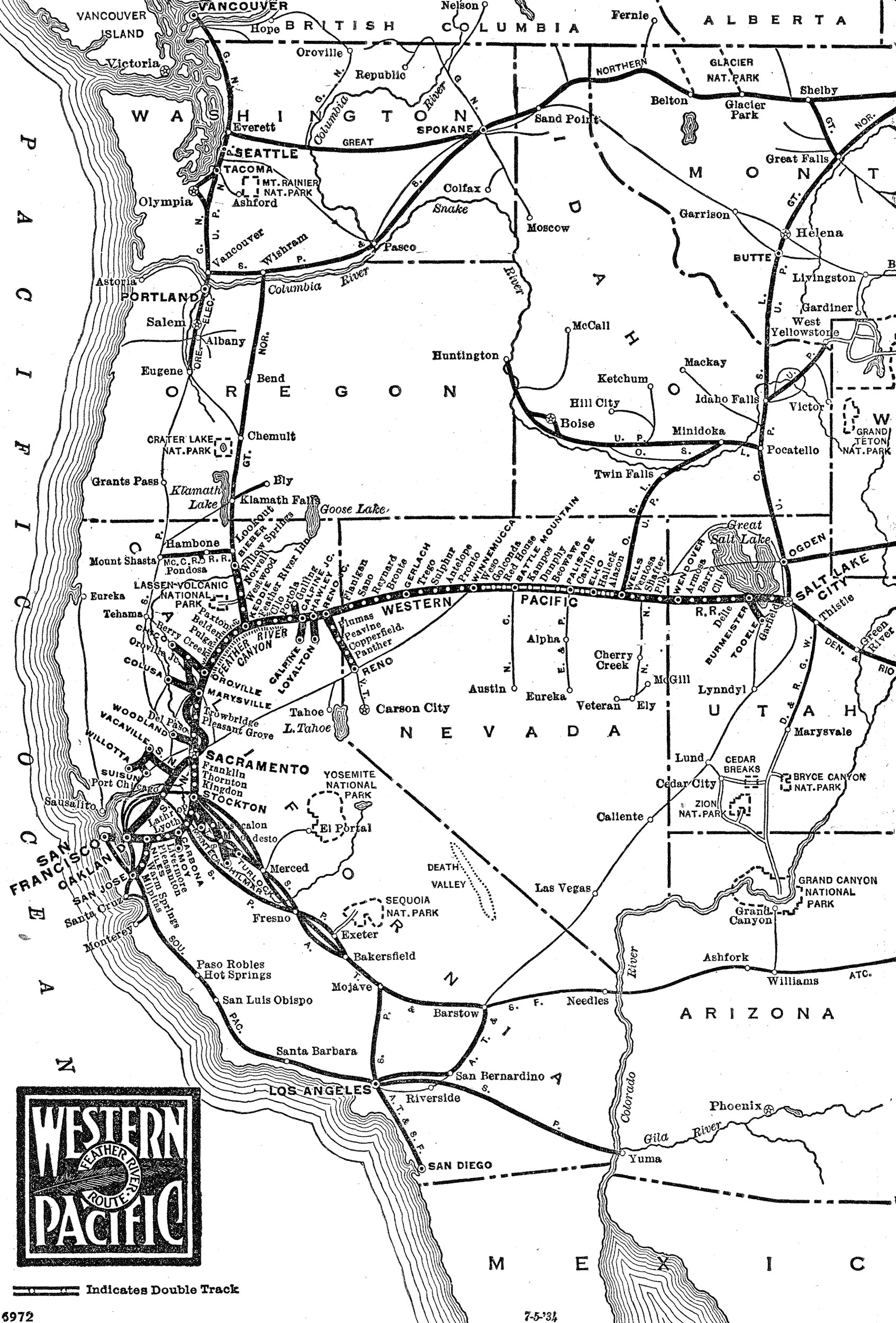 While the railroad held spectacular scenery and a main line that featured the lowest grades through the Sierra Range, it was rather mediocre from a profitability standpoint, at best through the first half of the 20th century. Not only did the unstable geography through the Feather River Canyon becoming a frustrating problem for the WP with numerous mud and rock slides occurring over the years but also traffic for the WP was hard to come by with few branch lines and other roads already well entrenched in the markets the railroad served (the WP would go through a series of bankruptcies during its early years).
Following World War II, however, the Western Pacific finally managed to achieve some consistency and success gaining traffic and upgrading its property. It also held excellent presidents starting during the 1950s with Frederic B. Whitman, which brought continued and upgraded improvements to the railroad and its property. Other presidents such as Alfred Pearlman, an excellent manager and railroader, followed Whitman and carried the company through the 1970s bringing additional efficiencies and progress to the railroad.
A long string of first-generation GP7s and GP9s are in storage at Salt Lake City during October of 1986, four years after the Union Pacific buyout.
It was the 1980 deregulation of the rail industry that ironically did the WP in. Ultimately the railroad's size and being surrounded by giants such as Union Pacific, Southern Pacific, and Burlington Northern resulted in the railroad being unable to compete with the free rate-making now available to these railroads (meaning the larger lines could haul traffic between many more and larger points than the WP resulting in them being able to offer cheaper rates than the WP). Naturally it did not take long for the railroad to be forced into a decision, none of which would allow it to remain independent. Thus, the Union Pacific would be the road that would offer to purchase the WP and this it did merging the railroad into its system just before Christmas, 1982.
A WP GP20, #2001, and a number of other Geeps pull a freight through the Niles Canyon near Sunol, California during August of 1969.
Today, the WP may no longer be an independent railroad but its legacy lives on in its main lines, the Inside Gateway and Feather River Route, which serve as important parts of the Union Pacific System. It's jointly operated California Zephyr with the Denver & Rio Grande Western and Chicago, Burlington & Quincy also lives on under Amtrak, albeit following a bit of a different route than the original. So for WP fans, all is not lost as UP locomotives still ply the Feather River Canyon and photographers can still catch freights on the famous Keddie Wye.
Diesel Locomotive Roster
For an all-time diesel locomotive roster please click here. Also, for an excellent listing of EMD-built diesel locomotives, including those owned by the WP please click here. Lastly, please click here to locate preserved WP diesel locomotives.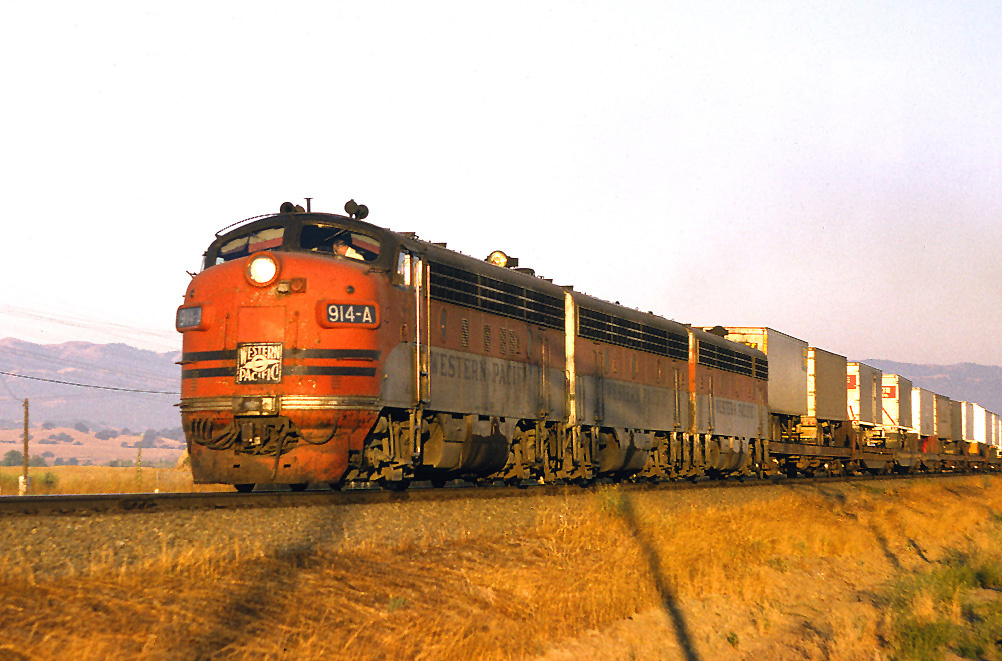 Heading into the setting sun is an A-B-B lashup of F7s, led by #914-A, as their pig train rolls eastbound near Livermore, California during July of 1966.
The American Locomotive Company
| Model Type | Road Number | Date Built | Quantity |
| --- | --- | --- | --- |
| S1 | 504-511 | 1942 | 8 |
| S2 | 551-562 | 1943-1950 | 12 |
| S4 | 563-564 | 1951 | 2 |
The Baldwin Locomotive Works
| Model Type | Road Number | Date Built | Quantity |
| --- | --- | --- | --- |
| VO-1000 | 581-585 | 1945 | 5 |
WP GP35 #3021, two other Geeps, and a U-boat lead a westbound freight through Quincy, California during August of 1969.
Electro-Motive Corporation/Electro-Motive Division
| Model Type | Road Number | Date Built | Quantity |
| --- | --- | --- | --- |
| SW1 | 501-503 | 1939 | 3 |
| SW9 | 601-606 | 1952 | 6 |
| NW2 | 607-608 (Ex-UP) | 1939-1940 | 2 |
| GP7 | 701-713 | 1952-1953 | 13 |
| GP9 | 725-732 | 1955 | 8 |
| F3A | 801A-803A | 1947 | 3 |
| F3B | 801B-803B, 801C-803C | 1947 | 6 |
| FP7 | 804A-805A, 804C-805C | 1950 | 4 |
| F7B | 804B-805B, 913B-924B, 913C-924C | 1950-1951 | 26 |
| FTA | 901-912, 901C-912C | 1941-1944 | 24 |
| FTB | 901A-912A, 901B-912B | 1941-1944 | 24 |
| F7A | 913A-924A, 913D-924D | 1950-1951 | 24 |
| SW1500 | 1501-1503 | 1973 | 3 |
| GP20 | 2001-2010 | 1959-1960 | 10 |
| GP35 | 3001-3022 | 1963-1965 | 22 |
| GP40 | 3501-3544 | 1966-1971 | 44 |
| GP40-2 | 3545-3559 | 1979-1980 | 15 |
General Electric
| Model Type | Road Number | Date Built | Quantity |
| --- | --- | --- | --- |
| U30B | 751-771 | 1967-1971 | 21 |
| U23B | 2251-2265 | 1972 | 15 |
Behemoth steam power was actually quite common on the Western Pacific. Seen here is Class M-100 4-6-6-4 Challenger #407 resting at the yard in Wells, Nevada on August 18, 1949.
Steam Locomotive Roster
For a more complete roster of steam locomotives please click here. Also, for information regarding surviving WP steam locomotives please click here.
Notable Passenger Trains
Exposition Flyer: (Chicago - Oakland)
Feather River Express: (Oakland - Portola, California)
Royal Gorge: (Oakland - St. Louis)
Scenic Limited: (Oakland - St. Louis)
Zephyrette: (Oakland - Salt Lake City)
---
F7A #913-A pops out of the tunnel along the Keddie Wye in Keddie, California as it heads back to the nearby yard during August of 1969.
For more information on the Western Pacific Railroad consider Mike Schafer's More Classic American Railroads. This book was published in 2000 and follows up on his original title, Classic American Railroads, covering yet more fabled and well remembered fallen flags including the WP. Mr. Schafer has three in the series, all of which I own and have thoroughly enjoyed every one! If you're interested in perhaps purchasing this book please visit the link below which will take you to ordering information through Amazon.com, the trusted online shopping network.
Adam Burns, Site Author