The Alco C855, Union Pacific's Monstrous Experimental Century

(Please note that the models featured here are not that of the Alco C855.)
The Alco C855 was an experimental design built for the Union Pacific as only three were ever built. At the time the model was built it was the most powerful single-unit diesel locomotive ever constructed. Designed during the 1960s, the C855 was quite similar to locomotives built by General Electric and GM's Electro-Motive Division, as Union Pacific was looking for a powerful single-unit design that could decrease its motive power fleet. What seemed to be so often the case with Alco's main line locomotives the C855 proved to be troublesome and problematic, mostly due to the fact that the design had not been given enough research and development time. The model's prominent feature was Alco's trademark, incredible tractive effort and the ability to pull almost anything. However, this did little to sway Union Pacific's feelings towards the C855 and the three units were scrapped after less than 10 years of service.
Bath & Hammondsport C424ms #424 and #422 have finished dropping off their train at the Norfolk Southern interchange in Painted Post, New York on June 6, 2011.
Interestingly, the Alco C855 (designed by the builder as its DL-855) was constructed in June, 1964 during the Century line's early years of production. The model was essentially two locomotives housed under one hood. The C855 employed two Alco 251C model prime movers that together could produce a stunning 5,500 horsepower. The unit rode on four B-B trucks and overall weighed a grueling 551,000 pounds, or 275.5 tons. Obviously, this extreme weight meant that the locomotive would be a liability on the track structure although it also meant that it offered incredible tractive effort that topped out at 109,000 pounds starting and 88,000 pounds continuous (putting it on par with some of the largest and most advanced steam locomotives ever built an area that Alco was also quite familiar with).
Alco had also developed a model similar to the C855, Southern Pacific's C643H. However, there was a key difference with Espee's locomotive, it used a Voith diesel hydraulic transmission whereas the C855 did not. UP's version used equipment standard in practically all other Century line locomotives; traction motors (model 752) and main/secondary generators (model GT598 and GY27-5) from General Electric along with air components from Westinghouse.
Of course, anyone who studies Union Pacific history knows that the railroad is famous for going big, particularly during the 1950s and 1960s. In the late 1940s UP had GE and Alco build a gas turbine-electric locomotive that itself could produce nearly 5,000 horsepower and during the same time period that the C855 was built UP contracted GE and EMD to build similar models (EMD unveiled the DD35 and GE the U50, both of which could produce 5,000 horsepower). The C855 could be operated as a single unit. However, Alco built the locomotive in an A-B-A lashup numbered (in sequence) 60, 60B, and 61 (the cabless "B" unit was designed by Alco as DL-856). In general the carbody had the appearance of the Century line with a short nose and long trailing hood only scaled up. From an exterior standpoint it didn't exactly carry a clean look with many bulges and protrusions.
Former Susquehanna C430s #3000 and #3006 are seen here operating on the Livonia, Avon & Lakeville at Lakeville, New York on July 1, 2001 shortly after their sale to the shortline.
The C855 was an incredible 86 feet long, or if all three units were coupled together nearly a football field in length at 258 feet! The whole point of UP going big with its diesel locomotives was an attempt to reduce its locomotive fleet by using fewer units per train (thus reducing maintenance and general locomotive expenses). Unfortunately, while both GE's and EMD's models lasted longer in revenue service for UP than did the Alco C855 all three designs had their problems (the C855s were off the roster by 1972). EMD's version, the DD35A and DDA40X lasted the longest and proved to be the most reliable and remained in service for decades. Aside from the C855's reliability issues UP also found the classic Alco "belching" of black smoke far too polluting for its liking. For a technical data on the Alco C855 please click here. Also, for more information about all Century series designs please refer to the chart below.
Century Series
| Model Type | Units Built | Date Built | Horsepower |
| --- | --- | --- | --- |
| C-415 | 26 | 1966-1968 | 1,500 |
| C-420 | 131 | 1963-1968 | 2,000 |
| C-424 | 190 | 1963-1967 | 2,400 |
| C-425 | 91 | 1963-1966 | 2,500 |
| C-430 | 16 | 1966-1968 | 3,000 |
| C-628 | 181 | 1963-1968 | 2,750 |
| C-630 | 133 | 1965-1969 | 3,000 |
| C-636 | 34 | 1967-1968 | 3,600 |
| C-643H | 3 (Built For SP) | 1964 | 4,300 |
| C-855 | 3 (Built For UP) | 1964 | 5,500 |
---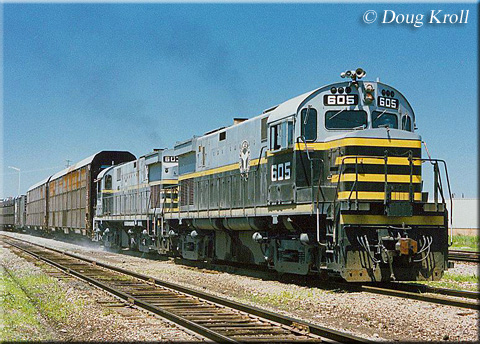 Belt Railway of Chicago C424s #605 and #603 arrive at Clearing Yard with their autorack consist on June 17, 1986.
For a comprehensive look at the American Locomotive Company and all of the motive power types it built from steam, diesel, to electrics consider the book Alco Locomotives by Brian Solomon. Covering more than 175 pages Mr. Solomon's book details the history of Alco from its esteemed 4-6-4 Hudsons and 4-6-6-4 Challengers to vaunted RS and PA series diesel locomotives. If you have any interest in Alco this book is a must have!  Also consider Mike Schafer's Vintage Diesel Locomotives which looks at virtually all of the classic builders and models from Alco PAs to early EMD Geeps. If you're interested in classic Alcos, or diesel locomotives in general, this book gives an excellent general history of both. If you're interested in perhaps purchasing either (or both) of these books please visit the links below which will take you to ordering information through Amazon.com, the trusted online shopping network.
Adam Burns, Site Author