The Alco RS27 began production in 1959 using a B-B format (two axles per truck) and producing a hefty 2,400 horsepower for a somewhat small, four-axle unit. As with other late-model RS designs the RS27 came in a standard low-nose setup using Alco's much more reliable 251B prime mover. In terms of the company's history as a locomotive builder, the RS27 offered the first glimpse of its Century series, which began production in 1963. The model retained the flush, long hood with the cab and the classic notched corners on the carbody remained. However, the cab featured a slight design change with raised number boards and headlights, and the nose was shorter giving the locomotive a more blunted appearance.
From an exterior standpoint the RS27 began the common look of second-generation designs, as GE used a similar setup with its U25B, and EMD did the same beginning with its GP18, GP20,and GP30 models. Perhaps it was due to Alco's earlier troublesome engine designs that kept railroads away but whatever the case the builder found little success with the RS27 selling less than thirty units with the Pennsyvlania Railroad purchasing the most (15). The year 1959 was not a particularly good one for Alco.   It was increasingly losing market share to EMD, had not cataloged a successful locomotive since the RS3 finished production in 1956 (although its RS11 design did sell relatively well). 
Alco demonstrator #901 is seen here in Lehighton, Pennsylvania circa 1968.
Additionally, that year GE ended its five decade partnership with the company when it released its own line of diesels beginning with the U25B (which ironically far outsold the RS27).   From an operational standpoint, the RS27 varied little from the RS11 aside from the additional horsepower. It actually offered less continuous tractive effort (42,000 pounds) but more starting effort (66,000 pounds). As had been the case for nearly two decades when the RS27 was produced, internal components like traction motors, generators, and air brakes/compressors came in from GE and Westinghouse.
Production Roster Of Alco RS27s
| Owner | Road Number(s) | Quantity | Date Built |
| --- | --- | --- | --- |
| Alco Demonstrator | 640-1, 640-2, 640-3, 640-4, 640-5 | 5 | 1959-1960 |
| Chicago & North Western | 900-903 | 4 | 1962 |
| Green Bay & Western | 310 | 1 | 1960 |
| Pennsylvania | 2400-2414 | 15 | 1962 |
| Soo Line | 415-416 | 2 | 1962 |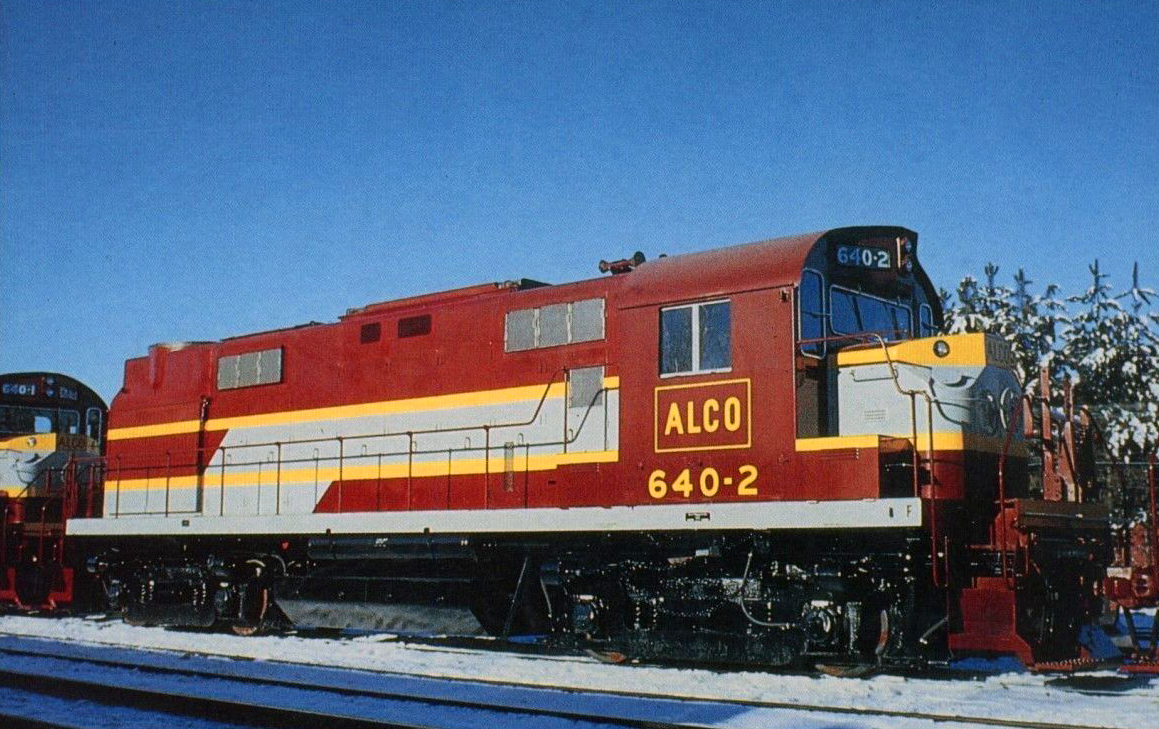 Alco demonstrators #640-2 and #640-1 circa 1959.
In the end the model proved another abysmal failure for Alco as just four Class I railroads ultimately purchased the RS27; the aforementioned Pennsylvania, Soo Line, Chicago & North Western, and Green Bay & Western.  Of note, however, Union Pacific did purchase two of the demonstrators, #640-2 and #640-3. Somewhat unsatisfied, UP returned them to the Montreal Locomotive Works where they were later resold.  Today, the Minnesota Commercial is apparently quite happy with its two RS27s as the railroad has kept them on its roster for nearly three decades now.

Related Reading