The Kansas City Southern Railway, Route Of The Southern Bell

The Kansas City Southern Railway, better known as simply the KCS, may be our country's smallest Class I railroad in terms of route miles, surrounded by the other four giants Union Pacific, BNSF Railway, CSX Transportation, and Norfolk Southern (six including the Canadian National and Canadian Pacific). However, the railroad is the second oldest Class I still in operation, next to the Union Pacific, and its history dates back to the late 19th century. Other than the Union Pacific, the KCS is the only remaining Class I railroad whose name has never changed prior to the diesel era. In recent years the railroad has witnessed substantial growth by acquiring four different railroads, two of which are located in Mexico.  Today, the railroad has a much further reach than it ever has during its long history and the future for the company looks very bright.
Three six-axle Electro-Motive units with SD40-2 #601 up front pull a westbound freight near Pelahatchie, Mississippi on June 9, 2005.
The KCS's story is actually quite recent when compared to the railroad industry as a whole; the railroad was not charted until 1890 (long after the industry had been established) when it was originally known as the Kansas City Suburban Belt Railroad later to become the Kansas City, Pittsburg & Gulf. The railroad's initial plan was to build to the Gulf of Mexico connecting its namesake city with the ocean in an attempt to give farmers a means of shipping their goods, as well as hauling goods inland from incoming ocean shipments.
This plan, however, was never successful and after falling into receivership it was reorganized as today's Kansas City Southern in 1900. Even after the reorganization the railroad struggled to earn income until its savior came in the way of "black gold," oil. With the discovery of oil the railroad's southern tier, its lines located in Texas and Louisiana, boomed with new oil refineries, many of which can still be found to this day along both states' coastal regions. This new traffic would account for well over one-quarter of the system's profits for much of its early years (and continue to provide a substantial amount of its overall earnings).
(Please note that the below map of the KCS depicts the railroad as it historically appeared in 1950, not today.)
For roughly the first half of the 20th century the KCS prospered, earning considerable profits on a railroad system that was less than 1,000 total miles in length. However, beginning in the late 1950s the railroad would once again go through a period of hard times, much like its early days. Things got so bad by the early 1970s (mostly a result of deferred maintenance) that derailments became commonplace across the entire system. If it were not for record volumes of traffic continuing to pour over the KCS during this time the railroad could have faced a serious problem, similar to its northern neighbor, the Rock Island.
While the KCS was never a big player in the passenger rail market like several other roads, it did have a few notable trains such as its Southern Belle streamlined train which operated between Kansas City and New Orleans. Adorned in an eye-catching Brunswick Green (which appears almost black), yellow, and red the train operated between 1940 and 1968 until hard times and a weakening passenger market forced the train's cancellation. In any event, with plenty of traffic to keep the railroad stable it began to pull out of the mess it was in during the latter half of the 1970s, and by the 1980s it was once again earning healthy profits and running efficient operations (a result of physical plant upgrades and better train blocking and scheduling).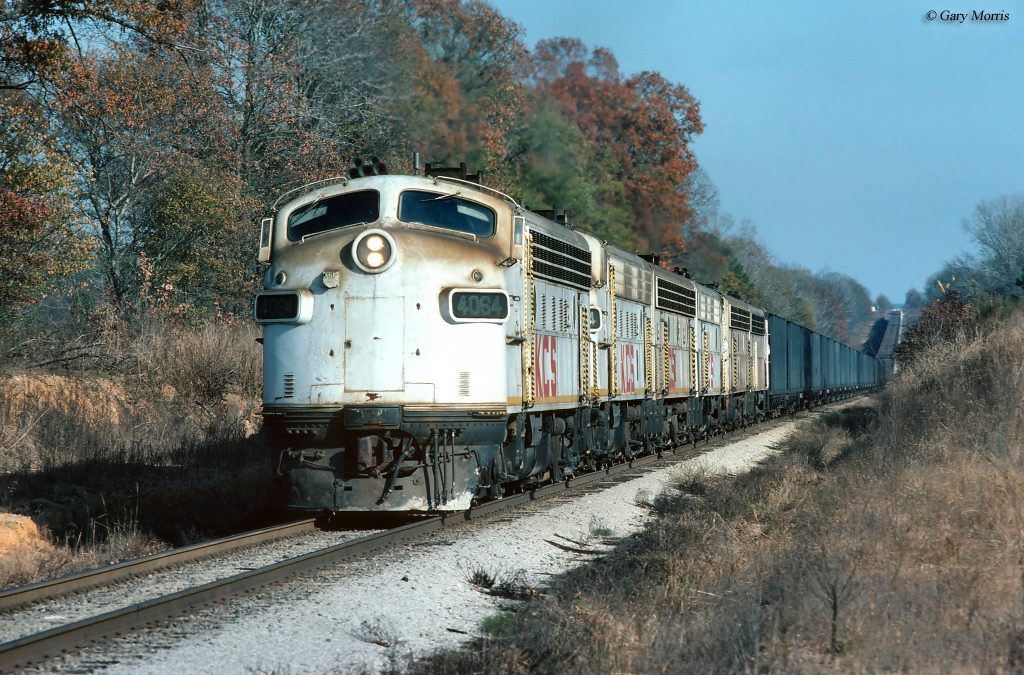 These F-unit covered wagons remained in regular service on the KCS until the 1980s. Seen here are no fewer than six units powering a long train of empty hoppers heading westbound near Sulphur Springs, Texas during December of 1981.
In the last decade the railroad has grown, and quite substantially, for the first time since its early years. In the 1990s it acquired two railroads, the Gateway Western Railway and Mid-South Rail Corporation. The former gave the Kansas City Southern access into St. Louis and Springfield, Illinois and the latter into Mississippi. Also, in recent years the KCS was able to gain complete control of two railroads south of the border, the Texas Mexican Railway and Grupo Transportación Ferroviaria Mexicana (TFM), putting the KCS solidly into Mexico and giving it access to many of the country's largest markets.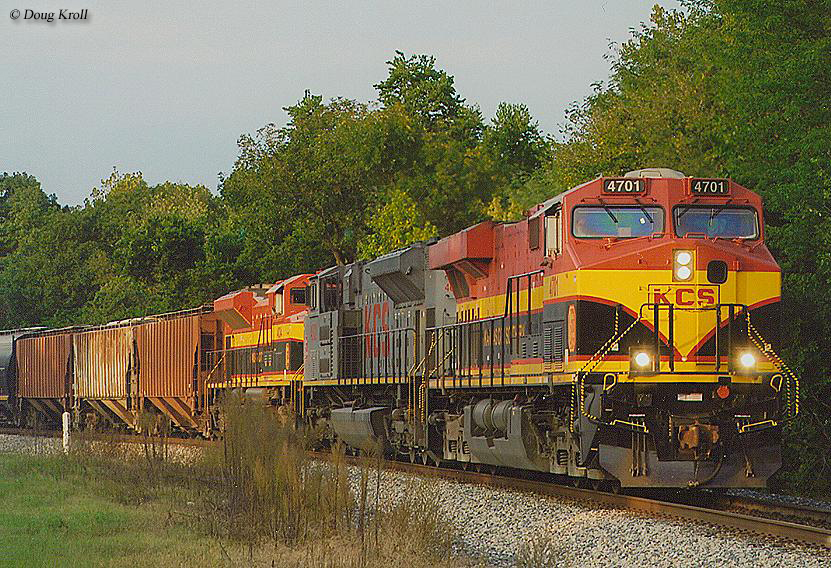 In the mid-2000s the KCS brought back its classic Southern Belle livery, as seen here on two of its newer units, an ES44AC and SD70ACe as they lead a manifest freight (with another SD70ACe) through Lanagan, Missouri on the evening of September 18, 2009.
While the KCS itself is only about 3,100 miles in length its acquisition of Tex Mex and TFM (now known as Kansas City Southern de Mexico) added about 2,800 miles to its overall system, giving it a railroad of nearly 6,000 miles. Still, this mileage pales in comparison to the other six North American Class Is which rank as follows:
Union Pacific Railroad - 32,000 miles (5,000 of which are trackage rights.)
BNSF Railway - 32,000 miles (8,000 of which are trackage rights.)
CSX Transportation - 22,000 miles
Norfolk Southern Railway - 21,000 miles
Canadian National Railway - 19,200 route miles
Canadian Pacific Railway - 13,600 route miles
Its logo virtually unchanged throughout its life, with its recent acquisitions the railroad looks poised to continue to remain successful throughout the coming years (perhaps as they sometimes say, change is not always a good thing!). While the railroad has had a number of different paint schemes over the years ranging from whites, reds, blacks, and grays recently the railroad decided to switch its locomotives back into the it's classic Brunswick Green, yellow, and red (in recent years locomotives have been adorned in a simpler all-gray with red and yellow trim).
Diesel Locomotive Roster
Electro-Motive Corporation/Electro-Motive Division
| Model Type | Road Number | Date Built | Quantity |
| --- | --- | --- | --- |
| E3A | 1-3 | 1938-1939 | 3 |
| E6A | 4-5 | 1942 | 2 |
| E9A | 25 | 1959 | 1 |
| E8A | 26-29 | 1952 | 4 |
| F3A | 30A-31A, 50A-59A, 50D-58D | 1947-1948 | 21 |
| F3B | 30B-31B, 50B-58B, 50C-58C | 1947-1948 | 20 |
| F7A | 32A-33A, 59D, 70A-76A, 72D-76D | 1949-1950 | 15 |
| F7B | 32B-33B, 70B-79B, 72C-78C | 1949-1950 | 17 |
| F9A | 32A, 58D, 74D | 1955-1956 | 3 |
| GP30 | 100-119 | 1962-1963 | 20 |
| GP7 | 150-162 | 1951-1953 | 13 |
| GP9 | 163-165 | 1959 | 3 |
| SD40 | 600-636 | 1966-1971 | 37 |
| SD40-2 | 637-692 | 1972-1980 | 56 |
| SD40X | 700-703 | 1979 | 4 |
| SD50 | 704-713 | 1981 | 10 |
| SD60 | 714-759 | 1989-1991 | 46 |
| GP40-2 | 796-799 | 1979-1981 | 4 |
| NW2 | 1100-1102, 1200-1229 | 1939-1949 | 30 |
| SW7 | 1300-1315 | 1950-1951 | 16 |
| SW1500 | 1500-1541 | 1966-1972 | 42 |
| GP38-2 | 4000-4011 | 1974-1978 | 12 |
| SD70ACe | 4000-4059 (Latest Numbering), 4100-4129 | 2005-2008 | 90 |
| MP15DC | 4363-4366 | 1975 | 4 |
An odd collection power including two covered wagon B units and two more SW1500s (up front is #4340), lead a freight along the Lake Charles Branch near Mossville, Louisiana during November of 1976.
General Electric
| Model Type | Road Number | Date Built | Quantity |
| --- | --- | --- | --- |
| ES44AC | 4650-4759 | 2007-2008 | 110 |
The KCS wasn't really known for its steam power although it did roster some large designs such as 2-10-2s and even articulateds. Here is Class H 4-6-2 #804 mingling with Rock Island power at Kansas City during May of 1928.
Steam Locomotive Roster
| Class | Type | Wheel Arrangement |
| --- | --- | --- |
| D-25 | Ten-Wheeler | 4-6-0 |
| E (Various) | Consolidation | 2-8-0 |
| F-2 | Switcher | 0-6-0 |
| G | Articulated | 0-6-6-0 |
| G-2 | Articulated | 2-8-8-0 |
| H (Various) | Pacific | 4-6-2 |
| J | Texas | 2-10-4 |
| K, K-1, K-21 | Switcher | 0-8-0 |
| L, L-1 | Santa Fe | 2-10-2 |
| M-22 | Mikado | 2-8-2 |
| S | Shay | 0-4-4-4-0T |
Another KCS Class H Pacific, #807, rolls through the yard in Kansas City during July of 1931. In total the railroad only owned eleven of these fairly common steamers (most lines used them in passenger service).
Notable Passenger Trains
Flying Crow: (Kansas City - New Orleans/Port Arthur)
Shreveporter: (Hope - Shreveport)
---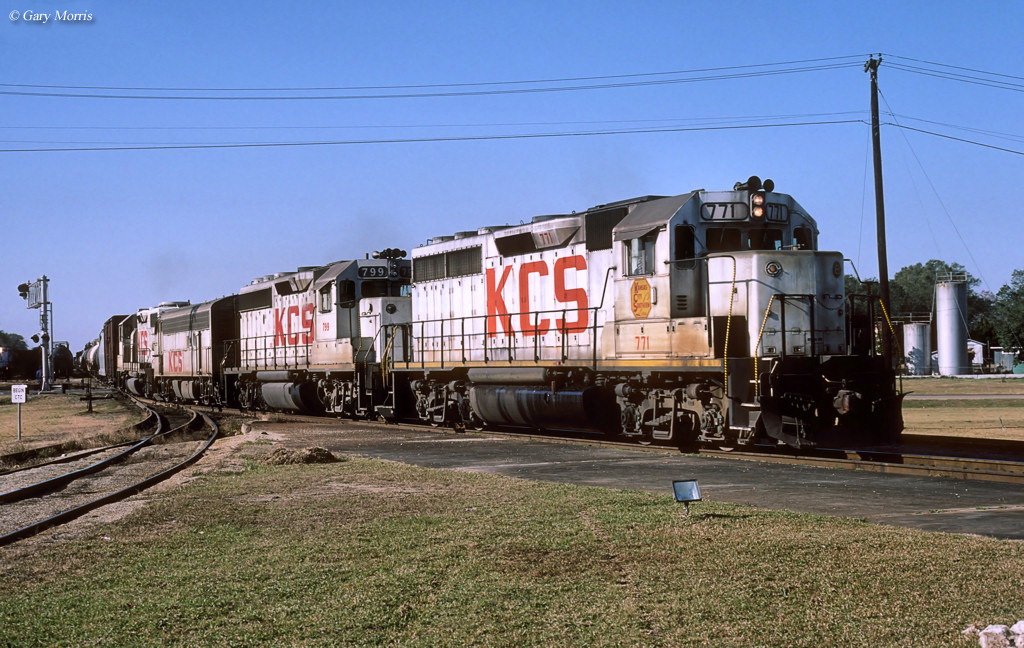 The KCS came to dislike this all-white livery since it could never be kept clean. A trio of Geeps (with GP40 #771 up front) and F7A #4060 lead a northbound freight through DeQuincy, Louisiana during December of 1985.
As of this writing there are no known books which are in mass print that provide a general history of the KCS. However, you may research Morning Sun Books, a publisher which prints books on a wide range of classic railroads (owning several of their titles I can say that they are all very high quality pieces). In any event, for more reading on the Kansas City Southern Railway consider Mike Schafer's More Classic American Railroads. This book was published in 2000 and follows up on his original title, Classic American Railroads, covering yet more fabled and well remembered classic railroads including the KCS. Mr. Schafer has three in the series, all of which I own and have thoroughly enjoyed every one! If you're interested in perhaps purchasing this book please visit the link below which will take you to ordering information through Amazon.com, the trusted online shopping network.