While it took many years to see the fruits of this labor fulfilled, by the late 1930s the KCS had acquired new markets in Dallas and New Orleans.  At first the railroad zeroed in on the nearby Missouri-Kansas-Texas (Katy) and St. Louis Southwestern (Cotton Belt) railroads.  However, the Interstate Commerce Commission forced it to divest of these holdings during the 1920s.   It would later pick up the Louisiana & Arkansas (second) in 1939, providing a roughly east-to-west routing from New Orleans to Dallas, Texas via Shreveport.  There was also an extension from Alexandria, Louisiana to Hope, Arkansas where additional interchanges were established with Missouri Pacific, Rock Island, and Cotton Belt.  The L&A was the greatest component to the historic KCS system although other minor acquisitions included the Kansas & Missouri Railway & Terminal Company (K&M), Fort Smith & Van Buren (FS&VB), Arkansas Western (AW), and the Maywood & Sugar Creek (M&SC).
By 1950, the KCS owned a network of 962 miles and had it forever remained this size would likely be only a Class II, "regional," today.  For roughly the first half of the 20th century the KCS prospered, earning considerable profits for a system its size.  This was in large part due to the efforts of  William Deramus who spent millions in upgrades through the 1950s by laying new ties, improving signaling for faster and more efficient operations (Centralized Traffic Control in 1943), completing dieselizing by 1953, opening the large Deramus Yard at Shreveport in 1956, and operating long freights of 200 cars or more.  After the nation's severe 1958 recession (also referred to as the Eisenhower Recession), the KCS experienced a slow and worsening decline.  It had purchased new locomotives beginning in the mid-1960s to improve operations and handle the heavier freight trains of the era; notably SD40's, SD40-2's, GP30's, and GP40-2's (road-switchers which replaced older models like the F3 and F7 cab units).
Kansas City Southern's Notable Early Predecessors
Fort Smith & Van Buren Railway:  The FS&VB entered the KCS fold on September 30, 1939 when it was formed to acquire the Coal Creek to McCurtain, Oklahoma segment of the former Fort Smith & Western Railroad.  The FS&W was chartered on January 25, 1899 and by 1903 opened from Coal Creek to Guthrie, Oklahoma via Oklahoma City.  The road struggled financially and was reorganized as the Ft. Smith & Western Railway in the early 1920s.  It continued to falter into the Great Depression and finally shutdown on February 9, 1939 after which time the KCS took over the above-mentioned segment.
Graysonia, Nashville & Ashdown Railroad:  The GN&A was another timber road originally chartered on June 16, 1906 as the Memphis, Paris & Gulf Railroad.  Within a few years it had opened 41 miles from Ashdown, Arkansas (and a connection to the KCS) to Murfreesboro via Nashville.  On June 1, 1910 its name was changed to the Memphis, Dallas & Gulf controlled by the Graysonia & Nashville Lumber Company.  On March 21, 1915 it opened between Hot Springs and Texarkana, Arkansas via Ashdown comprising a system of some 115 miles.  Unfortunately, it fell into bankruptcy a few years later and segments were sold off.  On August 15, 1922 the Ashdown to Shawmut section (61 miles) became the Graysonia, Nashville & Ashdown while it further shrunk in 1926 to just a 32-mile system linking Nashville and Ashdown.  The GN&A remained a small short line operation until its acquisition by KCS on July 13, 1993.

Louisiana & Arkansas Railway:  The L&A was the largest component of the historic Kansas City Southern.  It was actually a merger itself of two subsidiaries, the original Louisiana & Arkansas Railway and Louisiana Railway & Navigation Company.  According to the KCSHS the earliest predecessor of the first L&A was launched by logger William Buchanan around 1896 to serve his sawmill near Stamps, Arkansas.  It was one of the many, unincorporated and privately owned little railroads that could so often be found with such operations then.  On March 18, 1898 it was officially chartered as a common-carrier, the Louisiana & Arkansas Railway, as Buchanan looked to continue growing his timber holdings.  Within just a few years he had built new lines or acquired others (Arkansas, Louisiana & Southern) to operate a system stretching some 273 miles between Alexandria, Louisiana and Hope, Arkansas; the former extension opened on July 1, 1906 while the latter was reached on June 1 1903.  A few years later, on July 1, 1910, the L&A reached Shreveport, Louisiana thanks to its acquisition of the Minden East & West Railroad (via Minden).  During Kansas City Southern's, Harvey Couch era, he acquired control of the L&A and LR&N on January 16, 1928.  Later that year, on July 7th he formed a second Louisiana & Arkansas Railway Company combining both into the new L&A on May 8, 1929.

Louisiana Railway & Navigation Company:  The LR&N's earliest predecessor was the Shreveport & Red River Valley Railroad, a project started by William Edenborn in 1896 to connect Shreveport with New Orleans.  The first segment opened between Shreveport and Coushatta, Louisiana on October 1, 1898 and reached as far south as Mansura by September of 1902.  At this time the system was reorganized as the Louisiana Railway & Navigation Company on May 9, 1903, opening to New Orleans on April 14, 1907.  The LR&N continued to expand following the completion of its original main line.  Looking to the west it acquired a former branch of the Missouri-Kansas-Texas Railroad ("The Katy") between McKinney, Texas and the Louisiana state line (near Waskom, Texas) on April 1, 1923.  To provide service on this disconnected segment the LR&N acquired trackage rights over the Texas & Pacific (Missouri Pacific) west of Shreveport.  The line to Dallas became a very important component of the KCS system and still witnesses considerable use today.
However, it began a program of deferred maintenance in the 1960s to offset the slow period, which produced a better bottom line.  Unfortunately, such tactics are only "successful" for short periods and can have long-lasting, very negative, effects if carried out over many years.  This turned out to be the case for KCS; with top management too focused on other things the railroad's physical plant slipped into a decaying state of repair and it all came to head in late 1972.  With worn out ties and the road's infrastructure unable to bear the weight of multi-ton trains, derailments occurred one after another.  If it were not for record volumes of traffic the railroad could have faced a fatal problem, similar to its northern neighbor the Rock Island.  While deferred maintenance offers short term relief for a railroad's bottom line in the long term it can cost substantially more to alleviate as the KCS found out.

Under the direction of new president Thomas S. Carter in 1973, who replaced Deramus's son (William N. Deramus III), the modern day KCS system began to take shape.  He spent millions to improve the company's physical degradation although things got worse before they got better; Mr. Schafer notes that 1974 cost the railroad $2 million in damages via 41 derailments.  Thankfully, with plenty of traffic to keep the railroad stable (coal and petrochemicals in particular) it began to pull out of the mess and the 1980s were a prosperous period. Into the 1990s and early 2000s numerous acquisitions saw the railroad grow substantially, expanding six-fold over its historic size.  The first occurred on January 1, 1994 when it formerly took over MidSouth Rail Corporation, a 1,212-mile regional that had launched operations on March 31, 1986 utilizing former Illinois Central and Gulf, Mobile & Ohio trackage.  The lines ran east of Shreveport to Jackson and Meridian, Mississippi before turning north into Counce, Tennessee.  In addition, there was access to Tuscaloosa and Birmingham, Alabama as well as Gulfport, Mississippi.
The second significant addition was the purchase of Gateway Western in 1997.  This large regional began service on January 9, 1990.  The GWWR was itself a new startup for the defunct Chicago, Missouri & Western Railway, launched on April 28, 1987 over yet more former Illinois Central Gulf trackage.  The ICG had spent the mid-1980s selling off large chunks of its network in an attempt to reverse its sagging financial condition.  The CM&W operated much of the Gulf, Mobile & Ohio's former main line between Chicago and St. Louis, as well as the corridor between Kansas City and Springfield.  In all, it totaled some 633 miles.  However, within a year the company was in bankruptcy.  The Santa Fe picked up 408 miles from St. Louis to Kansas City via Springfield while the remainder into Chicago was acquired by Southern Pacific.  Following the Burlington Northern Santa Fe Railroad merger of 1995 the property became superfluous, allowing it to be purchased by KCS, which formally merged it into its network on October 1, 2001. 
At about the same time of the aforementioned takeovers, KCS was able to gain complete control of two railroads near, or within Mexico; the Texas Mexican Railway (a southern Texas road that linked with the Mexican border) and Grupo Transportación Ferroviaria Mexicana (TFM).   While the KCS itself is only about 3,100 miles in length its acquisition of Tex Mex and TFM (now known as Kansas City Southern de Mexico) added about 2,800 miles to its overall system, giving it a network of more than 6,000 miles today. Its mileage still pales in comparison to the other six North American Class Is: Union Pacific and BNSF both maintain about 32,000 miles; CSX Transportation and Norfolk Southern roughly 21,000 miles; Canadian National 20,000 miles; and Canadian Pacific 14,000 miles.  Its logo virtually unchanged throughout its life, with its recent acquisitions the railroad looks poised to remain successful throughout the coming years (perhaps, as they sometimes say, change is not always a good thing!). While the railroad has had a number of different paint schemes over the years ranging from whites, reds, blacks, and grays recently it decided to switch back into the it's classic Southern Belle scheme of Brunswick Green, yellow, and red.
Diesel Locomotive Roster

Electro-Motive Corporation/Electro-Motive Division
| Model Type | Road Number | Date Built | Quantity |
| --- | --- | --- | --- |
| E3A | 1-3 | 1938-1939 | 3 |
| E6A | 4-5 | 1942 | 2 |
| E9A | 25 | 1959 | 1 |
| E8A | 26-29 | 1952 | 4 |
| F3A | 30A-31A, 50A-59A, 50D-58D | 1947-1948 | 21 |
| F3B | 30B-31B, 50B-58B, 50C-58C | 1947-1948 | 20 |
| F7A | 32A-33A, 59D, 70A-76A, 72D-76D | 1949-1950 | 15 |
| F7B | 32B-33B, 70B-79B, 72C-78C | 1949-1950 | 17 |
| F9A | 32A, 58D, 74D | 1955-1956 | 3 |
| GP30 | 100-119 | 1962-1963 | 20 |
| GP7 | 150-162 | 1951-1953 | 13 |
| GP9 | 163-165 | 1959 | 3 |
| SD40 | 600-636 | 1966-1971 | 37 |
| SD40-2 | 637-692 | 1972-1980 | 56 |
| SD40X | 700-703 | 1979 | 4 |
| SD50 | 704-713 | 1981 | 10 |
| SD60 | 714-759 | 1989-1991 | 46 |
| GP40-2 | 796-799 | 1979-1981 | 4 |
| NW2 | 1100-1102, 1200-1229 | 1939-1949 | 30 |
| SW7 | 1300-1315 | 1950-1951 | 16 |
| SW1500 | 1500-1541 | 1966-1972 | 42 |
| GP38-2 | 4000-4011 | 1974-1978 | 12 |
| SD70ACe | 4000-4059 (Latest Numbering), 4100-4129 | 2005-2008 | 90 |
| MP15DC | 4363-4366 | 1975 | 4 |
General Electric

| Model Type | Road Number | Date Built | Quantity |
| --- | --- | --- | --- |
| ES44AC | 4650-4759 | 2007-2008 | 110 |
Steam Locomotive Roster

| Class | Type | Wheel Arrangement |
| --- | --- | --- |
| D-25 | Ten-Wheeler | 4-6-0 |
| E (Various) | Consolidation | 2-8-0 |
| F-2 | Switcher | 0-6-0 |
| G | Articulated | 0-6-6-0 |
| G-2 | Articulated | 2-8-8-0 |
| H (Various) | Pacific | 4-6-2 |
| J | Texas | 2-10-4 |
| K, K-1, K-21 | Switcher | 0-8-0 |
| L, L-1 | Santa Fe | 2-10-2 |
| M-22 | Mikado | 2-8-2 |
| S | Shay | 0-4-4-4-0T |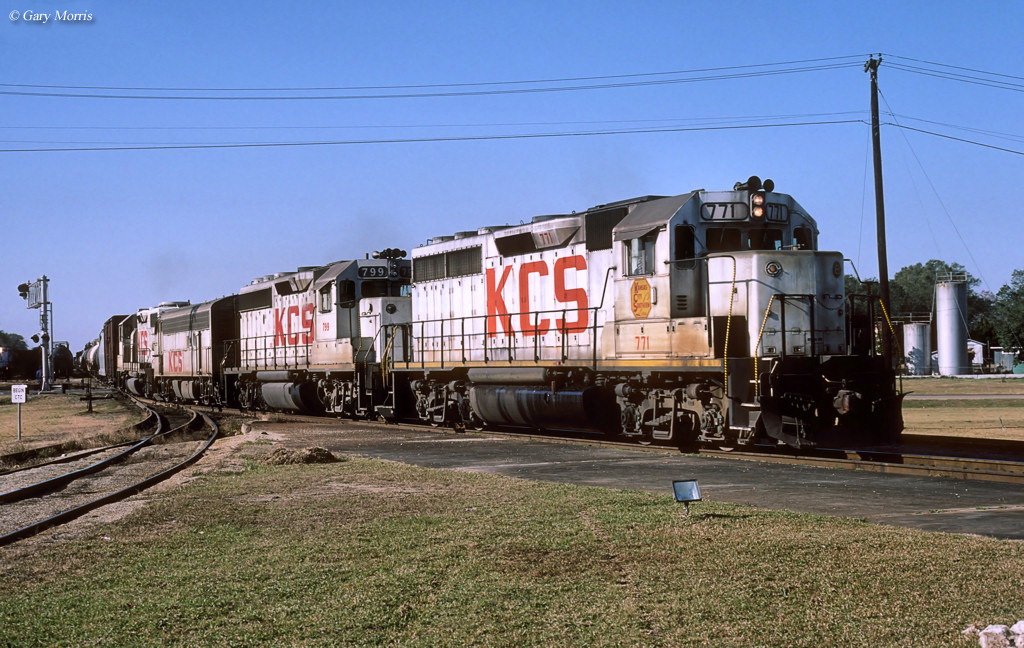 The newest KCS trackage was the resurrection of 87.5 miles of former Southern Pacific trackage between Victoria and Rosenberg, Texas, which Trains Magazine reported began service on June 18, 2009.  Also known as the "Macaroni Line" this property came under SP control around 1885 and remained in use until 1985, after which time the trackage was largely pulled up but the right-of-way remained under railroad ownership.  It fell under Union Pacific's jurisdiction after its 1996 takeover of SP and subsequently purchased by Kansas City Southern in 2001.  The railroad began first clearing the right-of-way for rehabilitation in 2007 and had it ready for service within a few years.  The new corridor is a vital link to the KCS lines in Mexico and allowed it to discontinue a circuitous 161-mile routing of trackage rights over UP.  Today, it sees considerable use and is fully monitored by Centralized Traffic Control (CTC).
Related Reading You May Enjoy


Home

›

Class I Railroads

› Kansas City Southern