The so-called "Great Locomotive Chase" has earned legendary status, unfolding during the early years of the Civil War.  The clandestine military operation was carried out by Union forces and Northern sympathizers in an effort to destroy railroad infrastructure north of Atlanta in hopes of eventually capturing the strategic city of Chattanooga. The celebrity locomotive in what was also known as Andrews' Raid was the Western & Atlantic's General. The American Type 4-4-0 steamer was commandeered by James Andrews himself (leader of the raid) and used throughout the chase where he traveled northward from Atlanta causing as much damage as he could. Unfortunately, the hasty Union plans were too slow and disorganized to cause serious damage and most of those involved were eventually captured by Confederate forces who gave chase aboard the 4-4-0 Texas. Today, for history's sake the General remains preserved in Kennesaw, Georgia at the Southern Museum of Civil War & Locomotive History.   
Forming The Modern Nashville, Chattanooga & St. Louis
As was all too common throughout the South during the W&A and N&C suffered tremendously during the war.  By 1864 both were under Federal control and rebuilt to serve the Union.  After the conflit they were returned to private control.  Almost immediately the N&C was again expanding, leasing the Nashville & Northwestern Railroad in August of 1868 (it purchased the property outright on August 1, 1872).  The N&NW was chartered by the Tennessee General Assembly on January 22, 1852 to open trade across the state's western territory.  If all went according to plan it would link Nashville with Hickman, Kentucky nestled in that state's far southwestern corner along the banks of Mississippi and near the Tennessee border.  The 168-mile line was aided through acquisition of the small Hickman & Obion building towards Union City, Tennessee.  The entire project was delayed by the war and in danger of being scrapped altogether.  However, the state stepped in and oversaw its completion in 1867, subsequently leasing it to the N&C.  On May 30, 1873 a series of notable corporate changes occurred; on that day the N&NW became the Nashville, Memphis & St. Louis Railway while the N&C was renamed the Nashville, Chattanooga & St. Louis Railway (NC&StL).
The new goal was St. Louis and a prominent Midwestern gateway.  In the spring of 1879 the NC&StL gained control of the Owensboro & Nashville Railroad which had already completed a line between Owensboro and Central City, Kentucky with intentions of reaching Nashville.  Later that year the N&C worked out an agreement for control of the St. Louis & South Eastern Railway which connected Evansville, Indiana and St. Louis.  Unfortunately, both the StL&SE and O&N were disconnected from each other as well as the NC&StL.  There were large gaps between Central City - Nashville and Owensboro - Evansville which must be closed before through service could be established.  Alas, fate stepped in and had different plans.  Relations between the NC&StL and nearby rival Louisville & Nashville had deteriorated by the end of the 1870s.  The latter road was in much better financial condition and realized a NC&StL extension to the Gateway City would seriously harm its competitive standing.  Using sly business tactics L&N's vice president, Horatio Newcomb, convinced a block of prominent shareholders to sell their holdings to the L&N.  The transaction was carried out on January 17, 1880.  It amounted to well over a majority, 67%, and from that time forward the NC&StL was under L&N control.
While the Dixie Line never reached St. Louis it did continue expanding while becoming both a successful bridge line and important component of the L&N.  Just prior to the L&N takeover an independent NC&StL gained control of the small Tennessee & Pacific. A road with grand plans, it only completed a short section from Nashville to Lebanon where interchange was established with the Nashville & Knoxville Railroad (later Tennessee Central Railway).  On March 1, 1877 it became the NC&StL's Lebanon Branch.  Later that same year, on July 28th, it acquired two moribund properties from the Memphis & Charleston, the McMinnville & Manchester and Winchester & Alabama.  The former road connected with the NCSt&L at Tullahoma and stretched 35 miles to McMinnville.  It was extended to Sparta in 1884 and subsequently reached Bon Air, Tennessee via the Bon Air Railroad (controlled since December of 1877).  The branch provided mostly coal traffic.  The W&AL branched away from the NC&StL at Decherd and terminated at Fayetteville.  The new owner quickly pushed rails further south to Huntsville, Alabama and in 1893 reached Hobbs Island on the north bank of the Tennessee River.  The Dixie Line completed its final extension into Alabama through purchase of the Tennessee & Coosa Railroad in 1891, running from the south bank of the river at what became Guntersville to Gadsen.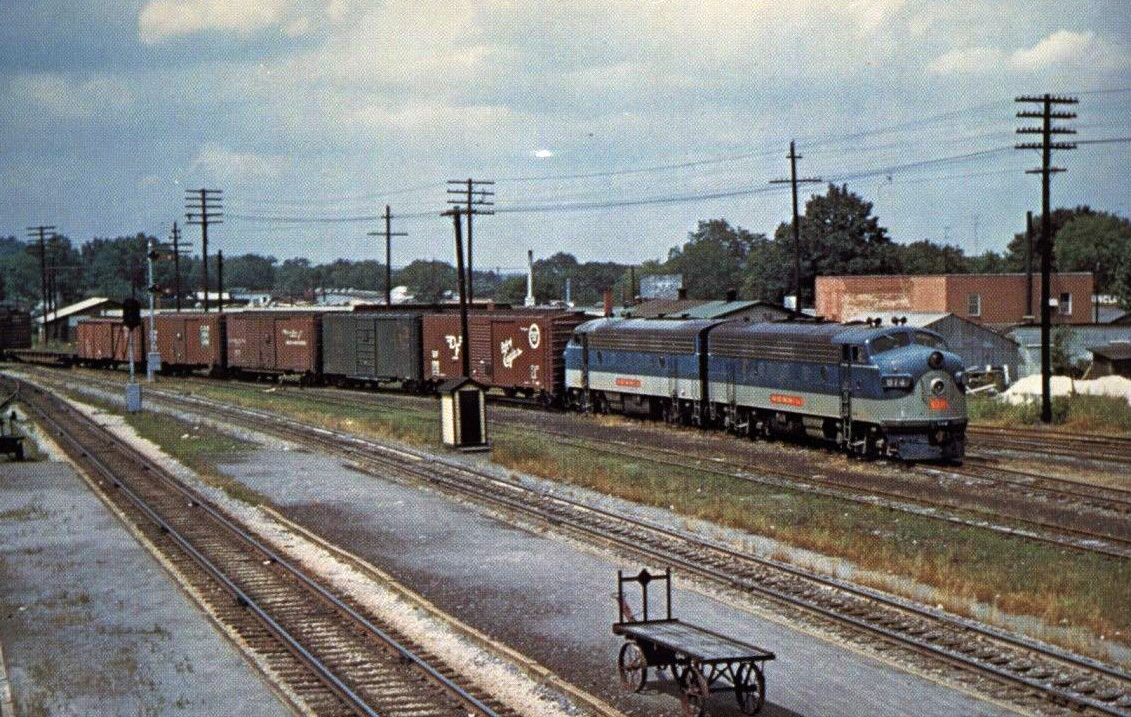 Another notable branch was located west of Nashville.  According to Dr. George Hilton's book, "American Narrow Gauge Railroads," on July 20, 1880 the NC&StL acquired the Nashville & Tuscaloosa Railroad.  This three-foot line linked Graham with the NC&StL main line near Colesburg, Tennessee, not far from Dickson (24 miles).  The narrow-gauge, incorporated on June 6, 1877, was intended to reach Tuscaloosa but ran out of funding.  To extend further southward the road's owners worked out a deal for the NC&StL to takeover the property.  Rails were pushed to Centreville, and finally Kimmins in 1884.  This concluded construction of the N&T although it was extended further south to Mannie/Allens Creek via acquisition of a private narrow-gauge line owned by the Southern Iron Company.   The little road was purchased on September 24, 1892 and the branch reached its final length of 63 miles (there was also a small 2-mile spur connecting Lyles with Warner).  During July of 1894 the branch was converted to standard-gauge as the NC&StL had carried out a similar project in 1886 across much of its own property. Its next acquisition came in early 1887 when it took over the Tennessee Coal, Iron & Railroad Company (TCI&RR).  This short coal branch connected with the NC&StL at Cowan running northeasterly to Tracy City.  It was extended as far as Palmer in 1918.  Coinciding with the TCI&RR takeover in 1887 was the purchase of another three-foot property, the Duck River Valley Narrow-Gauge Railroad.  
As Dr. Hilton points out it was chartered on November 4, 1870 to construct a route from the-then N&C main line near Nashville with Huntsville, Alabama running via Columbia and Fayetteville.  It opened between Lewisburg and Columbia (interchanging there with the L&N) in March of 1877 and reached as far as Petersburg before funding ran out.  It was first leased by the NC&StL in September of 1879 in exchange for completion of the line to Fayetteville, which opened in March of 1882.  In 1889 the NC&StL completed its conversion to standard gauge and from Fayetteville interchanged with the NC&StL-controlled Winchester & Alabama Railroad to Decherd, Tennessee.  Further growth occurred in 1894 with the completion of the Sequatchie Valley Branch to Pikeville, Tennessee.  The road had been acquired by the N&C in 1877 and completed as far as Jasper in 1878 before its extension further north sixteen years later.  As with most Dixie Line branches, coal was the primary commodity.  The last two additions came during 1895 and 1896 by leasing three roads; the Paducah & Memphis giving the NC&StL access to the major terminal at Memphis while the L&N-owned Paducah, Tennessee & Alabama (119 miles) and Tennessee Midland (135.5 miles) added a long branch to the Ohio River at Paducah, Kentucky. 
Diesel Locomotive Roster
The American Locomotive Company

| Model Type | Road Number | Date Built | Quantity |
| --- | --- | --- | --- |
| S1 | 1-4 | 1941-1946 | 4 |
| S2 | 5-11 | 1942-1946 | 7 |
The Baldwin Locomotive Works
| Model Type | Road Number | Date Built | Quantity |
| --- | --- | --- | --- |
| VO-660 | 10 | 1941 | 1 |
| VO-1000 | 15, 30-34 | 1941-1943 | 6 |
Electro-Motive Division
| Model Type | Road Number | Date Built | Quantity |
| --- | --- | --- | --- |
| SW-1 | 15 (Ex-GN) | 1950 | 1 |
| NW2 | 20-23, 25 | 1941, 1949 | 5 |
| SW7 | 24-33 | 1950 | 10 |
| SW9 | 34-38 | 1951 | 5 |
| GP7 | 700-731, 750-754 | 1950-1952 | 37 |
| F3A | 800-808 | 1948-1949 | 9 |
| F7A | 809-831 | 1949-1951 | 23 |
| F3B | 900-911 | 1948-1949 | 12 |
| F7B | 912-919 | 1949-1950 | 8 |
General Electric
| Model Type | Road Number | Date Built | Quantity |
| --- | --- | --- | --- |
| 44-Tonner | 100-103 | 1950 | 4 |
Steam Locomotive Roster
| Class | Type | Wheel Arrangement |
| --- | --- | --- |
| B2-29 | Switcher | 0-6-0 |
| G8-29 | Ten-Wheeler | 4-6-0 |
| H7-37 | Consolidation | 2-8-0 |
| I1-44 | Twelve-Wheeler | 4-8-0 |
| J1A-54, J1C-54 | Mountain | 4-8-2 |
| J2-57, J3-57 | "Dixie" | 4-8-4 |
| K1A-37, K2-35 | Pacific | 4-6-2 |
| L1-55, L2-55, L2A-55 | Mikado | 2-8-2 |
| M1-99 | Articulated | 2-8-8-2 |
| P1-51 | Decapod | 2-10-0 |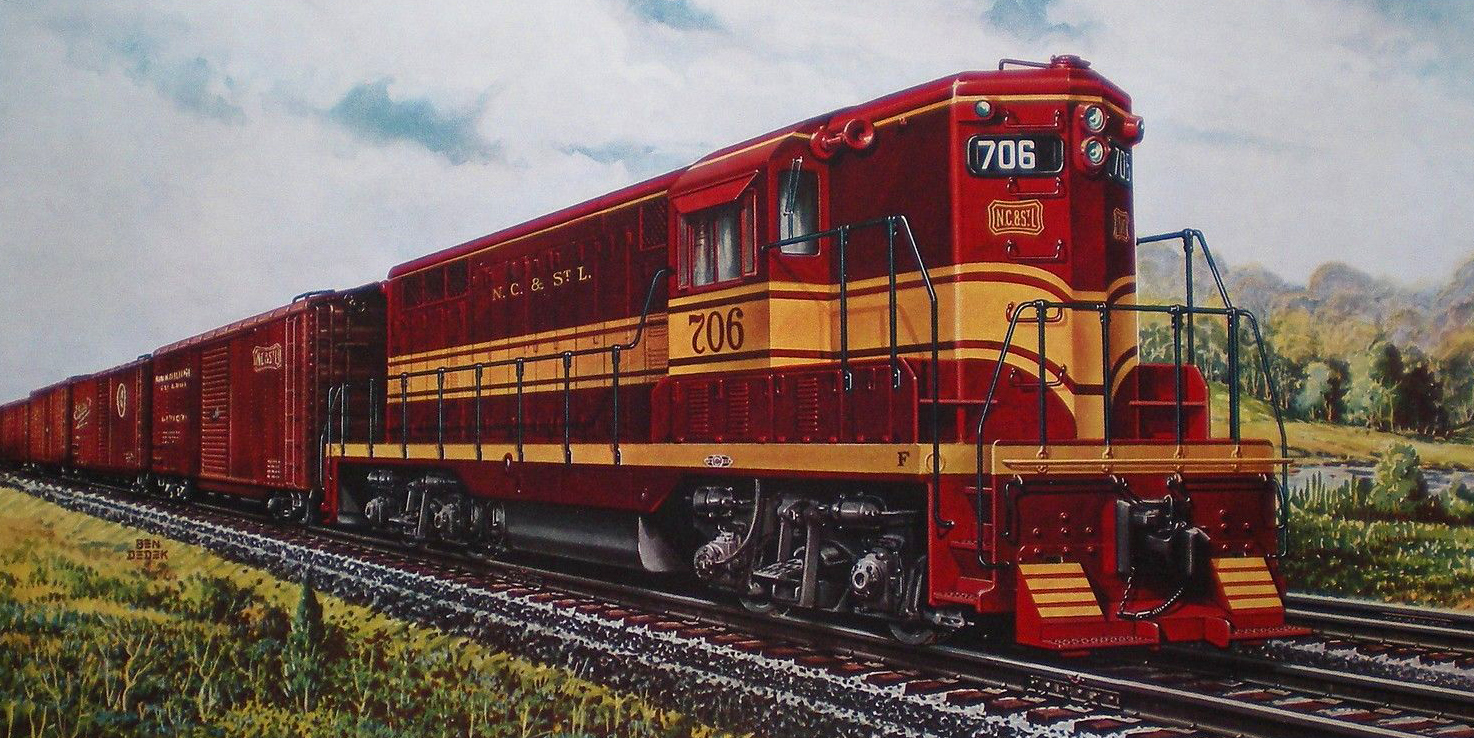 The "Dixie Line" In The 20th Century
At the turn of the 20th century the Nashville, Chattanooga & St. Louis reached its largest length, 1,195 miles.  During the next several decades it lost some mileage although by the post World War II period still maintained 1,052 route miles of which nearly 400 miles were protected by centralized traffic control (CTC).  The NC&StL's late era was fascinating from an operational standpoint.  It utilized big steam in the form of 4-8-4 "Dixies," a small batch of 2-8-8-2 compound Mallet's, and 2-10-0 Decapod's to go along with standard road-power arrangements like the 2-8-2, 4-8-2, and 4-6-2.  While coal was generated in large volumes along its eastern branches the company handled a wide variety of freight from agriculture to merchandise.  It also operated time freights between Martin, Tennessee (handing off there with the Illinois Central) and Atlanta via Chattanooga by way of symboled trains ASC-2 and ASC-4.  The NC&StL even entered the streamliner craze in the spring of 1947 when it launched the City of Memphis connecting Nashville with Memphis.  It also participated in through services with other carriers including the Georgian (Chicago - Atlanta), Dixie Flagler (Chicago - Miami), and DixieLand (Chicago - Miami). The NC&StL remained a separate entity until March 1, 1957 when Interstate Commerce Commission approved a formal merger with the L&N, which was carried out later that August.
Related Reading You May Enjoy


Home

›

Fallen Flags

› Nashville, Chattanooga & St. Louis