The Spokane, Portland and Seattle Railway: The Northwest's Own Railway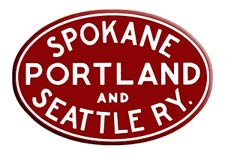 The Spokane, Portland and Seattle Railway may have been a small railroad in terms of its actual size but it served as an important link for its parents, the Northern Pacific Railway and Great Northern Railway, into the gateways of Portland and northwestern Oregon. The little bridge line also was well liked in the many communities it served, one reason of how it obtained its slogan, "The Northwest's Own Railway." The SP&S was never an independent company and was expressly created to ferry traffic back and forth for its owners, which it did quite well for over 60 years. While the railroad did have its own identity and played an important role it never operated any of its own passenger trains and its parents always determined its direction. In the end it was folded into the merger of the NP, GN, and GN-controlled Chicago, Burlington & Quincy Railroad in 1970 to form the Burlington Northern Railroad, the largest western railroad of its time.
SP&S F3A #801 and a GP9 are about to pull out of Portland with their train heading northbound to Seattle during July of 1970.
The SP&S has its roots dating back to 1900 when James J. Hill, owner of the Great Northern Railway, Northern Pacific, and Chicago Burlington & Quincy (by then all three railroads had stretched from Chicago to Seattle and nearly all major Northwestern markets in between), sought to create a new railroad, known as the Portland & Seattle, to connect his former railroads at Spokane, Washington with Portland, Oregon. A lengthy battle would ensue with Edward Harriman's Southern Pacific (which extended from Portland southward through Oregon and California) and Oregon-Washington Railway & Navigation (a subsidiary of the Union Pacific which extended from Portland through Oregon, Washington, and Idaho).
The railroad magnate, which had battled with Hill for years over preeminent control of rail lines serving the Pacific Northwest, attempted to use both of his properties and all resources available to prevent his adversary from constructing his new railroad to the Pacific Coast. Despite his best efforts the line was completed in 1908 and renamed the Spokane, Portland and Seattle Railway. In the end the two rivals would settle their differences and realized the benefits of working together by setting up operating agreements to serve the Columbia River valley. Interestingly, they also fought a similar battle in northern Idaho and eastern Washington, eventually forming the Camas Prairie Railroad which would be jointly operated by both of their properties (in this case the UP and Northern Pacific).
After the SP&S completed its main line to Spokane in 1909 the railroad was extended down into Oregon when it acquired the interurban Oregon Electric Railway in 1910 giving it access to the state capital of Salem. The OE would be completed as far south as Eugene after a few years of the takeover (along with a few short branches) and provided the SP&S with significant carload freight traffic albeit the road was never a particularly profitable operation, which was partly blamed by unfavorable interchange rates with connecting lines like the Espee (which paralleled the OE's main line to Portland much of the way). Following other acquisitions (which included another interurban, the United Railways which served areas west of Portland) and construction of new railroad the SP&S reached points in Oregon such as Eugene, Bend, and the Pacific Coast at Seaside and Hammond giving it entry into the lucrative lumber and timber traffic of the region.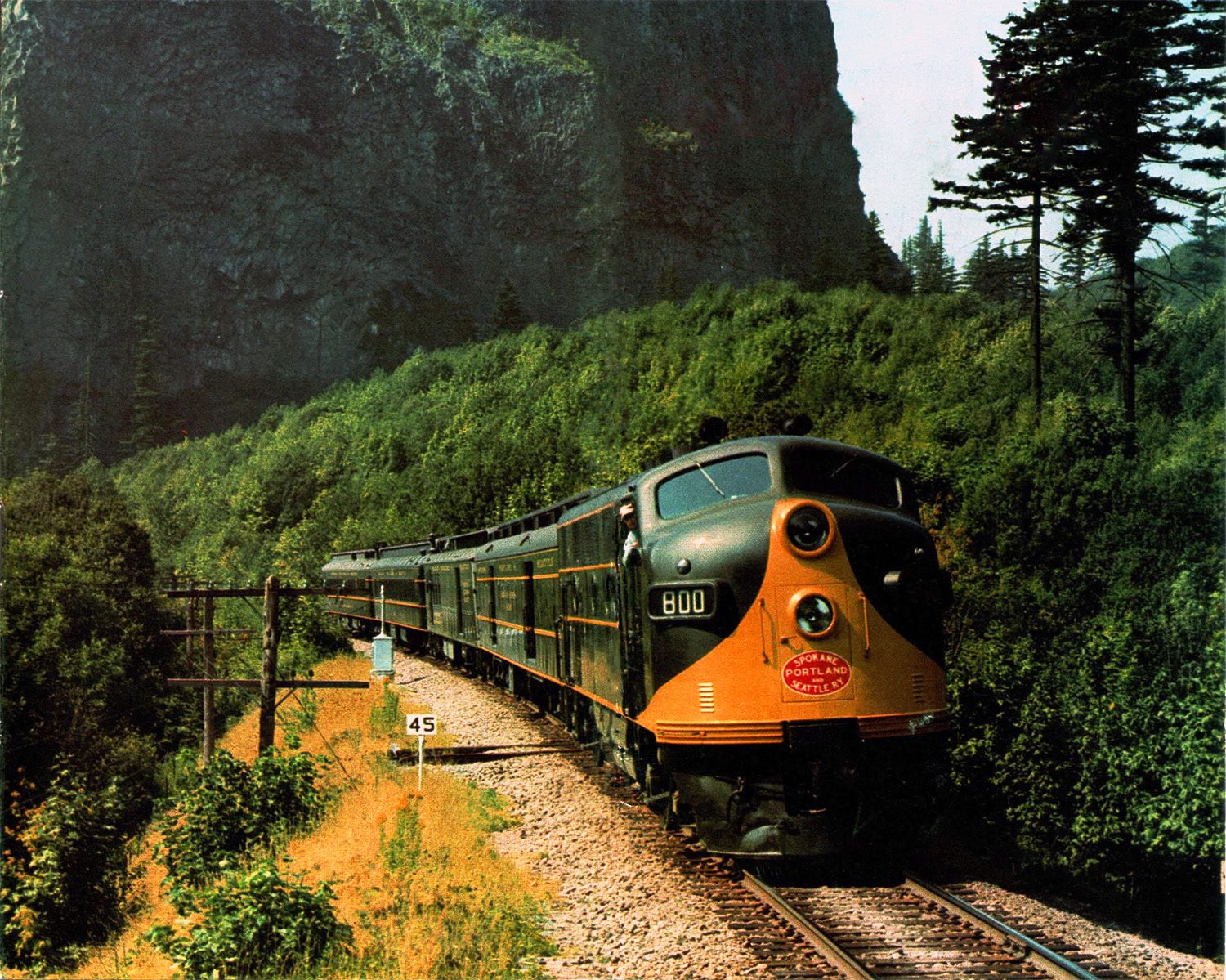 Looking from the cab of an eastbound SP&S freight a westbound train approaches on the opposite track led by Alco FA #856 on August 21, 1949 near Avery, Washington.
While the SP&S only operated less than 1,000 miles of trackage it was a key link to the future Burlington Northern, and later BNSF Railway empires. Aside from the online and bridge freight traffic the SP&S hauled, it also handled many of its parents' passenger trains, including the premier North Coast Limited and legendary Empire Builder.  Unfortunately, the SP&S was treated mostly like an unwanted step-child by its parents for much of its life.   For instance, obtaining freight cars for service could be a like pulling teeth sometimes and the railroad almost always got second-hand equipment from the Great Northern and Northern Pacific (whatever was left over as GN and NP always took the good stuff). The SP&S did, however, finally receive new motive power in 1937 when it was given six massive Class Z-6 4-6-6-4s from a Northern Pacific batch of 21 ordered from Alco.

Diesel Locomotive Roster
The SP&S rostered mostly Alco locomotives during the diesel era. It all started with the two locomotives pictured here, S1s #10 and #11 moving within a westbound freight at Big Timber, Montana heading towards their new home on November 14, 1941. The SP&S would go on to purchase most of the model types Alco cataloged, from FAs to C636s.
The American Locomotive Company
| Model Type | Road Number | Date Built | Quantity |
| --- | --- | --- | --- |
| S1 | 10-11 | 1941 | 2 |
| S2 | 20-28 | 1940-1943 | 9 |
| RS1 | 50-51 | 1945 | 2 |
| RS2 | 60-62 | 1949-1950 | 3 |
| RS3 | 65-98 | 1950-1955 | 34 |
| C415 | 100-101 | 1968 | 2 |
| C424 | 300-306 | 1964 | 7 |
| C425 | 310-327 | 1965-1966 | 18 |
| C636 | 330-335, 340-343 | 1967-1968 | 10 |
| FA-1 | 850A1-860A1 (Evens), 850A2-860A2 (Evens), 866A1, 866A2 | 1948-1950 | 14 |
| FB-1 | 856B1-860B1 (Evens), 856B2-860B2 (Evens), 866B1, 866B2 | 1948-1950 | 8 |
| FA-2 | 868A1, 868A2 | 1950 | 2 |
| FB-2 | 868B1, 868B2 | 1950 | 2 |
Interestingly, for its small size the SP&S operated some quite impressive steam locomotives. Its largest were 4-6-6-4 Challengers like this one; Class Z-8 #911 heads up a freight train through Marshall, Washington on May 17, 1953.
Electro-Motive Division
| Model Type | Road Number | Date Built | Quantity |
| --- | --- | --- | --- |
| NW2 | 40-42 | 1948 | 3 |
| SW9 | 43-45 | 1951 | 3 |
| GP9 | 150-155 | 1956 | 6 |
| E7A | 750 | 1948 | 1 |
| F3A | 800A1-800A2, 802 | 1947 | 3 |
| F7A | 803-806 | 1953 | 4 |
A closeup of an SP&S Challenger; Class Z-6 #903 rests at Pasco, Washington on March 21, 1939.
Steam Locomotive Roster
| Class | Type | Wheel Arrangement |
| --- | --- | --- |
| A-1 | Switcher | 0-6-0 |
| C-1 | Atlantic | 4-4-2 |
| D (Various) | Ten-Wheeler | 4-6-0 |
| E-1 | Northern | 4-8-4 |
| F-1/s | Prairie | 2-6-2 |
| H-1 | Pacific | 4-6-2 |
| L-1 | American | 4-4-0 |
| M-1, M-2 | Mogul | 2-6-0 |
| N (Various) | Consolidation | 2-8-0 |
| O-1 Through O-4 | Mikado | 2-8-2 |
| Z-6, Z-8 | Challenger | 4-6-6-4 |
Notable Passenger Trains
Empire Builder (GN's flagship hosted from Spokane to Portland by the SP&S.)
North Coast Limited (NP's flagship hosted from Portland to Spokane by the SP&S.)
Columbia River Express: (Portland - Spokane)
Oriental Limited:  GN's train which connected Chicago to Portland, via the SP&S between Spokane and Portland.
Mainstreeter:  NP's train which connected Portland to Chicago, via the SP&S between Spokane and Portland.
Western Star:  GN's train which connected Portland to SpokanePortland to Chicago, via the SP&S between Spokane and Portland.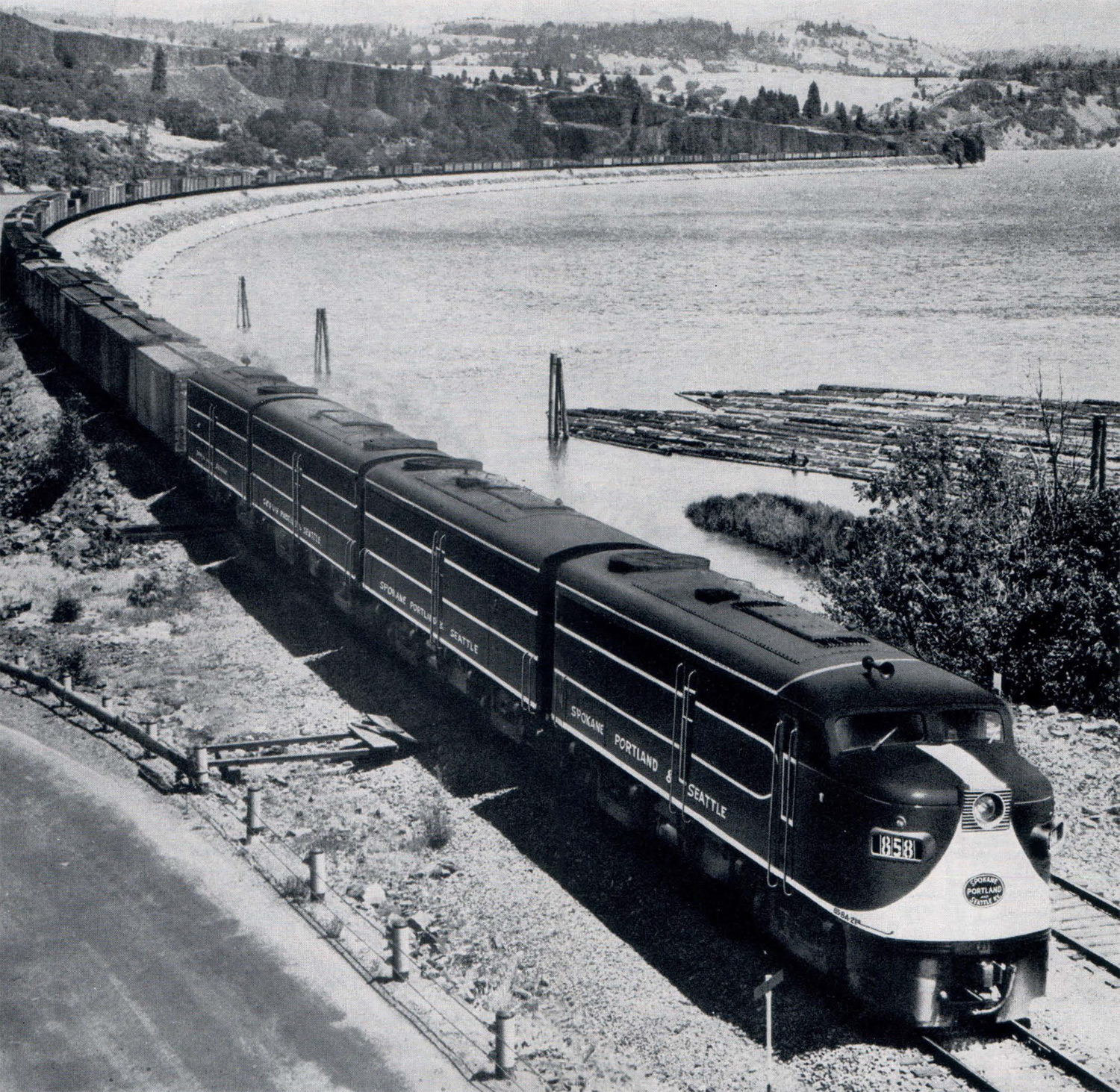 Here is another view of SP&S F3A #801 wearing an earlier livery as it powers a local passenger train through Stevensville, Washington on August 21, 1949.
Later, beginning in the 1940s, the railroad began receiving new diesels from EMD and Alco, the latter locomotives of which how many fondly remember the railroad, as large Century 424s, 425s and 636s along with FAs led many long SP&S freight trains through Washington and western Oregon.  Following the arrival of the new diesels and Challengers the Spokane, Portland and Seattle Railway had little financial trouble for the rest of days (the influx of traffic brought on by World War II sure didn't hurt any either). While the SP&S's life was, perhaps, not as interesting or long-lived as other classic fallen flags, its lines were key routes to points like Seattle, Portland and northwestern Oregon that continue to serve as important arteries in the BNSF Railway System today.