The Florida East Coast Railway, Flagler System

The Florida East Coast Railway (commonly known as the FEC), like many classic American railroads has had a very rich and interesting past. However, what happily sets it apart from those railroads is that it is not a fallen flag, and continues to operate today under its original name just as it has for the past 116 years. The FEC of today currently hugs Florida's Atlantic coast and runs basically north to south, serving the cities of Jacksonville, St. Augustine, West Palm Beach, and Miami. Perhaps most fascinating in recent times with this historic railroad was the announcement in 2012 that privately operated passenger service would be returning to the property. If this project succeeds the FEC will be the largest freight railroad to operate such services since the formation of Amtrak in May of 1971.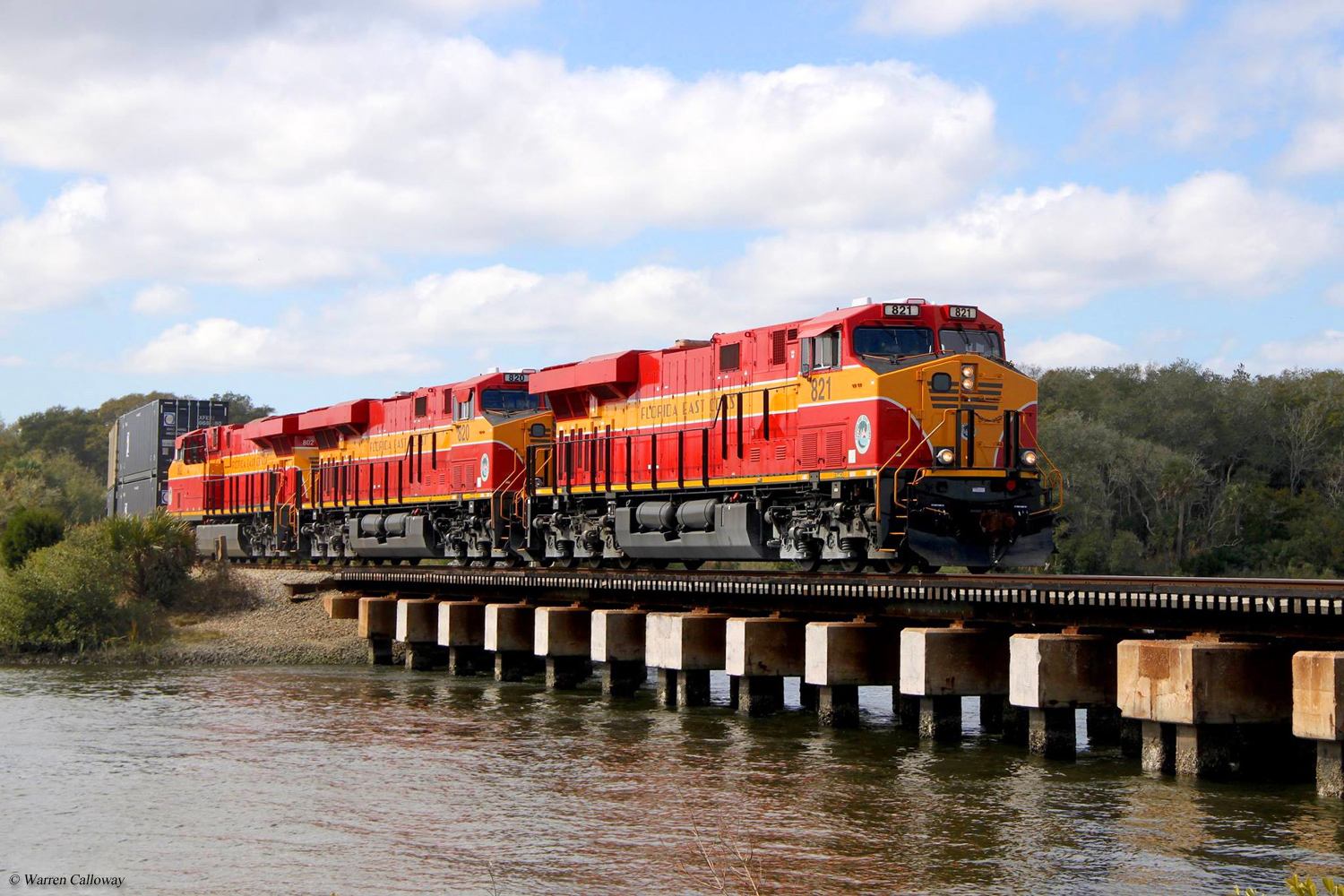 An intermodal train lead by GP40m-2 #449 rolls across the San Sebastian River at St. Augustine, Florida on December 8, 2002.
The Florida East Coast Railway originally had its beginnings in 1895, on September 7th to be exact as that was the date when the FEC was officially dedicated by its most prominent and original owner, Henry Flagler (who is known not only for his wealth, but also for a number of successful businesses, such as partnering with John Rockefeller of Standard Oil fame), who purchased the Jacksonville, St. Augustine & Halifax River Railway and renamed it (because this railroad began the FEC "empire" for many years, until just recently when it moved to Jacksonville, the railroad's headquarters were located in St. Augustine). However, the railroad actually had its beginnings much earlier than that, as its predecessor railroads date all the way back to 1858 with the narrow-gauge St. John's Railway, which operated, between Tocoi and St. Augustine, Florida.
With the newly created FEC Flagler quickly expanded it, not only to grow the business but also to bring much needed infrastructure to eastern Florida which, hard to believe by today's situation, was still very undeveloped during the late 19th century. Aside from the Jacksonville, St. Augustine & Halifax River Railway, which began the FEC Flagler, he also purchased the St. John's Railway, the St. Augustine and Palatka Railway, and the St. Johns and Halifax River Railway which connected the railroad from Jacksonville to Daytona Beach.
From this point forward, however, the rest of the FEC was built entirely from new railroad, which stretched from Daytona Beach to Miami (which it reached a year after the railroad was officially incorporated in 1896) and continues to serve as part of the railroad's Jacksonville-Miami main line. Perhaps what the FEC is best recognized for is its ambitious plan to connect the Florida Keys with the state's mainland, the Key West Extension. Construction of the project was completed in 1905 and finished in 1912 with Flagler's ultimate goal of using the line as a link for traffic coming to and from the Panama Canal, whose construction had also begun in 1905.
Hailed as an engineering masterpiece upon completion the line saw a mere 23 years of active service before being destroyed by the massive Labor Day Hurricane of 1935 and the railroad never sought to rebuild the line (partly because its intended use never came to fruition). However, the line was so well built that much of the remaining pier infrastructure was used for Highway 1, which now connects the entire Key West island system to the state's mainland. The Florida East Coast Railway of today continues to operate almost all of its original railroad lines, although a few segments here and there have been abandoned over the years. For many years the company also held Class I status until one of the more recent class changes bumped the railroad to a Class II, or Regional. Passenger train service on the railroad ended in 1968 although there is a likelihood that the southern end of its main line will see state commuter rail operations commence at some point in the future.
The railroad is and has always been an independent company (although it did have a few brief skirts with receivership and bankruptcy during its lifetime), and today is under the holding company known as Fortress Investment Group, LLC, which oversees the railroad and other businesses. This company also owned the RailAmerica company of shortline railroads for a number of years and in March 2008 RA was designated operator of the line. Sadly, this designation for a time cost the FEC much of its identity as equipment was repainted in RA's standard red, white and blue livery. However, not long after this announcement Fortress reversed its stance and kept the FEC as a separate, independent portfolio outside of the FEC. Today with the emergence of rail once again as a highly demanded form of transportation, coupled with an excellent management team, the FEC's future looks as bright as the Florida sun. Of note, in July of 2012 it was announced that Genesee & Wyoming was purchasing the entirety of RA's shortline family. It will be interesting to see what becomes of the FEC in this regard although it is believed that Fortress will retain ownership of the regional at this time.
Also of note was the announcement during the summer of 2012 that the Florida East Coast plans to return passenger train service to its property between Miami and Orlando. The goal, called "All Aboard Florida" is quite ambitious by building a brand new 40-mile extension to Orlando and once again double-tracking the main line to Miami. The cost of the project is slated at $1 billion but is to be financed by all private investments, which is expected to expedite the project that hopes to be completed by 2014. The trains will operate over a 230-mile corridor and the journey is expected to take just three hours. If successful it will be interesting to see if other large freight railroads take notice.
Diesel Locomotive Roster
Electro-Motive Corporation/Electro-Motive Division
| Model Type | Road Number(s) | Date Built | Quantity |
| --- | --- | --- | --- |
| SD70M-2 | 100-107 | 2006-2008 | 8 |
| SW9 | 221-228 | 1953 | 8 |
| SW1200 | 229-235 | 1954 | 7 |
| GP40 | 401-410 | 1971 | 10 |
| GP40-2 | 411-434 | 1972-1986 | 25 |
| F3A | 501-508 (First) | 1949 | 8 |
| GP38-2 | 501-511 | 1977-1978 | 11 |
| F3B | 551-554 | 1949 | 4 |
| FP7 | 571-575 | 1951 | 5 |
| BL2 | 601-606 | 1948 | 6 |
| GP7 | 607-621 | 1952 | 15 |
| GP9 | 651-676 | 1954-1957 | 26 |
| E3A | 1001-1002 | 1939 | 2 |
| E6A | 1003-1005 | 1940-1942 | 3 |
| E7A | 1006-1022 | 1945-1947 | 17 |
| E9A | 1031-1035 | 1955 | 5 |
| E6B | 1051 | 1942 | 1 |
| E7B | 1052-1054 | 1945 | 3 |
General Electric

| Model Type | Road Numbers | Date Built | Quantity |
| --- | --- | --- | --- |
| ES44C4 | Not Yet Known | 2014 | 24 |
A trio of FEC Geeps with GP40 #401 up front head southbound at Bunnell, Florida on December 1, 2001 with an intermodal freight.
Steam Locomotive Roster
| Class | Type | Wheel Arrangement |
| --- | --- | --- |
| 28, 40 | Ten-Wheeler | 4-6-0 |
| 45 | Atlantic | 4-4-2 |
| 65, 151 | Pacific | 4-6-2 |
| 201 | Switcher | 0-6-0 |
| 251 | Switcher | 0-8-0 |
| 301, 401, 801 | Mountain | 4-8-2 |
| 701 | Mikado | 2-8-2 |
---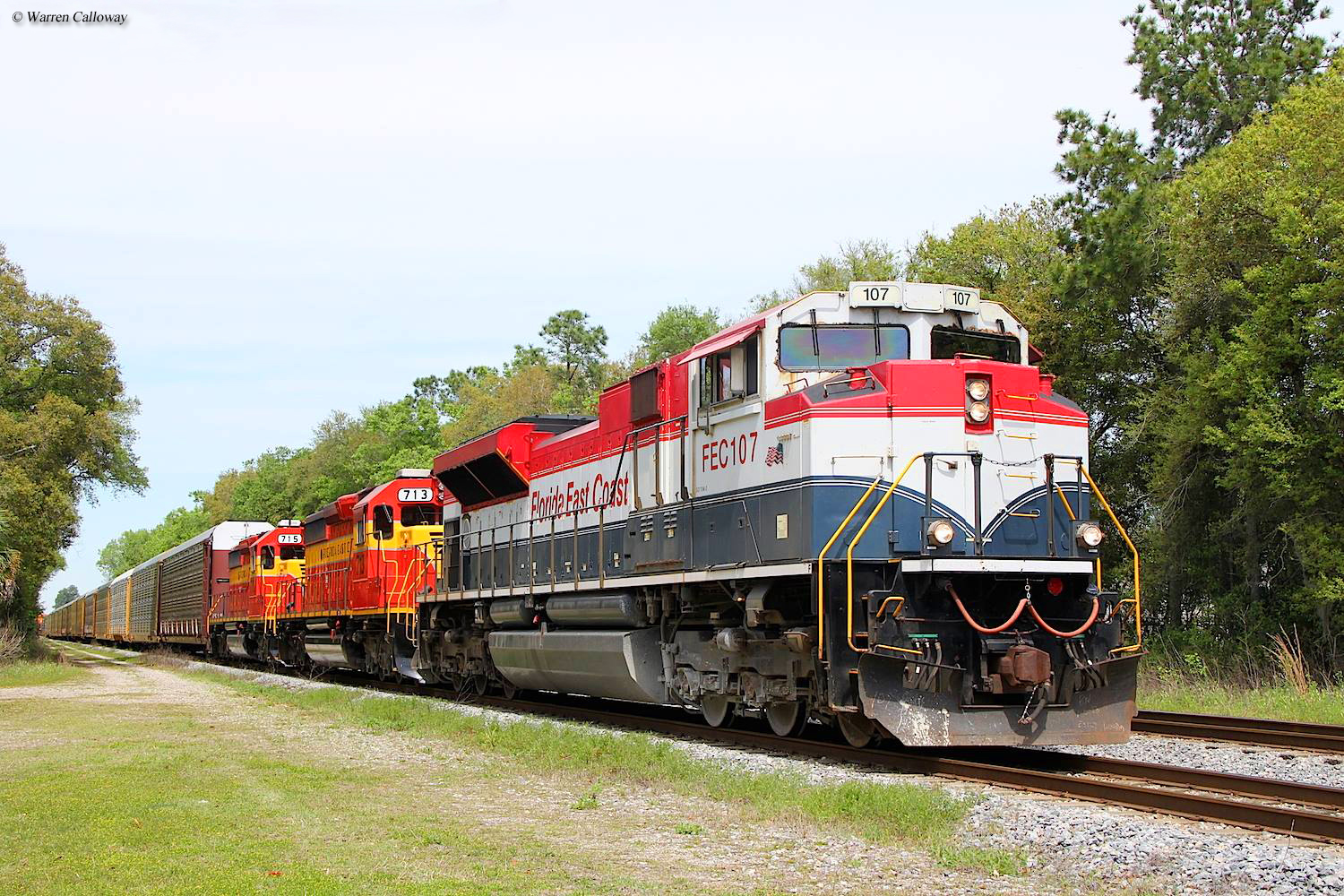 Seen here is one of the FEC's newest units, SD70M-2 #100 as it leads train #101 through Pineada, Florida on March 13, 2009.
For more reading and background about the FEC consider the book below written by Seth Bramson. In Speedway to Sunshine: The Story of the Florida East Coast Railway the author gives an excellent historical background on the FEC from its beginnings through today. From the reviews I have read about the book it is the very best out there detailing the railroad (especially considering it is quite shy of the public eye) so if you are a fan/historian of the FEC or just looking for a good railroad book you should not go wrong with Speedway to Sunshine. If you're interested in perhaps purchasing this book please visit the link below which will take you to ordering information through Amazon.com, the trusted online shopping network.