One of the first, and perhaps most famous streamlined trains was the Burlington's Zephyr 9900 trainset, built in 1934. Sleek, fast, and comfortable (for instance, it broke the speed record for traveling between Denver and Chicago, covering the 1,000+ mile distance non-stop in only thirteen hours and five minutes) it paved the way for an entire generation of streamlined trains. Famous passenger trains to follow included names like the Milwaukee's Hiawatha, the NYC's 20th Century Limited, PRR's Broadway Limited, and the Great Northern's Empire Builder.  However, following WWII passenger traffic began to drop significantly and would not recover, even while some railroads began to update their passenger fleets with new equipment through the 1950s. A decade later, in the 1960s, industry losing significantly with its passenger operations (while passenger trains are rarely profitable, before the 1950s railroads were earning enough that their freight revenues could easily offset the losses) and desperately wanted out.
The Early Years
The 20th Century And The Golden Years
The Hard Fall
Decline of the "Golden Age" and Formation of Amtrak
Amtrak Today And The Resurgence Of Rail Travel
The Future of Amtrak and Passenger Rail
Relief would finally come in the way of the National Railroad Passenger Corporation, or Amtrak, which began operations on May 1st, 1971. Government-controlled and funded, Amtrak operates almost exclusively over the private freight railroads, save for the Northeast where it owns the [mostly] PRR's former Northeast Corridor (NEC), a four-track main line operating between Washington, D.C. and Boston.  When Amtrak began it used private equipment donated by the participating railroads (although, it should be noted, that not all of the major Class Is elected to initially join Amtrak) and while it was originally setup to become financially self-supporting this was completely an illusion (passenger trains are almost never profitable and requires some sort of subsidy to operate).
Even though Amtrak, over the years, has operated almost entirely on "life support" with just enough funding to survive year to year support for the carrier has increased, particularly in the post-9/11 era. Along with Amtrak, state operations are gaining support and receiving increased attention and funding, particularly as highways become increasingly congested and gas prices skyrocket. Perhaps the two most noted states that are giving passenger trains serious attention include North Carolina and California. Both are doing a magnificent job at developing passenger rail corridors in their respective states, particularly North Carolina. As transportation issues are gaining in support the future of rail travel looks very bright, as everything from local trolley systems to large state-supported commuter rail operations are being planned and developed. Below is a more detailed history of our nation's passenger trains, from its early beginnings through today.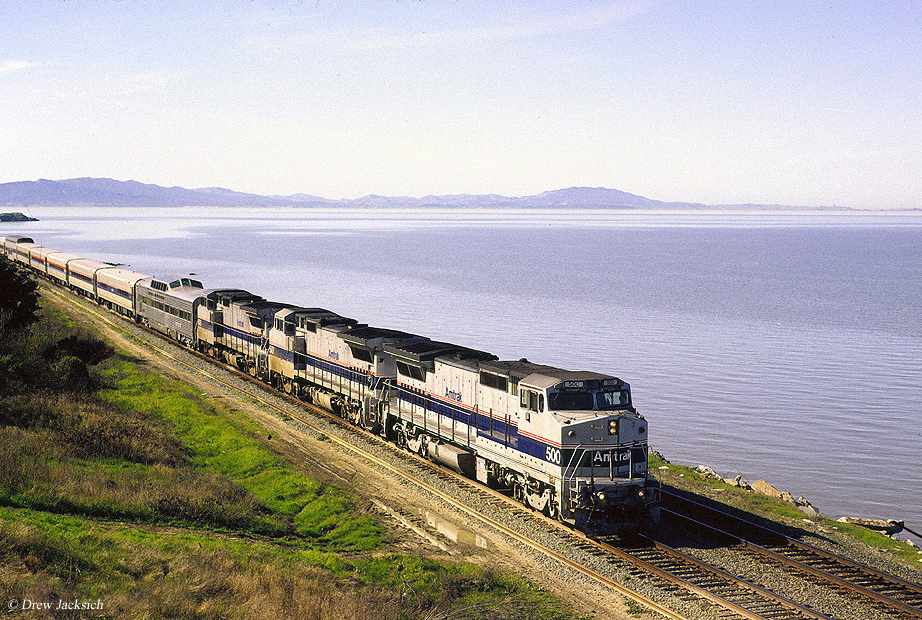 Amtrak's Reno Fun Train rolls along the shores of San Pablo Bay near Pinole, California with P32BWH #500 up front during March of 2003.
It wasn't just the speed, though, that lured folks to trains it was also the service. During those years high quality customer service was the norm and if a railroad's passenger train did not offer exquisite dining services and other amenities such as dome cars (which allowed you unparalleled views of the surrounding countryside), parlor and club cars, and sleeping quarters it simply could not compete with the competition.  With Amtrak taking over intercity passenger service in the spring of 1971 the speeds and services mentioned above have gradually been lost. However, Amtrak cannot be fully blamed for such as it only operates on whatever subsidies given to it through the government. While I am of the belief that individuals and organizations should be self-sufficient in the case of Amtrak and passenger rail in general, it's almost impossible as the cost of capital is simply too high (even during the "Golden Era" passenger trains rarely turned a profit and generally were subsidized by a railroad's freight traffic).
Rail Travel Today And Amtrak
Today's train travel services are still a far cry from yesteryear but they are improving, particularly over the last decade or so as more notice is being paid to the efficiencies trains provide over cars and buses (such as being more environmentally friendly).  Light rail (or LRT) is also making a splash in cities across the country. Compared to "heavy rail" operations these services are much cheaper and are very efficient by helping to reduce significant wear on city streets and highways (along with reducing traffic and emissions as well). Some cities are even using LRT in a nostalgic sense by bringing back the classic trolley, which has been a huge hit (such as in New Orleans). LRT services can now be found in dozens of cities which include Charlotte, NC; Denver, CO; aforementioned New Orleans; Seattle, WA; Minneapolis, MN; and others. A few cities with future plans to add LRT include Kansas City, KS; Norfolk, VA; and Austin, TX.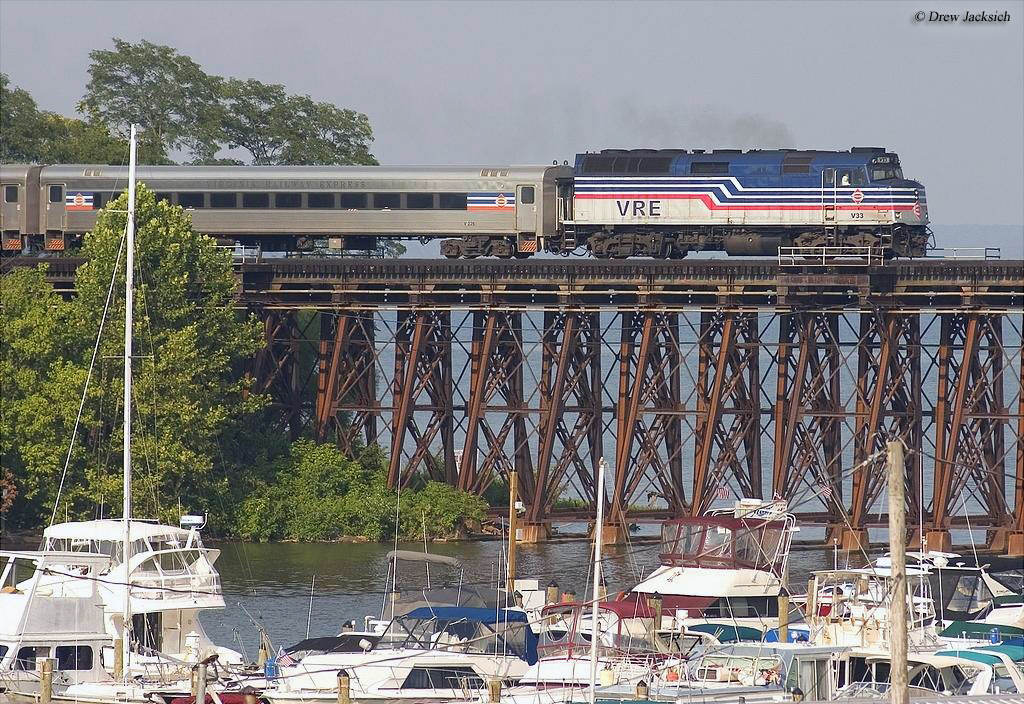 A Virginia Railway Express commuter run led by F40PH #V33 rolls southbound across Neabsco Creek in Virginia on August 2, 2005.
Today ridership numbers for Amtrak have broken 25 million and as transportation issues are becoming more of a discussion in our country passenger railroading is gaining more and more support and its future looks very good, but just how good remains to be seen as it depends on the level of funding we are willing to invest in train travel and its variants (such as LRT, subways, even trolley/interurban services which are beginning to also make a comeback).  For more information about Amtrak's current routes and trains please click here.  Additional information can be found here.
Tourist Trains And Museums
Tourist trains, also known as heritage railroads, are perhaps the best way to experience what traveling by train years ago was like. Many of these operations use vintage, restored cars and locomotives from the 1950s or earlier. For instance, the Grand Canyon Railway in Arizona operates restored streamlined cars from the 1950s and classic Alco diesel locomotives for power. Then there is the Strasburg Railroad in Pennsylvania which operates restored steam locomotives and 19th century passenger train cars, which have been painstakingly restored to like new. If you truly wish to know what traveling by train was like back then, please consider riding one of the many excursion trains available!
Please Click Here To Return To The Home Page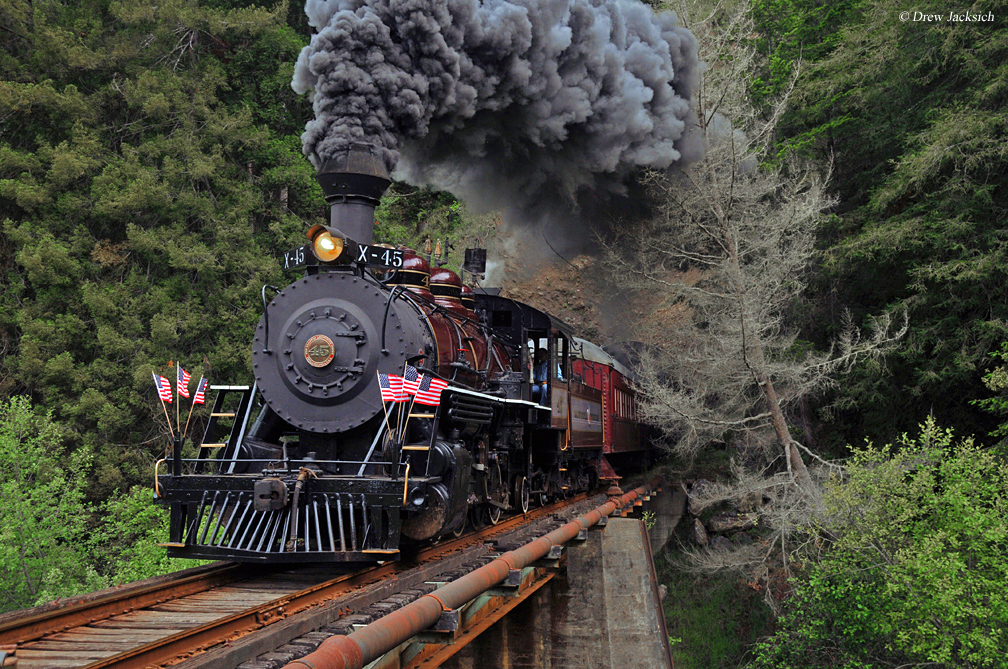 During a special photo shoot California Western 2-8-2 #45 blasts out of Tunnel #1 and across the Noyo River near Fort Bragg, California as it waves American flags on June 6, 2010.
If you would like to learn more about tourist railroads and possibly riding aboard one please click here. Of course, if you really have the money to spend you can also rent your own private rail car to travel around the country in true luxury aboard the back of any Amtrak train. For more on rail travel across the USA via Amtrak please click here. Also, for more on the venerable trolley and interurban services (the country's early form of mass transit, before it was unceremoniously replaced by buses) which be found across the country please click here.   This page also provides a state-by-state history of many traction systems once found all across the country.

Related Reading You May Enjoy