Although there are currently only seven operating systems within the United States' borders, these companies comprise a staggering 93 percent of the industry's revenues. Similarly Class Is also make up the majority of overall route miles as well as total freight tonnage moved. The below table highlights each railroad (including Canadian National and Canadian Pacific) regarding their 2012 operating revenue. Of note Kansas City Southern de Mexico is part of the Kansas City Southern system. It should be noted that this latest graph now shows CSX ahead of Norfolk Southern in regards to operating revenue. For years this was not the case. However, after CSX gained a new head man in the way of Michael Ward in the early 2000s the railroad has been making large strides in improved service and operating ratios, particularly in just the last few years.
For more statistical data please click here. As you can see from the previous link, the Association of American Railroads' website provides virtually all of the information you may be researching regarding the railroad industry.  However, if you are interested in digging deeper into railroad statistics and similar such information, another fine resource is the Bureau of Transportation Statistics' website.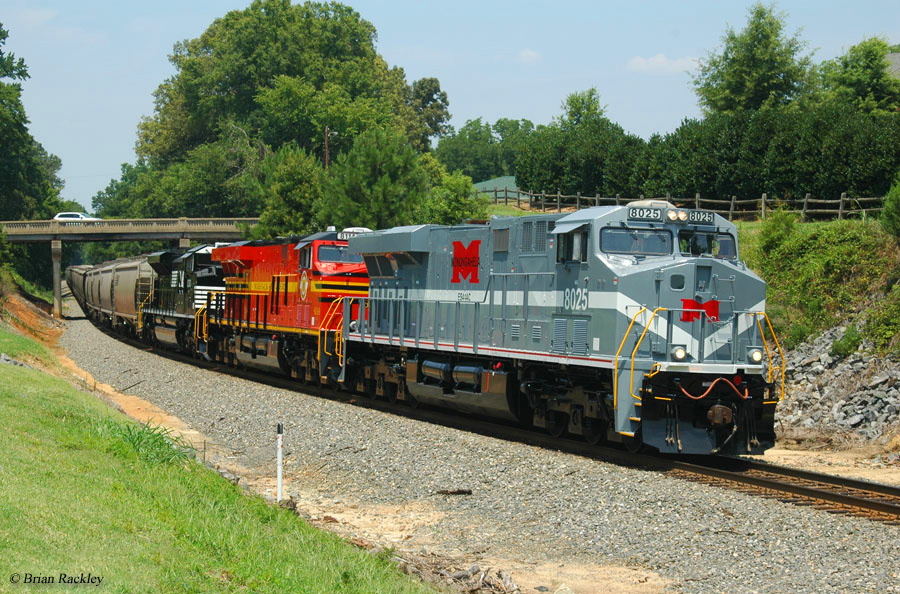 Two of NS's heritage units, original Norfolk Southern #8114 and Monongahela #8025, along with NS SD70ACe #1030 are on the move through Fort Mill, South Carolina with a string of covered hoppers on July 7, 2012.
Canadian Roads
While the western roads of Union Pacific and BNSF continue to outpace all other major roads currently in terms of revenues, do not be surprised with CSX's size and improved efficiencies if it begins to close this gap somewhat in the coming years (in early 2012 the railroad announced a massive revenue gain with new customers totaling more than $230 million). In any event, for railroad enthusiasts and historians unfortunately the number of large lines in operation likely will not be growing any time soon, that is unless one of the major shortline owners would somehow manage to begin unifying their small lines which quite likely will not happen.
Please Click Here To Return To The Home Page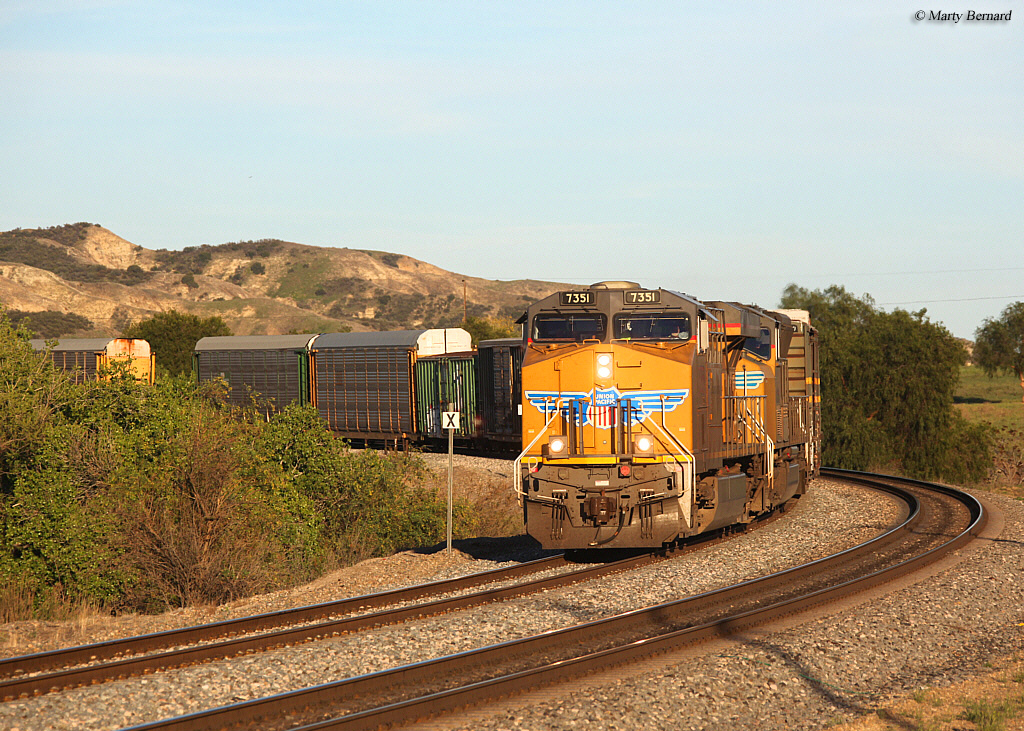 UP AC45TTCE #7351 and an EMD unit lead a manifest freight down the grade at Beaumont, California during the afternoon of April 2, 2012.
Besides Class Is there are also a number of Class IIs, commonly referred to as regionals, and Class IIIs, which are known as shortlines or terminal/switching railroads. While these classes of railroads make up just a fraction of the overall annual tonnage hauled throughout the country they make up the greatest number of railroads, totaling well over 500. Likewise, in many ways, these smaller railroads can be the most interesting, harkening back to the days of single-car customer shipping and local freights making their way down a backwoods branchline. For more information on regionals, please click here. Lastly, for more information on shortlines, please click here.
Related Reading You May Enjoy