Canadian Pacific-Kansas City Railway
Last revised: April 14, 2023
By: Adam Burns

The Canadian Pacific Kansas City Railway (CPKC) is a newly formed Class I system, whose merger was originally announced on March 21, 2021 whereupon Canadian Pacific would acquire Kansas City Southern for $25 billion.
The deal, first reported by Bloomberg, stated KCS investors would receive 0.489 of a CP share and $90 in cash for each share they hold, valuing the stock at $275 apiece. 
The new railroad is a 19,200-mile network with nearly 20,000 employees and an annual revenue of about $8.7 billion.  Then, on March 15, 2023 it was announced the deal had been approved by the Surface Transportation Board.  The final cost of the KCS acquisition was $31.6 billion.
The newly merged CPKC will begin operations on April 14, 2023 with two headquarters; the Canadian offices will be located in Calgary, Alberta while the U.S. offices will be based in Kansas City, Missouri.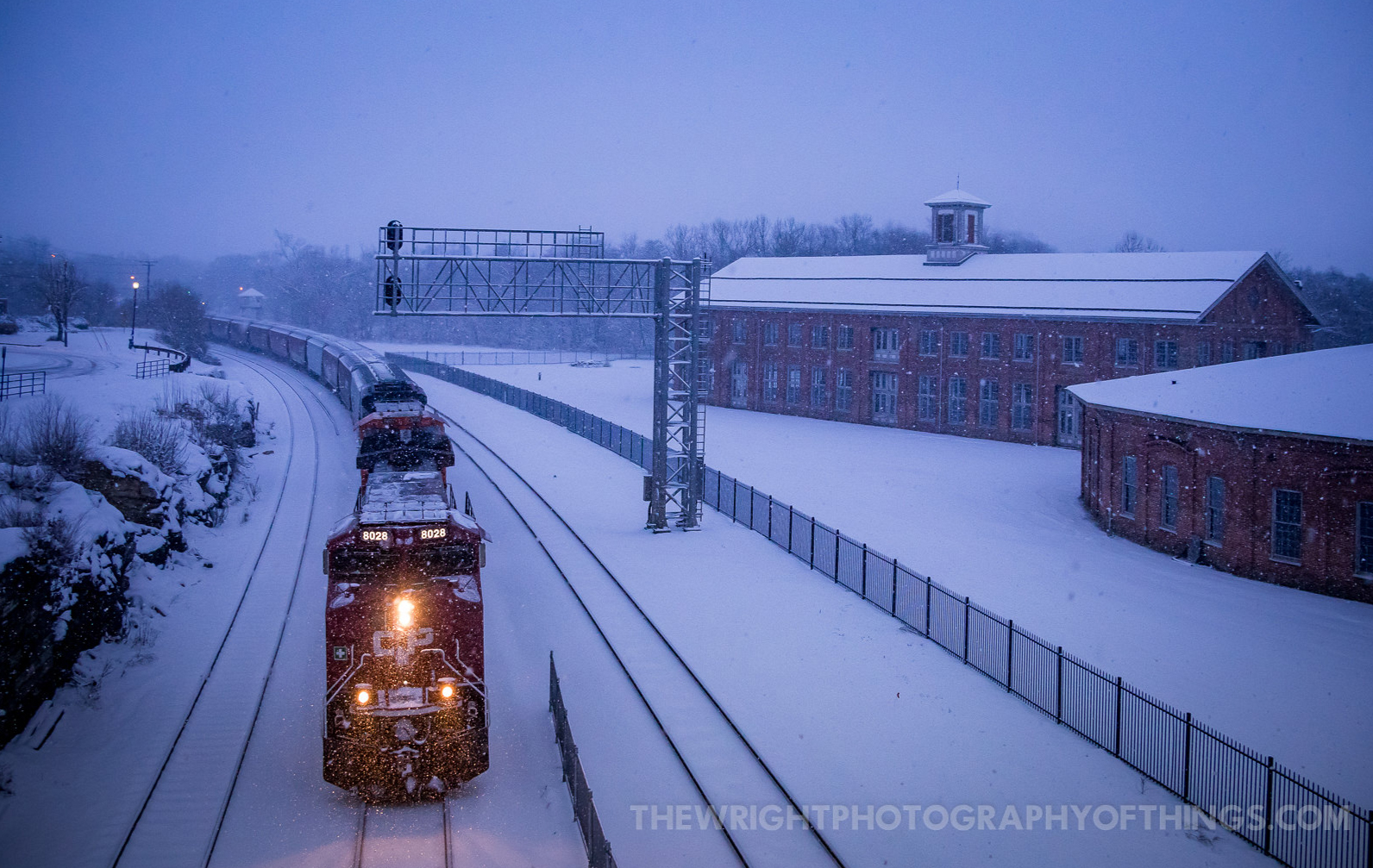 Canadian Pacific AC4400CWM #8028 leads CSX grain train G124 through the snow at Martinsburg, West Virginia on January 31, 2021. Jon Wright photo.
Background
The new Canadian Pacific Kansas City Railway states the following regarding their new operation:
"The railroad will gain 80,000 carloads and 137,000 intermodal containers currently handled by competing railroads. New intermodal service will take 64,000 trucks off highways annually within three years, the railroads say.
And by pairing origins on one railway with destinations on the other, the expanded CPKC system will be able to gain new traffic across a range of commodities, from grain, chemicals, and forest products to appliances, auto parts and finished vehicles, and intermodal.
Within three years CPKC will generate $820 million annually in new revenue from traffic growth and realize $173 million per year in efficiencies and cost savings. No routes or rail facilities would be abandoned or closed, and CPKC will add more than 1,000 jobs to handle traffic growth."
Formal Merger
The Canadian Pacific Kansas City Railway formally began operations on April 14, 2023, signaling the most significant change to the North American rail network since CSX Transportation and Norfolk Southern split up Conrail in June, 1999.
From a merger standpoint, the new CPKC involved Canadian Pacific acquiring the smaller Kansas City Southern.  Despite opposition from Canadian National and concerns by the other Class 1s (in relation to competitive standing), the newly formed railway is now the first-ever network connecting Canada, the United States, and Mexico, opening up a host of new opportunities for businesses and industries across North America.
The CPKC network covers twenty U.S. states, eight Canadian provinces, and three Mexican states. One of the key benefits of the merger is the ability to offer a wider range of services to customers. The Canadian Pacific Kansas City Railway will be able to offer enhanced intermodal services, connecting various modes of transportation such as rail, truck, and ship to provide a seamless end-to-end transportation solution. This will not only increase efficiency but also reduce carbon emissions and improve sustainability in the transportation industry.
---
The Canadian Pacific Kansas City Railway has also pledged to invest in infrastructure improvements, including new and upgraded tracks, bridges, and other facilities. This investment will create new jobs and support local economies, particularly in areas where the railway operates.
The merger has also received support from various industry groups, including the National Association of Manufacturers, the U.S. Chamber of Commerce, and the Association of American Railroads.
These groups have praised the merger for its potential to boost economic growth, create jobs, and improve the competitiveness of North American businesses. More information about this newly created Class 1 railroad will be provided as the company gets underway.