Norfolk Southern Railway: History, Photos & More

Last revised: March 14, 2023
By: Adam Burns

Today's Norfolk Southern Railway (reporting marks, NS) was created partially out of desperation.  The 1970s witnessed a flurry of merger activity which continued into the 1980s.  

In 1980 the Chessie System railroads and those of the Family Lines formed CSX Corporation.  
The now much smaller Southern and Norfolk & Western, while profitable, realized that without merging themselves the two would be completely dwarfed by this gargantuan new railroad.  
Informal talks for their own merger began during the late 1970s and formally agreed to create the Norfolk Southern Railway, a division of Norfolk Southern Corporation, in 1982. 
Since that time NS has further expanded, adding a little more than half of the Conrail network to its system in mid-1999.  
It ranks fourth in annual revenue at $11.296 billion as of 2019 while employing nearly 31,000 individuals across a wide range of sectors via a network of 21,500 route miles. 
For railfans, the company has largely ended its nod to heritage with the sale of the F units (pictured below) and discontinuance of the steam program. 
In addition, it is unknown if the locomotives wearing predecessor liveries will retain those schemes once they're scheduled for overhaul.
When first put into service into 2007 Norfolk Southern's covered wagons were big celebrities. Here, three of the units lead the Kentucky Derby special westbound through Pittsburgh's West Park on April 26th that year. Wade Massie photo.
Aside from the creation of CSX, another event led to the birth of the modern day Norfolk Southern system; deregulation.  
On October 14, 1980 President Jimmy Carter signed the Staggers Rail Act into law, which greatly freed the railroad industry from stifling government oversight.  
Its most notable benefits included the ability to more easily set freight rates and abandon or sell unprofitable trackage.  
With less meddling by the Interstate Commerce Commission (ICC) in a railroad's general affairs it brought about another wave of mergers during the 1980s such as CSX, NS, and the many takeovers Union Pacific carried out that decade (Western Pacific, Missouri Pacific, and the Missouri-Kansas-Texas).  
Although Norfolk & Western and Southern overlapped in some regions, particularly the Midwest, they proved a good fit for one another.  Perhaps the one most important factor was their similar management styles, allowing for a rather smooth transition following the merger. 
According to Mike Schafer's, "More Classic American Railroads," formal talks between two the commenced in June of 1980.  
The name eventually chosen was the Norfolk Southern Railway.  Interestingly, this proved somewhat of a problem.  
On January 1, 1974 the Southern had acquired the original Norfolk Southern Railway, a 623-mile historic system which stretched from Norfolk, Virginia to Charlotte, North Carolina with other lines snaking throughout the Tarheel State's eastern region.  
The road's earliest history traces back to January 20, 1870 when the Elizabeth City & Norfolk Railroad was chartered to complete a line running from Berkley, Virginia (present-day Norfolk) to Edenton, North Carolina via Elizabeth City (a distance of about 73 miles).
In 1883 the first use of Norfolk Southern Railroad appeared and it went through a few more name changes until the Great Depression brought about bankruptcy and it became the Norfolk Southern Railway.
With NS still a subsidiary at the time of the merger it was decided to change its name as the Carolina & Northwestern Railway (this name itself was resurrected from another NS predecessor).
On March 25, 1982 the ICC approved the new Norfolk Southern Railway (officially a subsidiary of Norfolk Southern Corporation) and the system began operations a few months later on June 1st.  
The new Class I was better able to compete against CSX although was still at an overall mileage disadvantage.  
In 1996 its rival announced intentions to acquire Conrail; such a move would have surely doomed future prospects for NS and it quickly entered a counter-bid for the Northeastern road.  
Finally, on June 23, 1997 the two agreed to mutually split Conrail; it was approved by the ICC on June 6, 1998 with NS gaining 58% while CSX picked up the other 42%.  
The 1999 acquisition of Conrail was perhaps the most important and critical time in the company's history. If CSX had been allowed to purchase Conrail outright NS would have been entirely surrounded and likely forced into an eventual merger with another railroad.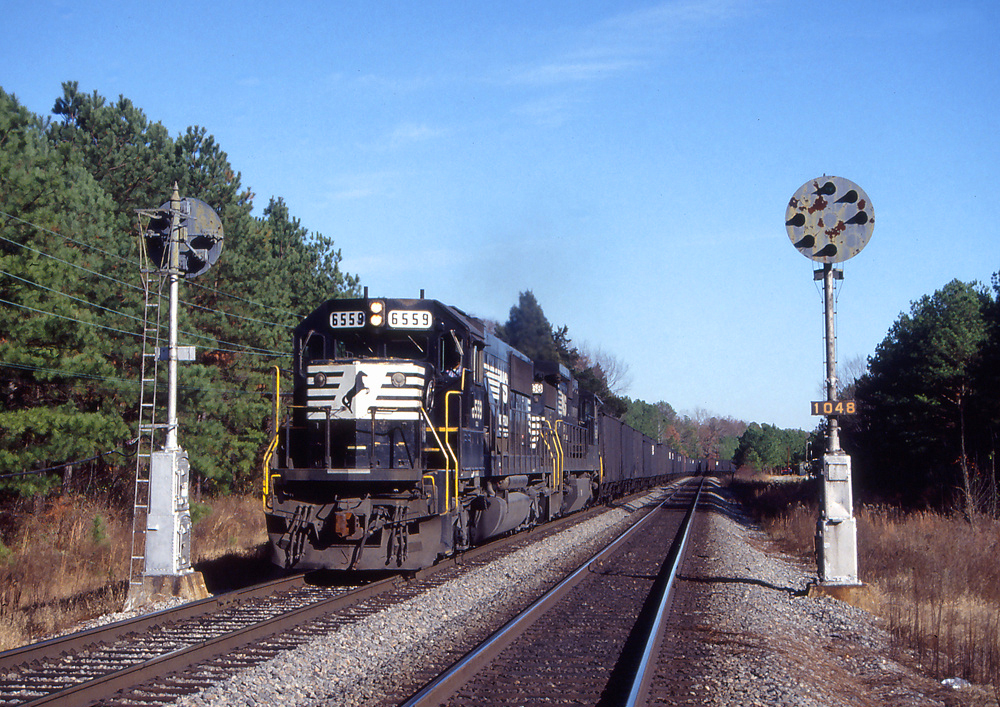 Norfolk Southern SD60 #6559 and a mate pass the old Norfolk & Western signals at milepost 104.8 at Ford, Virginia with a string of empty coal hoppers on November 22, 1991. Wade Massie photo.
NS had been interested in the 11,000-mile Consolidated Rail Corporation (Conrail) for some time because it would offer important addition the railroad needed, direct lines to the markets of New York City and Philadelphia.  
After many years of red ink, Conrail eventually turned a profit during the early 1980s and became successful in developing and exploiting a profitable intermodal market (i.e., the movement of ship containers which can be moved via over-the-road trucks as well) by moving containers between Chicago and the Northeast.  
When the merger split was finalized, a part of the former Conrail network became known as Conrail Shared Assets.  This property was located in New Jersey and remains jointly owned with CSX today.  
With the merger completed NS was able to diversify its traffic base much more broadly as it tapped the lucrative intermodal business.  
As a result, it became less dependent on the traditional movement of coal traffic within western Virginia, West Virginia, Kentucky, and Tennessee.
Norfolk Southern offered a nod to its heritage by releasing twenty locomotives wearing predecessor liveries of companies comprising its current system. They were displayed at the North Carolina Transportation Museum in July of 2012. Warren Calloway photo.
Norfolk Southern's next major initiative occurred in the mid-2000s; this time it was not another merger but an improvement to its network, the Heartland Corridor.  
The railroad focused on its former Norfolk & Western main line through western Virginia and West Virginia by improving tunnel clearances for double-stack intermodal service.  
Previously, the tunnels along the largely-double tracked line could support only single-stacks and the project was expected to cost $150 million.  
The work began in 2007 and included raising clearances with 28 tunnels while 24 other obstructions were modified or removed.  
In addition to these efforts, NS shaved 250 miles of travel time from the Norfolk to Chicago corridor (other important cities included Cincinnati, Detroit, Columbus).  
This cut travel time from four days to three.  After three years of intense work it was ready for service on September 9, 2010.  NS stated that the public-private partnership, in total, had cost $290 million.
The opening of the Heartland Corridor now gives NS four major, high-speed routes.  These include:
Crescent Corridor (New York City/Mechanicville, New York - Memphis/New Orleans)





Meridian Speedway (running between Meridian, Mississippi and Dallas in conjunction with the Canadian Pacific Kansas City Railway it acts a link for fast freight service between California, the Southwest, and Southeastern United States)
Patriot Corridor (operated in conjunction with New England regional, Pam Am Railways, this 155-mile route from Mechanicville to Ayer, Massachusetts provides efficient rail service from Albany to Boston). 
In addition, there is "CREATE" or the Chicago Region Environment and Transportation Efficiency project, which, if completed, will relieve bottlenecks and severe congestion within the Windy City and surrounding region.  
Interestingly, following the success of Norfolk Southern's Heartland Corridor, rival CSX launched a similar project in 2008 known as the National Gateway.  
System Map (2013)
It was completed in September of 2013 and cost nearly $850 million to improve service between the East Coast ports of Wilmington, North Carolina; Norfolk; and Baltimore and the Midwest/Southeast gateways of Chicago, St. Louis, Memphis, and New Orleans.  
The above map gives a family tree of the largest railroads which have made up Norfolk Southern Railway.
Those systems not included are the numerous subsidiaries of the Southern, which were part of the railroad for decades such as the Savanna & Atlanta; Alabama Great Southern; Cincinnati, New Orleans & Texas Pacific; and Georgia, Southern & Florida.  
In any event, the most important components of today's NS are covered briefly in the inset article below.  It is interesting how the additions of the Southern and Norfolk & Western predecessors were added to their networks; the former acquired most of its subsidiaries during the early 20th century while the latter acquired its holdings after the 1959 takeover of rival Virginian Railway.
---
Norfolk Southern Predecessors
Akron, Canton & Youngstown Railroad:  One of the smallest components of the NS system was the AC&Y, "Ohio's Road Of Service."  
It was organized in 1907 as a small terminal road, the Akron, Canton & Youngstown Railway to serve the Akron region.  It grew prodigiously on March 1, 1920 when it formally acquired the Northern Ohio Railway connecting Akron with Delphos.  
This system had started out as the ambitious Cleveland, Delphos & St. Louis but was only able to complete the above-mentioned section and spent many years under New York Central control before being sold to the AC&Y.  
The two roads formally merged in 1944 to form the Akron, Canton & Youngstown Railroad, a system covering 171 miles. 
It was largely profitable and was well-known for operating a fleet almost entirely of Fairbanks-Morse locomotives during the diesel era.  After the NS merger most of the AC&Y was sold.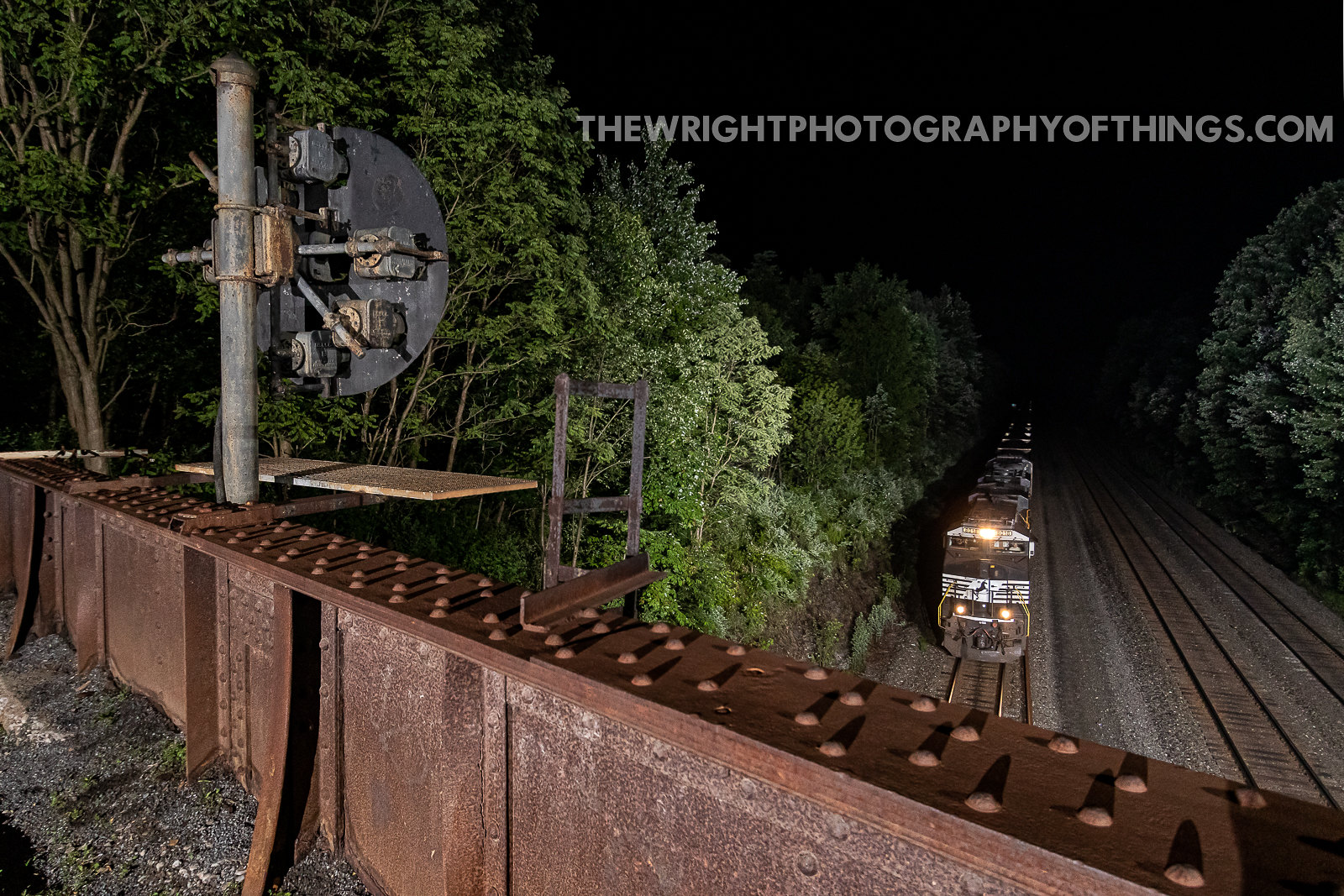 Norfolk Southern ES44AC #8018 heads east over the old Pennsylvania Railroad main line with freight 746 as it is about to pass beneath Jamestown Road Bridge in Portage, Pennsylvania on June 7, 2019. The classic PRR color position signals have since been removed. Jon Wright photo.
Central of Georgia Railway:  The CoG's earliest ancestry traces back to the Central Rail Road and Canal Company of 1833 to connect Savannah with Macon.  
It opened in 1843, known then as the Central Rail Road & Banking Company of Georgia (1836).  In 1892 it fell into bankruptcy, emerging as the Central of Georgia Railway on November 1, 1895.  
The CoG grew primarily through acquisition with several subsidiaries comprising its corporate heritage during the 19th century.  
By the 1950s it was operating more than 1,700 miles linking Savannah with Chattanooga, Birmingham, Montgomery, and Dothan via Macon, Columbus, and Atlanta.  
Much of its network was situated in its home state.  On June 17, 1963 the CoG became an official subsidiary of the Southern Railway.

Illinois Terminal Railroad:  The IT was a fascinating operation with a long history as a successful electrified interurban, the largest in the country by number of cities served.  
Its heritage dates back to the Illinois Traction System, created in 1904 as the Illinois Traction Company by William McKinley.  
According to George Hilton and John Due's, "The Electric Interurban Railways In America," the earliest component was a line linking Danville to Westville, Illinois opened in 1901.  
During the next decade it continued to grow and reached its peak of more than 400 miles connecting Peoria with St. Louis via Springfield.  It also reached Bloomington and Decatur.  
Through the 1930s the system continued to improve operations by building belt lines for improved freight service.  
In 1928 it was renamed as the Illinois Terminal and was extremely profitable for an interurban, many of which had died out around World War I (other stragglers would hang on until World War II).  
By 1958 its electrified operations had ended, in conjunction with the cessation of passenger service.  It remained a relatively profitable regional freight line until its 1981 acquisition by Norfolk & Western.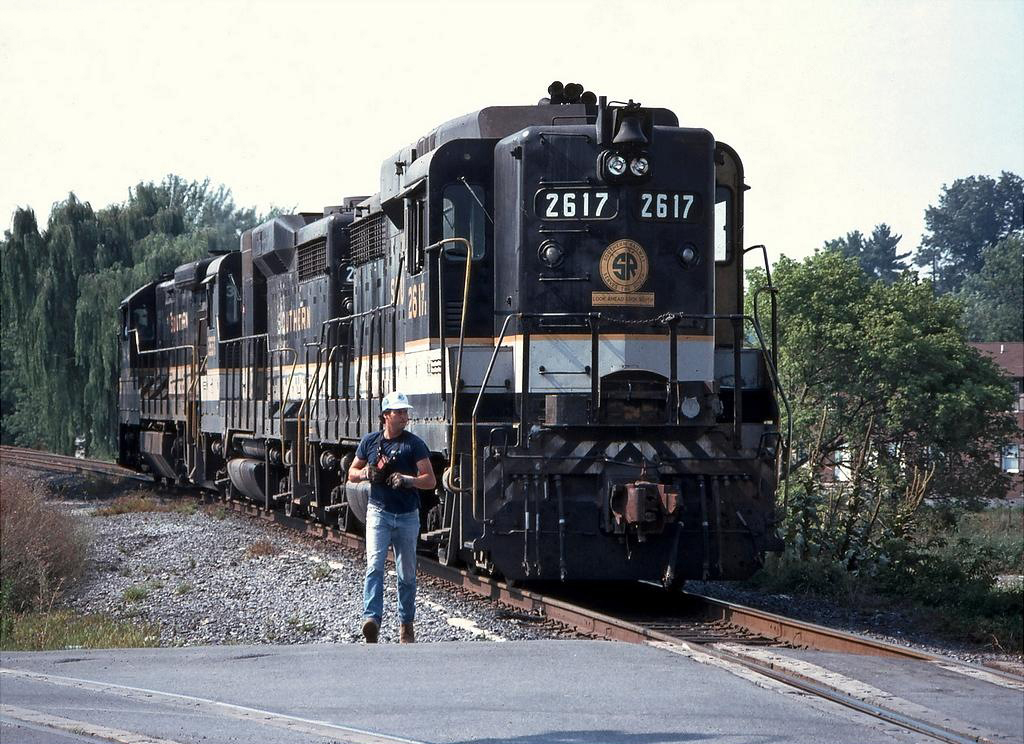 Norfolk Southern was slow in repainting its predecessor locomotives, making it possible to catch the Southern "Tuxedo" livery in action well into the 1980s. Seen here is a B23-7 and two GP30's at Strasburg, Virginia in 1988. Wade Massie photo.
Nickel Plate Road:  The Nickel Plate, whose official name was the New York, Chicago & St. Louis, was a successful Midwestern carrier connecting Buffalo, New York with Chicago, Peoria, and St. Louis via Cleveland, Toledo, Fort Wayne and other points across Ohio and Indiana.  
The New York, Chicago & St. Louis Railway was originally founded on February 3, 1881.  With strong financial backing right from that start it opened its original, 523-mile main line between Chicago and Buffalo on October 23, 1882.  
Shortly afterwards it was acquired by Cornelius Vanderbilt's nearby Lake Shore & Michigan Southern, which saw the NYC&StL as a threat to its future.  
The LS&MS was controlled by the Commodore's much larger New York Central & Hudson River system.  
The NYC&StL regained independence in 1916 after the government forced the New York Central to sell one of its holdings due to antitrust issues.  
The Nickel Plate thrived under the guidance of the Oris and Mantis Van Sweringen, blossoming into a 2,200-mile, high-speed system (earning its nickname as the "Nickel Plate Road").  It remained a successful bridge route until its N&W takeover on October 16, 1964.

Norfolk & Western:  One of two key components of Norfolk Southern was the Norfolk & Western, a coal hauling conveyor belt which for many years operated only a few thousand route miles until the late 1950s.  
It ancestry traces all of the way back to the 1836 chartering of the City Point Railroad first opened for service in 1838 between Petersburg and City Point.  
It later came under control of the South Side Railroad.  In 1870 it joined the Virginia & Tennessee and Norfolk & Petersburg to form the Atlantic, Mississippi & Ohio in 1870.  
While the road served much of central Virginia connected Norfolk with Bristol it struggled to sustain profitably.  
In 1881 the first Norfolk & Western Railroad was formed but fell into bankruptcy and was reorganized as the Norfolk & Western Railway in 1896.  
With the discovery of coal in western Virginia during the 1880s and subsequent new lines built into the rich southern coal field of West Virginia the N&W became enormously wealthy.  
Its original network stretched some 2,100 miles linking Cincinnati, Columbus, Hagerstown, Winston-Salem, Norton (Virginia), and Durham.  
In 1959 it acquired rival Virginian Railway and followed this up with several acquisitions in the 1960s; the Atlantic & Danville, Akron Canton & Youngstown, Wabash, and Nickel Plate Road while also controlling Erie Lackawanna for several years.  
In 1981 it purchased one-time interurban Illinois Terminal before merging with the Southern.
Norfolk Southern ES40DC #7610 leads an empty string of coal hoppers down Main Street in West Brownsville, Pennsylvania on August 25, 2008. Wade Massie photo.
Southern Railway:  The other primary NS component was the Southern Railway, a system originally formed on July 1, 1894 by the consolidation of the Richmond & Danville and East Tennessee, Virginia & Georgia railroads.  
The system continued to expand during the early 20th century by acquiring the Cincinnati, New Orleans & Texas Pacific; Savannah & Atlanta; Virginia & Southwestern; Georgia & Florida; Georgia, Southern & Florida; New Orleans & Northeastern; and Louisville, Evansville & St. Louis.
There were others but these were its more notable acquisitions.  
The classic Southern system by the 1950 operated around 6,300 route miles connecting Washington, D.C. with New Orleans via Charlotte, Atlanta and Birmingham.  
It also maintained key routes north to Cincinnati, west to St. Louis and Memphis, and into northern Florida.  The Southern truly lived up to its slogan, "Southern Serves The South," and maintained a high degree of profitably until the NS merger.
Virginian Railway:  The Virginian was the first component of N&W's late-era acquisitions, purchased in 1959.  
It was a constant thorn to the Roanoke road, much smaller but operated a well-built, heavily constructed right-of-way moving millions of tons of coal from southern West Virginia to tidewater at Norfolk by roughly paralleling the N&W.
It was financed by the very wealthy Henry Rogers and the system was organized in 1907.  
Within only a few years the line was opened in 1909 and eventually connected Deep Water, West Virginia with Sewell's Point, Virginia (Norfolk) while numerous feeder lines along the western end of its system tapped many coal lines.  
It was also electrified between Roanoke and Mullens, which remained in service until 1962 when N&W turned off the power.  While a common-carrier the Virginian was largely built to handle exclusively coal, doing so quite successfully for five decades before disappearing into the N&W.
Wabash Railroad:  The Norfolk & Western's other major Midwest portfolio was its 1964 addition of the Wabash.  The corporate history of the "Flag" is a tangle of predecessors, takeovers, and reorganizations.  
According to Mike Schafer's, "More Classic American Railroads," its ancestry traces back to 1834 when Illinois organized the Northern Cross Railroad to build a line across the state from Danville to Quincy.  
It opened its first 8 miles between Meredosia and Morgan City on November 8, 1838 whereby the 4-2-0 Rogers became the first steam locomotive to operate in the state.  
In 1847 the railroad was sold and renamed as the Sangamon & Morgan.  It was again changed to the Great Western Railroad in 1853 and was soon able to complete construction into Danville.  
Two other early components integral to the later Wabash included the Toledo & Illinois and Lake Erie, Wabash & St. Louis which merged to form the Toledo, Wabash & Western. 
The TW&W acquired the Great Western, providing for a direct route between Toledo, Ohio and Quincy.  The TW&W fell into receivership during the 1870s, emerging as the Wabash Railway in 1877.  
That year, tycoon Jay Gould acquired the railroad and began an aggressive expansion that pushed it into several important Midwestern markets.  
However, he overextended its reach and the company fell into bankruptcy in 1884 as he lost control of the property.  
In 1889 it was reorganized as the Wabash Railroad and new ownership was eventually able to reacquire large segments of the original 3,500-mile network.  
At its peak in the mid-20th century the Wabash operated 2,400 miles from Buffalo (via southern Ontario) to Kansas City via St. Louis, Toledo, and Chicago.  Despite its early corporate troubles the road prospered during its later years.
---
Finally, NS should be praised for its nod to heritage, going further than every other Class I to date except Union Pacific.
During 2005 it gained new leadership when Charles "Wick" Moorman took over as Chief Executive Officer (CEO).  Almost immediately he set about bring to life images of the railroad's past.  
In the spring of 2007 the company unveiled an A-B-B-A set of Electro-Motive cab units to pull its business train.  
These locomotives, a pair of F9A's (rebuilt from former Baltimore & Ohio F7A's) and a set of F7B's (ex-Chicago Great Western/Chicago & North Western units), were adorned in a beautiful version of Southern's "Tuxedo" livery with NS thoroughbred logo and markings.  As an added touch, shop forces countersunk the required ditch lights so they would seamlessly blend with the carbody.  
Naturally, the locomotives became fan favorites and were regularly captured on film until new public relations endeavors were launched in 2011 and 2012.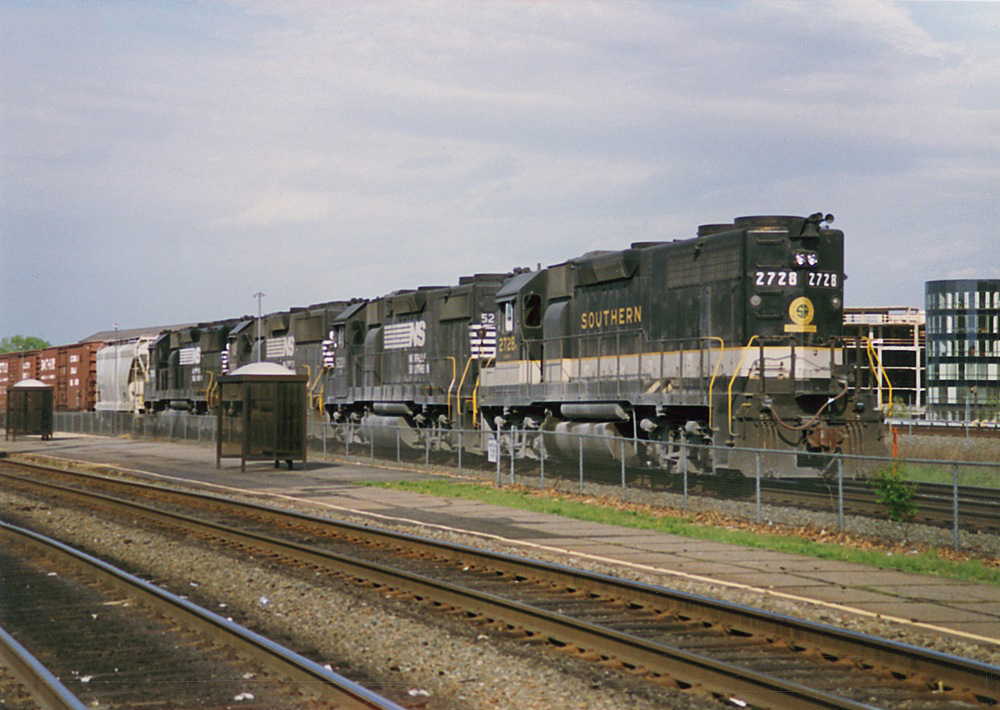 Still in Southern paint, GP38 #2728 leads a Norfolk Southern freight southbound through Ashland, Virginia with help of three counterparts having just exited Potomac Yard along the RF&P during the summer of 1989. Wade Massie photo.
The first was the 21st Century Steam Program, bringing back the popular excursions which the railroad had canceled in 1994.  
This time, however, NS would not take ownership of the locomotives but instead lease them during several trips hosted across its system.  
The steamers to participate included Nickel Plate Road 2-8-4 #765, Southern 2-8-0 #630, Southern 2-8-2 #4501, and finally Norfolk & Western 4-8-4 #611.  
The N&W's famous "J" was the star of the show, restored to operation in 2015 after a year of hard work.  The second incarnation of the NS steam program proved short-lived, finishing up in 2015. 
In one, final historical nod, Mr. Moorman had twenty new locomotives painted in authentic, predecessor liveries during 2012. 
They were released to the public at the North Carolina Transportation Museum in Spencer during the summer of 2012 and included the following companies:  
Monongahela Railway


Conrail


Southern Railway


Nickel Plate Road


Central Of Georgia


Pennsylvania Railroad


Norfolk & Western


Lehigh Valley


Interstate Railroad


Norfolk Southern Railway (Original)


Savannah & Atlanta Railway


New York Central


Reading Lines


Erie Railroad


Virginian Railway


Wabash


Jersey Central


Illinois Terminal


Penn Central


Delaware, Lackawanna & Western  
In addition, during September of 2015 the railroad repainted SD45-2 #1700 into its original Erie Lackawanna colors. 
---
Norfolk Southern ES40DC #7610 leads empty coal train #NO9 through rural Denbo, Pennsylvania near the Monongahela River on August 25, 2008. Wade Massie photo.
Alas, the heritage aspect has been greatly truncated since the 21st Steam Program ended in December, 2015 following Moorman's retirement. 
The heritage liveries are unlikely to be reapplied once the units are ready due for a repaint.  In addition, the handsome set of F units, beloved by enthusiasts and the general public, survived for only a decade on the Class I before it was announced on November 12, 2019 they would be sold. 
When initially acquired the covered wagons (the two A units were former Baltimore & Ohio F7's manufactured in 1952 while the two B units were ex-Chicago Great Western built in 1950) were rebuilt to GP38-2 specifications at the former PRR shops in Altoona, Pennsylvania. 
In addition, they featured Positive Train Control and the A's included a camera on the windshield to allow passengers back in the train to see the crew's view from the head-end. 
The A's were numbered 4270-4271 and the B's #4275-4276. In 2019 the group was renumbered 270-271 and 275-276 respectively to make way for new units entering the railroad's rebuild program, notably new AC44C6M's (AC) overhauled from older C40-9's (DC). 
Thanks to the locomotives' many perks they sold quickly; F9A #270 and F7B #275 were purchased by Reading & Northern on November 23rd for passenger service. 
Just a few weeks later it was announced on December 13, 2019 that North Carolina short line Aberdeen Carolina & Western would acquire F9A #271 and F7B #276. 
The railroad states the unit will be painted in their standard magenta, gold, and green and pull their Economic Development/Corporate Train.