With the CNR one of the two largest Canadian railroads it probably goes without saying that the railroad fielded a large passenger train fleet. For us Americans its best remembered trains were probably names like the Maple Leaf, International Limited, Montrealer, Washingtonian and Ambassador. However, these were only its intercity trains, which served US cities. To Canadians the railroad's best remembered trains were probably the Super Continental and Continental Limited, which operated across the entire country connecting Montreal and Toronto with Vancouver. It should be noted for railfans and those interested in rail history the CNR operated much second-hand equipment from US roads, most famous of which was probably the Milwaukee Road's famous Super Domes and Skytops (which were no longer needed after the railroad gave up its Olympian Hiawatha passenger train in 1961). The CNR also operated numerous commuter operations, which were electrified. These systems, using boxcab electric locomotives (or "motors"), mostly served Toronto and Montreal but they also stretched as far south as Port Huron, Michigan.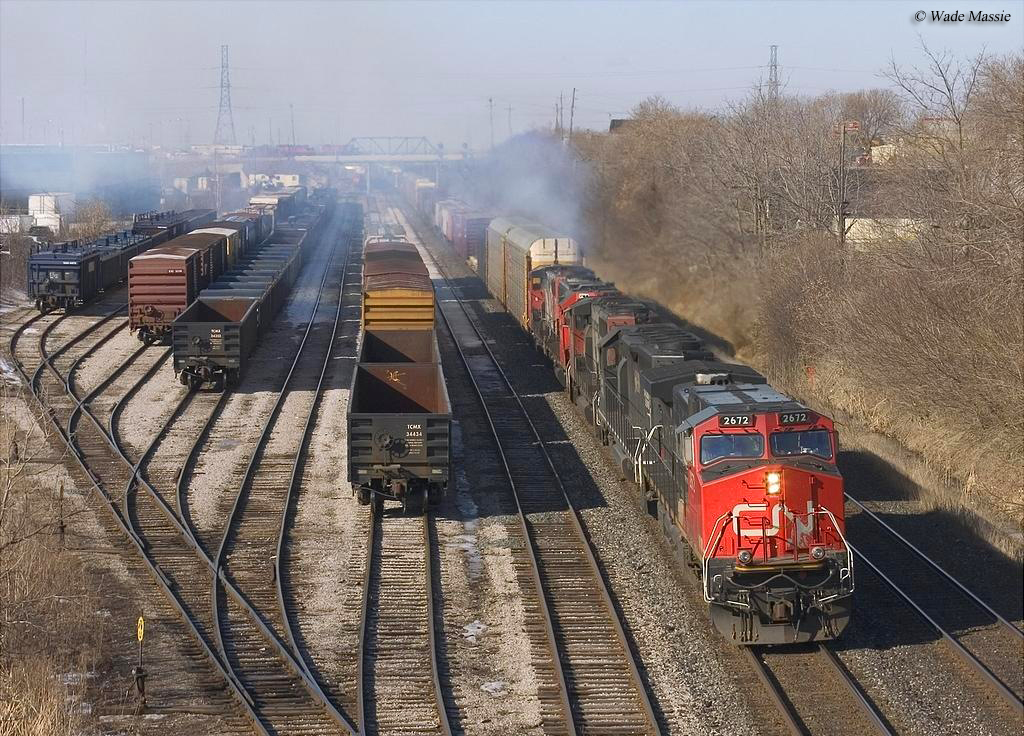 C44-9W #2672 and a quartet of other power lead a freight through Oshawa Yard in Oshawa, Ontario on March 16, 2005. On the bridge in the background can be seen a Canadian Pacific freight.
The Canadian National Railway faced increasing competition and falling profits just like its US counterparts after the dizzying traffic volumes of World War II, although being nationalized it was forced to hold on to most of its lines, no matter how small or insignificant, as late as the early 1990s. In 1960 the railroad had completed dieselization and a year later its beautiful Maple Leaf logo and pale green, black and yellow livery was shed for a modernized logo (dubbed the "wet noodle", with the railroad dropping the "R" and was now known only as the "CN") and orange, black and white paint scheme (a logo and livery it holds to this day).  In the late 1970s CN sold off most of its non-railroad holdings and due to it's stagnate financial condition the Canadian government finally disposed of the railroad in 1995 making it a private system.

Notable Passenger Trains
Ambassador: Montreal - Boston
Caribou: St. John's - Port aux Basques
Continental Limited: Montreal/Toronto - Vancouver
Gull: Boston - Portland, Maine - Saint John, New Brunswick - Halifax
Inter-City Limited: Montreal - Toronto - Detroit/Chicago
International Limited: Montreal - Toronto - Chicago
Maple Leaf: Toronto - Philadelphia/New York City
Montrealer: Montreal - New York City - Washington, D.C.
Northland: Toronto - North Bay/Timmins/Kapuskasing, Ontario
Ocean Limited: Montreal - Halifax
Scotian: Montreal - Halifax
Super Continental: Montreal/Toronto - Vancouver
Washingtonian: Montreal - New York City - Washington, D.C.
Please Click Here To Return To The Class I's Page
CN C44-9W #2577 is lead power on the Norfolk Southern's main line to Buffalo, New York as the train passes through Sunbury, Pennsylvania on May 27, 2006.
The advantages of this setup were many. First, it was able to shed its VIA CN commuter operation established in 1976, which was taken over by the government and renamed VIA Rail Canada. The railroad was also able to shed thousands of miles of redundant and light density branch lines. Soon after its privatization CN purchased the Illinois Central Railroad in 1998 giving it direct access into the heart of the US reaching New Orleans. Then, in late 2007 it announced its intention to purchase the Elgin, Joliet & Eastern Railway as a bypass around congested Chicago.  Today, the CN is one of the top North American Class I systems earning healthy profits in a revitalized industry.   Whether its name will remain in the next round of mega-mergers is unknown but what is certain is that the railroad will at least be a major player when they do occur.  

Related Reading You May Enjoy