The Maine Central Railroad, The Pine Tree Route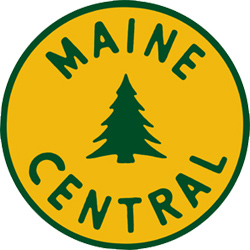 The Maine Central Railroad was a carrier similar in nature to the Bangor & Aroostook Railroad (BAR) in that it served the State of Maine and shipped timber and agricultural products. At its height the railroad never reached 1,000 miles in length but it did serve the important coastal industries of southern Maine as well as central New Hampshire, and eastern Vermont. Given its extreme Northeastern location and regional nature the MEC had only a few true rivals including the Boston & Maine and BAR.  Until its 1980 buyout by Guilford (which also went on to acquire the B&M) the MEC continued to be a reliable and efficient transportation artery for the region it served.  Today, Guilford operates under the Pan Am Railways banner but its major subsidiaries still remain as operating entities on paper. 

The Maine Central Railroad came about in 1862 (a relative late comer to the scene) when the Kennebec & Portland and Androscoggin & Kennebec Railroads merged. Both railroads served the southwestern portions of Maine with the K&P linking Augusta, Waterville, and Yarmouth while the A&K connected Bangor and Portland via Lewiston (they essentially connected the two same end points but using different lines with the K&P's line known as the Lower Road and the A&K's the Back Road).  Over time and through the latter 19th and early 20th centuries the MEC continued to expand and reached eastern Vermont (through New Hampshire) by 1909 by acquiring the former Portland & Ogdensburg Railroad (to become known as the Portland Mountain Subdivision) while its eastern extensions reached the western tips of New Brunswick and the towns of Calais to the south and Vanceboro to the north.

Expansion continued and branch lines reached to places such as Rockland, Farmington, Bucksport, Harmony, and Dover-Foxcroft.   As was the case for northern New England railroading, MEC's primary traffic base was held in agriculture (of which, potatoes were shipped via the BAR), timber, and paper. For much of its life the MEC worked with or was under the influence of its southwestern connection, the Boston & Maine Railroad (also its link to the outside railroad grid). Cooperation between the two began as early as 1911 and renewed in the 1930s when the depression was hitting everyone hard. In an effort to help cut costs the two railroads worked together and did what they could to help each other. They also partnered in introducing joint bus and airline service along with their passenger trains although the government forced them to divest the airline (called Boston-Maine Airways) in 1940.