The Maine Central Railroad, The Pine Tree Route

The Maine Central Railroad was a carrier similar in nature to the Bangor & Aroostook Railroad (BAR) in that it served the State of Maine and shipped timber and agricultural products. At its height the railroad never reached 1,000 miles in length but it did serve the important coastal industries of southern Maine as well as central New Hampshire, and eastern Vermont. Given its extreme Northeastern location and regional nature the MEC had only a few true rivals including the Boston & Maine and BAR.  Until its 1980 buyout by Guilford (which also went on to acquire the B&M) the MEC continued to be a reliable and efficient transportation artery for the region it served.  Today, Guilford operates under the Pan Am Railways banner but its major subsidiaries still remain as operating entities on paper.

GP7 #577 is still wearing its maroon and gold B&M livery from the days when the railroad was controlled by its next door neighbor as it moves a cut of boxcars into the yard at Brunswick, Maine during early August of 1976.
The Maine Central Railroad came about in 1862 (a relative late comer to the scene) when the Kennebec & Portland and Androscoggin & Kennebec Railroads merged. Both railroads served the southwestern portions of Maine with the K&P linking Augusta, Waterville, and Yarmouth while the A&K connected Bangor and Portland via Lewiston (they essentially connected the two same end points but using different lines with the K&P's line known as the Lower Road and the A&K's the Back Road).  Over time and through the latter 19th and early 20th centuries the MEC continued to expand and reached eastern Vermont (through New Hampshire) by 1909 by acquiring the former Portland & Ogdensburg Railroad (to become known as the Portland Mountain Subdivision) while its eastern extensions reached the western tips of New Brunswick and the towns of Calais to the south and Vanceboro to the north.

Expansion continued and branch lines reached to places such as Rockland, Farmington, Bucksport, Harmony, and Dover-Foxcroft.   As was the case for northern New England railroading, MEC's primary traffic base was held in agriculture (of which, potatoes were shipped via the BAR), timber, and paper. For much of its life the MEC worked with or was under the influence of its southwestern connection, the Boston & Maine Railroad (also its link to the outside railroad grid). Cooperation between the two began as early as 1911 and renewed in the 1930s when the depression was hitting everyone hard. In an effort to help cut costs the two railroads worked together and did what they could to help each other. They also partnered in introducing joint bus and airline service along with their passenger trains although the government forced them to divest the airline (called Boston-Maine Airways) in 1940.
The two companies worked together until roughly 1955 when their Cooperative Agreement ended and they began to go their separate ways (although, ironically, they would be back together again when Guilford purchased a controlling interest in both in the 1980s). From this point forward the MEC became a very efficient and well-managed railroad under the guidance of E. Spencer Miller who completely dieselized the locomotive fleet, kept the railroad property well maintained, and introduced Centralized Traffic Control (CTC) across the railroad.
The railroad continued to do well through the 1970s with its end beginning in 1980 when it was sold to U.S. Filter Corporation, which subsequently was purchased by Ashland Oil who quickly wished to divest its rail holdings, which were purchased by Timothy Mellon, founder of Guilford Transportation Industries.  Mellon's new system included a black livery with a bright orange trim and white lettering and sub-lettered his equipment to the owning railroad (such as the MEC, Boston & Maine, etc.). During Guilford's ownership large sections of the railroad were abandoned or sold off as unprofitable and as the years progressed much of the two former allies' rails, the MEC and B&M, were merged together (originally this also included the Delaware & Hudson Railway, which was let go in 1987 following bankruptcy).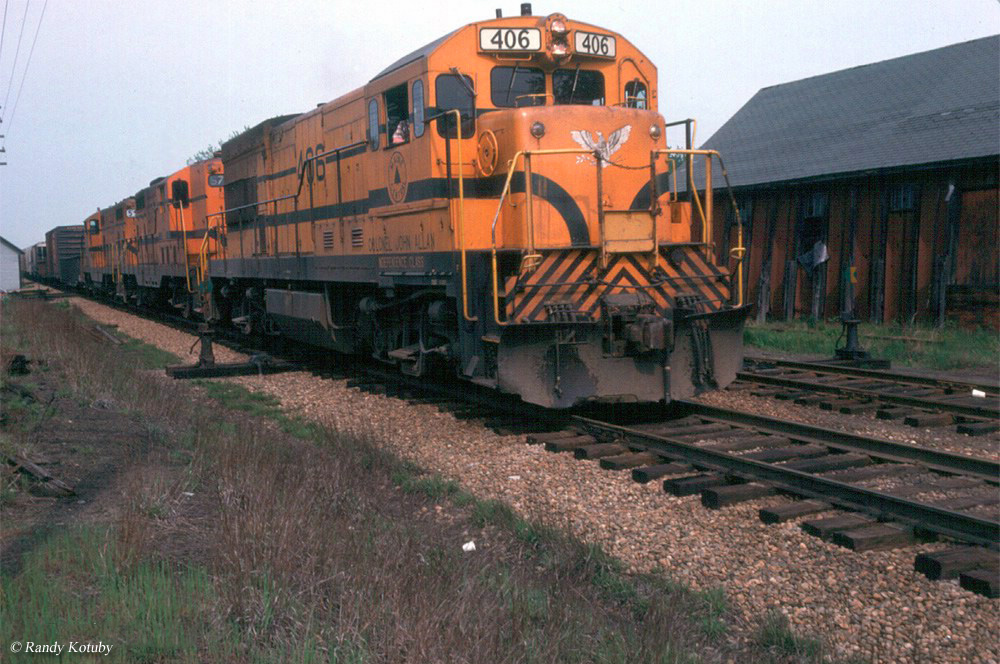 MEC U18B #406, the Colonel John Allan (the railroad was known to name some of its locomotives), exits the yard at Brunsiwck with two Geeps and a freight in tow on May 20, 1981.
Guilford would later change its name to Guilford Rail System and today even it no longer exists as it was dissolved in 2006 in favor of parent Pan Am Systems' Pan Am Railways. Today the railroad is still officially on the books although it survives now mostly in name only and The Pine Tree Route is all but a memory. However, the railroad continues to live on serving its successor quite well, and other upstarts have taken over former portions of the railroad such as the Conway Scenic Railroad and Twin State Railroad, which operate sections of the old Mountain Sub.
Diesel Locomotive Roster
For an all-time diesel locomotive roster of the MEC please click here. Also, for an excellent listing of EMD-built diesel locomotives, including those owned by the MEC please click here. Lastly, please click here to locate preserved MEC diesel locomotives.
The American Locomotive Company
| Model Type | Road Number | Date Built | Quantity |
| --- | --- | --- | --- |
| S2 | 301-303 | 1949 | 3 |
| S4 | 311-317 | 1950-1954 | 7 |
| RS2 | 551-555 | 1949 | 5 |
| RS3 | 556-557 | 1953 | 2 |
| RS11 | 801 | 1956 | 1 |
| HH-660 | 951-952 | 1939 | 2 |
| S1 | 953-960 | 1941-1949 | 8 |
| S3 | 961-963 | 1953 | 3 |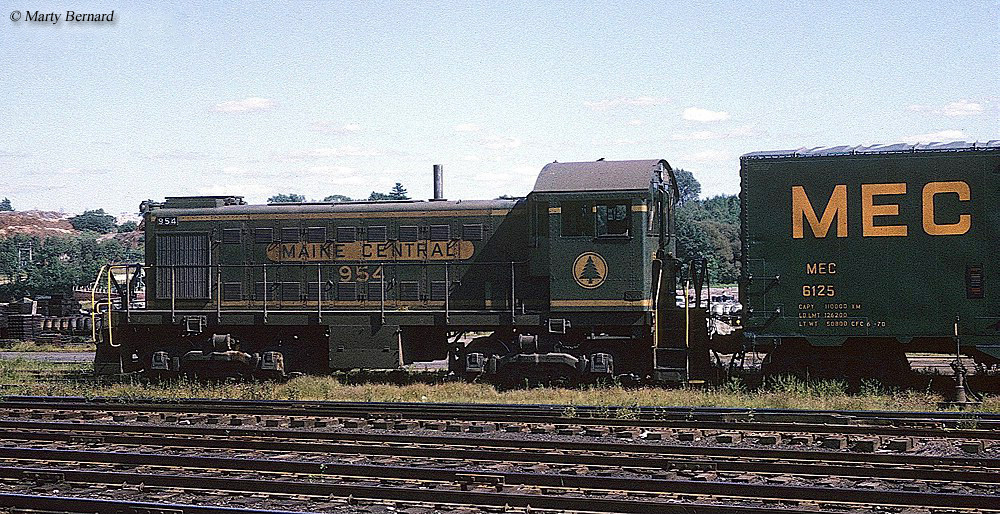 An S1, #954, totes a matching boxcar as it works the yard at Waterville, Maine on August 19, 1970. The green and gold combination was certainly one of the road's more regal liveries.
Electro-Motive Division
| Model Type | Road Number | Date Built | Quantity |
| --- | --- | --- | --- |
| GP38 | 251-263 | 1966-1967 | 13 |
| SW7 | 331-333 | 1950 | 3 |
| SW9 | 334-335 | 1951, 1953 | 2 |
| GP7 | 561-569, 571-580 | 1950-1953 | 19 |
| F3A | 671A-672A, 681-686 | 1947-1948 | 8 |
| F3B | 671B-672B | 1947 | 2 |
| E7A | 705-711 | 1946-1948 | 7 |
General Electric
| Model Type | Road Number | Date Built | Quantity |
| --- | --- | --- | --- |
| 44-Tonner | 11-17 | 1941-1947 | 7 |
| U18B | 400-409 | 1975 | 10 |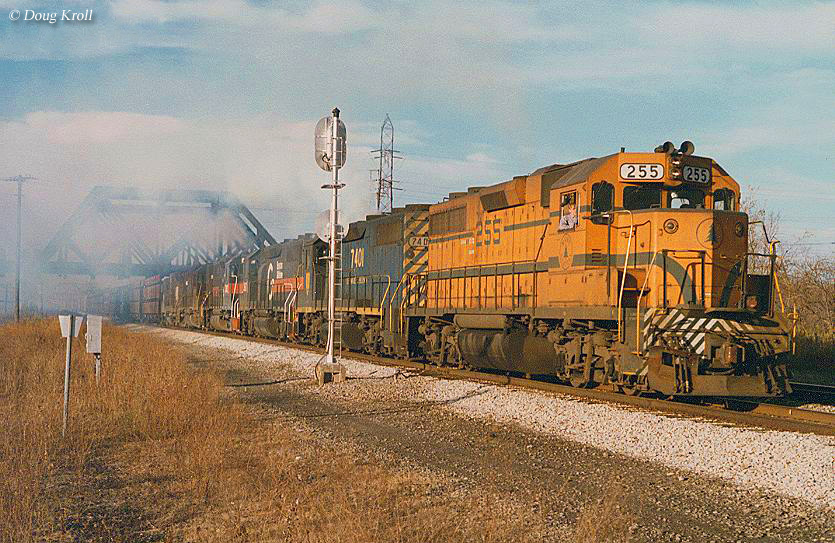 After the Guilford takeover but still in original paint, MEC GP38 #255 leads Norfolk & Western freight NE01 and a parade of other units through Blasdell, New York on November 3, 1984.
Steam Locomotive Roster
For a more complete roster of steam locomotives please click here. Also, for information regarding surviving MEC steam locomotives please click here.
| Class | Type | Wheel Arrangement |
| --- | --- | --- |
| A | Santa Fe | 2-10-2 |
| C (Various) | Pacific | 4-6-2 |
| D | Hudson | 4-6-4 |
| G-3 | Ten-Wheeler | 4-6-0 |
| H | American | 4-4-0 |
| J, J-1 | Switcher | 0-8-0 |
| K (Various) | Switcher | 0-6-0 |
| N (Various) | Ten-Wheeler | 4-6-0 |
| O (Various) | Ten-Wheeler | 4-6-0 |
| S Through S-2 | Mikado | 2-8-2 |
| W Through W-2 | Consolidation | 2-8-0 |
| X | Articulated | 2-6-6-2 |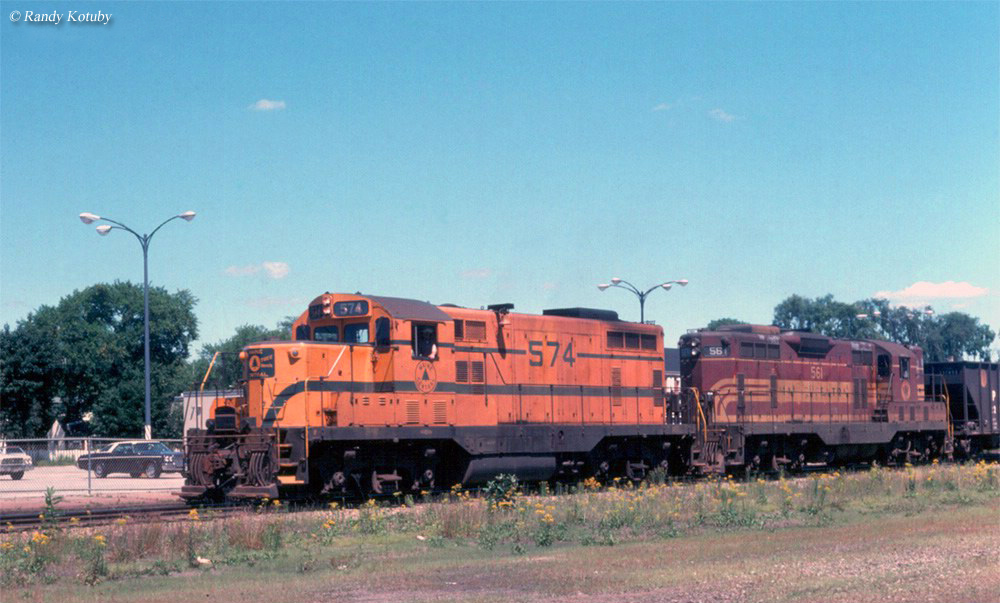 Two GP7s, with low-nose #574 leading and #561 trailing, sport different liveries as they pull a freight train into the Brunswick yard during August of 1978.
Notable Passenger Trains
Bar Harbor Express: (Washington - Ellsworth, Maine)
Down Easter: (New York - Waterville/Rockland, Maine)
The Gull: (Boston - Halifax, Nova Scotia)
Katahdin: (Boston - Bangor)
Kennebec: (Boston - Bangor)
Mountianeer: (Boston - Littleton, New Hampshire)
Penobscot: (Boston - Bangor)
Pine Tree: (Boston - Bangor)
Skipper: (Boston - Bangor)
---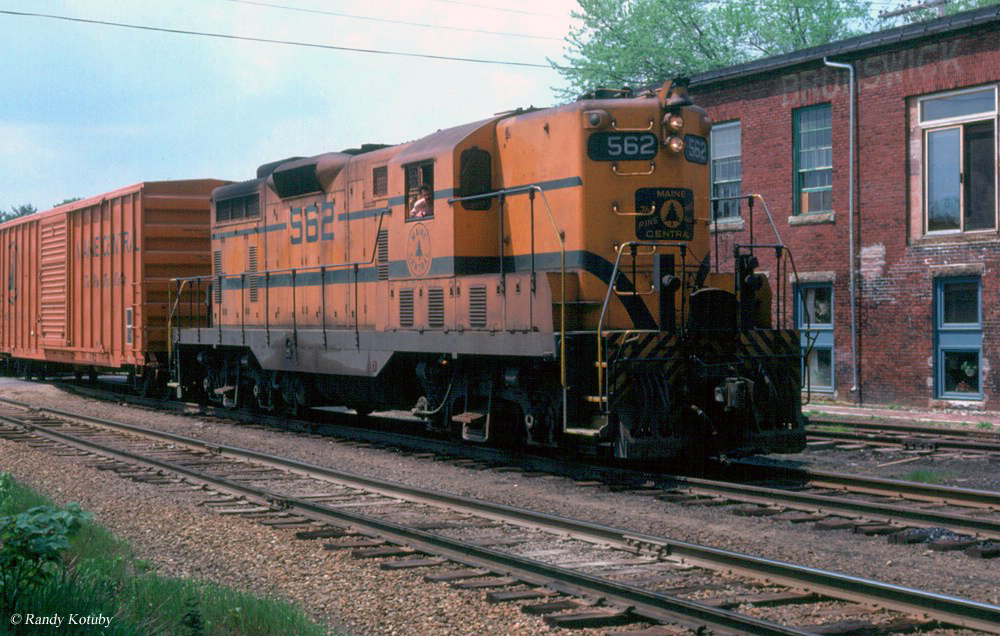 MEC GP7 #562 rolls through Stanwood Street in the Brunswick yard during June of 1981.
For more reading on the MEC consider Mike Schafer's Classic American Railroads Volume III. This book, the latest in the series, was published in 2003 and follows up on his original titles, Classic American Railroads and More Classic American Railroads, both of which cover several fabled and well remembered fallen flags (of which the Maine Central Railroad is covered in the third volume). I own all three in this series and can attest to their high quality, so I am sure you won't be disappointed if you decide to purchase one. If you're interested in perhaps purchasing this book please visit the link below which will take you to ordering information through Amazon.com, the trusted online shopping network.
Adam Burns, Site Author