Even by the end of the 19th-century most cars were still built almost primarily with wood, save for the support structures (such as the center support beam, trucks, and other necessary railroading components) which were made of early steel, which by the mid-1850s had become inexpensive enough to be used in widespread applications within the railroad industry.  However, also around this time also what were known as "heavyweight" passenger cars were introduced, built almost entirely from steel, hence their name. Steel not only allowed the car to be stronger but also reduced the chance that it would so easily catch fire. However, steel was quite heavy and with the advent of lightweight materials in the 1930s, when the streamliner was born, passenger trains became much lighter and cost less to operate just through sheer weight.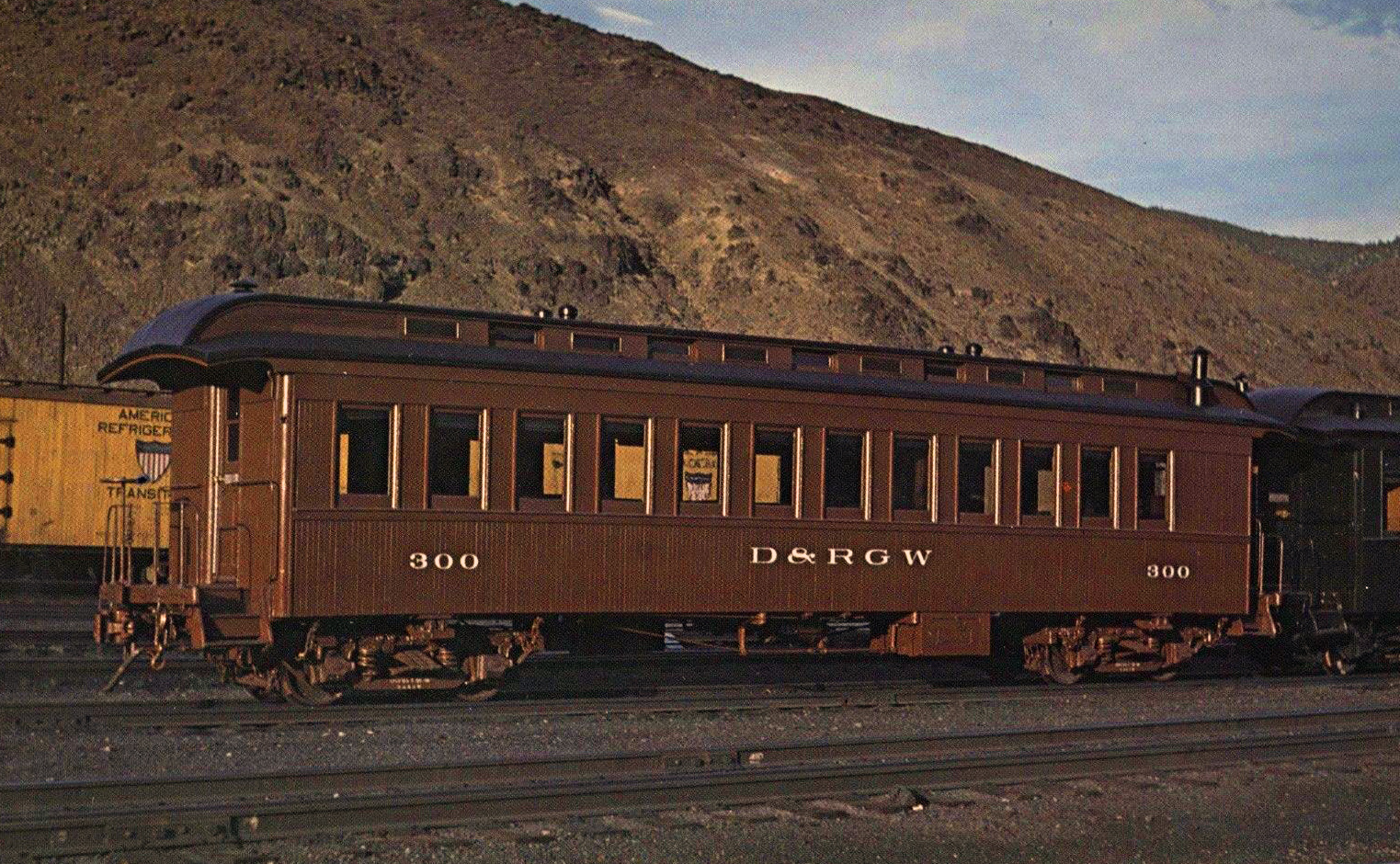 The DRG&W's Rio Grande Zephyr (a truncated version of the original CZ still operated by the railroad) boards passengers at the station in Glenwood Springs, Colorado on May 23, 1977.
The streamliner era of the 1930s saw the most advances in passenger train car construction as company's spared no expense wooing passengers to their trains. Comfort, relaxation, and stunning interior and exterior designs became the norm for a railroad's most prominent passenger train(s). These amazing trains during the 1930 to 1950 era are commonly remembered as the "Golden Age" of passenger railroad travel with sleek streamlined equipment and a round-ended observation car on the rear to complete the look. Many of these were built by the most famous names in manufacturing such as Pullman-Standard and the Budd Company.
Just as a point of reference, all of the passenger car equipment built for railroads through roughly the 1950s is commonly referred by railfans and historians as varnish, an endearing term that gained prominence because of the grand designs, architecture and construction built into the cars. This was especially true prior to the streamliner era when car construction still carried a Victorian style and featured much interior plush and wood designs, often employing the use of master carpenters and woodworkers to complete the work.
Railway Post Office (RPO) Cars
Manufacturers
For more information on cars, types, manufacturers and the history of each please visit the links above. Also, for more information regarding passenger train services currently available around the country please click here.
Amtrak Pacific Surfliner train #583 led by F59PHI #463 is about to board passengers at San Diego on May 3, 2005.
With the advent of Amtrak in 1971 not only did romance of passenger railroad travel slowly lose its appeal (mostly because a decline in the service provided, which had actually been taking place since the 1960s when many railroads began to give up on their passenger train operations) but car construction technology also declined. By the 1970s many of the most famous manufacturers had left the business or were in severe decline, such as Pullman and Budd. Today, Amtrak service has continued to improve but the days of relaxing in a rear observation car or enjoying a five star meal prepared by an on board chef are no more. Hopefully, though, one day these services will return to the public.

Related Reading You Might Enjoy
---
---
Notable Passenger Equipment


Baggage


Coaches


Combines


Diners


Domes


Head End


Lounges


Observation


Railway Post Office (RPO)


Sleepers
Notable Car Manufacturers


Budd Company


Pullman-Stanard
More Reading


Freight Cars


Steam Locomotives


Diesel Locomotives


Electrics, "Motors"


Passenger Travel History


Unforgettable Streamliners


Railway Express Agency, "REA"


Amtrak