Baggage Cars (Trains)

Last revised: June 23, 2023
By: Adam Burns

Baggage cars became a fixture on passenger trains over the years as they almost always rode along directly behind the locomotive(s) so that they could be quickly switched in and out of a train.

In certain cases baggage cars doubled as railway post offices (or RPOs) and because the mail was expedited freight that earned railroads high profit it needed to be switched out and/or delivered as quickly as possible.  
Until the end the baggage remained a staple in the consists of passenger trains, at least the larger runs which survived until Amtrak.  
Today, the national passenger carrier rarely, if ever, uses a baggage since cars like the Superliners are already built with baggage compartments.  
However, numerous examples both pre-20th century and lightweight streamliners of the post-1930 era are preserved around the country.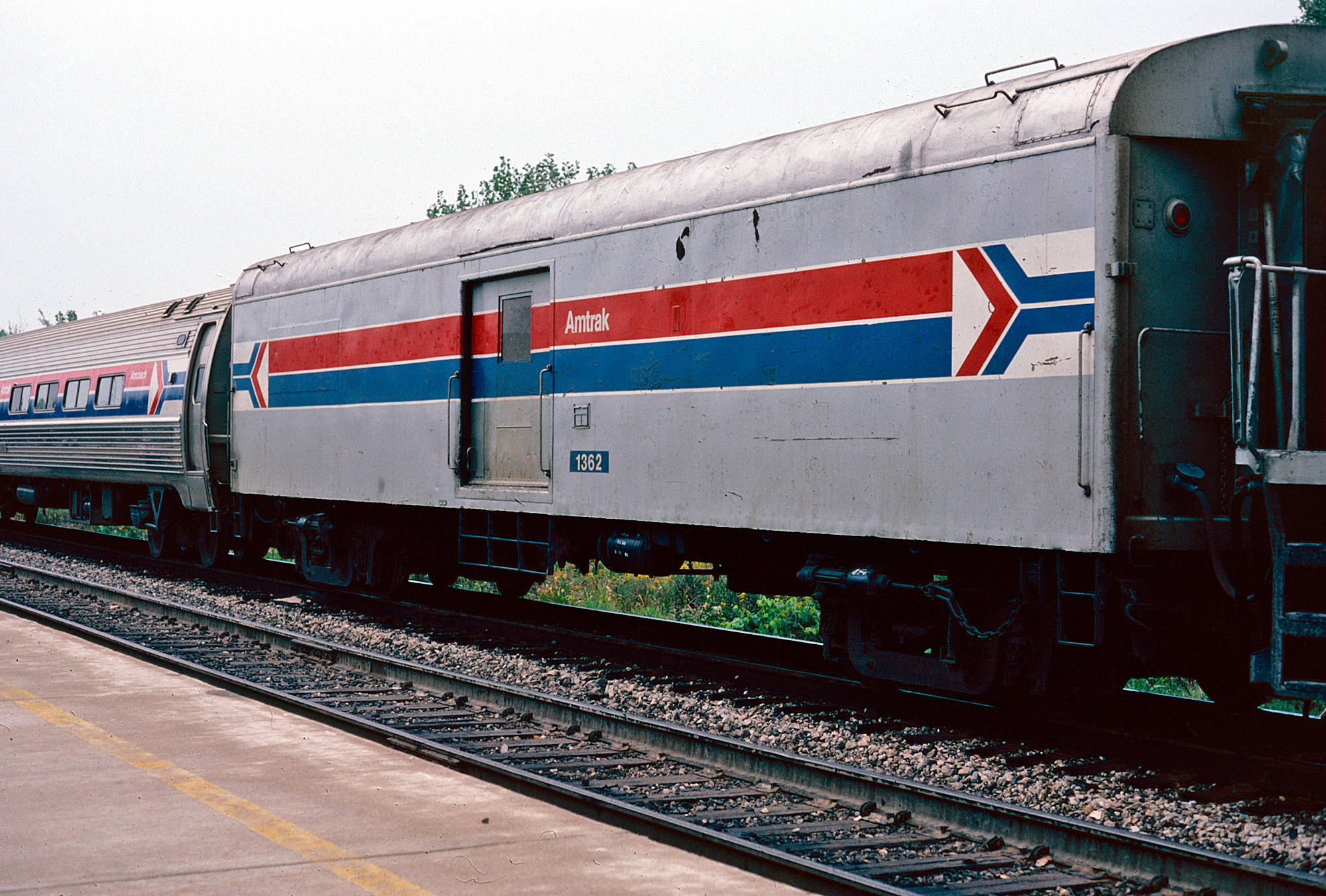 Amtrak baggage car #1632 is seen here in service during September of 1982. This unit was originally built as U.S. Army troop kitchen car #89638. American-Rails.com collection.
You may not be aware of what the baggage car looked like but if you saw it's nearly as recognizable as a caboose with its one (or in some cases two) sliding doors and few windows.
With the government's cancellation of mail by rail contracts in the 1960s and newer types of cars that could store passenger baggage directly the baggage car's role has greatly diminished but still sees limited use under Amtrak today.
Baggage cars were a staple of passenger train consists nearly from the beginning and became common by the second-half of the 19th century.
Because the car was always situated at the front of the train the railroads termed it head-end equipment, which also included the locomotives and other non-passenger consists like mail.
The baggage car's function is rather straightforward as it held the luggage and large items passengers were transporting with them, which were too large or bulky to be carried aboard the train (similar to what one goes through when transporting large items on airplanes today).
Realizing that the size of some items were over-sized and sometimes hard to handle, not to mention any sort of needed items might be placed in baggage the car is instantly recognizable by its one or two large sliding doors at either end.  
However, often times the baggage car pulled double duty as railroads looked to streamline operations and operate passenger trains more cheaply. What was known as a combine car began to appear not long after the baggage car in the latter half of the 19th century.

The combine not only stored passenger baggage but also featured a small section of coach seating for passengers, always at the back-half of the car.
Combines saw a lot of service on small, unnamed trains and/or on light branch lines which were lightly populated and not heavily traveled.  
Aside from carrying passengers a baggage car could also be equipped for other duties as well. It wasn't uncommon to see baggage cars sharing operations with Railway Post Offices, or RPOs.
From the late 1830s when Congress first authorized mail to move exclusively by rail until the mid-20th century virtually all postal letters and packages moved by train and as such railroads operated dedicated equipment for the service, RPO cars (also known as mail or postal cars).
As you may have noticed even a fully dedicated RPO car looks very similar to baggage cars because their original design was based from them (and early on many RPO cars were just converted baggage cars).
And lastly, the baggage car was called upon to handle express shipments and parcels, particularly those of the Railway Express Agency (or REA).
The Railway Express Agency was the way to ship express parcels and goods years ago.
The service and its trademark red diamond sign was a common sight in communities large and small (also well remembered was the company's green delivery trucks and baggage carts), and one could often find REA employed on passenger trains.
The REA was the UPS or FedEx of its day but a loss of its business beginning in the 1950s ultimately led to its bankruptcy in the 1970s.
Today, the Railway Express Agency has long since been relegated to history but its memory and classic logo will likely never be forgotten as an important part of our country's railroading history.

---
At their peak baggage cars became an important part of a passenger train's head-end equipment and during the streamliner era was built to match the rest of the cars in the consist right down to the livery.
However, by the 1960s with passenger rail travel in severe decline and few patrons riding the rails the car had only become another operational liability and expense.
With the cancellation of mail contracts in 1967 and the loss of the REA around the same time the railroads had little need to operate baggage cars or virtually any type of head-end equipment.
Thus, by the time Amtrak took over intercity passenger rail operations in May of 1971 the baggage car's role had been greatly reduced but even today the carrier still operates it on some trains.
Today, if you would like to see what a historic baggage car looks like up close as well as its interior many railroad museums have them preserved.