The Dome Car

Last revised: June 23, 2023
By: Adam Burns

Dome cars could be described as the ultimate traveling experience aboard a passenger train.

Their addition to such famous trains as the California Zephyr and Empire Builder vastly increased their popularity by giving patrons unequaled vistas of the passing scenery of the Rocky Mountains and Pacific Northwest. 
As John White, Jr. notes in, "The American Railroad Passenger Car (Part 1)," the dome car was the most successful postwar attempt to save the passenger train.  Despite its extreme weight and expense it went on to see service on many railroads.
During its early years Amtrak continued to provide dome car service via the used equipment it received from the railroads.  Today, though, that is not the case. 
Photos
In this Great Northern publicity photo, Vista Domes (manufactured by Budd) are seen here operating on the "Empire Builder," as the train rolls downgrade over Marias Pass near Browning, Montana (outside of Glacier National Park) in late May of 1955. Author's collection.
However, they do operate a version of these cars in the way of Superliners, which are double-decked cars that serve in the same function as domes with lounge-seating accommodations on the upper floors to passengers can watch the passing scenery from the highest vantage point.  
Outside of Amtrak various tourist railroads and other groups occasionally operate domes in excursion service.  Finally, the new Pullman Rail Journeys has placed a dome car back in service which runs on select Amtrak trains.
History
Dome cars have their earliest beginnings dating back to the late 19th century.  In his book, "The American Railroad Passenger Car, Part 1," author John H. White, Jr. notes the earliest evidence for a high-level observation platform in a passenger car actually placed into service can be traced back to the Chicago, Burlington & Quincy during the early 1880s in what the railroad described as a "birdcage car."
In 1891, a Canadian, T.J. McBride, patented an observation-sleeper that featured three domes.  The original concept was never built but a version was manufactured by Canadian Pacific's Montreal shops in 1902; three more followed in 1906. 
However, these early designs were not considered a success and it was not until the streamliner era that the car truly came of age. In the mid-1940s Cyrus Osborn, vice president and general manager of General Motors' Electro-Motive Division conceived what he dubbed an "Astra Liner," an example of which was built for display in the spring of 1945.
While this car never entered production, it did catch the eye of Burlington president Ralph Budd who had the Aurora Shops construct a standard stainless-steel, Budd Company coach into a dome coach, featuring a second-floor solarium for an unprecedented 360 degree view of the surrounding landscape.
The dome seated 24 with the lower section comfortably seating another 34 passengers.  It was dubbed the Silver Dome and entered service in July, 1945.  It was an instant hit with CB&Q patrons and the railroad soon ordered 40 additional cars.
In 1947, Pullman was the first manufactured to produce dome cars when it completed four for General Motors' "Train of Tomorrow."  These included dome lounge "Moon Glow", dome diner "Sky View", dome coach "Star Dust", and dome sleeper "Dream Cloud".
They were exhibited at the 1948 and 1949 Chicago Railroad Fair, and then sold to Union Pacific for service between Portland and Seattle.
By the 1950s dome cars were all of the rage and almost all named trains across the country carried some type or design of them.
"Train Of Tomorrow" Domes
Car Length

85 Feet

Dome Length

30 Feet

Seating Capacity

72

Weight

73.5 Tons
Vista-Domes
Vista-Domes became a trademark on passenger trains of the Chicago, Burlington & Quincy and particularly the California Zephyr, which used dome cars almost exclusively so that passengers could be afforded maximum views of their trip through the Rockies and Feather River Canyon.
During the CZ's "Golden Years" between 1949 and 1970 each train was equipped with no less than five of these cars, very uncommon for even the most popular trains of the day.  For even better sightseeing these Vista-Domes were setup in everything from diners to sleepers.
What's more, the train's timetable was arranged in such a way that it always traveled through the most scenic parts of the trip (west through Colorado) during the day so passengers didn't miss a thing at night or while sleeping.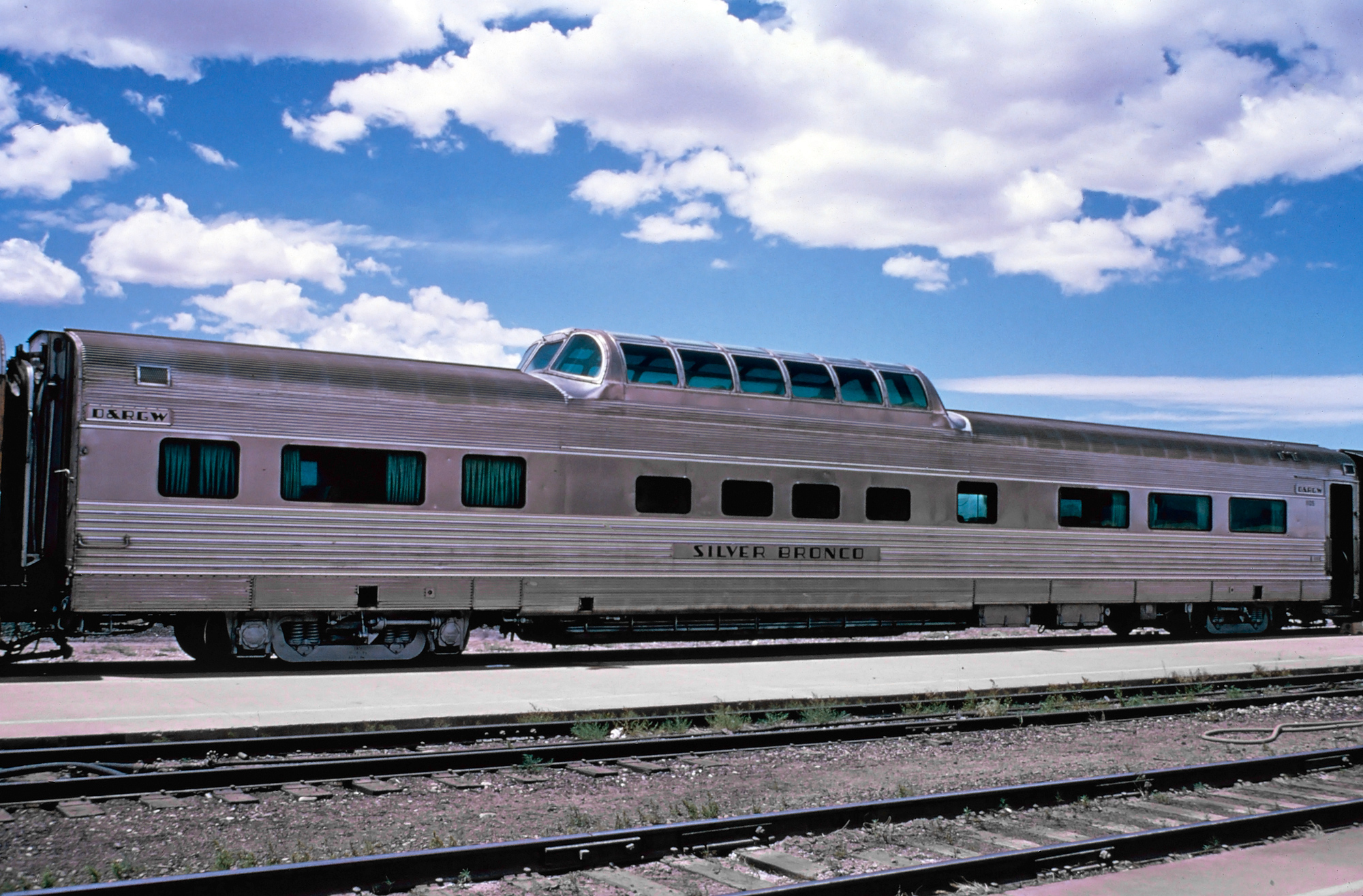 Rio Grande's Vista-Dome coach "Silver Bronco" attached to the "Rio Grande Zephyr" at Grand Junction, Colorado, circa 1975. Robert Eastwood, Jr. photo. American-Rails.com collection.
Strata-Domes
Dome cars were mostly featured on passenger trains of the western railroads due not only to the wide open vistas afforded but also because height restrictions were not an issue.
Back east, it was a different story.  Here, dome cars were rather rare with tunnels situated throughout the Appalachians, in addition to other low obstacles.
One example was the Baltimore & Ohio, which made use of domes quite successfully with their Strata-Domes that debuted in 1949. 
Perhaps the most unique twist on a type of dome car was the Seaboard Air Line's Sun Lounge equipped on its very popular Silver Meteor passenger train.
Built in conjunction with Pullman-Standard the car was not actually a dome but featured a glass roof as dome cars could not navigate through the tunnels along the Potomac River (the train operated as far north as New York City in conjunction with the Pennsylvania Railroad).
Types
In the west virtually every major railroad had its own version of a dome:
Union Pacific operated Domeliners (in which they featured dining services among other things)


Milwaukee Road and Santa Fe used Super Domes


Santa Fe also operated Pleasure Dome lounges and the popular Hi-Level cars on its El Capitan with second floor glass ceilings)


Great Northern had Great Domes


Northern Pacific's aforementioned Vista-Domes (several eastern and western railroads operated the Budd Company's Vistas)

With passenger rail travel waning in the 1960s railroads began to cut back on the service where and when they could.
As a result, save for a railroad's most prominent passenger train(s), most runs that operated dome cars lost the service to curb operating expenses.
Until the end, however, when Amtrak took over intercity passenger rail operations in the spring of 1971 some railroads remained determined to provide top quality service on their trains such as the Rio Grande's then Rio Grande Zephyr, the Santa Fe's Super Chief, and then Burlington Northern's Empire Builder (which used a combination of former NP and GN equipment).

Today, Amtrak has long abandoned the traditional dome cars and replaced them with more utilitarian Superliners, which afford more seating for the same experience.  
---
A Rio Grande "Cable Car Buffet" Vista Dome attached to the final "Rio Grande Zephyr" is seen here at Grand Junction, Colorado on April 23, 1983. Mike Bledsoe photo. American-Rails.com collection.
Outside of the occasional excursions offering original dome car service of special note is the new Pullman services provided by Pullman Rail Journeys, which brings back the classic, bygone era of passenger rail travel in 2013.
Despite being expensive the company spared no expense in once again offering the traveling public a chance to experience a journey over the rails just like it was before Amtrak.