The Norfolk and Western Railway, Precision Transportation

The Norfolk and Western Railway's merger with the Southern Railway in 1982 was quite fitting due to both railroad's similar style of operation; extremely efficient and well managed. The N&W is remembered as one of the most highly respected railroad companies in history and for good reason. Aside from well-managed operations the railroad's property was meticulous and its equipment was always in excellent working order. Of course, operations aside, from a railfan and historical standpoint the railroad is remembered for many other things such as being the last Class I to operate steam locomotives (until 1960), its symbolism with coal, and legendary photographer O. Winston Link whose black and white photos of the railroad's final days of steam are now considered all but priceless works of art (not only for the photography itself but also the historical images captured).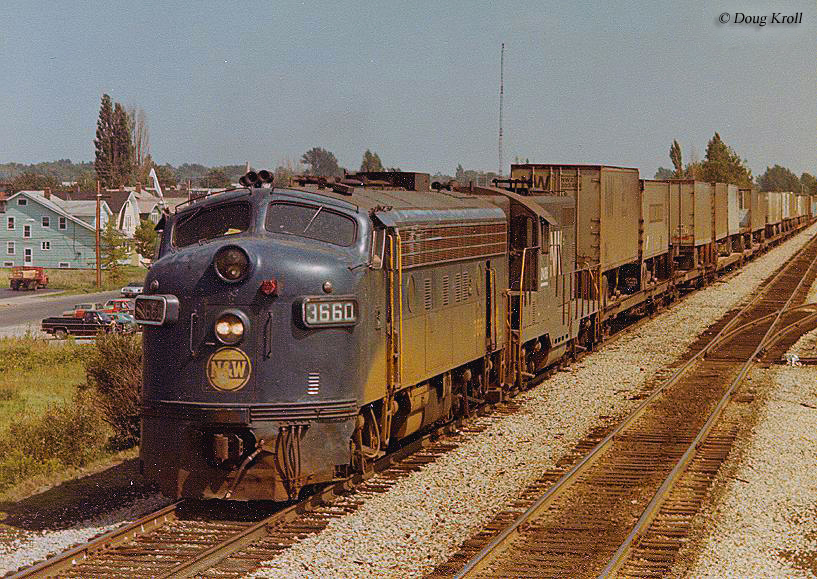 An aging N&W F7A, #3660, is still adorned in the railroad's older blue and gold livery as it leads GP9 #2488 hustling piggyback train ND91 through Buffalo, New York on August 31, 1977.
The N&W originally began life as the Norfolk & Western Railroad before it fell into bankruptcy and emerged as the Norfolk & Western Railway in 1896. Its beginnings date back to 1836 when the State of Virginia chartered the City Point Railroad to build a line between Petersburg and City Point, Virginia. This small line was later purchased by the South Side Railroad and merged with both the Norfolk & Petersburg and Virginia & Tennessee to form the Atlantic, Mississippi & Ohio in 1870.  Together these lines formed the backbone of the modern N&W and stretched from cities such as Petersburg and Lynchburg to Bristol, Virginia.
The formation of the Norfolk & Western occurred in 1881 when the bankrupt AM&O was purchased by the Clark Family.  By the time the Norfolk and Western had entered its second and final reorganization the railroad was already well on its way to reap the rewards brought by black diamonds. Prior to its 1896 reorganization it had built a line into the prosperous coal region around Pocahontas, Virginia (then Hutton, Virginia). By the late 1880s, just a few years after it opened a line into the region the railroad was already hauling over 1 million annual tons of coal from the area.
At its peak the N&W comprised a system stretching from the tidewater port area of Norfolk/Portsmouth, Virginia to Cincinnati and Columbus, Ohio. Along this mostly double-track main line the railroad also had a vast array of branches into the western Virginia and southern West Virginia coal fields with other branches reaching places such as Durham and Winston-Salem, NC; Bristol, TN; Norton, Virginia; and Hagerstown, MD. In all, while it comprised a rather small railroad system of just over 2,000 miles it easily made up for this by its strategic location in Appalachian coal country.  Aside from the N&W's astronomical earnings derived from hauling coal, the railroad was also successful because of its sound management practices. First and foremost the railroad always made sure its physical plant was in top-notch condition, pouring millions annually into maintenance programs. Likewise the N&W was meticulous about keeping its locomotive fleet and equipment in good running order.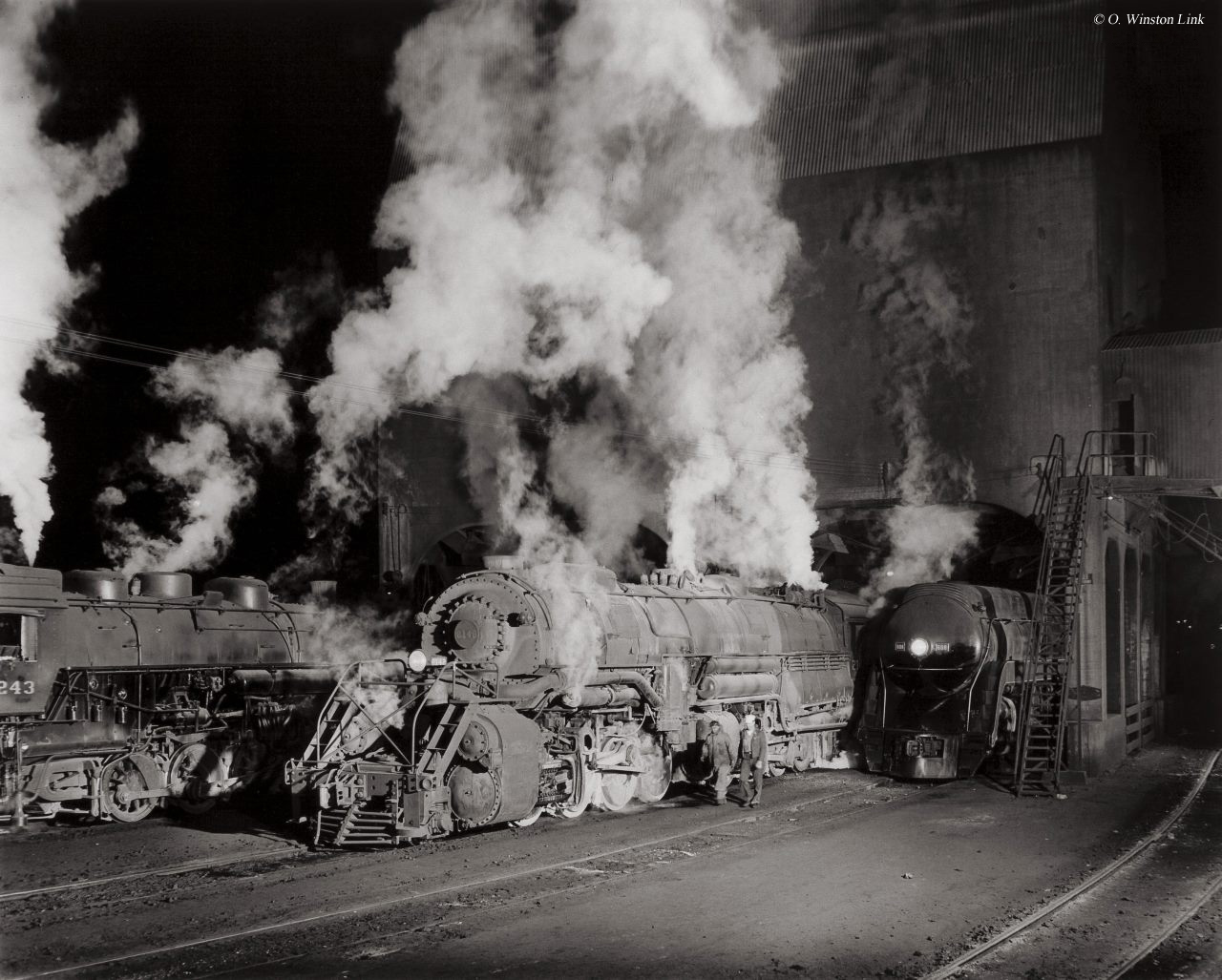 N&W GP38 #4126 heads up an eastbound unit coal train through the old Virginian engine terminal at Mullens, West Virginia as it passes a string of stored GP9s during May of 1982.
Most notable here was the railroad's legendary steam locomotive fleet. With plenty of online fuel for its locomotives and initially unimpressed with diesel's advantages, the N&W maintained a healthy steam roster until the late 1950s and built its last new steamers as late as 1955 (S-1a 0-8-0s)! Because of this dedication to steam (especially long after almost all other Class I railroad had given up in favor of diesels) the N&W obviously had the most technologically advanced such locomotives in the country, which included things such as rolling bearings on wheels and high-capacity boilers. Needless to say, the N&W was the preeminent builder of steam, designing some of the most efficient and powerful ever to roam the rails. It became so adept at the practice that it is said these steamers were just as efficient as the diesels which would replace them. In any event, aside from its mastery of designing steam locomotives the N&W could service its fleet just as fast as today's Class Is' diesels and be ready to go within an hour!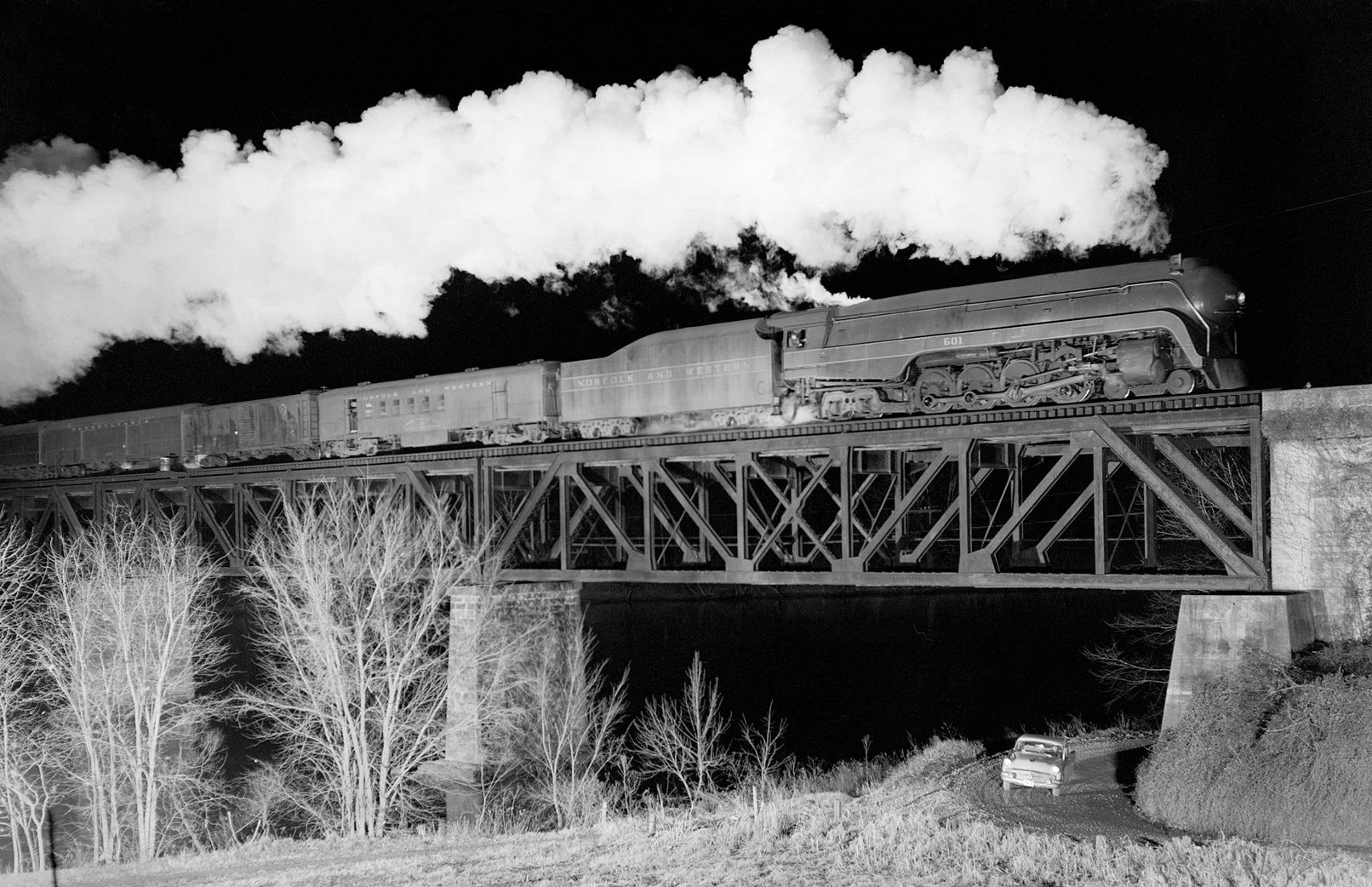 A trio of N&W Geeps led by GP35 #2911 power train ND91 along the former Erie Lackawanna Black Rock Branch through Buffalo on April 9, 1982.
Basically the N&W ran three classes of steam locomotives towards the end, which included the A, J, and Y6; the A-class 2-6-6-4 locomotives carried the railroad's time-sensitive freights across the system, especially the eastern mountainous divisions; the J-class 4-8-4s are perhaps the most famous because of their sleek streamlining applied to carry the railroad's premier passenger trains (as fast as 110-mph in some cases); and finally there was the legendary behemoth 2-8-8-2 Y6-class which were built essentially for one purpose, to haul those black diamonds over the rough mountainous grades.
Although by the mid-1950s the N&W finally realized that diesel locomotives were the future motive power its late steam fleet was memorialized and captured prior to its retirement by renowned photographer O. Winston Link. While there are without doubt many excellent and famous railroad photographers around the country Mr. Link is by far the most celebrated and arguably not only the best in this country but also world-wide. While Link has since passed away his work lives on in the O. Winston Link Museum located in Roanoke, Virginia. If you have a chance I highly recommend visiting the museum, you certainly will not be disappointed!
From a quick look at the N&W's balance sheets it is clear to see that the railroad never focused heavily on its passenger train fleet although it did have a few notable runs such as the Powhatan Arrow and Pocahontas, both of which were streamlined, adorned in a beautiful maroon and gold livery, and pulled by the famous streamlined Js.  Throughout the years the N&W would merge a number of smaller lines into its system including the parallel Virginian Railway in 1959 (which included an electrified main line that was discontinued by the N&W in 1962), the Nickel Plate Road in 1964, and the Wabash Railroad also in 1964 (originally leased).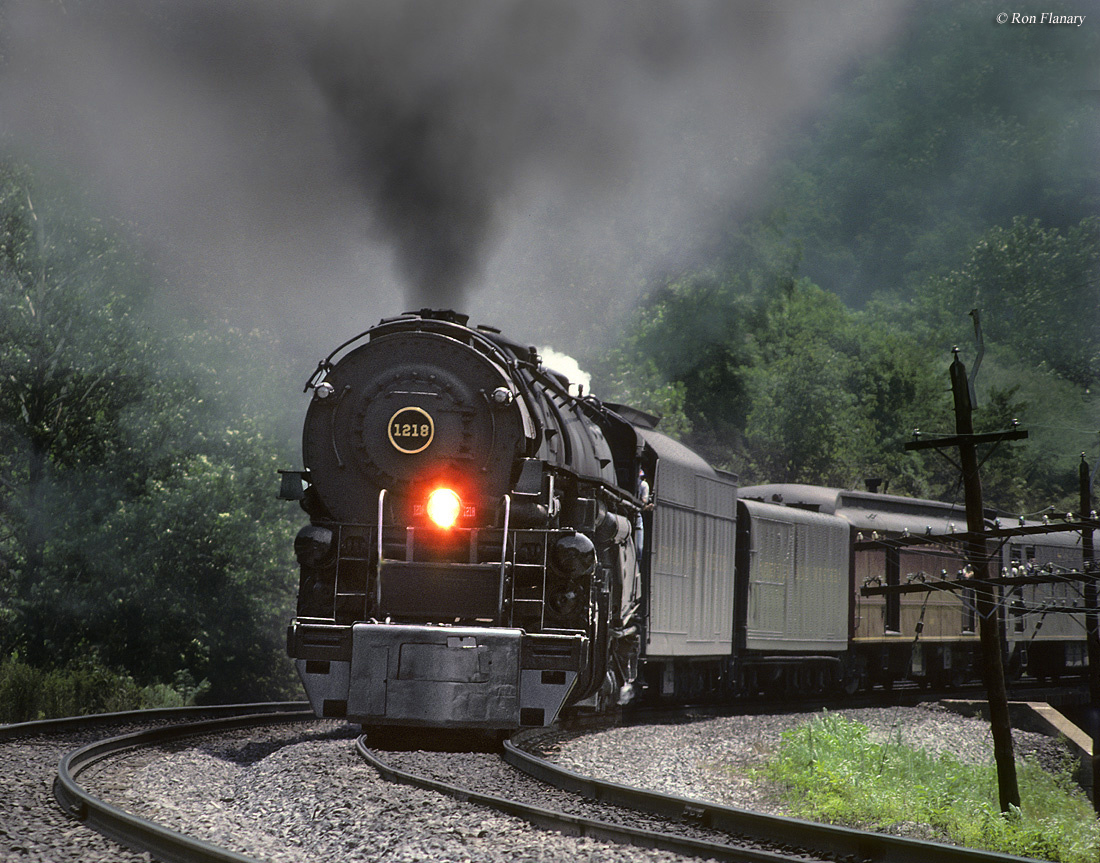 This interesting scene depicts three variations of the N&W's liveries; the lead SD45 wears the standard black, C30-7 #8080 sports a special maroon and gold scheme, and the trailing SD45's old blue/gold scheme peaks through as all three locomotives roll light through the massive yard in Bluefield, West Virginia during October of 1980.
The railroad would also take over the Delaware & Hudson Railway and Erie Lackawanna as part of the 1964 merger agreement including them under the company name of Dereco. Eventually the Norfolk and Western would divest itself of this holding when its parent, the Pennsylvania Railroad (which, for years owned a significant amount of N&W stock) was required to let go of the N&W prior to its disastrous merger with the New York Central. After the Penn Central Corporation and Northeast railroad grid fell into shambles resulting in Conrail's formation in 1976 the EL requested inclusion into the new system and the D&H was spun-off as an independent operation to give a resemblance of competition in the Northeast.
Diesel Locomotive Roster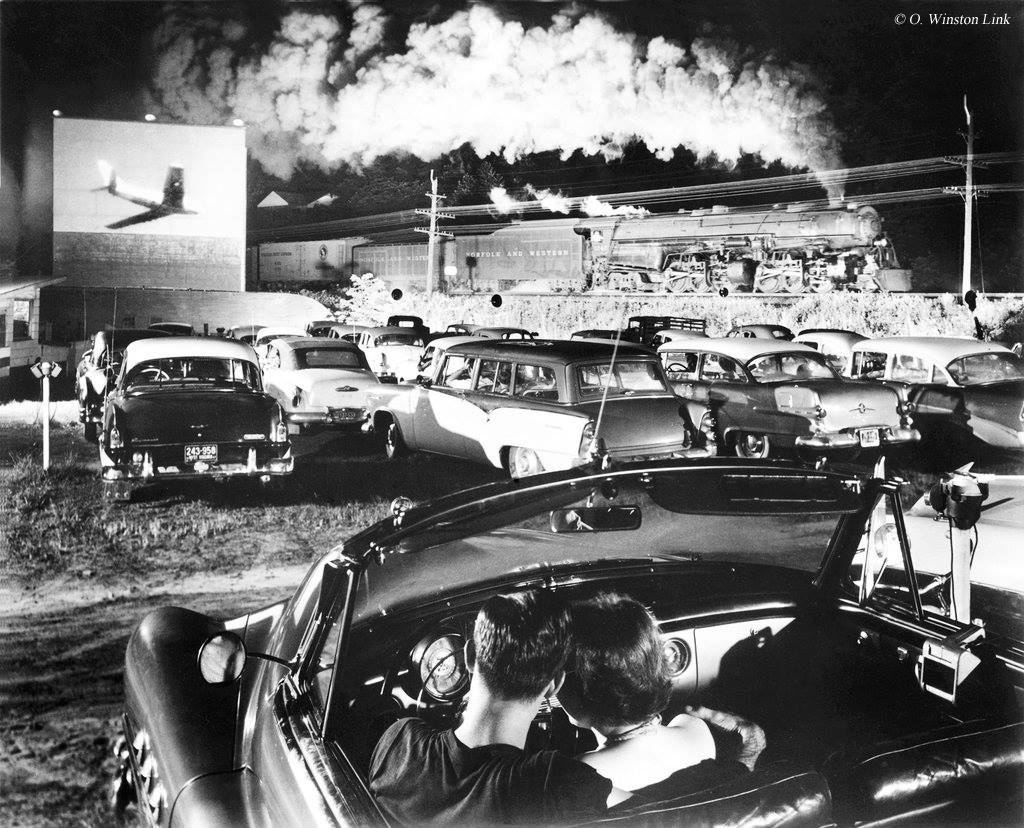 One of the N&W's huge C628s, #1119, is seen here at Hagerstown, Maryland on December 29, 1970. The unit would later be sold to the Chicago & North Western.
The American Locomotive Company
| Model Type | Road Number | Date Built | Quantity |
| --- | --- | --- | --- |
| T6 | 10-49 | 1959 | 40 |
| RS3 | 300-307 | 1955-1956 | 8 |
| RS11 | 308-406 | 1956-1961 | 99 |
| RS36 | 407-412 | 1962 | 6 |
| C420 | 413-420 | 1964 | 8 |
| C425 | 1000-1017 | 1964-1965 | 18 |
| C628 | 1100-1129 | 1965-1966 | 30 |
| C630 | 1130-1139 | 1966-1967 | 10 |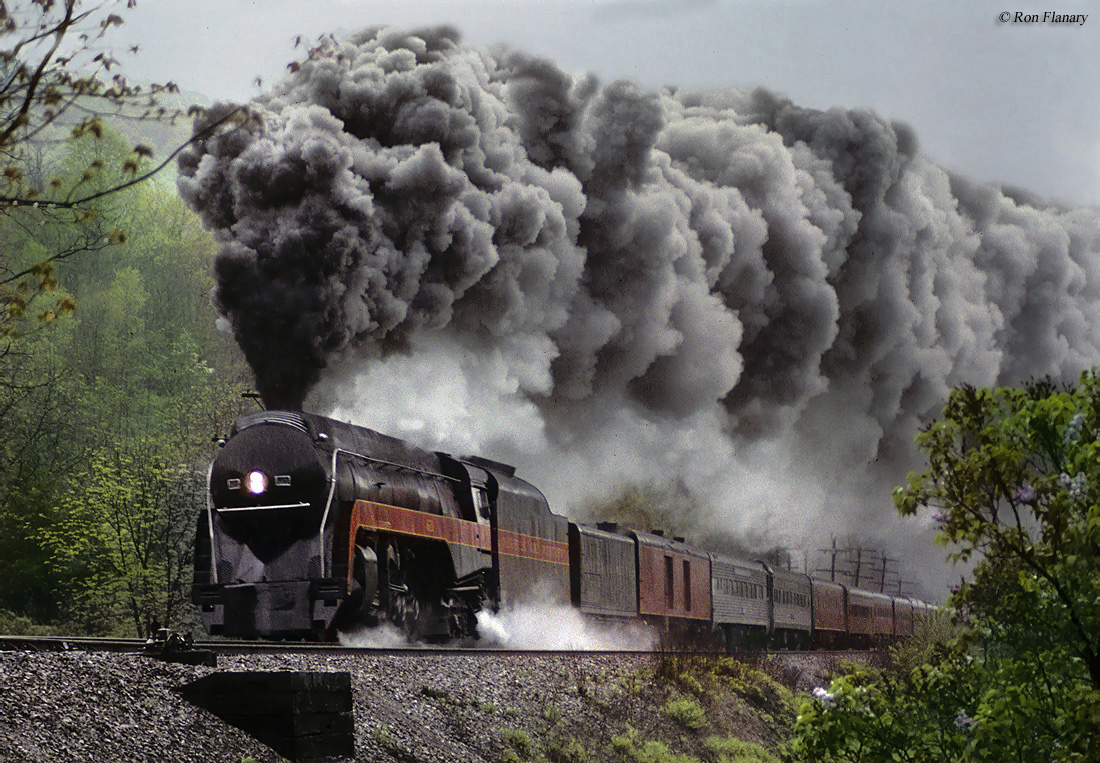 An N&W GP40 and a caboose are at the Wood Street in Chicago on June 11, 1965.
Electro-Motive Division
| Model Type | Road Number | Date Built | Quantity |
| --- | --- | --- | --- |
| GP9 | 10-13, 506-521, 620-699, 714-914 | 1955-1959 | 301 |
| GP35 | 200-239, 1300-1328 | 1963-1965 | 69 |
| GP30 | 522-565 | 1962 | 44 |
| GP18 | 915-962 | 1960-1961 | 48 |
| GP40 | 1329-1388 | 1966-1967 | 60 |
| SD35 | 1500-1579 | 1965 | 80 |
| SD40 | 1580-1624 | 1966-1971 | 45 |
| SD40-2 | 1625-1652, 6073-6207 | 1973-1980 | 163 |
| SD45 | 1700-1814 | 1966-1970 | 115 |
| GP38AC | 4100-4159 | 1971 | 60 |
| SD50S | 6500-6505 | 1980 | 6 |
N&W GP18 #943 leads a string of other Geeps as the motorcade zips their manifest freight through the Virginia countryside during the late 1960s.
General Electric
| Model Type | Road Number | Date Built | Quantity |
| --- | --- | --- | --- |
| U28B | 1900-1929 | 1966 | 30 |
| U30B | 1930-1965, 8465-8539 | 1965 | 111 |
| U25B | 3515 | 1965 | 1 |
| C30-7 | 8003-8082 | 1978-1979 | 80 |
| U30C | 8300-8302 | 1974 | 3 |
| C36-7 | 8500-8530 | 1981-1982 | 31 |
Steam Locomotive Roster
| Class | Type | Wheel Arrangement |
| --- | --- | --- |
| A | Articulated | 2-6-6-4 |
| B, G/1, W2 | Consolidation | 2-8-0 |
| E Through E3 | Pacific | 4-6-2 |
| J | J Class | 4-8-4 |
| J (Early) | Atlantic | 4-4-2 |
| K1 Through K3 | Mountain | 4-8-2 |
| M Through M2 | Twelve-Wheeler | 4-8-0 |
| N, N1 | American | 4-4-0 |
| S1/a | Switcher | 0-8-0, 0-6-0 |
| TE1 | Steam Turbine, "Jawn Henry" | C-C-C-C |
| V1 | Ten-Wheeler | 4-6-0 |
| Y2a, Y3a, Y4, Y5 | Articulated | 2-8-8-2 |
| Z1a, Z1b | Articulated | 2-6-6-2 |
Notable Passenger Trains
Birmingham Special: Operated between New York and Birmingham, Alabama in conjunction with the Pennsylvania Railroad and Southern Railway with the N&W carrying it between Lynchburg and Bristol.
Cannon Ball: Operated between Norfolk and New York in conjunction with the Atlantic Coast Line Railroad and Richmond, Fredericksburg & Potomac with the N&W carrying it between Norfolk and Petersburg.
Cavalier: (Norfolk - Cincinnati)
Pelican: Operated between New York and New Orleans in conjunction with the Pennsylvania Railroad and Southern Railway with the N&W carrying it between Lynchburg and Bristol.
Tennessean:  Operated between New York and Memphis in conjunction with the Pennsylvania Railroad and Southern Railway with the N&W carrying it between Lynchburg and Bristol.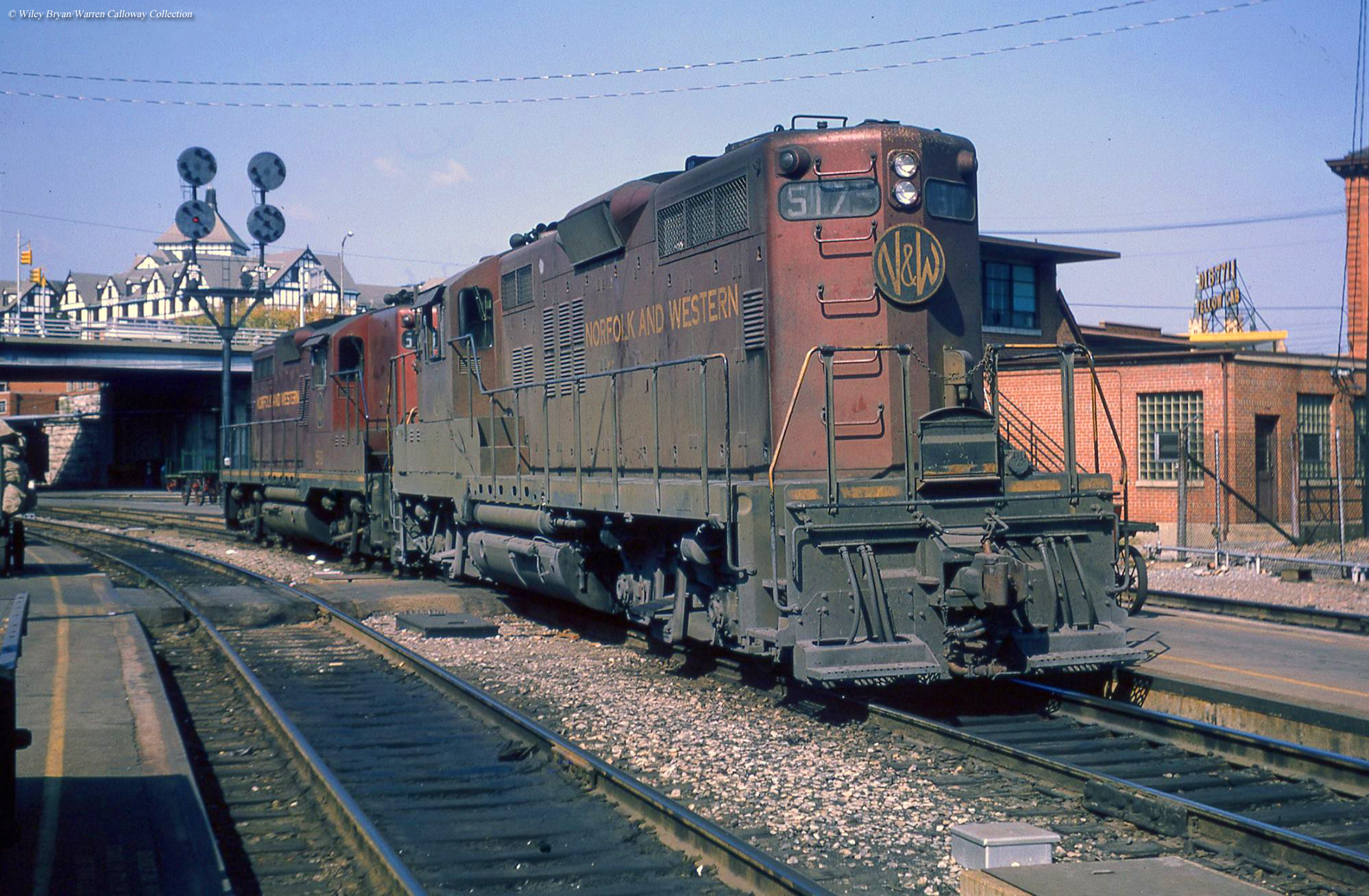 N&W SD40-2 #6078 leads a westbound freight through Bluefield, West Virginia during October of 1983.
For the N&W itself, its end began in 1980 when it, along with the Southern Railway, were dwarfed by the new CSX Transportation system formed between the Chessie System, Seaboard Coast Line, and several other smaller carriers. To counter this new threat the two carriers decided their best chance for survival was to combine their systems, which took place in 1982.  Forming the Norfolk Southern Corporation today, between the mergers of the Southern and Norfolk & Western, NS continues to carry on the fine traditions set by its predecessors and is still renowned for its sound management and business practices, continually being ranked at the top in terms of earnings and low operating ratios across the industry.