Railroad Maintenance, Keeping The Trains Rolling

Maintenance has been an important part of railroading since the industry's birth in the early 19th century. For roughly the first 100 years of their existence railroads relied almost entirely on the hard, back-breaking labor of personnel to keep the tracks, roadbed, and right-of-way (ROW) in operating condition for the trains and the goods they were moving. It wasn't until the early 20th century did the first mechanized equipment come available for railroads to maintain their property. Fast forward to today and one can find all types of equipment for keeping the infrastructure in good condition ranging from ballast cleaners and undercutters to tampers and rail grinders.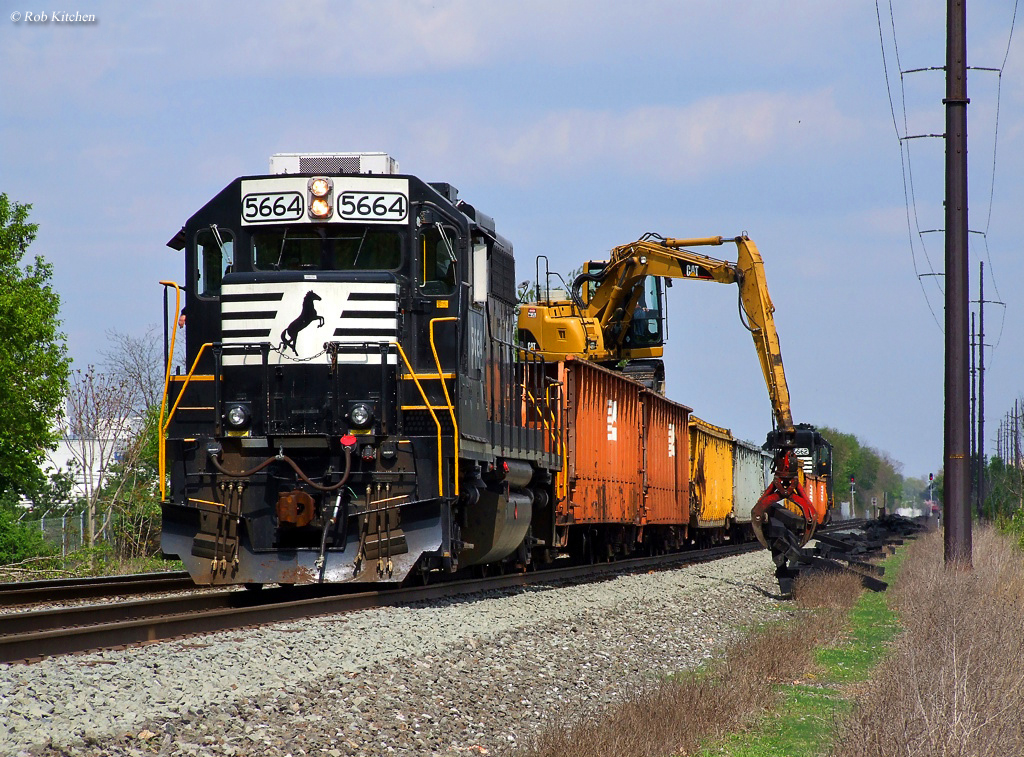 Norfolk Southern GP38-2 #5664 slowly crawls along the main line on track #2 at Hummelstown, Pennsylvania unloading new ties on April 30, 2008.
As amazing as it seems with today's technology, early railroad maintenance was accomplished almost entirely by hand. Equipment like that mentioned above and others such as track geometry cars, regulators, tie relaying machines, spike inserters, tie cranes and many more were but science fiction in the 19th century. Instead, hand tools like picks and sledge hammers were used to get the job done. Laying rail and ballast, replacing railroad ties, and driving spikes was all a very labor intensive task back then, and in some respects still remains the case today.  For years the method employed by railroads to keep a section of railroad maintained was to station a group of employees, literally known as section hands. Their responsibilities and duties along the area in question (usually 10 miles or so) included anything that needed to be done (such as making sure any worn railroad ties were replaced, ditches were doing their job, and that there were no broken or misaligned rails causing a potential derailment).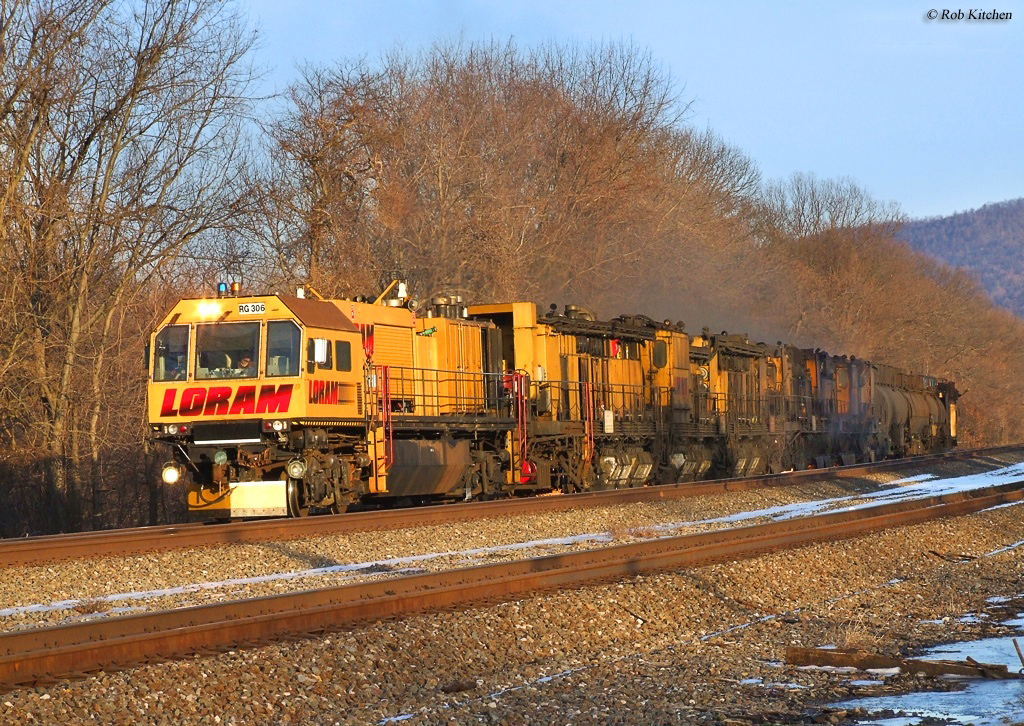 A Loram rail grinder works its way westbound on track #2 of the NS main line at Cove, Pennsylvania on February 16, 2008.
Today, the largest, newest and most impressive types of MOW equipment will almost always be found on the large Class I railroads which includes BNSF Railway, Canadian National Railway, Canadian Pacific Railway, CSX Transportation, Kansas City Southern Railway, Norfolk Southern and Union Pacific. However, smaller railroads also feature a small arsenal of machines and today nearly all railroads will contract out some MOW work.  Some of the most important equipment the industry uses in today's high-tech world is the defect detection cars, which can do things no human can. Using ultrasonic and induction testing methods companies such as Sperry Rail Service are contracted by railroads to find the tiniest of cracks within the rail itself to prevent potential disasters and derailments. And, general maintenance itself is many times also contracted out by railroads to other companies today.
Mechanized RoadBed Machines
Surfacing Machines
Other Equipment
In this section we will explore and highlight the many different types of equipment in use today, which as mentioned above include machines like ballast cleaners, undercutters, tampers, and rail grinders. For more information about these devices, and others, please visit the appropriate link above.
Please Click Here To Return To The Home Page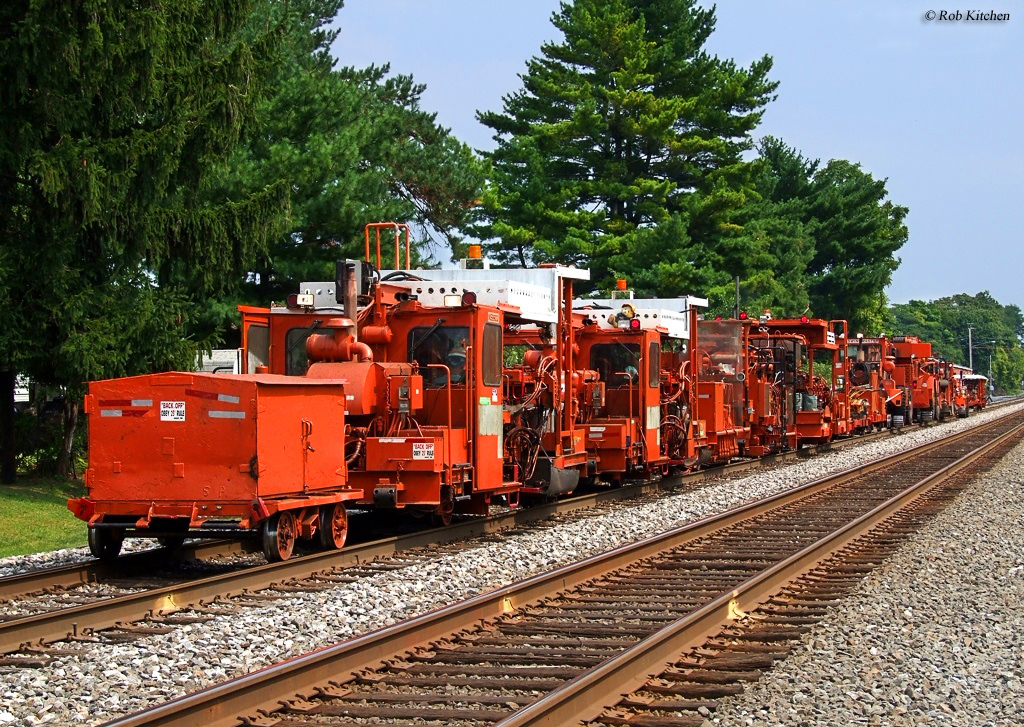 A string of NS MOW equipment known as a rail gang heads westbound at Hummelstown, Pennsylvania to perform track work on September 5, 2007.
As railroad's progress into the future differing components of the infrastructure they use today will almost certainly become historical footnotes, which of course will also include the equipment used to maintain them. This infrastructure generally refers to the components that line or make up the right-of-way such as ballast, ties, track, bridges, tunnels, yards, lineside structures (signs, mileposts, switches, etc.), and even signaling systems (if the line is signaled). To learn more about the important infrastructure which railroad maintenance handles please click here.
Related Reading You May Enjoy