Speeders And Motor Cars

Last revised: March 17, 2023
By: Adam Burns

Railroad speeders, also known as motor cars, were once an integral and important part of railroad maintenance, allowing crews to both inspect their section of railroad as well as transport them to wherever they may be working.

After its inception in the late 19th century the speeder would become a staple on railroads and an important tool of maintenance-of-way crews.
Over the years the machine advanced technologically but overall it remained a rather simple thing, usually no more than five or ten feet in length and able to carry 2 to 4 passengers powered by a small, lawnmower-like engine. 
Eventually, the little contraptions were replaced by today's more economical and useful Hyrail trucks. 
Speeders, however, have not disappeared altogether as many have formed groups and now operate, with permission, trips all across the country along various branches and secondary railroad lines using these unique machines.

A former Lackawanna speeder is seen here on the move somewhere in New York during the early Erie Lackawanna era in April, 1964. Author's collection.
Today, although there are still holdouts here and there, railroads have abandoned the motor car for the versatility of Hyrails.
However, by their very nature speeders have become a very popular hobby and it's not uncommon to see them traveling along tourist lines, abandoned routes (with permission), or [with permission] along short lines.
The classic railroad speeders dates back to around 1893 when the Sheffield Velocipede Company developed a primitive gasoline engine motor car (the company, founded by George Sheffield, had originally been in the business of building velocipedes).
Just a few years after Sheffield developed its early motor car the company was purchased by Fairbanks-Morse (FM), most famous for its line of diesel locomotives years later.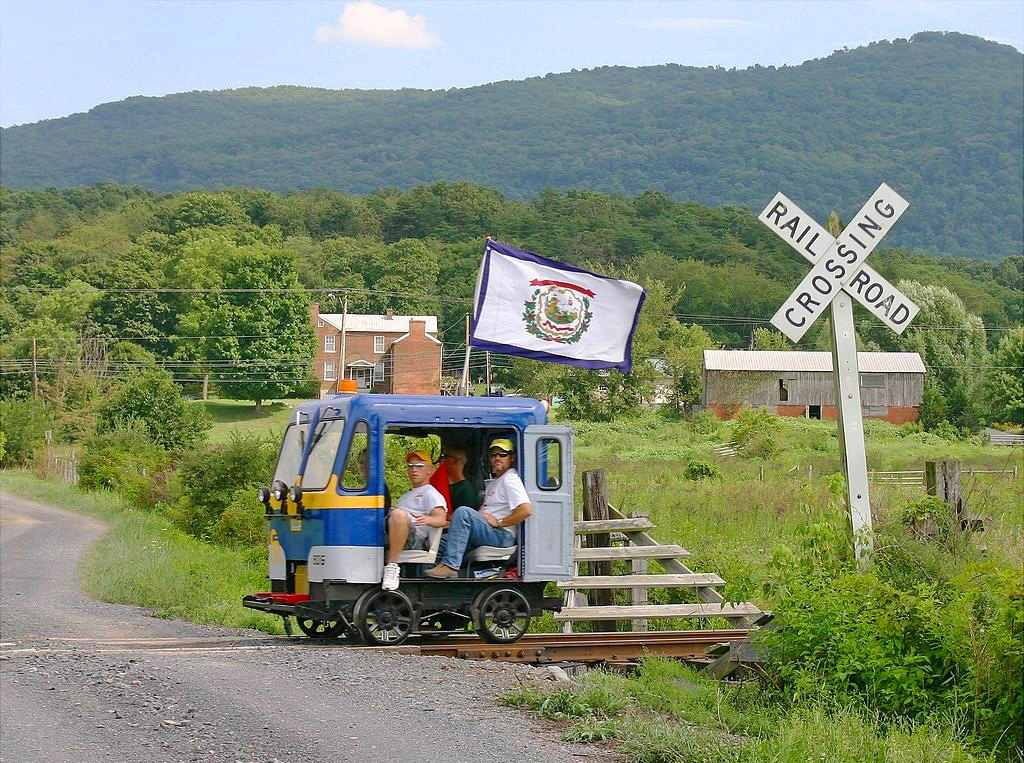 Chesapeake & Ohio speeder #806 zooms along the Potomac Eagle Scenic/South Branch Valley Railroad near bucolic Durgon, West Virginia as part of a NARCOA Special on August 20, 2005. Wade Massie photo.
Like Sheffield's early speeders, FM's designs featured little in the way of amenities outside of its two-stroke, gasoline powered engine.
Over the years FM would go on to catalog a handful of different speeder models, most of which were no more than 5 to 7 feet in length, held two persons, were open-air designs, and weighed just a few hundred pounds.
Only one model, the "No. 16, Type 'C'" actually featured an enclosed cab.  Of all the manufacturers which built speeders over the years unquestionably the Fairmont Gas Engine and Railway Motor Car Company was the most successful and well-known.
For 80 years between 1911 and 1991 Fairmont built speeders, around 73,000 of them and even today these they can be seen in use, particularly by hobbyists which prefer them over other models. 
Fairmont's early railroad speeders were similar to FM's in that they offered little in the way of amenities.
However, almost all of Fairmont's models featured cabs to keep crews out of the elements and their easy maintenance made them favorites among both crews and railroads.
Early Fairmont models featured a standard two-stroke gas engine, fixed transmission (although later models corrected this by featuring a belt drive).
Interestingly, the design was so basic that to put it in reverse one simply had to adjust the on-board sparkplug (although their simplicity endeared them to crews, some of which preferred the older models over newer ones).

Because crews enjoyed the older designs Fairmont continued to produce them, such as the M-9 model, which was one of the oldest designs the company manufactured for years.
Later models featured a four-stroke engine and varied in size to accommodate needed crew space, some of which held anywhere between 4 to 6 individuals.
One of Fairmont's unique models was the FT, which featured an air-cooled (instead of the traditional water-cooled models), opposed-piston engine and featured amenities like heat, cushioned seats and a totally enclosed cab. 
Overall, Fairmont's models did not change much over the years and stayed mostly the same save for their crew size and amenities with most models able to cruise down the tracks between 25 and 40 mph.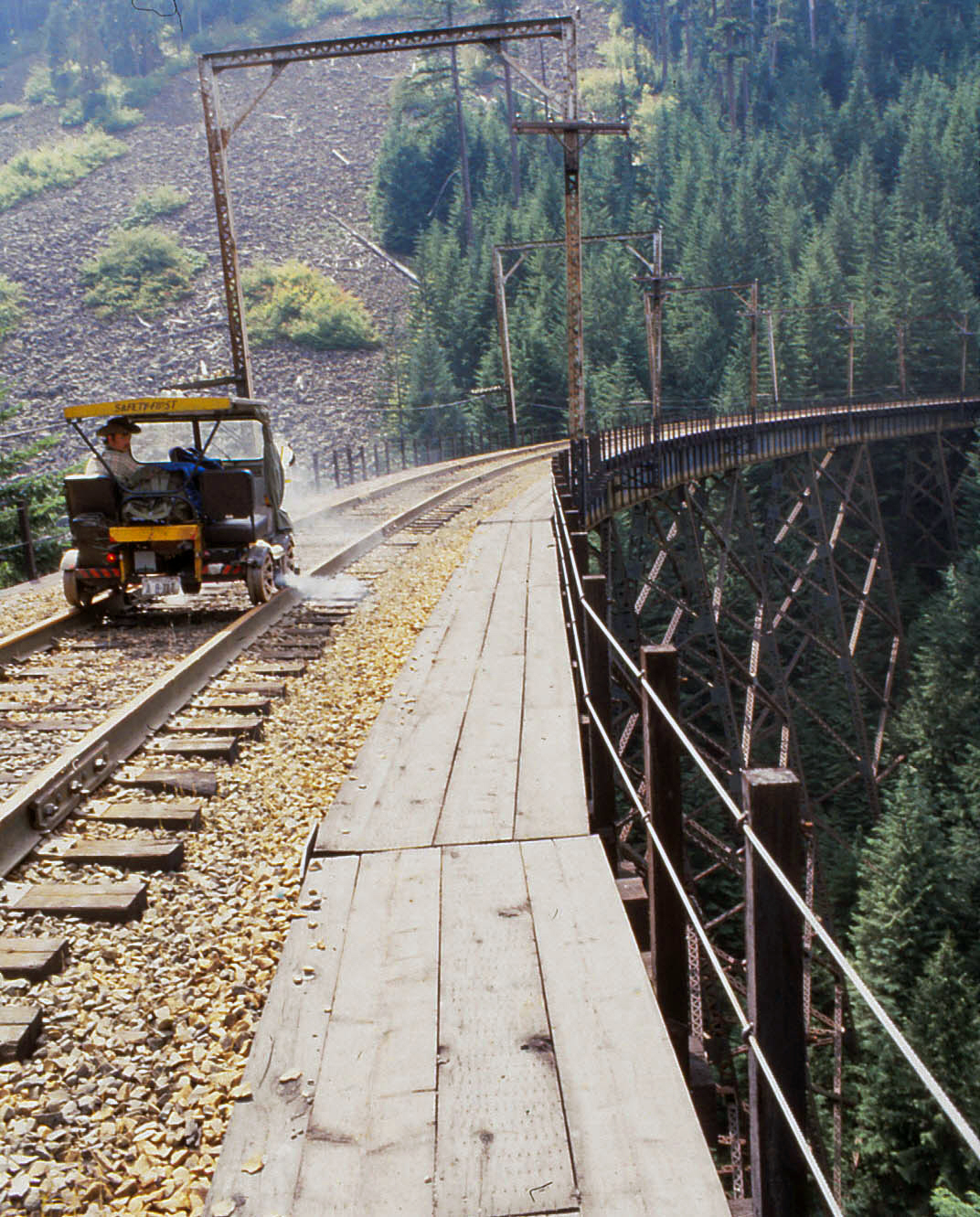 On the Milwaukee Road's Snoqualmie Pass in August of 1980, part of a speeder trip undertaken by Alan Freed and Chuck Bothwell. To view more photos please click here.
When railroad speeders became a stable of a railroad's maintenance department they were ideal for crews to inspect track while rolling along or transport them to a desired location (and in some cases spot for a trailing train if the line was poorly maintained or prone to rock/mudslides). 
However, as highways, roads, and automobiles became better constructed railroads now had the versatility to use utility trucks and cars (which could carry much more equipment and tools than a speeder) to not only drive to a location but also come equipped with rail wheels (known as Hyrails) to inspect the line.
---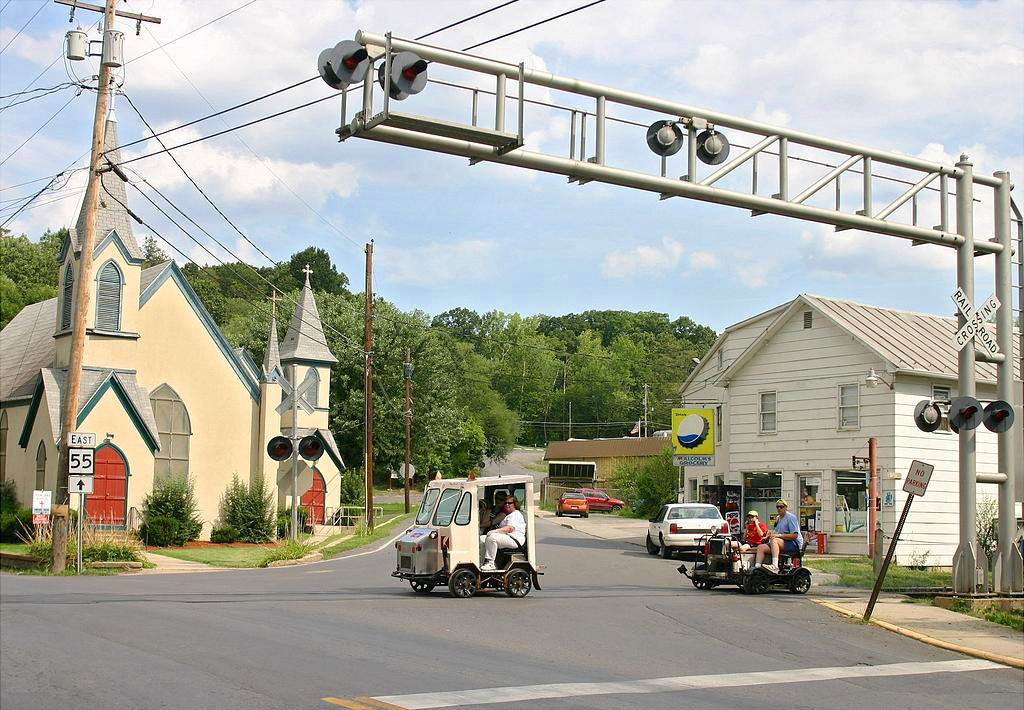 During the aforementioned NARCOA Special speeders roll through the grade crossing at Moorefield, West Virginia. Wade Massie photo.
With this versatility railroads no longer needed to either maintain speeders or the sheds they were located in and today most have abandoned them for Hyrails.
However, not only can still find a few holdouts working in the capacity they were originally intended but also collectors have made them a highly popular hobby today whereby if you own a motor car you can join the American Railcar Operators Association (NARCOA) and take excursions on rail lines across the country.
Some folks restored their speeders with amenities far beyond what the original manufacturer include with them and the hobby is quite addicting, allowing one to basically take their own, private rail excursion trip for almost nothing (save for the cost of NARCOA membership, and transport).