Shoulder Cleaners (Railroad)

Last revised: March 17, 2023
By: Adam Burns

Shoulder, or ballast cleaners are complicated looking machines that perform a basic but very important task, keeping ballast free from debris and dirt so it can most efficiently drain water away from the track structure (ties and rails). 

As their name implies, the machines were developed as a means to more efficiently clean ballast (a slow and tedious task that required nothing but manpower and muscle until then), the gravel foundation of the track structure. 
This rock not only offers support but as mentioned above also drains water away from the rails. 
Early shoulder cleaners date back to the steam era and interestingly they haven't really changed all that much over the decades, although today they are somewhat larger, more efficient, much more advanced (manufactured by names like Loram and Plasser American), and of course no longer rely on steam power.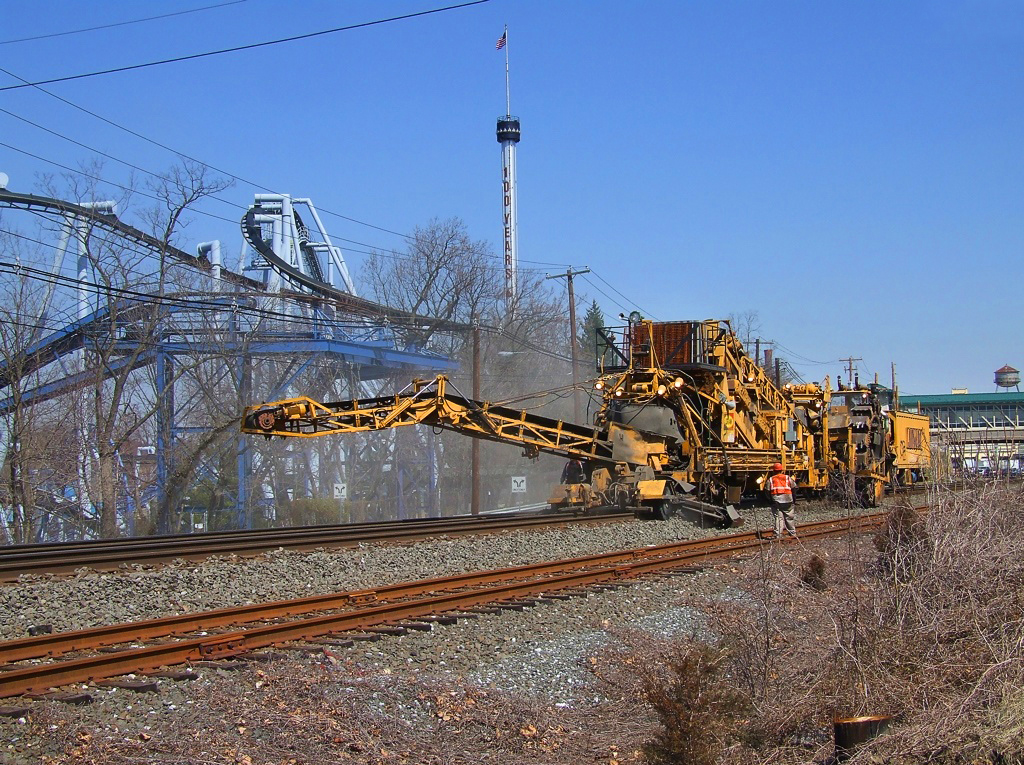 With no rail traffic at the moment a Loram ballast cleaner works track #2 of the Norfolk Southern main line at Hershey, Pennsylvania on March 25, 2008. Rob Kitchen photo.
Prior to the coming of shoulder cleaners railroads relied entirely on manual labor to keep ballast clean. To do so an army of workers would shovel up the gravel and place it in large sieves to remove the dirt and debris.
You can imagine how time consuming this process was and it wasn't long before railroads began looking for a better way to accomplish the task.
If you are unfamiliar with what ballast is it is another important part of railroad infrastructure, and usually comes in the form of crushed stone. 
Although it may just look like plain ole gravel this stone plays a vital role in acting as a support base for the ties and rails as well as allowing for proper drainage of water away from the rails (which is why the stone is always sloped downward and away from track).
You may be wondering how such a term came to define the stone which supports the track structure. Interestingly, it has its roots dating back to early times when stone was used as ballasting for sailing ships.
Of course, while crushed stone (often limestone or quartz) is the aggregate of choice for today's railroads in years past everything from slag to cinders has been used (always resourceful years ago railroads would use whatever they could find).
Some light density branch lines would appear jet black as nothing but burnt coal cinders were used to ballast the route. 
The newest mechanical ballast cleaners of today typically work by removing the soiled stones about 2 to 3 feet away from the ties and roughly six inches below the track getting as close to the ties as possible without possibly damaging them.
By doing this shoulder cleaners can usually reach about 30 or 40% of the ballast, leaving of course that which is under the ties and rails.
However, railroads are willing to accept this as cleaning the ballast along the rails most effectively restores proper drainage to the track structure by allowing the silt and debris caught up under and around the ties and rails to then wash away. 
The amount of ballast which can be cleaned depends on what the machine's trailing hoppers can hold. If it wasn't for this fact ballast cleaners could work indefinitely, rumbling along at just 1 or 2 mph scooping up material.
In any event, once the hoppers are full work must be stopped until they are emptied and returned on site.
While railroads sometimes still do ballast work themselves (and will even build their own custom-made equipment, something the Southern Railway was famous for) often times today they will contract it out to companies like Loram, which also does a number of other maintenance jobs like undercutting, ditching, and rail grinding.
In this scene during the New York Central era, a shoulder cleaner is at work in April, 1965. Author's collection.
Shoulder cleaners, however, cannot always be used. Once the crushed stone making up the ballast structure has broken down too much to be effective any longer railroads must replace it.
To accomplish this task a another piece of equipment known as an undercutter is called in. This hefty machine is somewhat similar in appearance to a ballast cleaner.
However, instead of cleaning the stone it scopes it up to be replaced. Undercutters are just one more arsenal in maintaining the track structure, the other notable machine being the massive ditch digging equipment.

---
On the same day pictured in the top two photos the cleaner awaits eastbound freight 33A to pass on track #1, led by C40-8W #8399 still clad in Conrail paint. Rob Kitchen photo.
For more reading about shoulder cleaners you may want to consider the book Railway Maintenance Equipment: The Men and Machines That Keep the Railroads Running from noted author Brian Solomon.
Throughout the book's 128 pages Solomon covers all types of maintenance equipment from tampers and undercutters to Jordan Spreaders and rotary snow plows.
I own this book myself and have used it as reference material for this site many times. It's a great read on an often little understood area of railroading.