The New Haven Railroad's predominant predecessors were the Hartford & New Haven Railroad and the New York & New Haven. The H&NH had its beginnings in 1833 and connected New Haven, Connecticut with Springfield, Connecticut (via Hartford). The NY&NH was built to connect its two namesake cities. Naturally operating so close to one another these two lines became rivals although ironically they would merge in 1872 to form the historic New York, New Haven and Hartford Railroad.  From this point the NYNH&H would continue to expand its system purchasing other smaller lines, eventually stretching out across most of Connecticut, Rhode Island, and southern Massachusetts (along with serving NYC, of course, it reached cities such as Poughkeepsie, Pittsfield, Waterbury, Worcester, New Bedford, and the southeastern coastline of Massachusetts along Nantucket Sound).
Related Reading And Surrounding New England Railroads
The Sweeping Poughkeepsie Bridge, An Important Interchange Connection 

New York City's Hell Gate Bridge, Providing New Haven Access To Manhattan 
Boston & Maine, "Route Of The Minute Man" 

Central Railroad of New Jersey, "The Big Little Railroad"

Central Vermont, "The Green Mountain Route" 

Erie Lackawanna, "The Friendly Service Route" 

Lehigh & Hudson River, "The Bridge Route"

Lehigh & New England, "Industry's Freight Route" 

New York, Ontario & Western, "Route Of The Mountaineer"

Rutland Railroad, "The Green Mountain Gateway" 

New Haven's Many Passenger Services
Bankers: (New York - Springfield)

Bar Harbor Express: (Washington - Ellsworth, Maine)
Bay State: (New York - Boston)
Berkshires: (New York - Pittsfield)
Bostonian: (New York - Boston)
Colonial: (New York - Philadelphia)
Commander: (New York - Boston)
Day Cape Codder: (New York - Hyannis/Woods Hole)
Day White Mountains: (New York - Berlin, New Hampshire)
East Wind:  (Washington - Bangor, Maine)
Federal: (New York - Philadelphia)
Forty-Second Street: (New York - Boston)
Gilt Edge: (New York - Boston)
Hell Gate Express: (New York - Boston)
Merchants Limited: (New York - Boston)
Montrealer/Washingtonian: (Washington - New York - Montreal)
Murray Hill: (New York - Boston)
Narragansett: (New York - Boston)
Nathan Hale: (New York - Springfield)
Naugatuck: (New York - Winsted)
New Yorker: (New York - Boston)
Night Cap: (New York - Stamford, Connecticut)
Owl: (New York - Boston)
Patriot: (New York - Philadelphia)
Pilgrim: (New York - Philadelphia)
Puritan: (New York - Boston)
Quaker: (New York - Philadelphia)
Roger Williams: (New York - Boston)
Senator: (New York - Philadelphia)
Shoreliner: (New York - Boston)
State of Maine: (New York - Portland, Maine)
William Penn: (New York - Philadelphia)
Yankee Clipper: (New York - Boston)
The NYNH&H's strength was in its ability to haul thousands of passengers and commuters along its high speed main line between New York and Boston (which continues to this day), and points in between. While the railroad did have a strong presence hauling freight, especially during the early 20th century, it also had a very strong passenger/commuter market because of the fact that it offered the only direct Boston-New York rail connection (and it naturally marketed this quite heavily).  While the railroad did have a few bankruptcies over the years it did well through the first part of the 20th century. In terms of freight the biggest problem for the railroad was the fact that it served markets extremely close to together, the result of which was short-haul freight, something not very profitable (typically, the longer haul, the more profitable).  

Through World War II, following its bankruptcy during the Great Depression era, the NYNH&H did quite well under the guidance of Howard Palmer, who did away with unprofitable ventures (such as its steamship and bus services) and quickly switched to diesel and electric locomotive operation in place of steam locomotives.  However, following the 1948 takeover of the company by Frederic Dumaine and Patrick McGinnis, the New Haven had little hope of ever remaining profitable again.  Under their "pencil pusher" leadership they slashed costs wherever possible (taking this to extremes whereby it hurt the company more than it helped), cut down the work force laying off even the most veteran workers, and began deferring maintenance to save costs.
Such tactics typically only work for a short period of time and it did not take the deferred maintenance and other "cost savings" ideas long to begin to affect the railroad in a negative way.  In 1956 the railroad directors had had enough of the McGinnis and Dumaine leadership and replaced them with George Alpert. However, along with the failed ideas of the previous leadership, a freight and passenger market that was drying up, and a Northeast rail market that was too heavily populated to support all of the railroads in place Alpert had a very hard time keeping the railroad profitable and the New Haven went bankrupt in 1961.

This was essentially the end for the NYNH&H. Seeing no future means of profitability the directors of the railroad felt merger was the only option and began looking at such an idea. With the Penn Central merger itself looming just ahead between the Pennsylvania and New York Central the ICC decided that it would be best for the NYNH&H to be included into the merger as well.  Unfortunately, aside from the fact that the Penn Central was not only unplanned but also entirely a bad idea, both the NYC and PRR were in no shape to take on a railroad as destitute as both were, particularly a marginal carrier like the NYNH&H.
On merger day chaos ensued and the new PC literally began to fall apart from the very beginning. To make matters worse the NYC and PRR could not have had more opposite corporate cultures. The management of the New York Central System was more laid back, open to new ideas, and the chain of command was "loose" so to speak (one reason for its renewed success in the 1950s under Pearlman) whereas the PRR was extremely strict, new ideas were shunned and looked down on (the railroad was still using practices that had been out-dated since the 19th century!), and orders came down through the chain of command. Naturally, then, these two management teams did not get along at all and pure hell and pandemonium resulted across the entire system.
The PC was losing over $1 million a day and trains were becoming lost throughout the system, as dispatchers were not properly trained on how to dispatch their trains. To make matters worse as the red ink began to become an unstoppable flash flood maintenance was deferred and derailments became the norm with large sections of main line reduced to 10 mph slow orders.
After only two years of operation and financial assistance completely gone, the destitute Penn Central officially declared bankruptcy on June 21, 1970. The result of this was a ripple effect throughout the entire Northeast, as other railroads, which depended on the PC to ferry traffic, no longer had a means to move their freight. It became so bad that the Penn Central was facing total shutdown if financial assistance, any means of help at all, were not located.
Realizing the severity of the situation the federal government stepped and setup the Consolidated Rail Corporation, which comprised the skeletons of several bankrupt Northeastern carriers, and began operations on April 1, 1976. With federal backing Conrail began to slowly pull out of the red ink (it took many years) and by the late 1980s was a profitable railroad after thousands of miles of access trackage was abandoned and/or upgraded.
Today the New Haven Railroad main line continues to be an important link to both freight and passengers between Boston and New York, especially Amtrak where the line is part of the carrier's Northeast Corridor (or NEC for short). On an even brighter note the old "McGinnis" livery (perhaps the best thing to come from his leadership) has reemerged under the Connecticut Department of Transportation local commuter service operations. Certainly something worth seeing if you are in the area! 
Diesel Locomotive Roster
The American Locomotive Company

| Model Type | Road Number | Date Built | Quantity |
| --- | --- | --- | --- |
| FA-1 | 0400-0429 | 1947 | 30 |
| FB-1 | 0450-0464 | 1947 | 15 |
| S2 | 0600-0621 | 1944 | 22 |
| RS1 | 0660-0671 | 1948 | 12 |
| DL-109 | 0700-0759 | 1942-1945 | 60 |
| HH-600 | 0911-0920 | 1937-1938 | 10 |
| HH-660 | 0921-0930 | 1940 | 10 |
| FB-2 | 465-469 | 1951 | 5 |
| RS2 | 500-516 | 1947-1948 | 17 |
| RS3 | 517-561 | 1950-1952 | 45 |
| PA-1 | 760-786 | 1948-1949 | 27 |
| S1 | 931-995 | 1941-1949 | 65 |
| RS11 | 1400-1414 | 1956 | 15 |
| C425 | 2550-2559 | 1964-1965 | 10 |
Baldwin-Lima-Hamilton

| Model Type | Road Number | Date Built | Quantity |
| --- | --- | --- | --- |
| LS-1200 | 630-639 | 1950 | 10 |
| RP-210 | 3000-3001 | 1956 | 2 |
Electro-Motive Division
| Model Type | Road Number | Date Built | Quantity |
| --- | --- | --- | --- |
| SW1200 | 640-659 | 1956 | 20 |
| GP9 | 1200-1229 | 1956 | 30 |
| FL9 | 2000-2059 | 1957-1960 | 60 |
Fairbanks Morse
| Model Type | Road Number | Date Built | Quantity |
| --- | --- | --- | --- |
| H16-44 | 560-569, 1600-1614 | 1950, 1956 | 25 |
| CPA24-5 (C-Liner) | 792-799 | 1952 | 8 |
| P12-42 | 3100-3101 | 1957 | 2 |
General Electric
| Model Type | Road Number | Date Built | Quantity |
| --- | --- | --- | --- |
| 44-Tonner | 0800-0818 | 1941, 1945 | 19 |
| U25B | 2500-2525 | 1964-1965 | 26 |
Steam Locomotive Roster
| Class | Type | Wheel Arrangement |
| --- | --- | --- |
| A-1 Through A-3 (Various) | American | 4-4-0 |
| B-1 Through B-4 (Various) | American | 4-4-0 |
| C-1a Through C-22 (Various) | American | 4-4-0 |
| D-1 Through D-17 (Various) | American | 4-4-0 |
| E-1 Through E-15 | American | 4-4-0 |
| F-1 | Atlantic | 4-4-2 |
| F-3, F-5, P-1 Through P-5 (Various) | Consolidation | 2-8-0 |
| G-1 Through G-4 (Various) | Ten-Wheeler | 4-6-0 |
| H-1 Through H-4 | Ten-Wheeler | 4-6-0 |
| I-1 Through I-4/e/f | Pacific | 4-6-2 |
| I-5 | Hudson | 4-6-4 |
| J-1, J-2 | Mikado | 2-8-2 |
| K-1 Through K-5 (Various), M-1 Through M-8, N-1 Through N-3-a/b | Mogul | 2-6-0 |
| L-1-a | Santa Fe | 2-10-2 |
| O-1 | Saddle Tank | 0-4-6T |
| R-1 Through R-3 (Various) | Mountain | 4-8-2 |
| S-1 Through S-8 | Saddle Tank | 0-4-6T, 0-4-4T, 2-4-4T |
| T-1 Through T-4 | Switcher | 0-6-0/T |
| U-1 Through U-5 (Various) | Switcher | 0-6-0/T |
| V-1 Through V-5 | Switcher | 0-6-0/T |
| Y-1 Through Y-8 | Switcher | 0-4-0/T, 0-8-0 |
| Z-1, Z-2 | Saddle Tank | 2-4-6T, 2-4-4T |
New Haven's Electrics

The New Haven's electrified operaitons would pioneer the use of alternating current (AC) transmission, today the most commonly used form of electricity to power electrified rail lines. Of all the Northeastern railroads the New York, New Haven & Hartford, better known as simply the New Haven, carried the most electrified territory per capita on its system, even more than the mighty Pennsylvania Railroad. Of the NYNH&H's 1,800-mile railroad, over 670 miles were eventually electrified, or about 37% of its entire system! This electrification had a very practical and useful purpose, however, as the New Haven derived a considerable amount of its profits from passenger and commuter traffic with its main line operating between the densely populated cities of New York and Boston. Today, the NYNH&H's electrified lines remain almost entirely intact and its main line to Boston is an integral part of Amtrak's Northeast Corridor connecting Massachusetts' largest city with Washington, D.C.
The NYNH&H had considered electrifying its railroad as early as the late 19th century when the B&O electrified its Baltimore Belt Railroad in 1895. The catalyst that eventually spurred the NYNH&H into stringing wires was the ability to operate in conjunction with the New York Central into Grand Central Terminal, which both railroads shared (not to mention that the tragic collision involving a NYNH&H and NYC passenger train in 1902 caused New York to enact a steam locomotive ban effective July 1, 1908).  After carefully considering various transmissions from AC to DC the New Haven eventually decided on an 11,000-volt AC system, a radical, untried, and unproven endeavor. However, AC had key advantages over DC and the New Haven planned to tap into those advantages. The electric power used in railroad applications was initially provided via direct current, or DC.
Direct current has fundamental drawbacks such as providing relatively low voltage, usually no higher than 3,000 volts, requires large amounts of equipment to properly retain power throughout the system because of the current's considerable size, and needs power supplies (i.e., substations) located at regular intervals along the line to likewise maintain sufficient power as the high currents result in tremendous power losses across the system. Instead, alternating current, or AC, has become the favored means of electrical power for many systems worldwide since the 1930s, and it was the New Haven that pioneered this transmission source. AC has none of the inherent drawbacks of DC systems, requires relatively cheaper overhead wires (or catenary), can be strung for hundreds of miles without ever losing power, and can employ thousands of volts of power (although AC's significant drawback is lower traction in comparison to what DC allows).
The NYNH&H completed its first stretch of electrified territory between Woodlawn Junction, New York and Stamford, Connecticut in the summer of 1907 and by 1915 wires reached New Haven. By the late 1920s the NYNH&H had strung wires 672 miles across its system, which would also be the pinnacle of electrified territory on the railroad. Unfortunately, while the New Haven planned to reach Boston it ran out of money and never saw the endeavor completed (although Amtrak finally did complete the "gap" in the early 2000s).  Initially the New Haven experienced frequent service failures with its AC system, which perhaps is to be expected when developing a brand new, untried technology. However, within a few years the railroad had most of the kinks and outage problems fixed and thus went on to take advantage of all AC had to offer.  Most New Haven electrics were delivered from Westinghouse. Its first batch of 41 electrics featured a B-B wheel arrangement with gearless traction motors (although over-the-road issues forced the motors to be rebuilt with added, unpowered, front "pony" trucks). Classified as EP-1s by the NYNH&H they were rated at around 1,000 hp and were used exclusively in passenger service (thus their EP designation which stood for "electric passenger").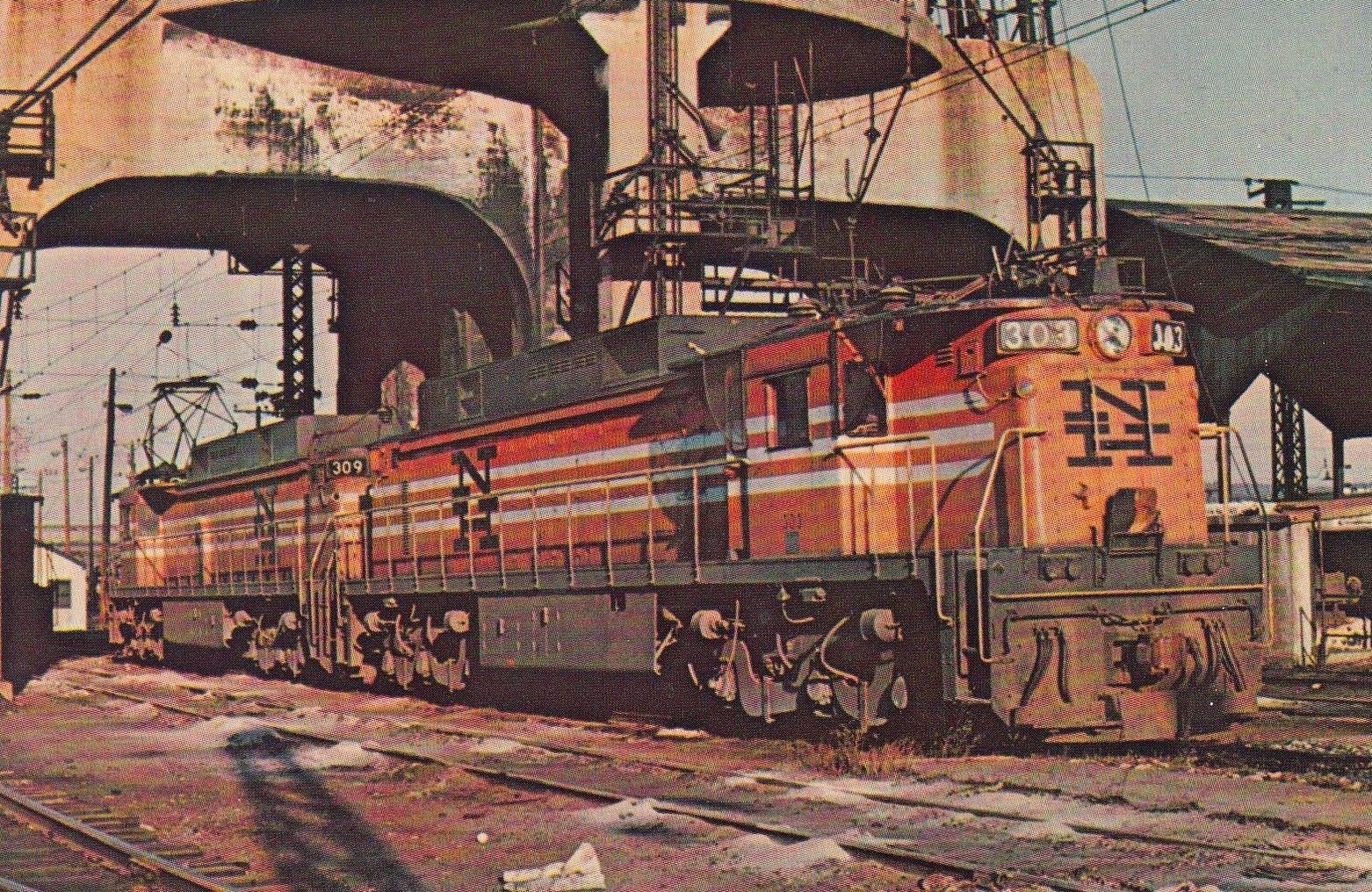 Other New Haven motors included its freight class, EF-1s, also developed by Westinghouse. Sporting a 1-B-B-1 wheel arrangement, the NYNH&H took delivery of 36 of the geared and side-rod locomotives using them only north of New York City and Grand Central Terminal where they did not have to be equipped for both overhead and third-rail running like their EP-1 cousins (since New York Central's electrified lines were entirely third-rail powered).   Around 1920 the NYNH&H began taking delivery of its "second-generation" of motors. Classified as EP-2s they carried a 1-C-1+1-C-1 wheel arrangement and produced about double the power of their earlier cousins, or a little over 2,000 hp. And, although more powerful than the EP-1s, they were essentially of the same design and build.  New Haven's electric locomotives would pave the way for future models that were not only more powerful and efficient but also for the first time included good looks and streamlining, such as was the case with the railroad's EP-4 class, AC rectifiers and FL9s.
Related Reading You May Enjoy


Home

›

Fallen Flags

› The New Haven Railroad