Dan'l Webster (Train)
Published: November 20, 2023
By: Adam Burns

The Dan'l Webster was a named passenger train operated by the New York, New Haven and Hartford (New Haven) between Grand Central Terminal in New York City and South Station in Boston, Massachusetts.
The train was named after the famous 19th-century Massachusetts senator Daniel Webster. It was a first-class train that offered parlor and dining car services.
The train was nearly identical to New York Central's Xplorer except it featured two locomotives on each end - to eliminate turning the train at dead end terminals - Baldwin's interesting RP-210 diesel hydraulic.
After the Dan'l Webster was pulled from main line service it briefly handled trains between Springfield and New York.  It was finally retired altogether on June 5, 1958 and sold the Pickens Railroad of South Carolina in 1964.
Photos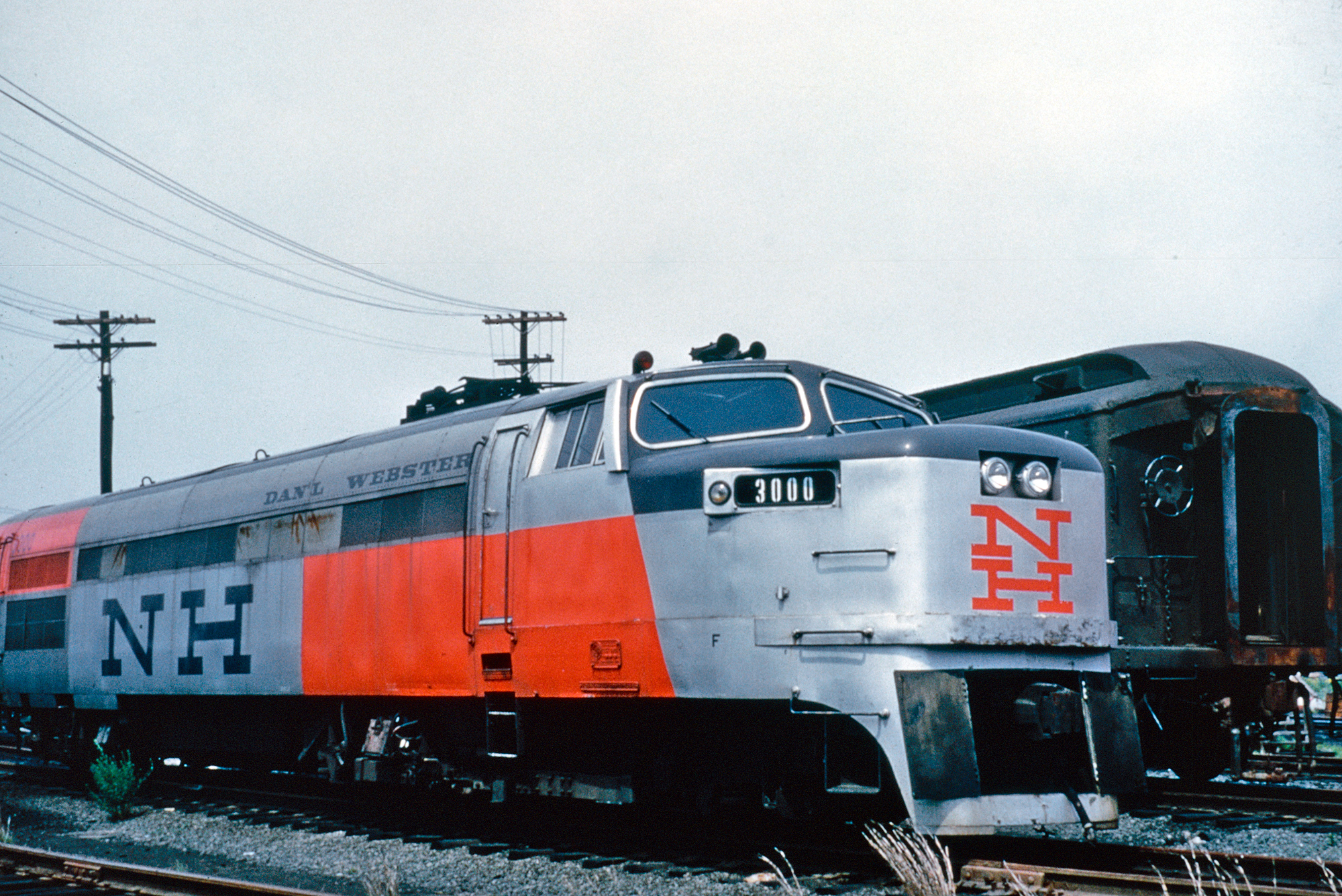 New Haven RP-210 diesel hydraulic #3000, a Baldwin-Lima-Hamilton product that powered the railroad's short-lived "Dan'l Webster" lightweight trainset, is seen here in storage at New Haven, Connecticut, circa 1960. Based from Pullman-Standard's "Train X" design, the aluminum trainset was not successful; they provided a rough ride and were underpowered. American-Rails.com collection.
Patrick B. McGinnis
The Dan'l Webster would likely never have been built if not for the efforts of Patrick B. McGinnis.  He became the railroad's president in 1954 after ousting Frederick C. Dumaine, Jr. following a proxy fight.  
McGinnis was a polarizing figure in railroad history, largely remembered for mismanaging several lines.  After his time at the New Haven he joined the Boston & Maine.  
In August, 1963 he was part of group indicted by a federal grand jury for engineering kickbacks in the sale of B&M equipment and ultimately served time in federal prison for the scheme.
When American Car & Foundry unveiled its TALGO demonstrator trainset in 1954, McGinnis believed it was the answer to his plan of reducing transit times between New York-Boston.
TALGO - an acronym for Train, Articulated, Lightweight, Goicoechea (the train's design), Oriol (the train's financier/business partner) - was a Spanish concept which had made its way to the United States. 
It intrigued several railroads including the Lackawanna, Rock Island, Pennsylvania, Union Pacific, and New York Central among others.  However, only the Rock and NYC - along with the New Haven - ultimatley purchased examples.
The consist was remarkably different from other American trains. The significantly lighter design was intended to reduce operating costs while also being quick, agile, efficient, and capable of higher speeds.  All of this was to be acheived without affecting passenger comfort.
Impressed by TALGO's lightweight, low-maintenance design, McGinnis envisioned a modern train that would revolutionize travel for the American passenger.
Development
The creation of the Dan'l Webster was a collaborative effort between two industry giants, Baldwin-Lima-Hamilton and Pullman-Standard.  The former constructed the locomotive while the latter built the train's nine cars (eight of which were paired).
The locomotive powering this sleek train was Baldwin-Lima-Hamilton's innovative RP-210 diesel-hydraulic.  It was a pioneering piece of engineering with features such as a hydraulic transmission intended to provide a smoother, quieter, and more fuel-efficient ride.  Unfortunately, it was anything but.
The Dan'l Webster's locomotives, #3000-3001, were placed at each end of the train.  Their primary power plant was a Maybach model MD655 engine rated at 1,000 horsepower while an auxiliary engine - a Maybach model MD330 rated at 465 horsepower - provided power for the cars.  They were MU'd via a train line connection through the cars.
Baldwin classified the locomotives as RP-210-2 and RP-210-3 (RP-210-1 was the first example produced for the Xplorer) with construction numbers 76109 and 76110.
To reduce weight the RP-210 - which stood for Road Passenger locomotive sporting 2 powered axles and 1000 horsepower - was equipped with only a single powered truck.  
The lead swivel truck was also where the diesel engine and its hydraulic transmission were mounted.  The carbody was then placed on the frame.  The idea here was to reduce weight while allowing the engine and transmission to be serviced from inside the locomotive.
RP-210 Specifications
(Xplorer and Dan'l Webster)
| | |
| --- | --- |
| Construction Numbers | RP-210-1 (76108), RP-210-2 (76109), RP-210-3 (76110) |
| Length | 58' 9" |
| Width | 10' 6" |
| Height | 11' 0" |
| Center of Gravity (Above Top-Of-Rail) | 49" |
| Wheel Base | 43' 7" |
| Wheel Base (Powered Truck) | 15' 0" |
| Wheel Base (Non-Powered Truck) | 7' 0" |
| Wheels (Powered Truck) | 36" |
| Wheels (Non-Powered Truck) | 28" |
| Horsepower | 1,000 |
| Wheel Arrangement | B-2 |
| Continuous Tractive Effort | 21,000 Lbs at 12.65 mph |
| Top Speed | 120 mph |
| Total Weight (Dan'l Webster) | 198,100 Lbs |
| Total Weight (Xplorer) | 198,300 Lbs |
Another interesting feature of these RP-210 variants was their third-rail capability, required by the New York Central for operation into Grand Central Terminal. 
In addition to its third-rail shoes - on both trucks - the locomotives were equipped with small roof-mounted pantographs to provide electrical pickup in areas around Grand Central where third-rail could not reach, such as slip switches and crossovers.
In his book, "The Diesel Builders, Volume III: Baldwin Locomotive Works," author John Kirkland details the locomotives' technical specifications regarding its third-rail operation and other aspects.
The locomotives were completed in June, 1956 and following extensive testing were coupled, back-to-back, and sent to Chicago on October 1, 1956 to join the Pullman cars. 
The Dan'l Webster left the Pullman plant on October 19, 1956 and deadheaded over the New York Central and Boston & Albany, arriving in Boston on October 21, 1956.  It carried out test trips on October 22-23, and a final test run from Boston to New York on October 24th.
The train continued to carry out tests and trials throughout the fall as the New Haven worked out minor issues with the hydraulic transmission and third-rail shoes.
Inauguration
The Dan'l Webster officially entered service on January March 25, 1957, departing Boston's South Station at 7 am that morning.  The new train turned heads with its streamlined design and promise of a high-speed connection.
The train was debuted with great fanfare, a testament to the innovation of American passenger rail travel.  The Dan'l Webster aimed to stand out amid strong competition from other better-established train services.
Operational Issues
Despite its innovative design, the train's jarring ride left much to be desired, resulting in passenger dissatisfaction and frequent complaints.  Interestingly, McGinnis abrutly left the New Haven in January, 1956, more than a year before the Dan'l Webster even entered service. 
His only notable achievement while president was changing the railroad's logo and colors, replacing the historic Pullman Green and Dulux Gold script logo with an orange, white and black "NH" block design.
The Dan'l Webster bore many similarities with New York Central's "Train X," or "Xplorer". Both were lightweight trainsets powered by diesel-hydraulic locomotives and both were nine-car consists.  In addition to its rough ride, the locomotives also faced mechanical issues..
Increasing concerns over ride quality led New Haven to pull the Dan'l Webster from main line service in early 1958, just a year after its inauguration.  It was subsequently bumped to secondary status, running between New York and Springfield until 1960.
In 1964 the New Haven sold the trainset to the Pickens Railroad of South Carolina, whose subsidiary Jones Tours operated public excursions. Interestingly, this company also purchased the New York Central's Xplorer for the same purpose.  Both sets were scrapped around 1970.
Legacy
The discontinuation of the Dan'l Webster was a testament to the harsh realities of rail travel on the Northeast Corridor, a time when the railroad industry - especially in this region - was struggling. Despite the initial enthusiasm and positive media attention, the technical and operational challenges proved to be an insurmountable hurdle.
Despite a short-lived operational history, the Dan'l Webster left a lasting legacy in the annals of American rail history. As one of the early TALGO examples operated in the U.S., it served as a valuable condundrum for successful and failed innovations alike.
The Dan'l Webster's combination of aesthetics, technology, and comfort represented a daring attempt to rejuvenate the American rail industry at a time when competition from air and road travel began to intensify.
Despite its downfall, the train inspired further experiments in lightweight, high-speed train design and paved the way for future railway advancements.  
Every aspect of the Dan'l Webster, from its streamlined design to its light, aluminium Talgo trainset, and its Baldwin's RP-210 diesel-hydraulic locomotive, reveled in breaking conventions and challenging the status quo. For this reason, despite its short-lived service, it continues to capture the imagination of both rail enthusiasts and general historians.
---
Today, the Dan'l Webster is a talismanic figure in rail history, remembered not merely for its failure but for its bold attempts at revolutionizing rail travel. Though its service was brief, those who experienced the Dan'l Webster recount it as an unforgettable journey that briefly held the potential to reshape the future of American train travel.
In conclusion, the story of the Dan'l Webster is one of audacious innovation and sobering realities. From its genesis under Patrick B. McGinnis' leadership to its hasty withdrawal, it remains an important chapter in American rail history.
As we look back on its journey, the Dan'l Webster serves as a compelling reminder of the risks and rewards of pushing technological boundaries.
While its operational tenure was cut short, its tale continues to resonate in the development of new rail technologies and innovation, making the Dan'l Webster an enduring symbol of American railway heritage.
Sources
Kirkland, John F. Diesel Builders, The:  Volume Three, Baldwin Locomotive Works. Pasadena: Interurban Press, 1994.
Lynch, Peter E.  New Haven Passenger Trains.  St. Paul:  MBI Publishing Company, 2005.