The 
Merchants Limited
Last revised: May 7, 2023
By: Adam Burns

While the New Haven was only regional in nature, located within the bucolic New England countryside, it nevertheless operated a vast and extensive passenger network. 

Its premier service between its two largest cities, Boston and New York, was the crack Merchants Limited. 
This train dated to the very early 20th century and offered a limited-stop schedule that provided an extensive array of on-board accommodations, considering the relatively short length of the trip. 
History
During the train's early years it ran with heavyweight equipment, and was steam powered, but in the postwar period carried lightweight equipment and diesels. 

During the 1950s as service declined, following mismanagement and eventual bankruptcy, the Merchants' schedule slowed somewhat.  Despite these setbacks the train survived into the Amtrak era.
Transportation services in America were vastly different through the mid-20th century; at that time a train ticket could take you to virtually any town of notable size across the lower 48 states.  This was certainly the case in New England where the New Haven provided high class and efficient service.
Photos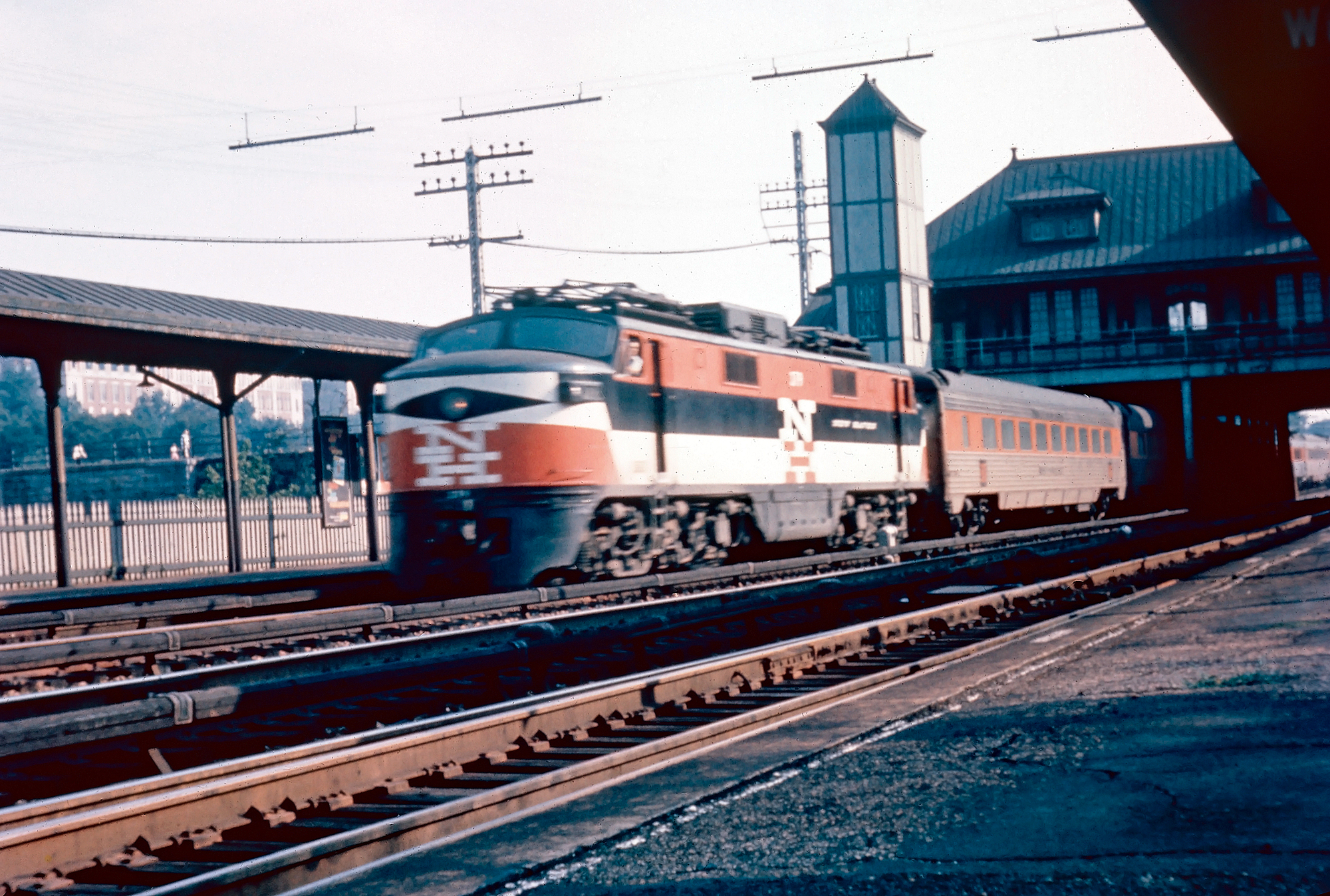 A New Haven EP5 "Jet" hustles past the station at 233rd Street in the Bronx (New York) with train #26, the eastbound "Merchants Limited," circa 1960. Meyer Pearlman photo. American-Rails.com collection.
The New York, New Haven & Hartford is often remembered for its busy suburban operations and secondary services that whisked commuters to and from the big cities, such as New York and Boston, on a daily basis. 
This was certainly true as Mike Schafer and Joe Welsh note in their book, "Streamliners: History Of A Railroad Icon," the New Haven was dispatching an incredible 545 passenger trains daily in 1946. 
Additionally, at that time such operations made up roughly half the carrier's annual revenue. 
However, aside from local services the New Haven also offered a number of upscale trains that ran the entirety of the fabled 229-mile Shore Line between Boston and New York, by far its busiest corridor which was electrified west of New Haven by 1915.
Timetable (1952)
The flagship Merchants Limited joined the timetable on December 14, 1903 with brand new equipment providing all-first class services including parlors, a diner, and drawing rooms. 
According to Peter Lynch's book, "New Haven Passenger Trains," dining aboard the train became a fine tradition offering such scrumptious dishes as broiled scrod (a type of fish). 
The Merchants was listed as #26 (westbound) and #27 (eastbound) on the timetable. 
It offered a dinnertime departure at 5:00 PM each evening, completing the jaunt in five hours and arrived at its destination at 10:00 PM later that evening. 
For the first three decades this schedule did not change considerably.  However, in May of 1935 it was sliced to 4 1/2-hours, and finally to just 4 hours by the postwar period.  

Timetable (March 1, 1949)
Read Down Time/Leave (Train #26)

Milepost

Location

Read Up
Time/Arrive (Train #27)

5:00 PM (Dp)
0.0

New York, NY (Grand Central Terminal) (ET)

9:00 PM (Ar)
6:23 PM
72.3

New Haven, CT

7:36 PM
8:09 PM
185.3

Providence, RI

5:50 PM
8:55 PM

Boston, MA (Back Bay Station)

5:05 PM
9:00 PM (Ar)
229.1

Boston, MA (South Station) (ET)

5:00 PM (Dp)
The schedule wavered little after this time, until the mid-1950s when service declines brought on by new management under Patrick McGinnis, which resulted in 15 minutes added. 
During its early years the Merchants operated every day except Sunday, and then later was cutback to weekday running only. 
However, after 1949 it ran daily.  In many ways the train truly came of age during the streamliner era.   New Haven was an early proponent of the new concept launching the sleek, Providence to Boston Comet trainset in 1935. 
A year earlier in 1934 the company collaborated with Pullman-Standard and engineer Walter Teague to create a lightweight, streamlined car that became known as the "American Flyer."
Timetable (December 14, 1969)
Read Down Time/Leave (Train #8)

Location

Read Up
Time/Arrive (Train #5)

5:00 PM (Dp)

New York, NY (Grand Central Terminal) (ET)

9:15 PM (Ar)

New York, NY (125th Street)

9:06 PM
6:29 PM (Ar)

New Haven, CT

7:53 PM (Dp)
6:29 PM (Dp)

New Haven, CT

7:46 PM (Ar)
7:23 PM

New London, CT

6:24 PM
8:23 PM

Providence, RI

5:55 PM
9:11 PM

Boston, MA (Back Bay Station)

5:05 PM
9:16 PM (Ar)

Boston, MA (South Station) (ET)

5:00 PM (Dp)
Mr. Schafer and Mr. Welsh note in their book the new design allowed for an 18 1/2-ton savings with cars utilizing a coach layout. 
That year the New Haven began receiving a large order of what would eventually total 205 coaches and grill cars sporting smooth sides. 
These car were the mainstay until more new equipment arrived after the war. 
Between December of 1945 and October of 1946 some 207 additional cars were ordered from Pullman (these were delivered through the early 1950s); they featured a fluted, stainless-steel look and came in setups including baggage-lounge, coach, diner, parlor, grill, and observation. 
According to Mr. Lynch's book by 1949 the Merchants Limited was running with this new equipment and usually carried a consist of reclining-seat coaches, a diner, parlors, and an observation.

---
Consist (1952)
For power, the Class I-5 Hudsons were used east of New Haven until replaced with sleek new Alco PAs by 1948, a builder the railroad often turned to for both passenger and freight locomotives during the diesel age. 
Because of demand a second-section known as the Advance Merchants Limited began service in 1952 but it operated for only a few years and was dropped in 1957. 
Despite the McGinnis initiatives and cutbacks, the Merchants survived into the Penn Central era carrying roughly the same schedule and amenities that included a diner, parlors, and reclining-seat coaches. 
However, the train was changed to #5 (westbound) and #8 (eastbound) after the merger. 
The Merchants Limited survived for several years into the Amtrak era.  However, it was finally dropped in 1995 when the region's trains were combined under the title of "NortheastDirect."  Today, it is known as "Northeast Regional" service.