4-6-4 "Hudson" Locomotives

Last revised: May 12, 2023
By: Adam Burns

The 4-6-4 Hudson was a steam locomotive synonymous with the New York Central, which first developed the design in the mid-1920s during the height of the Super Power era.

It was also the Central that gave the 4-6-4 its now classic nickname (the NYC's Hudsons are also quite famous for the streamlining the received by Henry Dreyfuss for the railroad's regal passenger train, the 20th Century Limited).
The development of the Hudson was due to a need by the NYC for a more powerful steamer to haul its passenger trains since by the 1920s its fleet of Pacific's could simply no longer handle the increasingly larger and heavier trains. 
The highly successful wheel arrangement led to the railroad rostering nearly 300 4-6-4s and overall almost two-dozen other lines went on to own at least one. Today, several Hudsons remain preserved and surprisingly a handful are either operational or under restoration.

Photos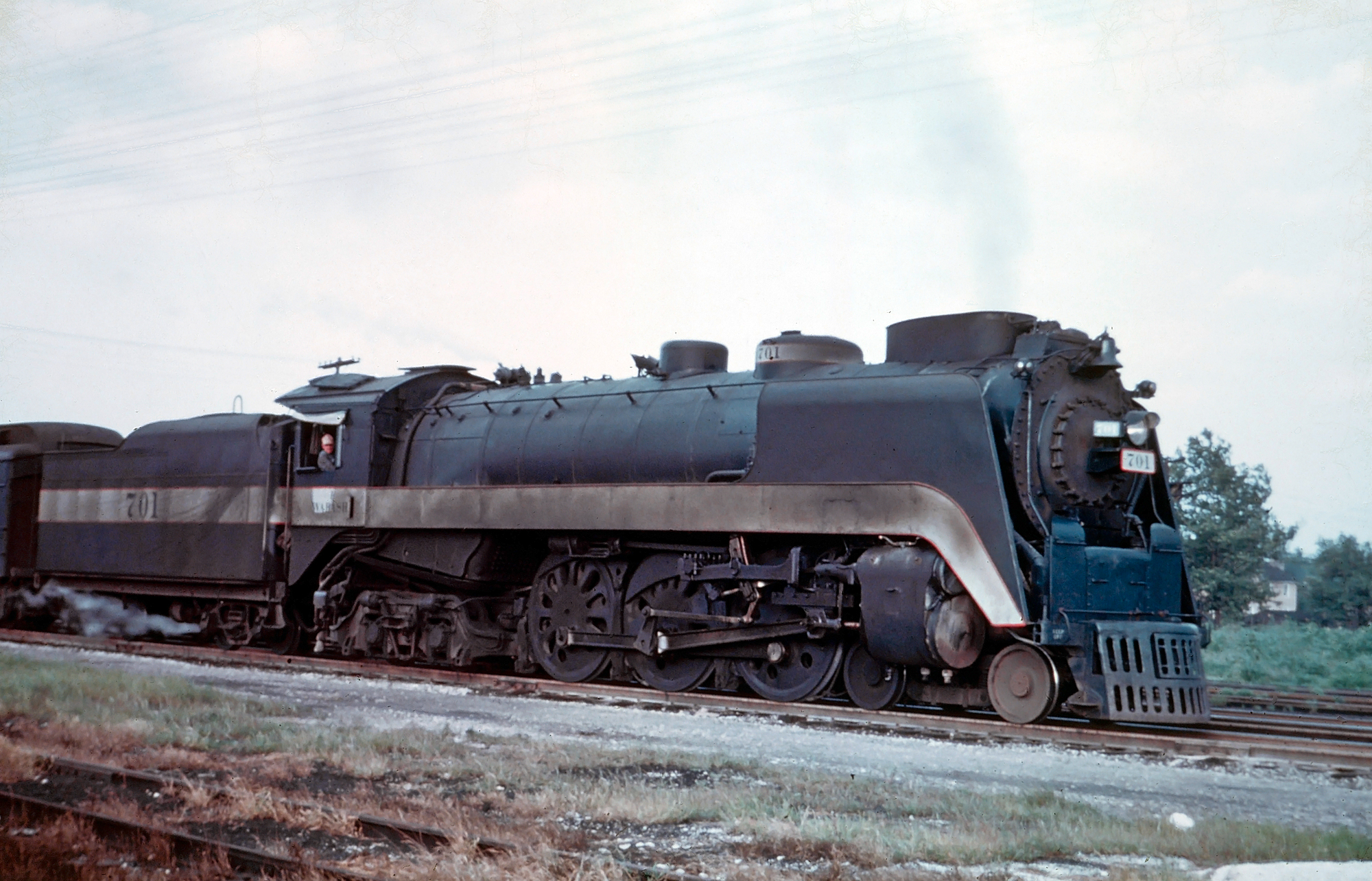 A handsome Wabash 4-6-4, #701, is seen here in service at Decatur, Illinois, circa 1954. These Hudsons were rebuilt from 2-8-2s and listed as Class P-1; numbered 700-706, they were semi-streamlined with skirting along the running boards and elephant ears, in addition to receiving a light blue livery with white trim. All were retired by 1956. Fred Byerly photo. American-Rails.com collection.
Development
By the 1920s the New York Central was running into a big problem; its Class K-5 Pacifics, standard passenger power at the time, were straining to keep up with the new, heavyweight equipment being built as well as the increasing demand by the traveling public.
On January 1, 1926 the NYC saw a new chief mechanical engineer of motive power and rolling stock, Paul Kiefer, who realized that something needed to be done.
So, with help from the American Locomotive Company (Alco) the two began development of a new design, a 4-6-4, which was essentially a Pacific with an added rear axle. This extra axle allowed for a larger firebox and larger boiler, which increased steaming capacity and a higher boiler pressure (225 psi), thus allowing for greater power.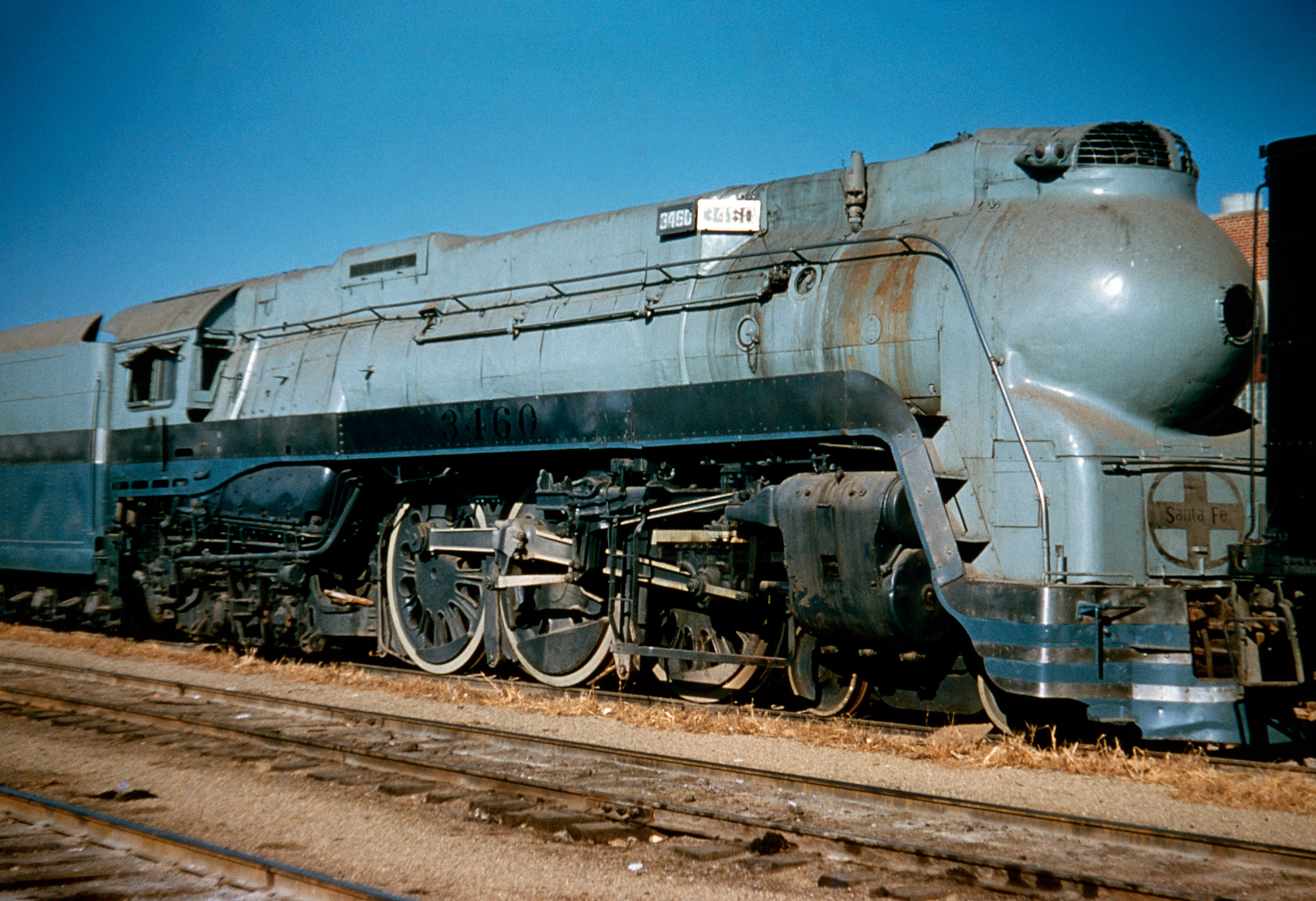 Santa Fe 4-6-4 #3460, nicknamed the "Blue Goose," sits in the dead line shortly before she was scrapped in 1956. It was the only streamlined steam locomotive the AT&SF owned. American-Rails.com collection.
Initial Testing
The first locomotive rolled into service on February 14, 1927 listed as Class J-1a and its improvement over the Pacific was instantly apparent.
The initial tests were performed along the NYC main line between Albany and Syracuse and the new 4-6-4 design could pull 16 to 18 heavyweight cars at higher speeds than a Class K-5, which could only handle around 12 cars per train.
The railroad decided to name the locomotive after the Hudson River, which followed its main line from New York City to Albany.
After 1927 the NYC continued to purchase the Hudson type for another decade through 1937; most were built by Alco (Class J-1, J-2a, and J-3) although Lima built its Class J-2c that included ten examples originally numbered 610-169 in 1930.
The engineer of New York Central 4-6-4 #5304 poses with his locomotive at St. Louis Union Station, circa 1950. This was one of hundreds of Hudsons the NYC employed in passenger service. Fred Byerly photo. American-Rails.com collection.
Success
While the New York Central would end up with the most Hudsons (275; 195 directly owned by the NYC along with another 80 through subsidiaries Boston & Albany, Big Four, and Michigan Central) several other railroads also purchased, or built, at least a few.
Of all Hudsons manufactured, most were outshopped from Alco or subsidiary Montreal Locomotive Works (for the Canadian National and Canadian Pacific, of which the latter owned the second most, 65). However, the other two big builders, Lima and Baldwin, also manufactured 4-6-4s.
Also of interest was the fleet owned by the Milwaukee Road. Between 1930 and 1931 the railroad purchased 22 examples from Baldwin listed as Class F-6 and F-6a for use in passenger service.
Chicago, Burlington & Quincy 4-6-4 #4002 (Class S-4B) was photographed here at Omaha, Nebraska in the summer of 1956. American-Rails.com collection.
The Milwaukee decided to go a different route and named theirs as Baltics, not Hudsons. Then, in 1938 it purchased 6 more 4-6-4s from Alco, some of the fastest ever built, for use on its speedy and vaunted regional Hiawathas, which replaced the railroad's home-built 4-4-2 Atlantics. The below table lists most railroads that owned the Hudson type and their designated class with total number owned. 
Also of note was the Santa Fe's fleet of Hudsons.  It originally acquired ten from Baldwin in 1927, #3450-3459 (the 3450 Class) before modifying them 10 years later.
It later acquired six more from Baldwin in 1937.  The 3460 Class was defined the Super Power concept with roller bearings, larger boiler, higher boiler pressure, and more tractive effort.
They were dubbed Super Hudsons and notable among them was #3460, the only streamlined variant in the class.  It featured a two-tone Robin Blue livery with stainless steel trim.  AT&SF crews referred to her as Mae West while she is most famously remembered as the Blue Goose.  The locomotive is also sometimes described as the Blue Bird.  She could often be found leading the Grand Canyon Limited, Chief, and Scout.
Operators
Please note that the class listing here is very general as many railroads broke the locomotive down into further designations such as H-1a, H-1b, H-1c, etc.:
· Baltimore & Ohio: Class V (1-4) = 4
· "Big Four": Class J-1 = 30
· Boston & Albany: Class J-2 = 20
· Burlington: Class S-4 = 14
· Canadian National: Class K-5a = 5
· Canadian Pacific: Class H-1 = 65
· Chesapeake & Ohio: Class L-2/L-1 = 18
· Chicago & North Western: Class E-4 = 9
· Illinois Central: No Designated Class = 1
· Frisco: No Designated Class = 10
· Grand Trunk: Class K-5a/X-10a = 6
· Lackawanna: No Designated Class = 5
· Maine Central: No Designated Class = 2
· Milwaukee Road: Class F-6/F-7 (Baltic) = 28
· Nacional de Mexico: Class NR-1 = 10
· New Haven: Class I-5 = 10
· New York Central: Class J-1/J-2/J-3 = 195
· Nickel Plate Road: Class L-1 = 8
· Santa Fe: Class 3450/3560 = 16
· Wabash: Class P-1 = 7
---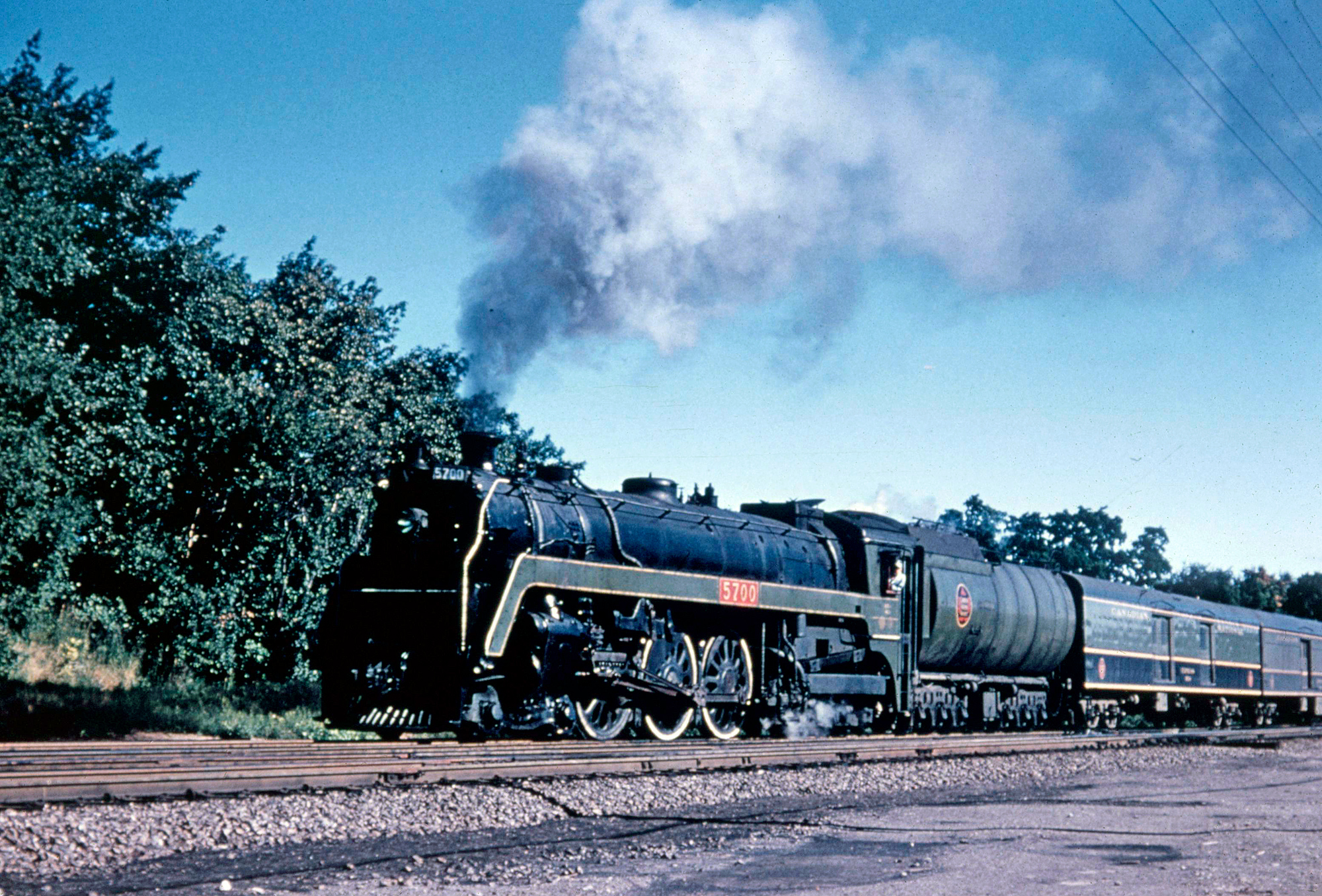 A handsome Canadian National 4-6-4, #5700, has westbound train #77 (London - Detroit, Michigan) at Bayview, Ontario during the 1950's. Paul Meyer photo. Author's collection.
Preservation
Because the Hudson Type was developed in the late 1920s most built only saw around 30 years of regular service before being retired in the 1950s.
Still, several of the models have been preserved with most U.S. versions originally owned by the Chicago, Burlington & Quincy (the Canadian roads also have seen several of their Hudsons preserved).
Of note, one of the more prominent Hudsons to be preserved is C&O #490, an entirely streamlined locomotive that saw use pulling the railroad's most well known passenger trains such as the George Washington.  
Also, there are five Hudsons either under restoration or operational; the two currently in service can be found only in Canada, Canadian National Class H-1b #2816 and Class H-1e #2860. Additionally, the Nethercutt Collection & Museum in Sylmar, California is restoring Canadian Pacific Class H-1c #2839 and the Kansas Expocenter has Santa Fe #3463 under restoration.
Sources
Boyd, Jim. American Freight Train, The. Osceola: MBI Publishing, 2001.
Solomon, Brian. Alco Locomotives. Minneapolis: Voyageur Press, 2009.
Solomon, Brian. Classic Locomotives, Steam And Diesel Power in 700 Photographs. Minneapolis:  Voyageur Press, 2013.
Solomon, Brian and Schafer, Mike. New York Central Railroad. St. Paul: Andover Junction Publications, 2007.