Railroads In The 1950's, An Industry In Decline

Last revised: January 22, 2023
By: Adam Burns

The streamliner craze that was so prevalent during the 1930s had slowed down by the late 1940s, although train travel remained a popular mode of transportation for most during the decade.

However, following WWII and into the 1950s railroads watched helplessly as passenger traffic plummeted and not even new equipment and promotional advertising could sway passengers back to the rails. 
Some lines continued to spend money on new streamliners, such as the Pennsylvania Railroad, for passengers that never came.
The railroad industry after the 1940s also saw a slow decline in freight traffic, particularly less-than-carload (LCL) as the new interstate highway system began to take its toll. 
History
After the end of the war one of the first tasks set forth by many railroads was to retire the iconic steam locomotive as fast as they could. 

From a macro view, the 1950's was not good for the industry; aside from declining passenger business, a recession and improved highways (including signage of the Interstate Highway Act) heavily eroded the industry's traffic. 
The situation would not improve until the Staggers Act was passed in 1980, greatly deregulating the industry.
Photos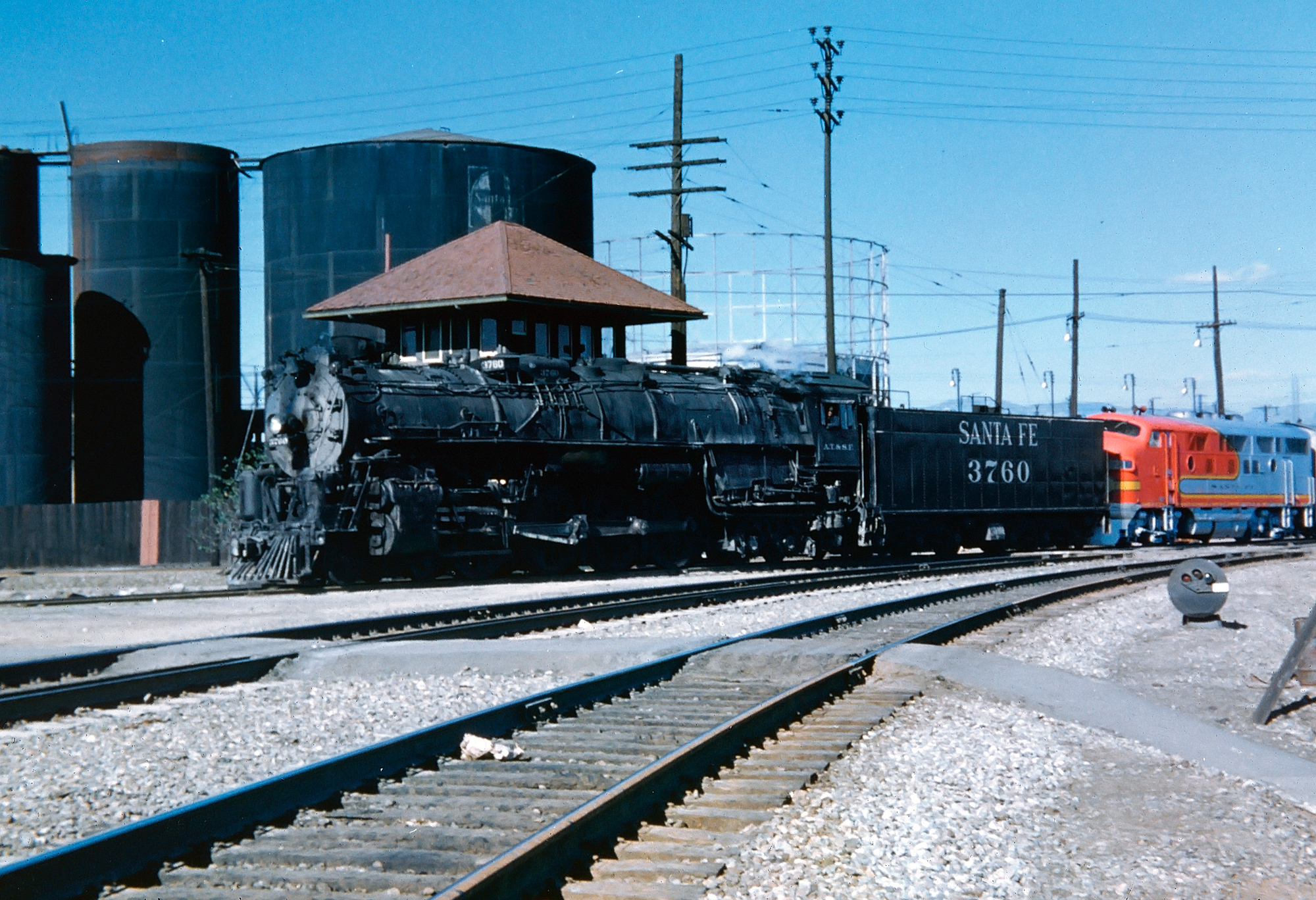 Santa Fe 4-8-4 #3760 and F3A #21-L are southbound as they pass the interlocking tower at Redondo Junction (Los Angeles) in July, 1950. American-Rails.com collection.
The efficiency of diesel locomotives could not be argued and most lines had completed the switch by the mid-'50s while all Class Is had abandoned steam by 1960. 
It would take the diesel-electric locomotive nearly fifty years to equal the horsepower output of the steam locomotive during its technological height.
However, diesels offered an advantage that far surpassed steamers and it was the deciding factor in them becoming the prime choice of motive power, efficiency.
Diesels required far less maintenance in terms of overhauls (scheduled time in the shops for routine maintenance) and refueling (no longer were there frequent stops requiring water and coal/oil), which allowed them to be spending much more time moving freight and paying the bills.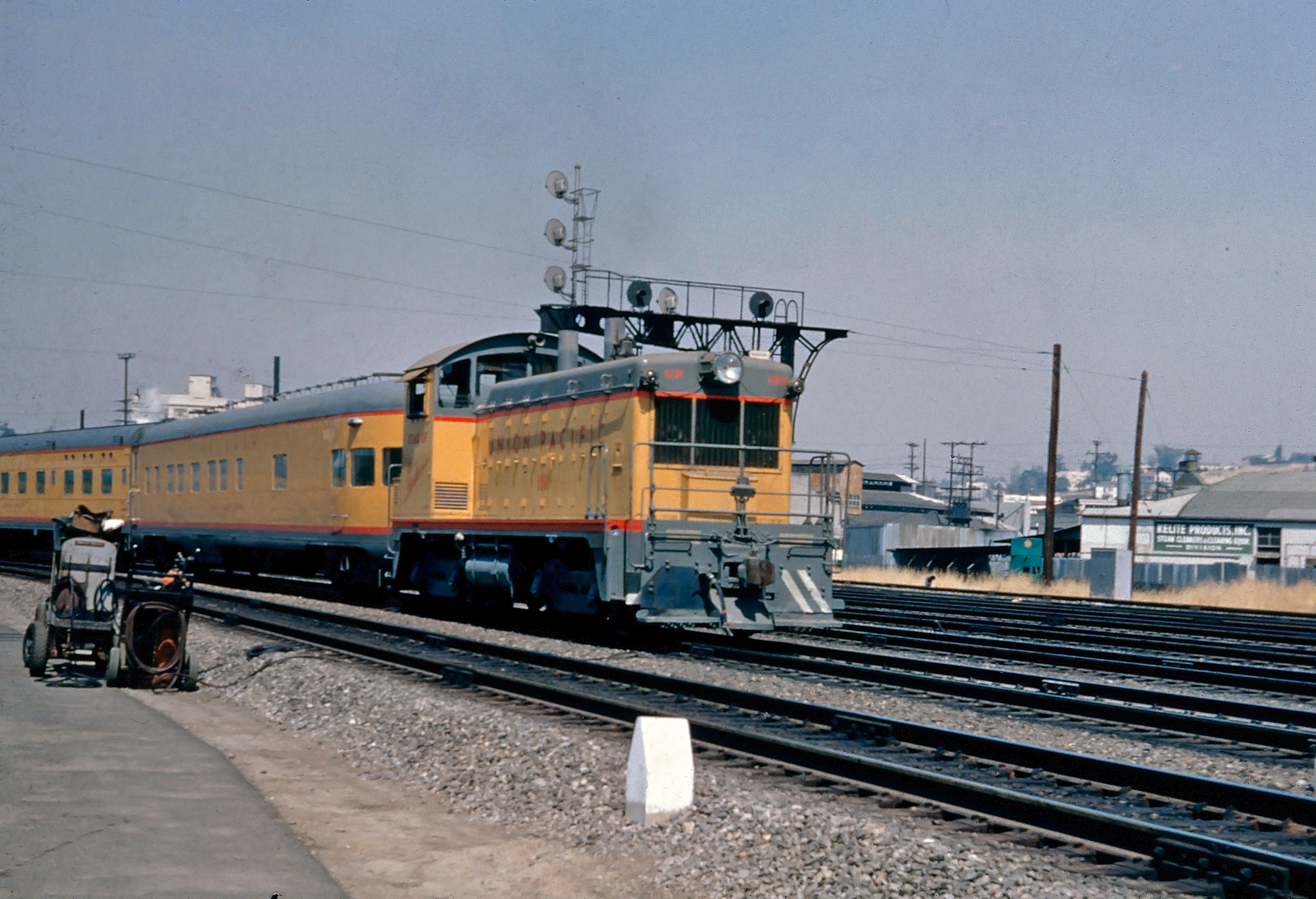 Union Pacific NW2 #1011 switches streamlined equipment of the "City" fleet in Los Angeles on June 6, 1954. American-Rails.com collection.
New Streamlined Trains
While diesels may have helped the industry save millions in locomotive maintenance the same could not be said for passenger operations.
With the explosion of traffic during the war and only a minor drop off through the end of the 1940s many railroads expected passengers to remain true to the railroads during the 1950s, which, unfortunately did not happen.
Some lines spent lavishly on new equipment like the New York Central ($56 million in 1946) and the Pennsylvania Railroad ($3 million in 1952).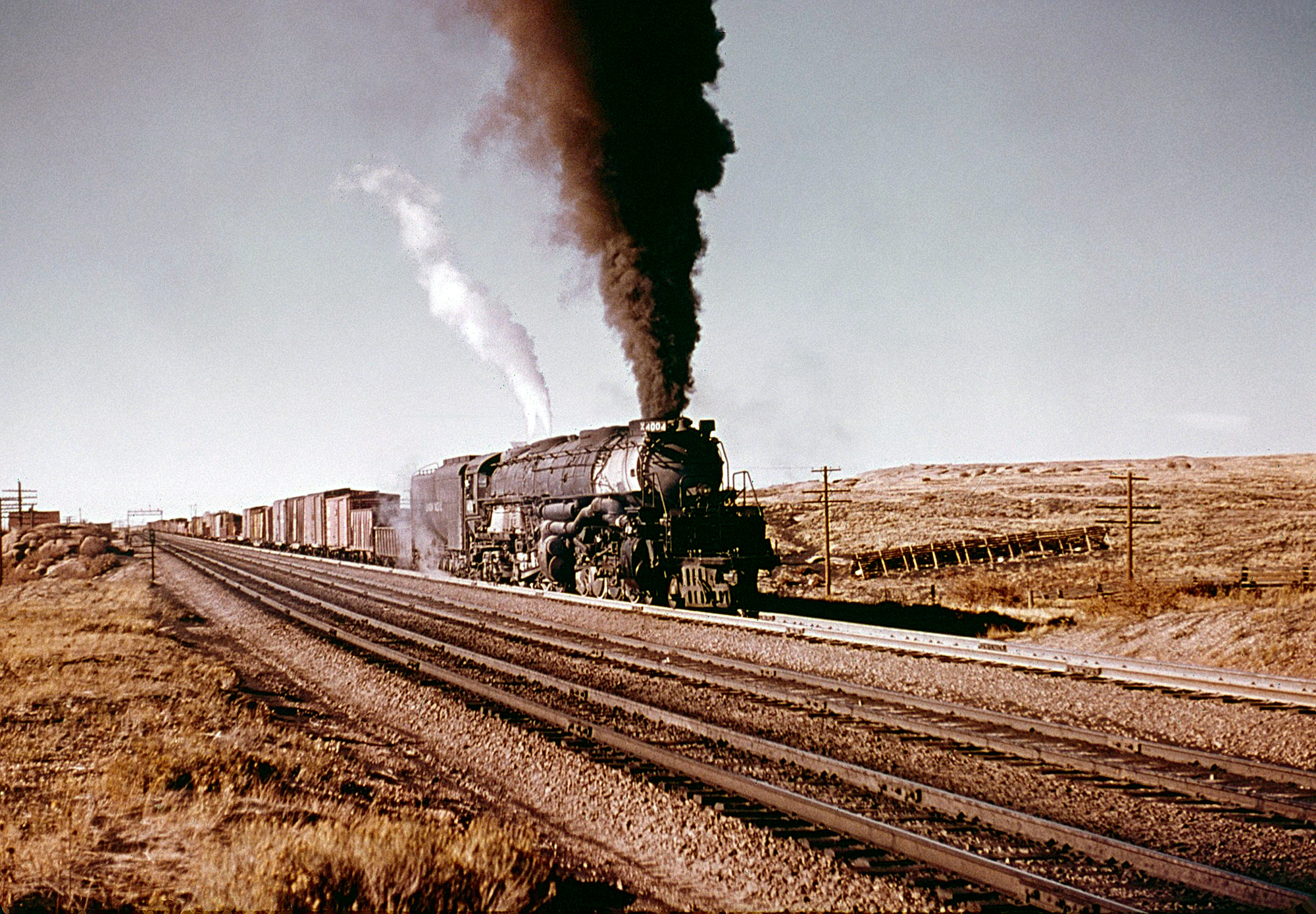 Union Pacific 4-8-8-4 #4004 charges through rural Hermosa, Wyoming with an eastbound manifest on October 16, 1955. Bob Collins photo. American-Rails.com collection.
Rail Travel Decline
With President Dwight Eisenhower enacting the Interstate Highway System in 1956 (also known as the National Interstate and Defense Highways Act) and better highways and roads being built throughout the decade folks began to abandon trains for personal automobiles.
Before the automobile came into existence railroads owned almost 100% of passenger traffic in the country but by 1957 held just 31.4%.   A few stats regarding the decline of passenger railroading during these years: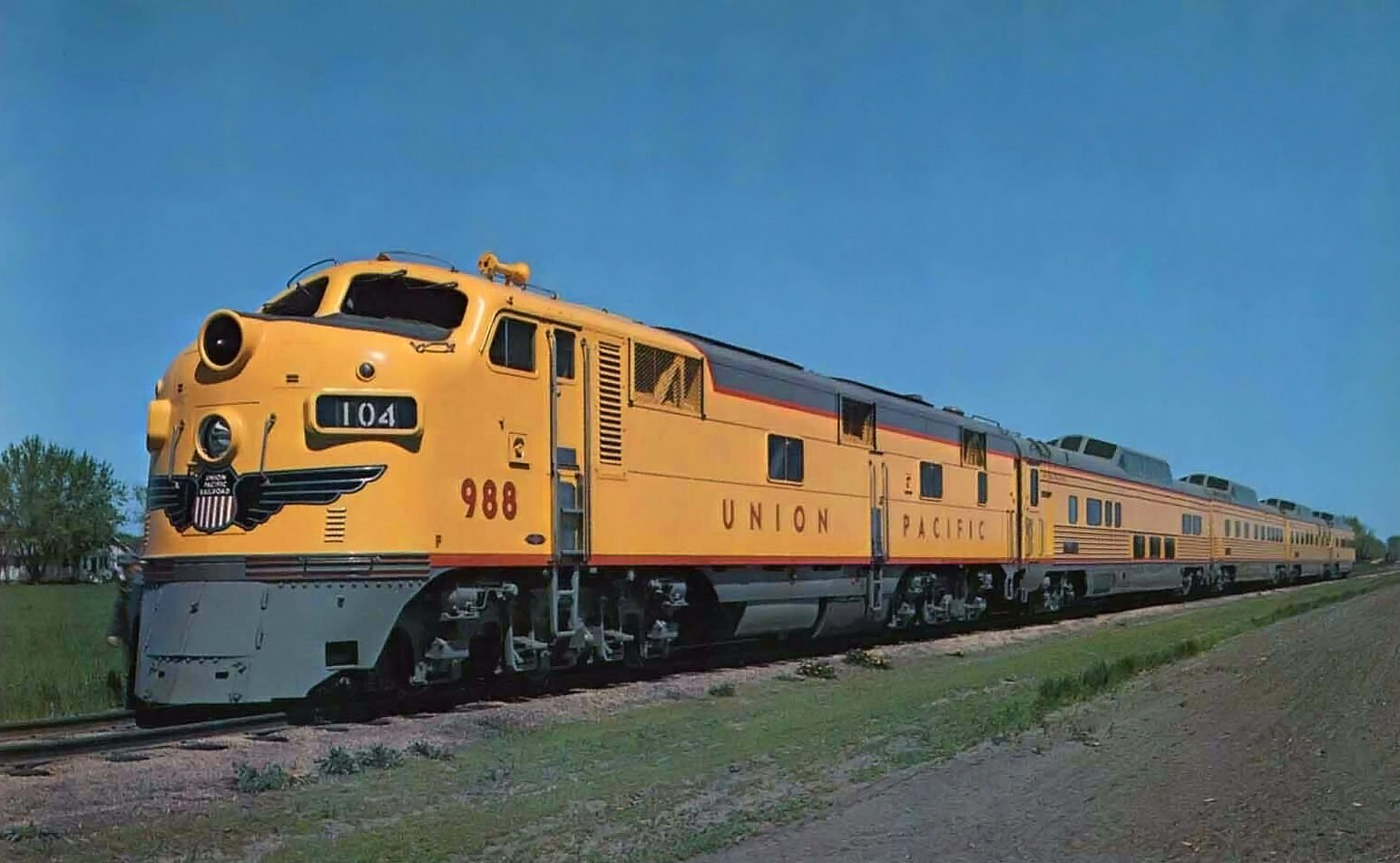 A Union Pacific publicity photo featuring the "Train of Tomorrow" in the spring of 1950. Heralded by Electro-Motive and Pullman as the future in rail travel it featured all of the latest luxuries. The train was originally adorned in a two-tone blue livery by General Motors, which was quickly replaced by UP. Up front was E7A #988 followed by four "Astra Domes" in various configurations; chair car "Star Dust," coach-diner "Sky View," 3-compartment/2 drawing room/8 duplex-roomette sleeper-lounge "Dream Cloud," and lounge-club observation "Moon Glow." The train was showcased at the Chicago Railroad Fair during the summer's of 1947 and 1948 before UP's acquisition of the set, initially placing it on tour between Portland and Seattle in 1950 (ironically with no name). Its perks (among others) included Hyatt roller-bearing journals on all trucks (each equipped with its own power system), chilled water (powered by Frigidaire), frozen or cooled food, and of course air-conditioning.
At A Glance
National Rail Network

223,779 Miles (1950)

211,459 Miles (1955)

National Interurban Mileage (1950)

1,519 Miles

National Operating Ratio (1950)

74.5%

Recession Woes (1957-1958)

Net Income (1957): $46 million (Down 39% since 1955.)

Working Capital: $576 million (1957), $880 million (1955)

410,022 Weekly Carloads: Late December, 1957 (Lowest point since December, 1932.)

Railroad Employees

1% Of Total Workforce

Passenger Traffic Decline

770 million (1946)

298 million (1964)

Passenger Rail Service Losses

$700 million

Commuter Train Cutbacks

2,500+ (1955)

500 (1968)
Sources (Above Table):
Boyd, Jim. American Freight Train, The. Osceola: MBI Publishing, 2001.
Del Vecchio, Mike. 

Railroads Across America

. Osceola: MBI Publishing, 1998.
Hilton, George and Due, John. Electric Interurban Railways in America, The. Stanford: Stanford University Press, 2000.
McCready, Albert L. and Sagle, Lawrence W. (American Heritage). Railroads In The Days Of Steam. Mahwah: Troll Associates, 1960.
Stover, John. Routledge Historical Atlas of the American Railroads, The. New York: Routledge, 1999.
Schneider, Gregory L. Rock Island Requiem: The Collapse Of A Mighty Fine Line. Lawrence: University Press Of Kansas, 2013.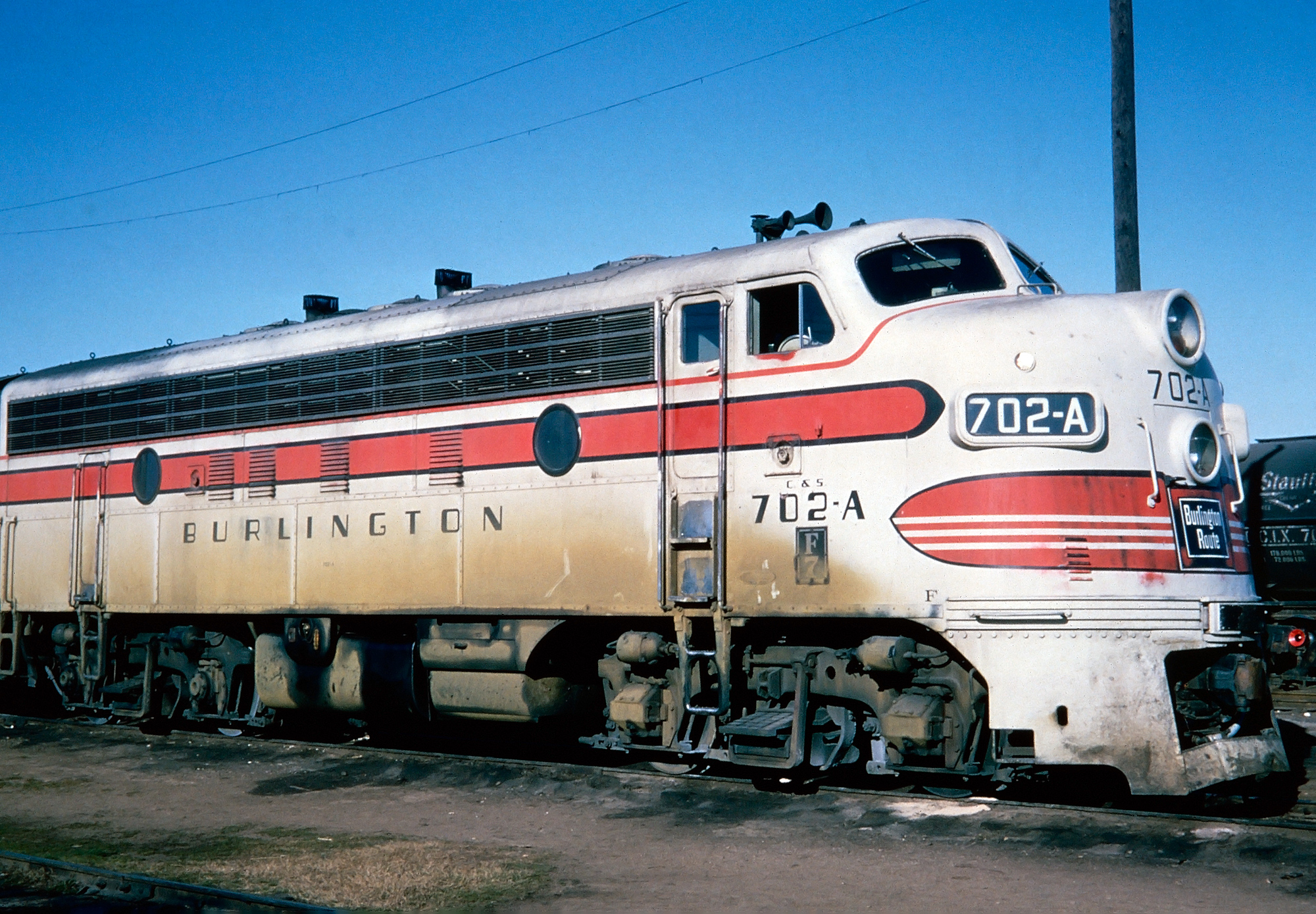 A handsome Colorado & Southern (Burlington) F7A, #702-A, although a bit dirty, lays over in Denver, Colorado during the early 1960s. American-Rails.com collection.
Despite these setbacks railroads of the era did have some notable gains. For instance, ton-mileage per railroad worker had doubled every fifteen years since the end of World War I. Also, the 1950s saw an introduction of a new type of service, TOFC or trailer-on-flat-car.
This service allowed railroads to haul unit trains of truck trailers, which was extremely efficient and beneficial to both industries and remains a highly lucrative service today. What began as an experiment in 1953 (one of the first lines to do so was the Chicago Great Western Railway) saw fifty railroads trying or testing TOFC service by 1959.
And, track upgrades allowed for faster and heavier trains as mechanical machines began replacing track gangs, and rail of over 100 pounds covered more than half of all lines in operation by late in the decade.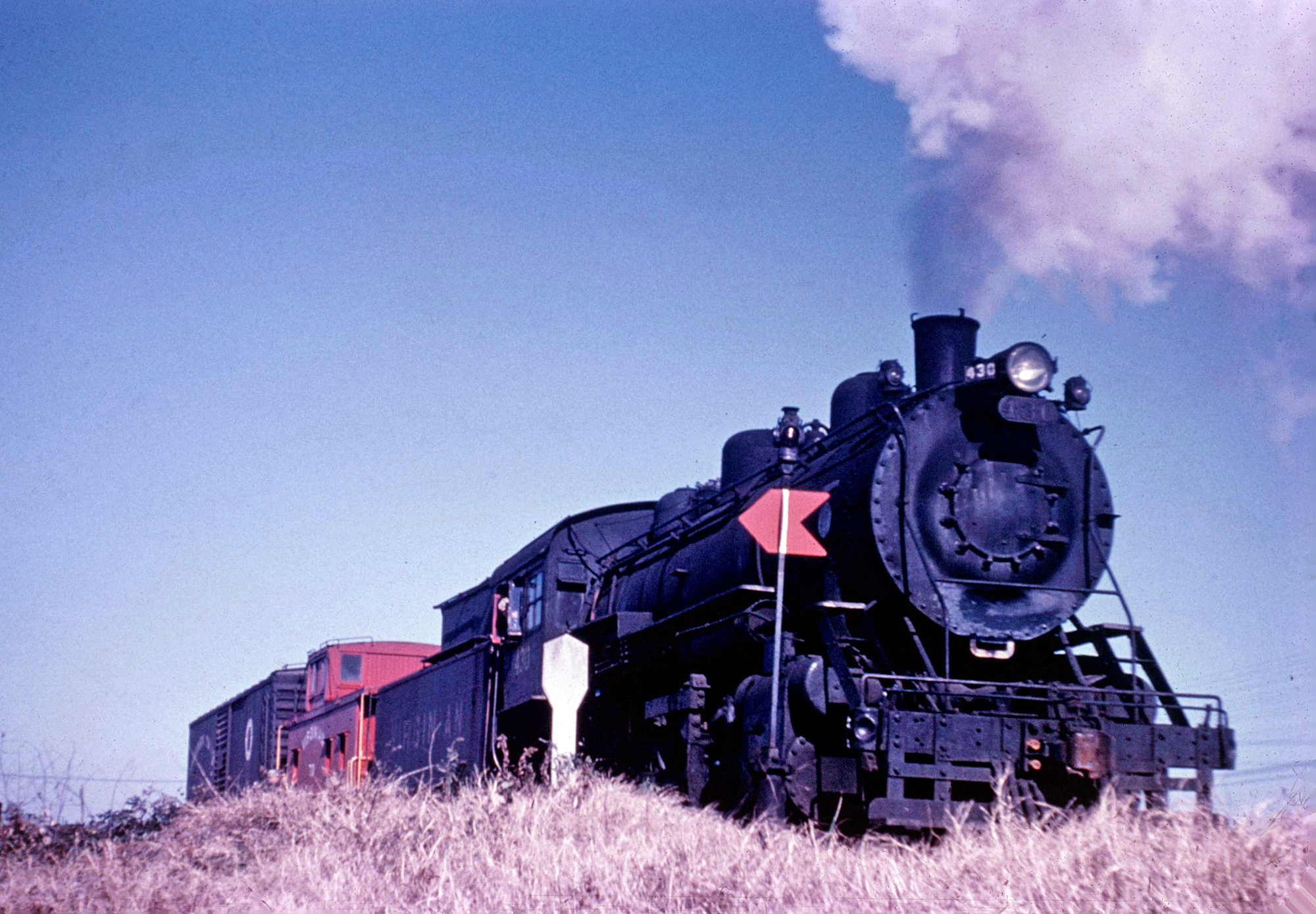 Virginian Railway 2-8-2 #430 (Class MB) carries out switching chores in Norfolk, Virginia during December of 1954. These Mikados could often be found in the Tidewater area at work. H. Reid photo. American-Rails.com collection.
Market Share Losses
The '50s also saw the beginning of the mega-merger movement with one of the first being the Norfolk & Western Railway's purchase of the Virginian Railway in 1959.
While consolidations are a natural part of capitalism and the free market mergers began to increase in number by the middle of the decade partly because of the railroad industry's loss of market share to highways and airplanes.
For instance, the overbuilt Northeast was probably the hardest hit by this market share setback. The Northeast's collapse culminated with the Penn Central bankruptcy of 1970 but it all likely started in 1951 when one Northeastern line, the Lehigh Valley Railroad, showed its final profits. 

---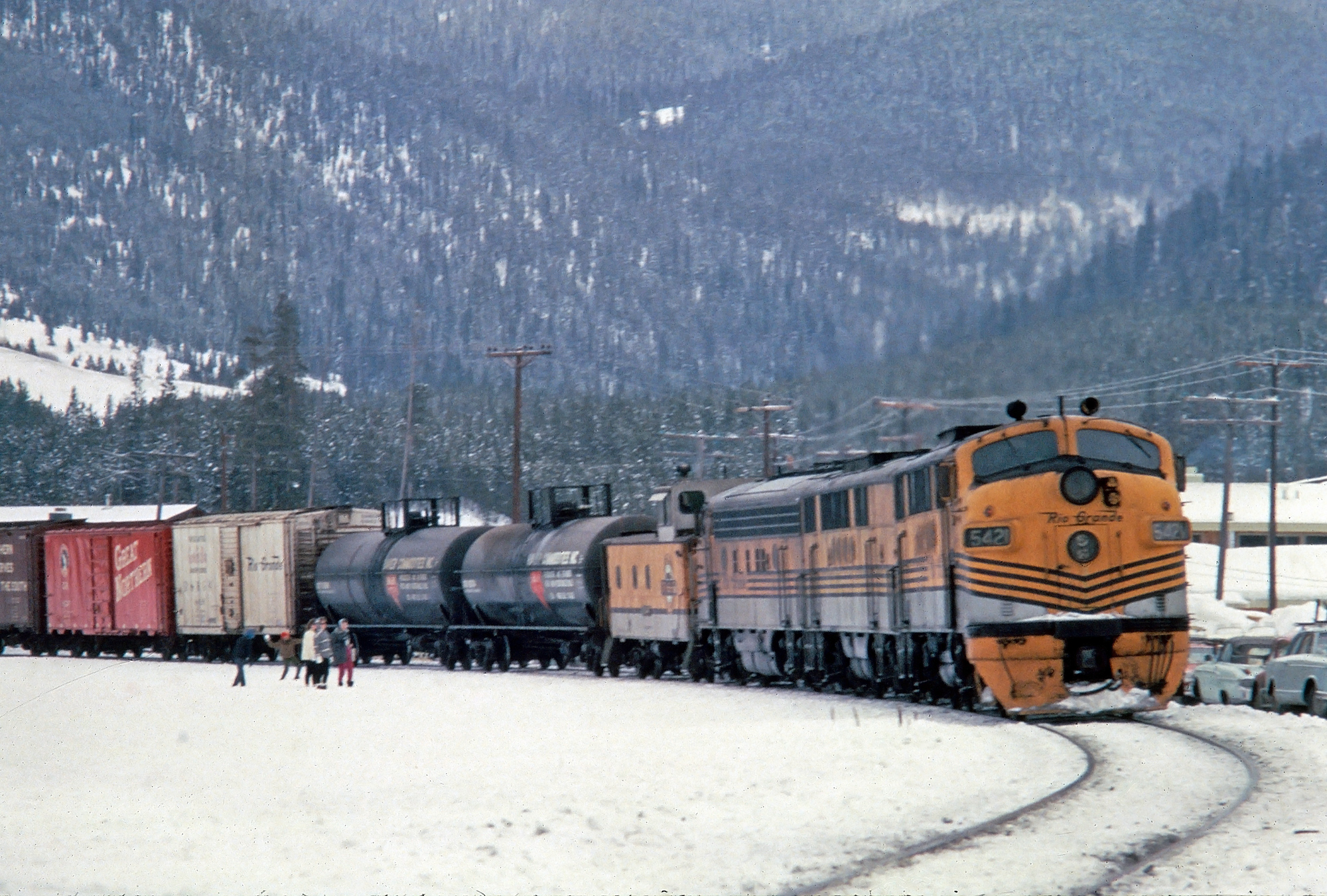 A Rio Grande A-B set of FT's, along with an F7A, shove on an eastbound freight at Winter Park, Colorado during the 1960s. Out of view at left is the west portal of Moffat Tunnel. American-Rails.com collection.
While the industry by the '50s was becoming more efficient it unfortunately did not stem the tide of losses, which only became worse a decade later. The decade saw many railroads in financial trouble as well as a number of mergers.
Names like the mighty Pennsylvania Railroad, New York Central, Chicago Great Western, Erie, Lackawanna, Seaboard Air Line, Atlantic Coast Line Railroad, and others would all disappear into merger in the 1960s.
Also, passenger rail services began to worsen as lines cut back on spending as folks continued to abandon trains for cars and airplanes. By 1970 only the most popular named trains like the Empire Builder and Super Chief still carried full service, including sleepers.