After this successful demonstration, which involved a lightly powered "motor," the locomotive began springing up on light rail, interurban, and trolley systems all across the country because of its clean, efficient, and reliable means of transportation. However, main line electrics did not appear until 1895 when the Baltimore & Ohio opened a three mile stretch of electrified territory in Baltimore that operated on a 600-volt direct current system with four gearless, 360 horsepower, locomotives (or "motors" as electrics are often called) for power.   For more reading about some of the different model types, or electrified systems, used by different railroads over the years please visit the links below:

Amtrak Designs
Electrics of the Milwaukee Road
Electrics of the Pennsylvania Railroad
Electrics of the Baltimore & Ohio
Electrics of the Virginian Railway
Electrics of the New York Central System
Electrics of the New Haven Railroad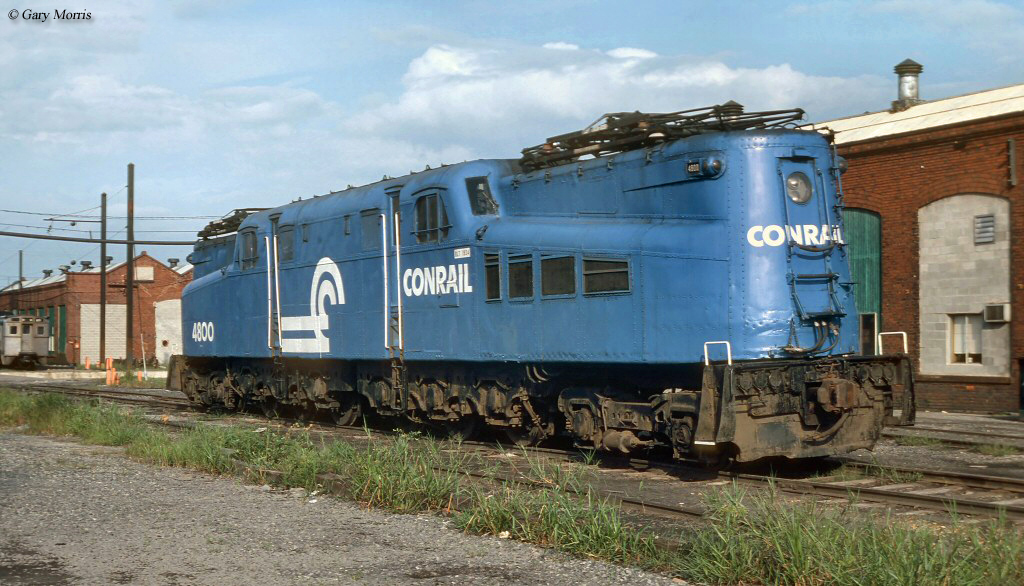 The primary reason for the B&O's electrification was to solve a safety issue with its 1.25-mile long tunnel situated under residential neighborhoods in Baltimore where smoke would become a health issue. However, by this time steam locomotive smoke in large urban areas, in general, was becoming a serious health and safety issue and by the early 20th century, particularly after a New York Central passenger train collided with a New Haven suburban train in January of 1902 in New York City (because of a smoke-obscured signal), many cities began passing ordinances banning steam from their city limits. 

The result of the steam locomotive ban forced railroads, which had widespread operations in large urban areas like the New York Central and Pennsylvania Railroad, to employ electric operations, using the B&O's Baltimore project as a starting point. Both the New York Central and Pennsylvania would go on to electrify most of their rail operations in and around New York City. However, it was the Pennsy that would take electrification to an entirely new level, eventually electrifying nearly all its lines east of Harrisburg, Pennsylvania. Other notable Eastern electrification projects would entail the Delaware, Lackawanna & Western Railroad around New York City, the Reading around Philadelphia, and the New York, New Haven & Hartford Railroad around Boston along with most of its lines in the Northeast. 

All of these railroads employed electrification mostly in commuter or passenger service to not only comply with city ordinances but also to gain the advantages electricity provided in commuter service, where fast accelerations and quiet operations were quite appealing. The only notable Eastern railroad to use electrification exclusively in freight operations was the coal-hauling Virginian Railway. The VGN completed its main line between remote Deepwater, West Virginia and Norfolk, Virginia in 1909 and quickly set to electrifying the entire route to gain the advantages electrified operations provided in mountainous territory. Until its purchase in 1959 by the Norfolk & Western the Virginian had a superb and well-engineered main line through the Appalachians that was extremely profitable and efficient. 

When most rail fans and historians think of main line freight electrification in the United States it was in the West where the Milwaukee Road's 660 miles of energized lines, the "Pacific Extension," between Harlowton, Montana and the Puget Sound (save for a short "gap" between Avery, Idaho and Othello, Washington) remains, to date, as the longest and most audacious such project ever built. Outside of the Milwaukee's Pacific Extension, there was little main line electrified territory in the West save for around Chicago and a few small lines in California. However, the Milwaukee Road's electrified territory offered a very rare glimpse in this country of what main line freight electrification looked like and how efficient it actually was. Regrettably, in a series of dumbfounding decisions the CMStP&P opted to shutdown its electrification in 1974, even though it had only been in service less than 50 years (the final stretch between Othello, Washington and Seattle was completed in 1920) and was projected to save the railroad millions in operating costs had it been left in place. 

In any event, while the United States would pioneer electrified operations worldwide, interestingly it never really caught on in our country, making the Milwaukee Road's electrified territory and that found in Northeastern commuter operations somewhat rare. Because of the initial astronomical costs involved railroads in the U.S. chose to only use electricity when significant savings could be achieved, and only over short distances, such as with commuter and mountainous operations. Today, energized freight railroading is all but extinct in the U.S. However, Amtrak operates significant intercity operations in the Northeast including the PRR's former main line to Harrisburg, Pennsylvania. Aside from Amtrak, several regional, state-funded commuter agencies across the country also operate electric locomotives from main line to light rail services.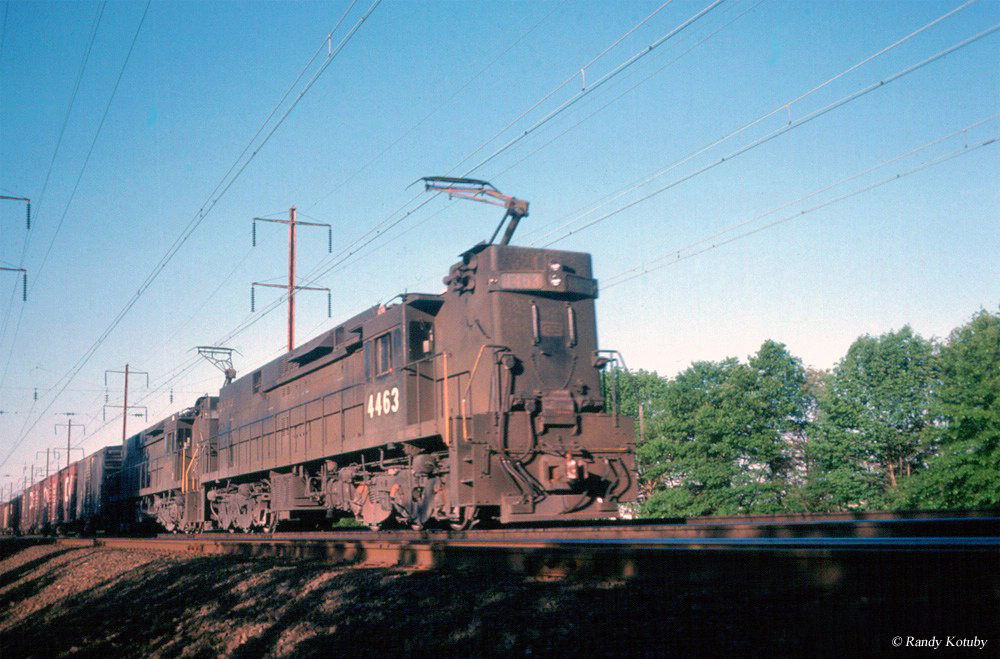 Designations, Types, And Characteristics
Electrics are classified using a unique system, somewhat similar to how steam locomotives are classified. As an example, when the New York Central electrified its lines in New York City the railroad used a small motor built by General Electric using a 1-D-1 wheel arrangement. These odd sets of numbers and letters designate powered and unpowered axles. Unpowered axles are designated using numerals whereas powered axles are distinguished by using letters. 

So, in the case of the 1-D-1; the "1" refers to one unpowered axle located on each end of the locomotive and the "D" refers to four powered axles whereby "A" equals one powered axled, "B" equals two powered axles, "C" equals three powered axles, and so on. While at first these classifications look tricky they are actually quite simple once you know what they mean and stand for. The electric power used in railroad applications was initially provided via direct current, or DC. DC has fundamental drawbacks such as providing relatively low voltage, usually no higher than 3,000 volts, requires large amounts of equipment to properly retain power throughout the system because of the current's considerable size, and needs power supplies (i.e., substations) located at regular intervals along the line to likewise maintain sufficient power as the high currents result in tremendous power losses across the system. 

Instead, alternating current, or AC, has become the favored means of electrical power for many systems worldwide since the 1930s. AC has none of the inherent drawbacks of DC systems, requires relatively cheaper overhead wires (or catenary), and can employ thousands of volts of power (although AC's significant drawback is lower traction in comparison to what DC allows). To operate "motors," energized systems require a number of components, of which result in much of the tremendous expensive involved to employ electrification. For overhead systems, these components include the trolley pole; a simple support system that holds the bow collector; the bow collector in turn holds the overhanging catenary which in turn holds the actual energized wires, catenary. To pick up the electricity locomotives are equipped with pantographs, booms that extend above, and over the carbody with "shoes" to collect the electricity and then convert it into whatever horsepower the locomotive is rated for. 

The other type of system is called third rail, and is basically just that, a third rail that parallels the railroad track to one side where "shoes" running down along the ground, near the trucks pick up the electricity. For tight clearances this system is very effective, such as in subways where much of the operations take place underground or in tight spaces. Aside from traditional motors which pick up electricity using an overhead or third-rail application, other types include dual-powered locomotives and AC rectifiers. Dual-powered locomotives, like the EMD FL9 can operate using either electricity or a traditional diesel engine. This system is very efficient in territory that is both electrified and non-electrified as the same locomotive can be used in both territories without having to switch the motive power. The New Haven Railroad is perhaps the most famous railroad for using this type of locomotive as it rostered over 30 of the unique FL9s. 

AC rectifiers are a truly exceptional and an efficient type of motive power. Since by the 1930s AC was the preferred method of electrification most new electrics were likewise built to AC specifications. However, AC, again did not provide quite such high tractive efforts as could be achieved with DC systems. To counter this issue railroads, particularly those which found high tractive efforts very beneficial in mountainous territory like the Great Northern, Virginian Railway, Pennsylvania Railroad, and the Norfolk & Western Railway, needed a new locomotive that operated on AC power but could use DC traction motors to gain the best of both worlds. What resulted were the very successful AC rectifiers in versions such as Virginian's EL-2B and EL-C; Pennsylvania's E44s; and New Haven's EP5s.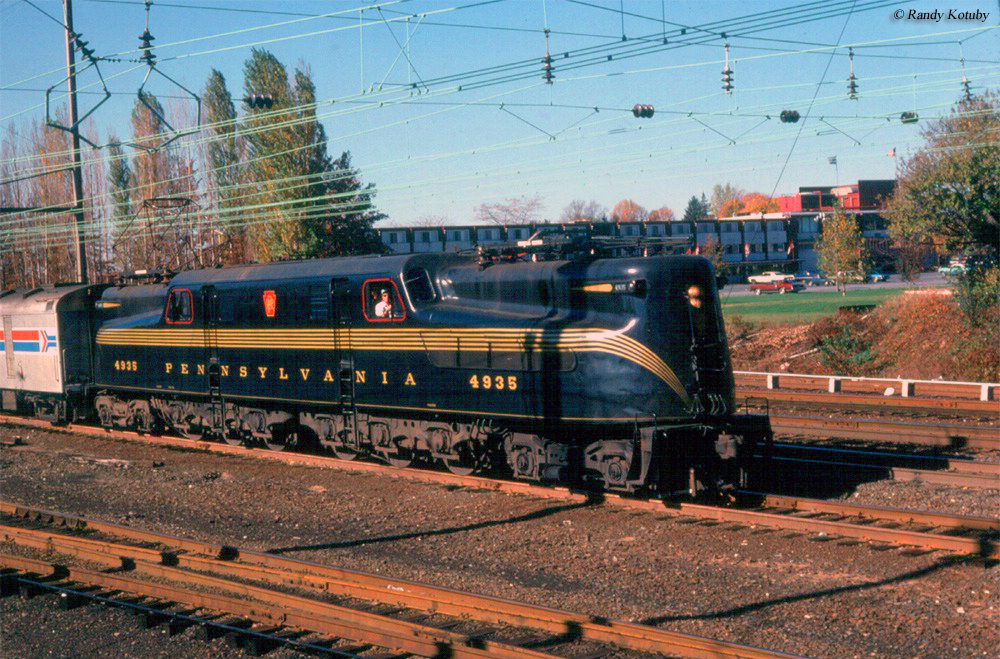 Today, while electrics in our country are used solely for passenger service the technology has come a long way, even since the AC rectifiers of the 1950s and 1960s. Types like AEM-7s, ALP-44s, and HHLs provide over 4,000 horsepower, operate using three-phase traction systems, provide tractive efforts over 150,000 pounds, and are no longer built by American firms with most manufactured in Europe by firms such as ASEA, Alstom, and Siemens. 

For purposes of this site the surviving electric locomotives listed here were built during the 1960s and before. Unfortunately, because electrics use an expensive and special power source (overhead wires or third-running rail) to be operated, virtually none of the classic models, which survive, remain in any kind of operational status. In any event, thankfully many of the most famous motors have been preserved in some fashion such as Pennsylvania GG1s or Milwaukee Road Little Joes. This list will be categorized by those railroads that owned electrics and which, and how many, survive. One final note, the locomotives listed below are those which served in main line freight service and does not include trolley or interurban cars. 
Chicago, SouthShore & South Bend

Class 2-D+D-2 "800" #803: On display and operational at the Illinois Railway Museum. 
Illinois Terminal Railroad

Class B #1565: Operable at the Illinois Railway Museum. 
Milwaukee Road

Class EF-1 Boxcab #50: Stored indoors and cosmetically restored at the Lake Superior Railroad Museum in Duluth, Minnesota. 

Class EP-2 Bi-Polar E-2: E-2 is the last surviving Bi-Polar on static display at the Museum of Transportation in St. Louis. 

Class EP-4 Little Joe #70: Last surviving of its kind on static display in Deer Lodge, Montana. 
New York Central

Class S-1 #100: NYC's first S-motor remains preserved but is not publicly displayed. 

Class S-2 #115: On display at the Illinois Railway Museum. 
Pennsylvania Railroad

Class B1: At least one B1 survives indoors and cosmetically restored at the Railroad Museum of Pennsylvania in Strasburg. 

Class DD1: At least one DD1 survives indoors and cosmetically restored at the Railroad Museum of Pennsylvania in Strasburg. 
Class E44: At least one E44 survives indoors and cosmetically restored at the Railroad Museum of Pennsylvania in Strasburg. 

Class GG1: Along with Old Rivets surviving GG1s include (per their original PRR numbers) 4859, 4876, 4877, 4879, 4882, 4890, 4903, 4909, 4913, 4917-4919, 4927, 4933, and 4935. 
Virginian Railway

Class EL-C/EF-4/E33: Two of these locomotives survive: #135 at the Virginia Museum of Transportation in Roanoke and #131 at the Railroad Museum Of New England/Naugatuck Railroad at Thomaston, Connecticut. 
Other Notable Survivors

Commonwealth Edison #4, "Steeple Cab": On display at the Illinois Railway Museum. 

Cornwall Street Railway & Light Company #14, Class B-1: On display at the Illinois Railway Museum. 

Iowa Terminal Railroad #30, "Steeple Cab": On display at the Illinois Railway Museum. 

Hutchinson & Northern #1: A small steeple-cab design built in 1921 by General Electric and remains preserved and operational at the Orange Empire Railway Museum. 

Milwaukee Electric Railway & Light Company #L13, "Steeple Cab": On display at the Illinois Railway Museum. 

Milwaukee Electric Railway & Light Company #L10, "Steeple Cab": On display at the Illinois Railway Museum. 

Sacramento Northern #653: A small steeple-cab design built in 1928 by General Electric and remains preserved and operational at the Orange Empire Railway Museum. 

Sacramento Northern #654: A small steeple-cab design built in 1928 by General Electric and remains preserved and operational at the Western Railway Museum. 

Union Pacific E-100: Originally Glendale and Montrose Railway #22, later sold to Yakima Valley Transportation and renumbered 297, which was purchased by Union Pacific. It is preserved and in operation at the Orange Empire Railway Museum. 

Wisconsin Electric Power Company #L4, "Steeple Cab": On display at the Illinois Railway Museum. 

Wisconsin Electric Power Company #L7, "Steeple Cab": On display at the Illinois Railway Museum. 

Yakima Valley Transportation #297: Originally built by Baldwin-Westinghouse this B+B design remains preserved in its YVT colors and is operational. 

While electrics may no longer be used in the U.S. to haul freight trains their reliability and efficiency in passenger service will likely keep them operating for decades to come, particularly as oil prices continue to rise. Extremely quiet and fast, motors are a very unique and interesting aspect of our nation's rail system, even if they are somewhat rare in comparison to the U.S. railroad industry as a whole, and other systems around the world. Heck perhaps even one day we will again see electrics lugging freights over Stampede Pass or through the Rockies. One can always hope, anyway! 

Related Reading You May Enjoy


Home

› Electric Locomotives