Milwaukee Road "Little Joe" Locomotives

Last revised: April 10, 2023
By: Adam Burns

The Milwaukee Road's "Little Joes," were the last electric locomotives purchased by the railroad. How they ended up on the Milwaukee Road is a rather twist of fate.

However, the electric locomotives ran near flawlessly during their service life that spanned three decades and they became the most revered motors ever operated on the Milwaukee Road.
The Little Joes were used in regular service from the early 1950s until the Milwaukee Road's western electrified operations over its famous Pacific Extension were shutdown in 1974. 
Early on the 2-D+D-2 electrics pulled both passenger and freight trains although this ended in early 1961 when the railroad stopped running its transcontinental Olympian Hiawatha to Puget Sound. 
Thankfully, one Little Joe was saved from the scrapper's torch and now sits on display in Deer Lodge, Montana with other preserved equipment.
Photos
Milwaukee Road "Little Joes" E-75 and E-74, along with a GP9, lead a westbound freight through rural Garrison, Montana in November of 1964. Tom Gildersleeve photo. American-Rails.com collection.
History
The unique "Little Joe" electric locomotives were built by General Electric in 1946 to fill an order placed by the Soviet Railways to operate on a 3,300 volt, DC system.
However, upon the order being completed relations had broken down between the United States and Russia (thus plunging us into the Cold War) and the locomotives had no place to go, with all 20 sitting at GE's Erie, Pennsylvania plant awaiting purchase.
The "Little Joes" derived their name from the Soviet Union's ruler, Joseph Stalin originally being called Little Joe Stalin's locomotives and later shortened to just Little Joes. 
Milwaukee Road "Little Joes" E-76 and E-78 layover at the engine terminal in Deer Lodge, Montana on May 9, 1962. Note the BiPolar, E-5, in the background. American-Rails.com collection.
From a technical standpoint these motors carried a 2-D+D-2 wheel arrangement, were equipped with eight GE 750 motors, and operated on a 3,000 volt DC system (perfect for the Milwaukee Road) with a continuous rating of 5,500 horsepower!
While geared rather low with a maximum speed of just 68 mph they produced 75,700 pounds of tractive effort and would prove to be perfect in stiff, mountainous territory.
Needing to sell the electric locomotives, GE offered to test one on the Milwaukee Road in the late 1940s, which interestingly had to be re-gauged to 4 feet 8 ½ inches from the five foot specifications for Soviet Railways.
Specifications
| | |
| --- | --- |
| Date Built | 7/1948 - 2/1949 |
| Road Numbers (Passenger) | E-20, E-21 (Class EP-4) |
| Road Numbers (Freight) | E-70 thru E-79 (Class EF-4) |
| Wheel Arrangement | 2-D+D-2 |
| Traction Motors | GE 750 (8) |
| Total Weight | 586,600 Lbs |
| Weight on Drivers | 443,000 Lbs |
| Driver Diameter | 47 ¼ inches |
| Tractive Effort (Continuous) | 77,000 Lbs |
| Tractive Effort (1-hour Rating) | 85,500 Lbs |
| Tractive Effort (At 25% Adhesion) | 110,750 Lbs |
| Horsepower (Continuous) | 5,110 |
| Horsepower (1-Hour Rating) | 5,530 |
| Top Speed (Maximum) | 84 mph |
| Safe Speed | 68 mph |
| Air Brake | 8-EL |
| Total Length | 88 Feet, 10 Inches |
| Total Wheelbase | 77 Feet, 10 Inches |
| Rigid Wheelbase | 20 Feet, 7 Inches |
| Height | 14 Feet, 5 Inches |
| Width | 10 Feet, 7 Inches |
| Gear Ratio | 21:80 |
| Electrical System | 3,000 Volt/DC |
Of the twenty built, the Milwaukee Road would go on to purchase 12 in 1950 with three picked up by the commuter line Chicago, South Shore & South Bend Railroad and the other five sold to Brazilian railroad, Paulista Railway.  After arrival on the CMStP&P the railroad quickly set to putting them into service.
In his book, "The Milwaukee Electrics," author Noel Holley notes the Milwaukee Road had an incredible chance to acquire all 20 locomotives for merely their scrap value of $1 million, which included all of the spare parts GE had on hand.  The deal was negotiated by the Milwaukee's legendary Laurence Wylie in 1949, who led the Electrification Department since 1948.
Unfortunately, Milwaukee's Operating Vice President, J.P. Kiley, a longtime advocated for diesel locomotives with little experience in electrification, overruled him.  When the U.S. entered the Korean War in the summer of 1950, freight traffic spiked and the Milwaukee found itself in a power shortage, especially out west.
Kiley eventually capitulated and allowed Wylie to purchase the GE locomotives.  However, by then only 12 remained and the asking price was $1 million for the group.  In addition, no spare parts remained.
Initially two were singled out for passenger service and designated class EP-4 (they carried the Milwaukee Road's plush Olympian Hiawatha passenger train, which operated between Seattle and Chicago).
The rest were geared for freight operations and designated class EF-4s (after the Milwaukee Road ended passenger service to Seattle in 1961 the two motors designated for such were reclassified to EF-4s as well).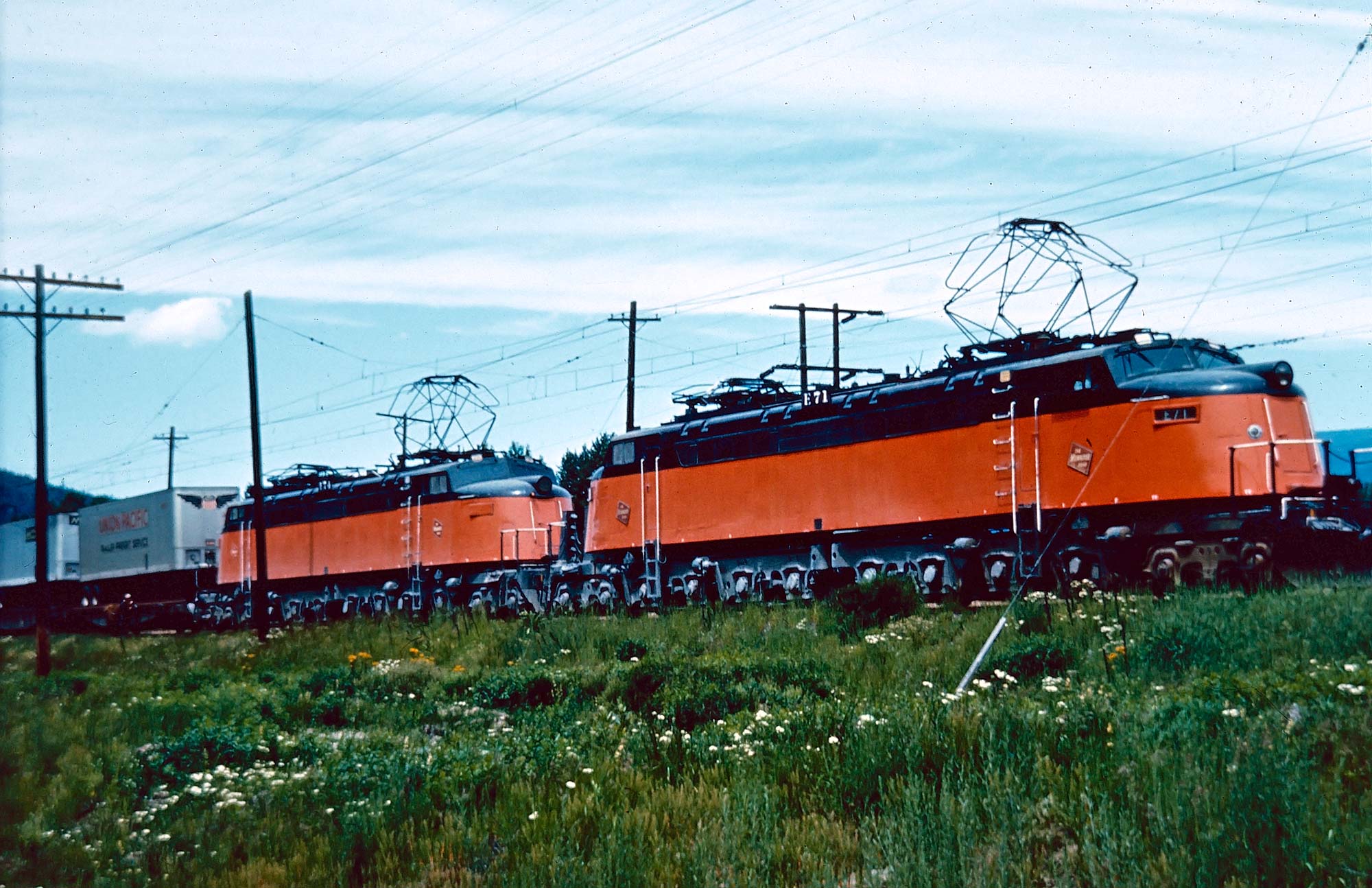 Milwaukee Road "Little Joes" E-71 and E-74 were photographed here in service during the summer of 1972. George Fischer photo. American-Rails.com collection.
The "Little Joes" were purchased to replace the Milwaukee Road's aging fleet of electrics which consisted of elderly GE boxcabs; classes EP-1, EF-1, and EP-2 (Bi-Polars).  The Bi-Polars were scrapped in 1962 and the original EP-1s and boxcabs were slowly retired over the coming years.
The EF-4s proved to be a reliable and effective motor across the Milwaukee Road's Rocky Mountain Division where grades through the Bitterroots sometimes peaked over 2%.
If you were lucky enough to see these magnificent locomotives in action they could regularly be seen assisting expedited freights with names like XL Special and Thunderhawk over St. Paul Pass and climbing Vendome Loop.  The Joes' range stretched as far west as Avery, Idaho the western terminus of Milwaukee's Rocky Mountain Division.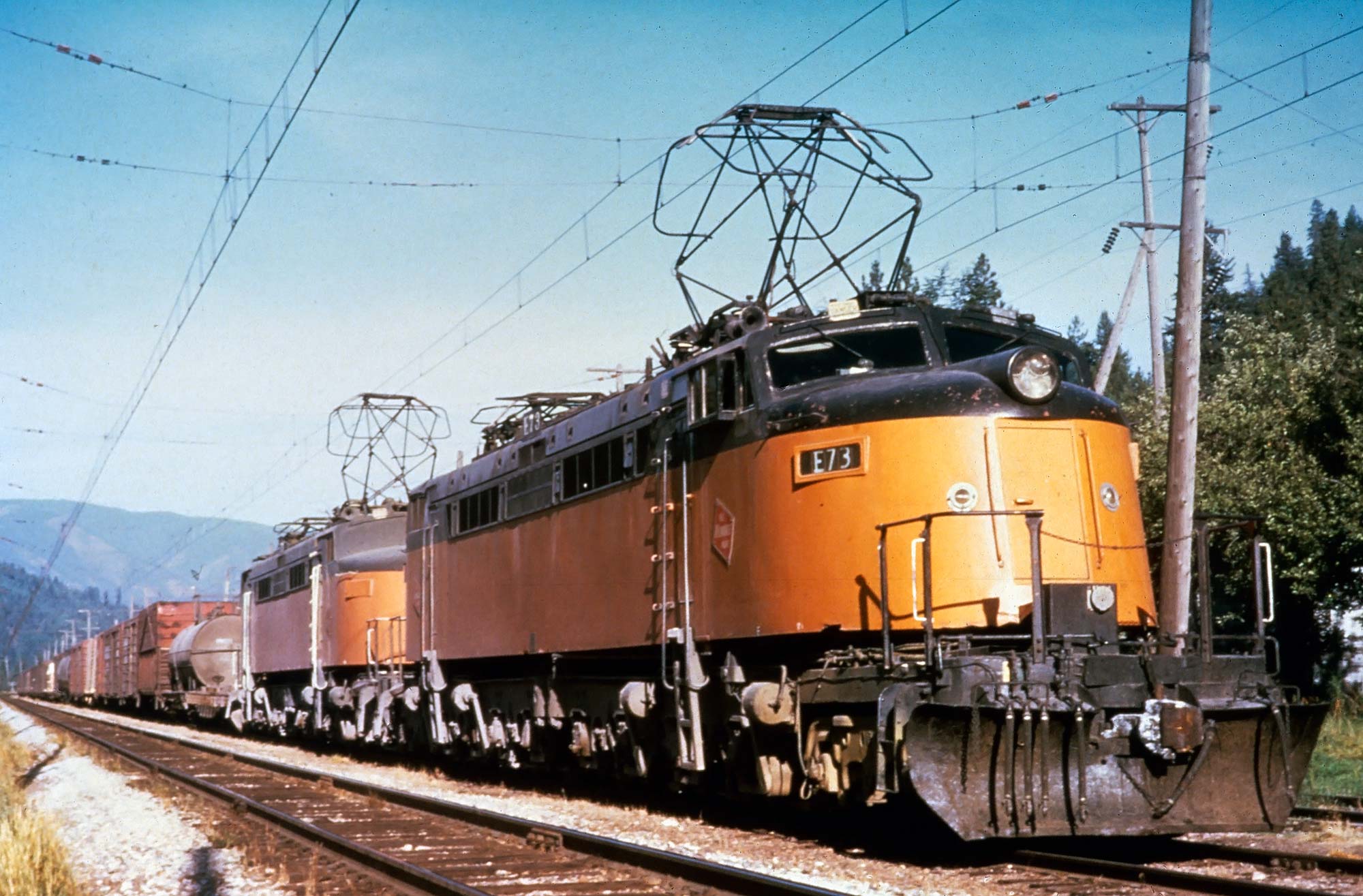 A pair of Milwaukee Road "Little Joes," led by E-73, have a westbound freight in Montana, circa 1972. Location not recorded. American-Rails.com collection.
Until 1961 the "Little Joes" also assisted in carrying the regal Olympian Hiawatha passenger train from Harlowton, Montana to Avery, Idaho.
The two "Little Joes" designated for this service were painted in a splendid matching livery of two-tone orange and after the Milwaukee Road ended the Olympian Hi the units were returned to the more traditional solid orange with black trim. 
Final Years
For the "Little Joes", not only were they the last electrics purchased by the Milwaukee Road but the locomotives also made history by heading the final runs of electrified operations in June of 1974.
One of these last runs occurred on June 15th when electrics E73 and E20 lead train #264 into Deer Lodge, Montana.
E-70 Preservation
After the June shutdown the "Little Joes" remained in storage on the system until all were eventually scrapped, save for unit E70 which was donated to the City of Deer Lodge and today is displayed on the courthouse lawn painted in the Milwaukee's Olympian Hiawatha livery.
It is interesting to note that just after the Milwaukee Road shutdown its electrification the oil embargo hit causing oil prices to shoot through the roof and resulted in the railroad not only spending millions on fuel but also new locomotives to replace the electrics. 
Roster
| Road Number | Date Built | Builder | Class | Serial Number | Original Buyer/Road Number |
| --- | --- | --- | --- | --- | --- |
| E20* | 10/1948 | General Electric | Class EP-4 | 29922 | Soviet Railways/A1601 |
| E21* | 10/1948 | General Electric | Class EP-4 | 29921 | Soviet Railways/A1600 |
| E70 | 12/1948 | General Electric | Class EF-4 | 29927 | Soviet Railways/A1591 |
| E71 | 1/1949 | General Electric | Class EF-4 | 29928 | Soviet Railways/A1592 |
| E72 | 2/1949 | General Electric | Class EF-4 | 29929 | Soviet Railways/A1593 |
| E73 | 2/1949 | General Electric | Class EF-4 | 29930 | Soviet Railways/A1594 |
| E74 | 12/1948 | General Electric | Class EF-4 | 29926 | Soviet Railways/A1595 |
| E75 | 7/1948 | General Electric | Class EF-4 | 29916 | Soviet Railways/A1596 |
| E76 | 7/1948 | General Electric | Class EF-4 | 29917 | Soviet Railways/A1597 |
| E77 | 7/1948 | General Electric | Class EF-4 | 29918 | Soviet Railways/A1598 |
| E78 | 9/1948 | General Electric | Class EF-4 | 29919 | Soviet Railways/A1599 |
| E79 | 9/1948 | General Electric | Class EF-4 | 29920 | Soviet Railways/A1602 |
* Equipped with steam generators for passenger service.  In 1956 these were removed and the locomotives reclassified as EF-4s for freight service.  Interestingly, the units always retained their original numbers.
Please note!: The Soviet Railways road numbers and GE serial numbers are correct to the best of my knowledge but data on each locomotive was limited so I cannot state with 100% certainly that they are accurate.
---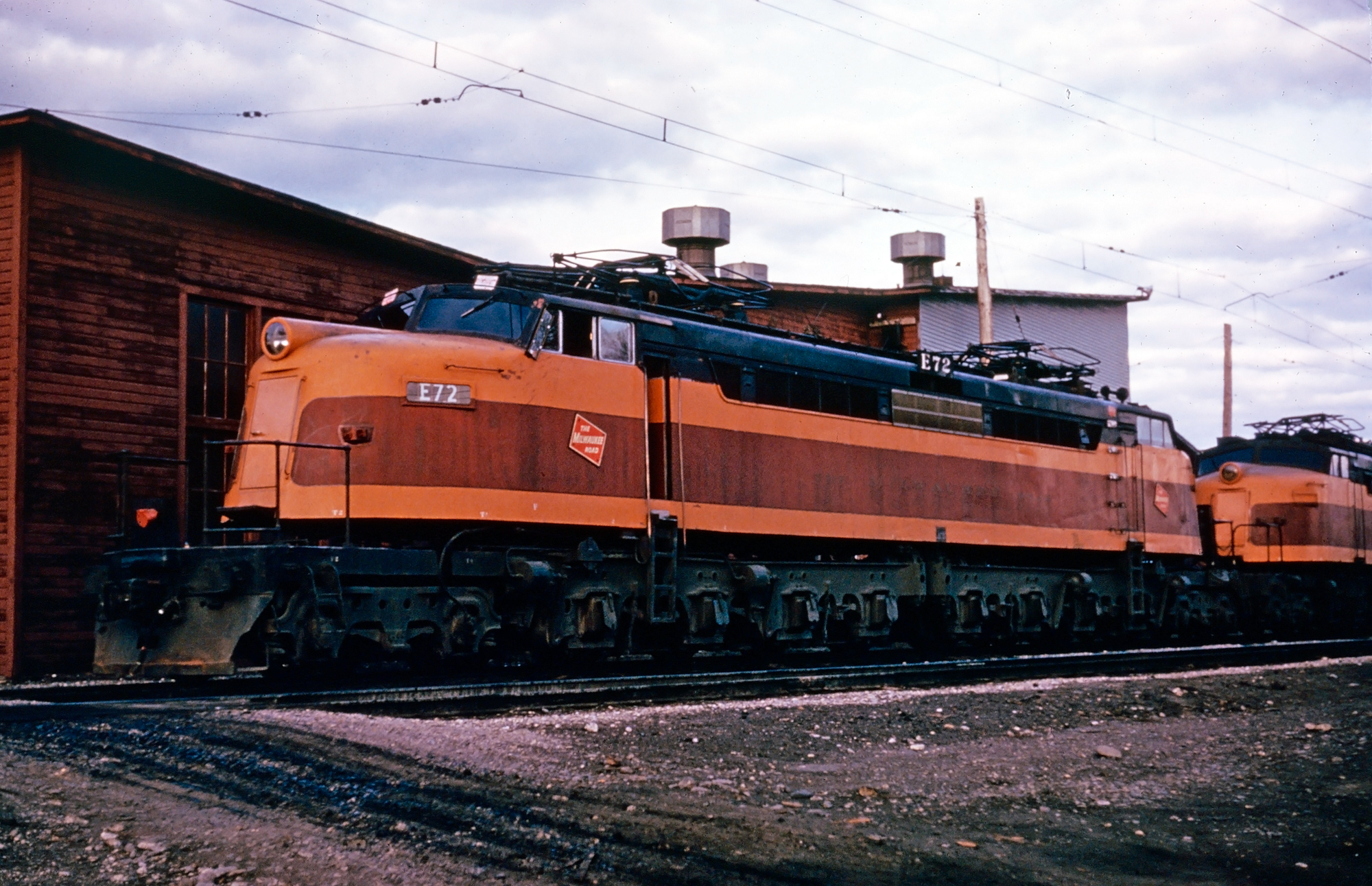 Milwaukee Road "Little Joe" E-72 and a mate layover near the roundhouse at Harlowton, Montana on May 7, 1958. American-Rails.com collection.
In any event, today electrics no longer conquer St. Paul Pass on the Rocky Mountain Division and all is quiet over the famous Pacific Extension except for the sound of Mother Nature and the occasional hiker along a number of rail/trails.
However, the sprinting Indian logo lives on with the Milwaukee Road Historical Association and Amtrak continues to operate a passenger train named after the famous Indian.
Photo Gallery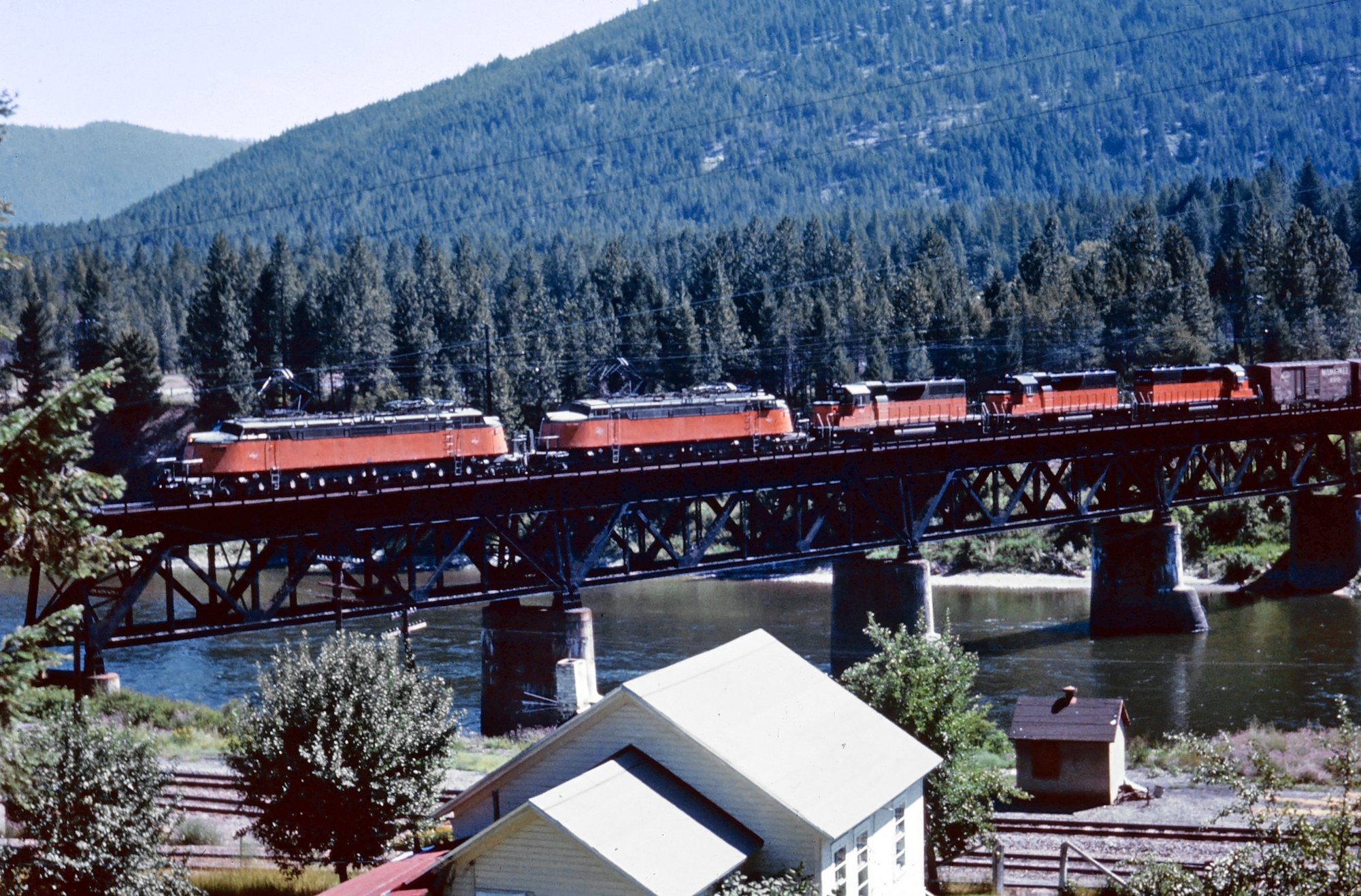 Milwaukee Road "Little Joes" E-71 and E-77, along with SD40-2s #3038, #3024, an #3026 leads a westbound freight over the Clark Fork River and Northern Pacific main line at St. Regis, Montana in September of 1972. American-Rails.com collection.
Milwaukee Road "Little Joes" and boxcabs have a steel gang train near Newcomb, Montana (just outside of Butte) during July of 1973. Bob Wilt photo. American-Rails.com collection.
Sources
Murray, Tom. Milwaukee Road, The. St. Paul: MBI Publishing, 2005.
Ploss, Thomas. Nation Pays Again, The. Ploss (Self Published): January, 1985.
Schafer, Mike. Classic American Railroads. Osceola: MBI Publishing, 1996.
Scribbins, Jim.  Hiawatha Story, The.  Minneapolis:  University of Minnesota Press, 2007.
Scribbins, Jim. Milwaukee Road Remembered.  Minneapolis:  University Of Minnesota, 2008 (Second Edition).
Solomon, Brian and Gruber, John. Milwaukee Road's Hiawatha's, The.  St. Paul: Voyageur Press, 2006.
Wood, Charles R. and Wood, Dorothy M.  Milwaukee Road West.  Seattle: Superior Publishing Company, 1972.