Amtrak's "Acela Express" (Train)

Last revised: June 22, 2023
By: Adam Burns

The Amtrak Acela Express is currently the fastest train available in the United States.  The 20 trainsets offer speeds up to 150 mph along the Northeast Corridor (NEC). 

Due to aging infrastructure, however, they can only attain that speed along a few isolated segments between Washington, D.C./Baltimore and Boston. 
A serious push to introduce high-speed service along the NEC began in the early 1990's but, typical of government endeavors, nearly a decade passed before the first trains began running in December, 2000. 
The Acela (which derives its name from the word "acceleration") had several foreign influences. It was manufactured by Bombardier and Alstom; the former is headquartered in Montreal, Quebec and the latter in Saint-Ouen, France.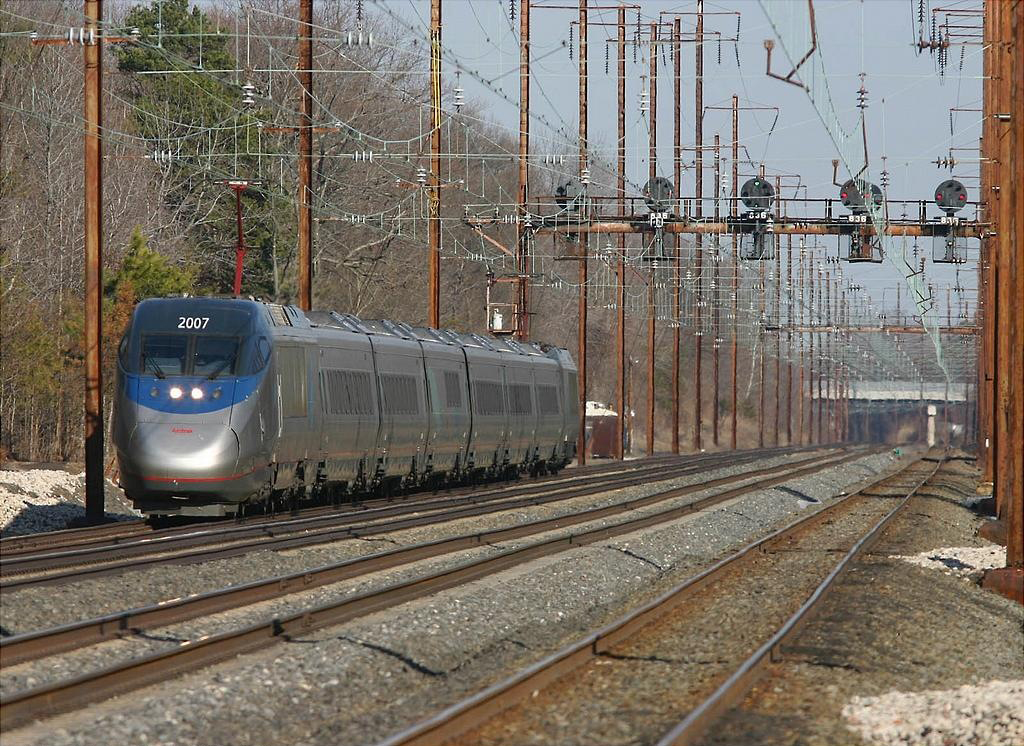 Amtrak power car #2007 leads the 'Acela Express' trainset through Middle River, Maryland on February 10, 2004. Wade Massie photo.
Both have extensive backgrounds in the high-speed arena and Alstom has been tapped to build the next generation of Acela's which are slated to enter service by 2021/2022.   
Unfortunately, the originals have been plagued with numerous mechanical issues although this has not dampened the public's enthusiasm. 
Thanks to its comfortable ride, on-board accommodations, and fast speeds the Acela is Amtrak's most popular service.  In this article, we look at the history of the Acela Express.
A Brief History Of The Acela Express
Under the strong leadership of William Graham Claytor Jr, Amtrak was seeing its most profitable era by the early 1990's.
In 1993 it was covering 79% of its total operating costs, a jump of 26% since 1982.  This was one major factor in why the railroad acquired new motive power for the first time in fifteen years. 
It was predominantly diesels from General Electric, the so-called "Genesis" series.  The first was the Dash 8-32BWH model [or P32BH in Amtrak's lexicon] in 1991 followed by the P40-8 in 1993/1994. 
Then a group of P32AC-DMs were purchased in 1995 through 1998.  Finally, the P42DC's were added between 1996 and 2001.  Following the P32BH's arrival, Amtrak began testing high speed trainsets to upgrade service along the Northeast Corridor. 
According to the book, "Amtrak" by author Brian Solomon, it tested Sweden's X2000 in 1992 which was followed by Germany's Intercity City Express (ICE Train) in 1993.  That December a new president was named, Thomas M. Downs, who replaced Claytor. 
This event coincided with further financial troubles.  Its 25-year contract signed with the railroads in 1971 (enabling it to use their tracks) was set to expire in 1996 while it had to renegotiate labor contracts with fourteen different unions between 1994 and 1997. 
Due to its financial issues, the railroad was forced to cut certain routes and lay off employees.  In the midst of this it continued efforts to reequip the Northeast Corridor. 

In its June, 1996 issue, Trains Magazine broke the news regarding Amtrak's new service, what was then dubbed the "American Flyer." 
The trainsets were to be built by the Bombardier Transit Corporation of Canada, in conjunction with GEC-Alstom of France according to an Amtrak news conference held at historic Washington Union Station on March 15th that year (headed by Vice President Al Gore). 
These two corporations had teamed up to manufacture one of the world's most highly regarded high-speed trains, the French TGV ("Train à Grande Vitesse," or "high-speed train"), which launched in 1981 between Paris and Lyon. 
Today, it regularly travels at speeds over 200 mph (320 km/h).   Awarding Alstom/Bombardier the contract was somewhat interesting considering Sweden's X2000 had received the highest marks from those within Amtrak's ranks. 
- As mentioned, the Acela's proved a mechanical and maintenance nightmare.  Then-president David Gunn stated in the December 2003/January 2004 issue of Mass Transit Magazine Amtrak would have rather purchased Sweden's X2000. -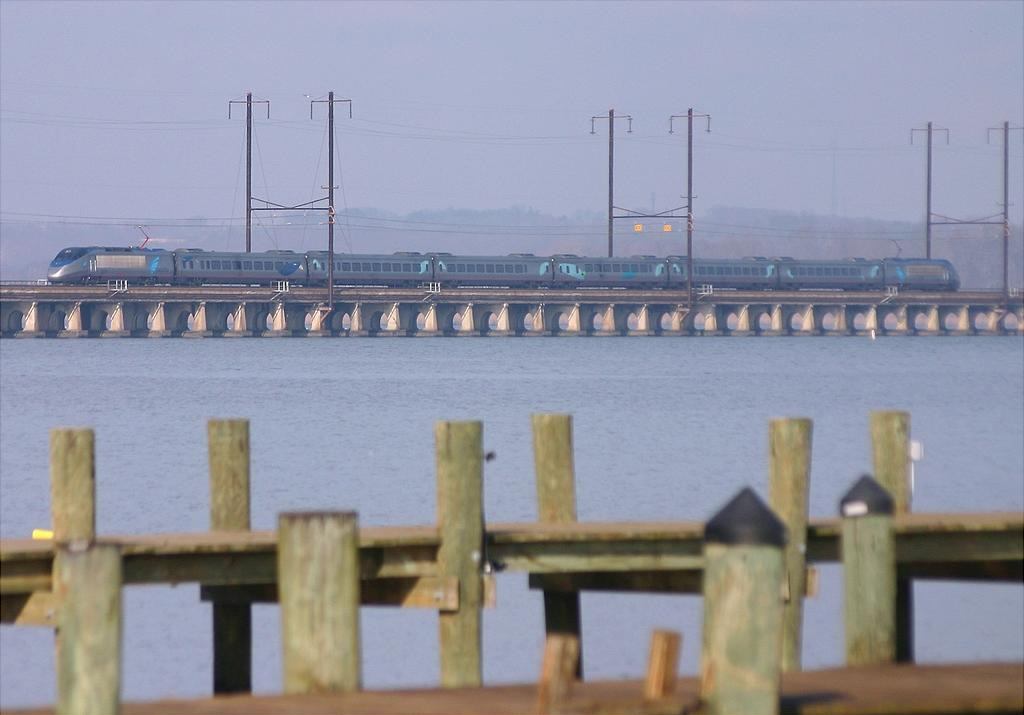 Amtrak's southbound Acela Express glides across the Gunpowder Falls Bridge at Harewood, Maryland on January 10, 2005. Wade Massie photo.
Nevertheless, the project moved forward.  It was decided the trains would be six car sets capable of seating 345 passengers. 
They also included tilting technology, a concept not needed for the TGV but required along the NEC due to its many curves (a result of its 19th century construction). 
Its purpose was two-fold; provide a smoother ride and allow the trains to operate at higher speeds. 
Only later, between 1914 and 1935, were sections electrified. (The New York, New Haven & Hartford energized its 72-mile section from New Haven to New York in 1914 with the final component into Pennsylvania Station completed in 1917.  The Pennsylvania Railroad electrified its 226-mile Washington-New York corridor in 1935.) 
The new trains would bump its fleet of AEM-7's to other assignments and retire General Electric's aging E-60's. (In their final years they were dubbed E60MA's, having been rebuilt several times to eliminate mechanical issues.  All were off the roster by 2003.)
For interior amenities the trains would include phone and fax availability (today, Wi-Fi and laptop jacks are standard). 
The entire project was slated to cost $754 million, which included new shop facilities in Washington, New York, Boston, and electrification of the 157-mile New Haven-Boston corridor which was never upgraded under the New Haven Railroad. 
It was believed the new service could slice New York-Washington transit times from 3 hours to 2 hours/45 minutes and New York-Boston times from 4.5 hours to 3 hours.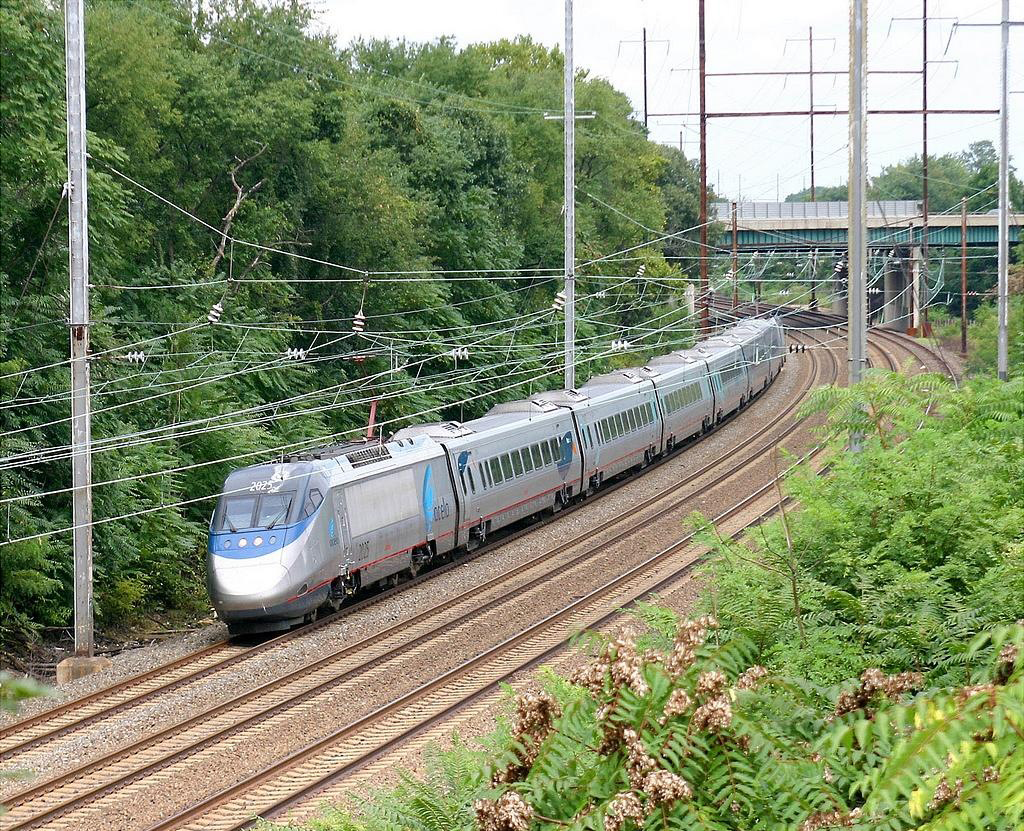 An Acela Express trainset leans into a curve at-speed along the quad-track Northeast Corridor at Chesaco Park, Maryland on August 31, 2004. Wade Massie photo.
The cars were built at Bombardier's plant in La Pocatiere, Quebec and assembled in Barre, Vermont and Plattsburgh, New York. 
While President Bill Clinton hoped high-speed trains would provide excellent PR during an election year (he was ultimately reelected) problems with the trains began almost immediately. 
It also was not introduced effectively.  Amtrak's press release, which read "Amtrak Unveils America's First High-Speed Trains" was riddled with issues.  Firstly, it spoke more about the manufacturers' agreement than the trains themselves. 
Secondly, it highlighted Budd Company's Metroliners of the 1960's.  While these electrics were lauded for their speed, testing up to 164 mph, they were plagued with mechanical troubles.  And thirdly, unforeseen construction issues pushed back the inaugural run by more than a year. 
The original plan called for the first Acela trainsets to be completed by 1997 and in operation by September, 1999.  While this was ongoing, Amtrak went through a major re-branding.
Downs was replaced by George Warrington in December, 1998 and the new president immediately updated the railroad's logo, dropping the long-regarded "Pointless Arrow" in favor of the current "Three Sheets To The Wind" emblem. 
While Warrington's effort brought a new, contemporary look his decision to re-brand the new high-speed service proved problematic. 
He dropped the "American Flyer" moniker for "Acela," a term derived from the word "acceleration."  In doing this he re-designated other, long-established under the Acela brand. 
For instance, Acela Regionals replaced Northeast Direct and Acela Commuters the Philadelphia-New York "Clockers" service.  Lastly there was Acela Express which denoted the new trainsets. 
There was immediate confusion among the public since most presumed anything carrying the term "Acela" described high speed service, which was offered by only the Acela Express. 
Because of this, the Acela Regionals and Acela Commuters names were later dropped.  After numerous delays and a year behind schedule, the first Acela Express made its inaugural run on November 16, 2000. 
A month later it handled its first paying customers between Washington, D.C. and Boston on December 11th. 
Despite the claim Acela was America's first so-called "bullet train" it actually only reached its top speed of 150 mph for a stretch of 18 miles between Rhode Island and Massachusetts (the U.S. Department of Transportation officially rates "high speed rail" at 125 mph).
The northbound Acela Express hustles through Chase, Maryland along the Northeast Corridor on January 10, 2005. Wade Massie photo.
According to Bob Johnston's article, "A Coming-Out Party For Acela Express" from the February, 2001 issue of Trains Magazine, this occurred between Milepost 162 and 170 in Rhode Island (Kingston-Cranston) and Milepost 195-205 (south of Attleboro to north of Mansfield). 
Since then, further upgrades will allow for a section of 160 mph running over a short, 23-mile stretch between Trenton and New Brunswick, New Jersey (expected to be completed by 2019 and operated by the Avelia Liberty trains). 
Mr. Solomon's book notes that speeds of 150 mph are designated for the segments previously mentioned (east of New London, Connecticut) while 135 mph sections can be found between New York and Philadelphia. 
Following two decades of service and high praise from the public, the Acela's are scheduled to be replaced by the latest Avelia Liberty beginning in 2021 and phased out entirely by 2022.   
This new service is expected to cost a total of $2.5 billion.  It will also be built by Alstom, a firm which spent $66.8 million to upgrade its plant at Hornell, New York to construct these new trains (aiding by $30 million from the state of New York). 
They can operate at speeds up to 160 mph and will have an additional 33% seating capacity.  In spite of its issues, Acela's faster schedule finally made rail travel a comparable alternative to regional Northeastern flights. 
This allowed Amtrak to capture a large component of the local commuter business between Boston and Washington. While the entire train was initially meant to tilt what resulted was only the cars themselves actually built with such features.
---
The Amtrak "Acela Express" Specifications
Total Weight: 1.13 Million Pounds (565 Tons, Nearly Twice As Heavy As The French TGV)
Power Cars: 69 feet, 7 3/8-inch (Length), Rated At 4,600 Kw Each (6,169 horsepower)
Total Train Length: 665 Feet, 8 3/4 Inches
Electricity:  Alternating-Current (AC), Traction Motors By Alstom (3-Phase, Asynchronous)
Tractive Effort: 49,500 Pounds (Per Power Car)
Top Speed: 150 MPH (18 miles between Rhode Island and Massachusetts)
Voltages differ due to the age of the Northeast Corridor's various systems (PRR and NYNH&H) and to allow for commuter services to use the trackage.
Currently the ratings are 11 kV at 25 Hz, 13.2 kV at 60 Hz, and 25 kV at 60 Hz. Ideally, the entire network should be upgraded to 25 kV at 60 Hz but funding has not been allocated for this. 
Sources: "Locomotives, The Modern Diesel & Electric Reference: Second Edition," By Greg McDonnell and "Amtrak" by Brian Solomon.
---
Alas, the tilting feature ultimately became an expensive headache, never reaching its full potential.; the Metro-North Railroad forbids its use along its section of the NEC while the cars proved too wide (by four inches) to safely pass one another with the tilt engaged. 
They could potentially touch resulting in a catastrophic side swipe and serious accident.
Internally the Acela uses the latest in electric locomotive technology such as silicone oil-cooled transformers and the ability to operate under different voltages (anywhere between 11,000 to 25,000 volts).  
Even though the train is currently the fastest in he country, the NEC's limitations handicaps it potential due to the route's many curves and aging bridges which forbid high-speed operation over long stretches. 
As a result, across the entire 457-mile Northeast Corridor, Acela Express averages a rather pedestrian 68 mph. 
It's also experienced other mechanical problems in addition to those previously mentioned:
Disc brake cracks were found in 2005 which sidelined the trains for an extended period of time.


On February 5, 2018 another scary incident occurred when train #2150 (Washington-Boston) separated at around 6:40 AM between the first and second coach.
---
With power car #2008 in the lead an Acela trainset zooms past the MARC station in Halethorpe, Maryland as it heads towards downtown Baltimore on February 24, 2006. Wade Massie photo.
At the time the train was traveling at 123 mph near Havre de Grace, Maryland. 
It was later learned a drawbar pin fell out of place, vertically, which caused a bolt, securing a retaining disk, to shear off. 
After an immediate application of emergency brakes, the coach cars were 5 to 6 feet apart when the train stopped. Mr. Gunn went on to say this about the Acela:
"The passengers love the [train] but its performance has been woefully inadequate compared to the specifications in terms of failure rates. 
And none of them met specifications.  We're having premature traction motor failures.  We're having main suspension springs break.  We're having dog bones on the tilt mechanism fracture and break." 
Overall, Acela, and its future replacement, will likely be the best this country has too offer for some time to come (although California's high-speed endeavor still under construction may soon change everything the U.S. has come to expect with passenger rail service since Amtrak's 1971 launch). 
From a big picture standpoint, the Acela Express has been a proven success despite its many problems. 
It remains very popular, accounting for an astounding 40% of Amtrak's total ridership and nearly 55% of ticket revenue (2008 figures, from a new piece by Bob Johnston entitled "Moving The Northeast's Multitudes" from the December, 2008 issue of Trains Magazine).