The origins of the Climax are credited to Charles Darwin Scott who worked at sawmills located in Spartansburg, Pennsylvania. Around 1878 he began experimenting with his geared-locomotive design that could be put to practical use in logging applications, similar to the Shay which was first sold in 1880. After believing he had a useful design, Scott decided to market it to the Climax Manufacturing Company whose plant was located less than 10 miles away in Corry, Pennsylvania (the company was soon renamed as the Climax Locomotive Works after it began producing locomotives on a large-scale basis). A prototype was completed in March of 1888 and sold to Imel, Powers & Shank who had logging operations near Scandia, Pennsylvania at Hodge Run in Warren County.
Other Geared Locomotive Designs
More Reading...
Soon after this initial copy was sold, Scott and Climax saw three more orders placed that spring convincing the lumberman that he was on to something. After ten months of waiting he finally received his patent for the locomotive on December 4, 1888. Unfortunately, however, this is where Scott's tale in the Climax's development (and rightful credit for the design) fades. Because of his civil engineering background, Scott's brother-in-law George Gilbert received the patent in his name instead. This arrangement was actually agreed upon by both men as Gilbert was to make drawings and plans for future improvements on the locomotive thanks to his expertise in schematics. Sadly, however, Scott was never given credit for these enhancements to the design. Instead, Gilbert and Rush S. Battles (from Climax) took it upon themselves to improve the locomotive for wide-scale manufacturing.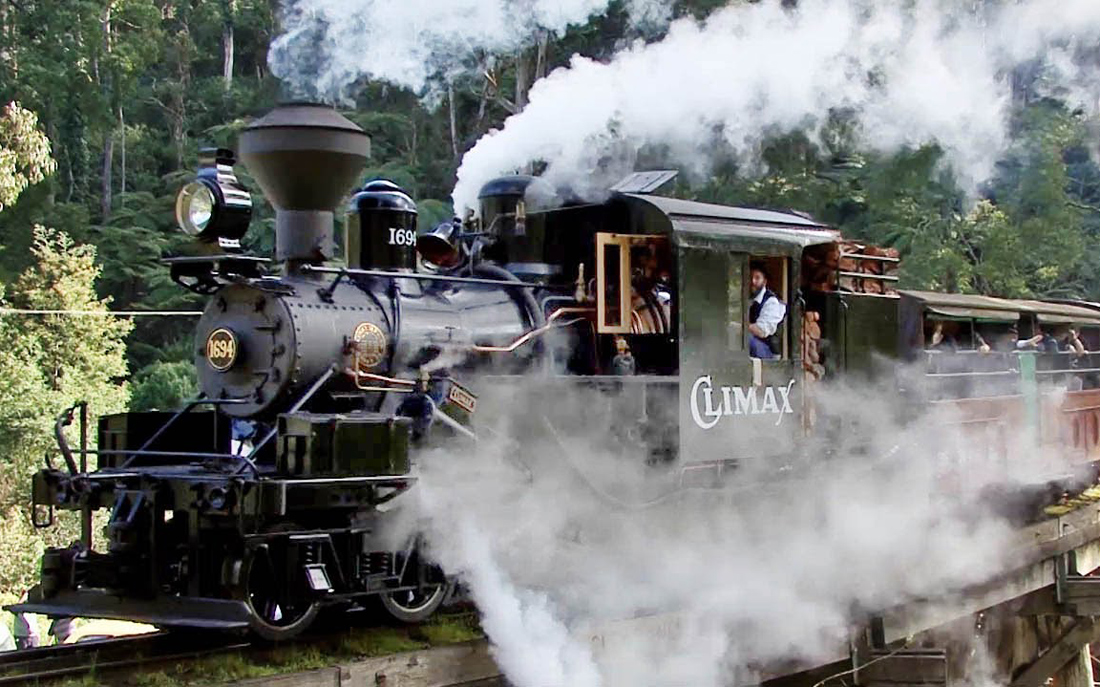 While Scott would ultimately win a court battle over the patent in 1892 he was destitute and unable to go any further with his idea. Instead, it was eventually sold back to Climax and improvements on the locomotive continued. The earliest examples of the design, often listed as the Class A, built by Scott and first sold by Climax resembled little more than an early 19th century conventional steam locomotive with a vertical boiler situated on two axles. The first type employed two vertical cylinders connected to a gearbox while the second version of the Class A used essentially the same design except for a longer frame and two-axle trucks placed on each end of the locomotive for better support and increased adhesion/tractive effort.
The last version of the Class A released in the early 20th century looked much more similar to what we now think of as a Climax steam locomotive. While this version still employed vertical cylinders it featured a horizontal boiler and enclosed cab. The common Climax (Class B and C models) essentially used the same technology as the Shay but in a different way. According to William E. Warden in his book West Virginia Logging Railroads, the Climax gained adhesion by employing two cylinders, one on each side of the boiler. The cylinders were neither vertical nor horizontal at an angle of approximately 25 degrees and the piston rods were connected to a line shaft centered under the boiler and mid-way between the trucks, which thus powered either two or three trucks. Like the Shay, the Climax steam locomotive came in a variety of classes.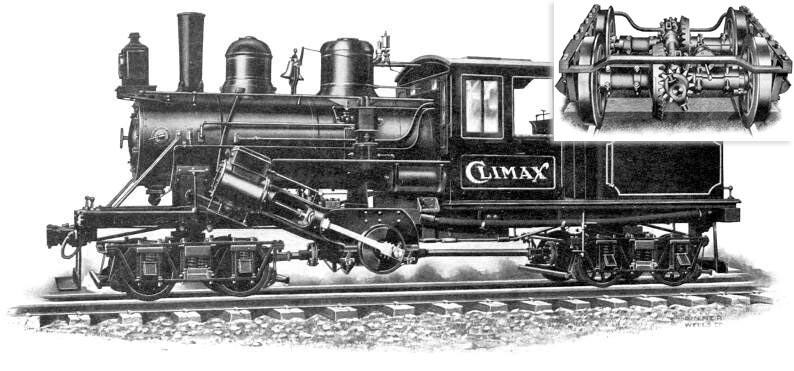 The short table below lists these classes:

Class A: Two Vertical Cylinders, Two Trucks
Late Class A: Two Vertical Cylinders, Two Trucks, Horizontal Boiler
Class B: Two Cylinders Angled at 25 Degrees Permitting An Increase In Length, Two Trucks
Class C: Two Cylinders Angled at 25 Degrees, Three Trucks
The above list is quite general as Class As varied widely with Climax offering the locomotive in many different styles and versions depending on customer needs. The Class B design debuted around 1893 and models were built anywhere from 17 to 60 tons. The model was also the first to offer cylinders mounted at 45-degrees. Finally, the Class C was the largest, heaviest, and most powerful ever built debuting in 1897. The model was available in sizes ranging from 50 to 100 tons and was the only style offered with a three-truck setup. In many ways the Class C model was the most popular for the reasons mentioned above. However, it also had an additional advantage after 1915 when Climax swapped out its Stephenson valve gear for the Walschaert design. Because it was placed on the outside of the locomotive and had fewer moving parts the Walschaert was less expensive and easier to maintain.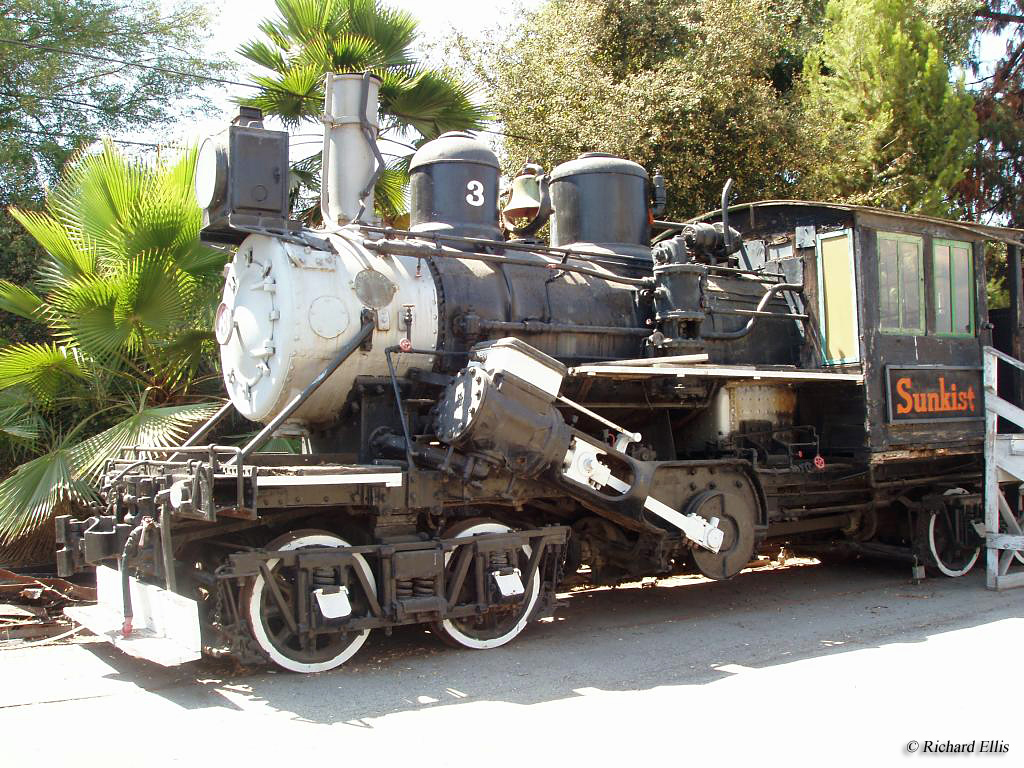 The logging railroad industry reached its peak in the 1910s and early 1920s. This caused sales for geared steam locomotives to greatly slow by later that decade and by September of 1928 the business was sold to the General Parts Corporation. While the new owner continued to sell replacement parts it built no further locomotives. Today, only around 20 Climax steam locomotives survive worldwide. Perhaps the best place to catch one still in operation is to visit the Durbin & Greenbrier Valley Railroad located in Durbin, West Virginia. Here you can ride behind Climax #3 hauling the Durbin Rocket on seasonal trips (the Climax is a 55-ton model originally owned by the Moore-Keppel Lumber Company of Randolph County in West Virginia). You can also catch a ride on a Climax at the Mount Rainier Scenic Railroad in Washington state (a Class C three-truck it was one of the final examples ever built in 1928).
Related Reading You May Enjoy


Home

›

Steam Locomotives

› Climax Locomotive