Guide To Amtrak/Passenger Trains In Illinois (2023)
Published: July 12, 2023
By: Adam Burns

Illinois, the heartland of America, boasts an extensive and well-connected passenger rail network that allows residents and visitors an opportunity to explore the state by train. 
With a range of services that cater to different travel needs, Illinois provides an excellent opportunity to experience the charm and convenience of rail travel. In this article, we will delve into the current passenger rail services throughout Illinois, highlighting their routes, amenities, and the unique experiences they offer.
Photos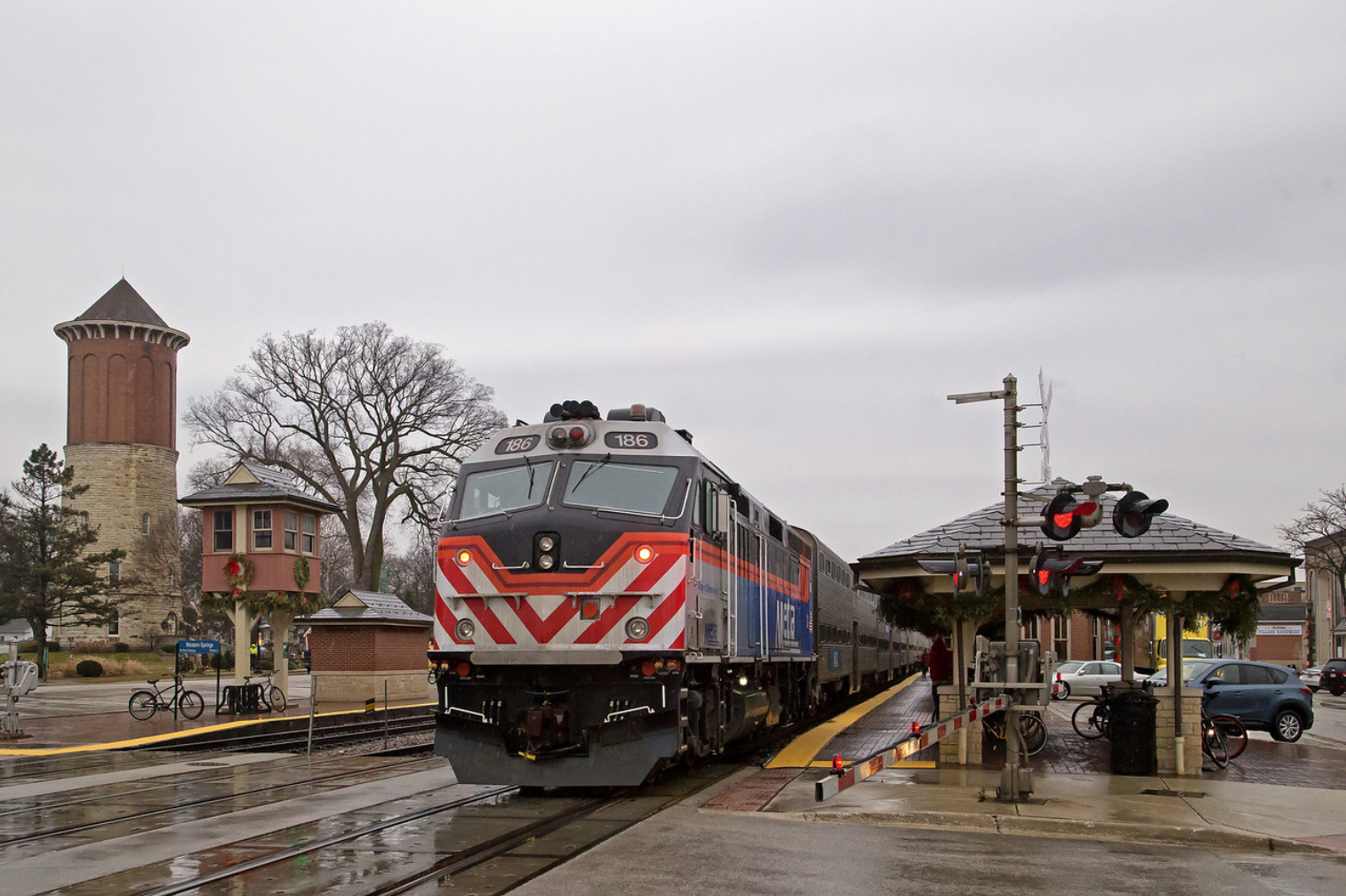 Metra F40PHM-3 #186 makes a stop with its commuter train at Western Springs, Illinois. Loyd Lowry photo.
Amtrak, the national passenger rail service, plays a pivotal role in connecting Illinois with other states and major urban centers. The state is served by several Amtrak routes, including the Illinois Service, Lincoln Service, Carl Sandburg, Texas Eagle, and many more. Let's take a closer look at these services:
Hiawatha Service
Amtrak's Hiawatha service is a popular and convenient passenger train that connects the bustling city of Chicago, Illinois, with the vibrant city of Milwaukee, Wisconsin.
Named after the native people who once inhabited the region, the Hiawatha offers a comfortable and scenic journey through the heartland of the Midwest. 
The train follows a well-traveled route, departing from Chicago Union Station and making several stops before reaching its final destination in downtown Milwaukee.
The journey covers approximately 86 miles, passing through picturesque landscapes and charming communities along the way. The Hiawatha operates multiple daily departures, providing flexibility and convenience for travelers.
Passengers aboard the Hiawatha can expect a comfortable and enjoyable travel experience. The train features modern and well-appointed coaches, providing ample legroom, reclining seats, and large windows to take in the scenic vistas.
Passengers also have access to power outlets for charging electronic devices and free Wi-Fi to stay connected during the journey. The Hiawatha offers a relaxing environment, allowing passengers to unwind, work, or simply enjoy the ride.
The Hiawatha route takes passengers through some of the Midwest's most picturesque landscapes. As the train leaves Chicago, it traverses the urban sprawl before entering the Illinois and Wisconsin countryside.
The journey includes scenic views of farmlands, rolling hills, and meandering rivers, offering a refreshing and serene experience. Notable sights along the way include Lake Michigan, the Milwaukee River, and glimpses of charming small towns that dot the route.
Illinois Service
Amtrak's Illinois Service is not actually a train but a brand, covering five regional runs that connect Chicago to a number of the state's smaller cities (it is also partially subsidized by the Illinois Department of Transportation).
These services include the Illinois Zephyr (Chicago-Quincy), Carl Sandburg (Chicago-Quincy), Lincoln Service (Chicago-St. Louis), Illini (Chicago to Carbondale), and finally the Saluki (Chicago to Carbondale).
Many of these trains can trace their heritage back to a number of different Midwestern railroads like the Illinois Central, Gulf Mobile & Ohio (GM&O), and the Chicago Burlington & Quincy (CB&Q), albeit under different names.
As you might expect the services for these trains are quite generic considering no trip usually takes longer than five hours. It is hoped that these routes will someday soon become high speed corridors although funding for such projects continues to remain elusive.
There are currently two trains Amtrak operates between Chicago and Quincy, Illinois; the Illinois Zephyr and the Carl Sandburg.
The former harkens back to the Burlington's well known fleet of regional and long-distance streamlined Zephyrs.
The route's actual predecessors were the Kansas City Zephyr and American Royal Zephyr, which both served Chicago and Kansas City and were canceled between the late 1960s and startup of Amtrak.
On November 14, 1971 the national carrier added the Illinois Zephyr and Carl Sandburg to its timetable but interestingly never extended them to either Kansas City or any other nearby major city. It was also at this time that IDOT began to subsidize rail service creating the brand Illinois Service.
It is interesting that despite having no major connecting cities both trains are quite popular. The Illinois Zephyr is listed as trains #380 and #383 while the Carl Sandburg carries #381 and #382.
Their corridor is 258 miles in length with a typical trip requiring about 4.5 hours. Standard power on the trains are General Electric P42s and about four cars (three Horizon Fleet coaches as well as a Amfleet lounge).
Amtrak's Lincoln Service is another historically significant train as the Abraham Lincoln, which served the same cities (Chicago-St. Louis) and inaugurated by the Baltimore & Ohio in 1935.
At that time the B&O owned the Alton Railroad and was hoping to strategically market itself in the Midwest as a way to gain leverage on competitors Pennsylvania and New York Central.
Interestingly, despite its regional status the Abe Lincoln was one of the B&O's first streamliners and it spent a lot of money purchasing its equipment from car builder American Car & Foundry along with marketing the train.
On May 31, 1947 the B&O elected to sell its interest in the Midwest, with the Gulf, Mobile & Ohio purchasing the Alton but retaining the Abe Lincoln, which remained a rather popular train and it survived through the startup of Amtrak.
It retained its name until 2006 when Lincoln Service was adopted instead. Today, it continues to operate over a 284-mile corridor with trips usually requiring a little over 5 hours. The train's consist is just as the above two trains; a GE P42DC, Horizon Fleet coaches as well as a café car.
The Illini (train #392-393) is a train with a history associated with the Illinois Central Railroad. The IC actually had a train by this very name that served the same corridor (Chicago-Carbondale) along with another by the name of the Shawnee.
Upon Amtrak's startup it retained the latter but at first scrapped the former. This changed with the carrier's December 19, 1973 timetable when it brought back the Illini permanently to serve Champaign.
After a roller coaster during the following decade where the train saw its routing switched several times with the January 12, 1986 timetable it was extended to Carbondale and has seen this routing ever since.
It runs alongside its counterpart, the Saluki (train #390-391) providing daily service on trips that usually require 5.5 hours to complete over the 310 miles covered.
The Saluki is very recent addition to the corridor, established the the October 30, 2006 to better meet demand. Both trains continue to see ridership climb, which lately has been by 10% or more each year.
Both of the trains carry roughly the same consist as the aforementioned Illinois Service with a GE P42 for power, a handful of Horizon Fleet coaches, a cafe service via an Amfleet club-dinette car.
Additionally, if Illinois is able to upgrade these routes, and others, with high speed service that could see trains eclipsing 100 mph demand will likely grow even more.  
Lincoln Service
Running between Chicago and St. Louis, the Lincoln Service offers a delightful journey through central Illinois. Passengers can experience the historic charm of Springfield, the state capital, and enjoy the beauty of the Illinois River Valley as they make their way to St. Louis. The Lincoln Service also provides a connecting service to the Texas Eagle in Springfield.
Michigan Service
Amtrak's Michigan Service connects Chicago, Illinois, to key destinations in Michigan, including Detroit, Ann Arbor, and Pontiac.
This service offers a vital transportation link between the two states, allowing passengers to easily travel for business, leisure, or to visit family and friends. With multiple daily departures, travelers have the flexibility to plan their trips according to their schedules, making it a convenient choice for intercity travel.
Key Stops in Illinois
While the primary focus of the Michigan Service lies in Michigan, the route also includes a few notable stops within Illinois, enhancing the connectivity between the two states. Some key stops in Illinois include:
Chicago: Serving as the starting point of the Michigan Service, Chicago offers a gateway to a myriad of attractions, including world-class museums, iconic architecture, and a vibrant food scene. The city's bustling energy and cultural richness make it an excellent place to embark on a journey to the Great Lakes State.
Hammond-Whiting: Located in northwestern Indiana, this station is just across the state border from Illinois. Passengers can easily access this station from the Chicago metropolitan area, offering a convenient option for residents of Illinois seeking to connect to the Michigan Service.
Michigan Delights and Cultural Gems
Detroit: The Michigan Service connects travelers to the vibrant city of Detroit, known for its rich automotive history, thriving arts scene, and revitalized downtown area. Visitors can explore iconic attractions like the Detroit Institute of Arts, Motown Museum, and the Detroit Riverfront, immersing themselves in the city's unique charm.
Ann Arbor: Renowned for its esteemed University of Michigan, Ann Arbor exudes a lively college-town atmosphere. Passengers can explore the university campus, wander through the charming downtown district, or attend cultural events and festivals that reflect the city's vibrant arts community.
Texas Eagle
The Texas Eagle route spans from Chicago to San Antonio, Texas, passing through several Illinois cities such as Joliet, Bloomington-Normal, Springfield, and Carbondale. This service offers a unique opportunity to embark on a multi-state adventure, experiencing the diverse cultures and landscapes of the Midwest and the Southwest.

Cardinal
Amtrak's Cardinal service offers an enchanting and picturesque journey through the heart of Illinois. This long-distance train route connects Chicago to New York City, passing through stunning landscapes, charming towns, and iconic destinations. 
Key Stops in Illinois
While the Cardinal's route spans multiple states, it stops at several notable destinations within Illinois, allowing passengers to explore the state's rich history and cultural offerings. Some key stops include:
Chicago: The journey begins in Chicago, where passengers can experience its world-class museums, iconic architecture, and bustling urban energy. With its diverse culinary scene and vibrant arts and entertainment options, Chicago provides an excellent starting point for the Cardinal's Illinois leg.
Champaign-Urbana: Located in east-central Illinois, Champaign-Urbana is home to the University of Illinois and offers a charming blend of college-town ambiance, cultural attractions, and a lively arts scene. Visitors can explore the university campus, visit museums, or enjoy local restaurants and cafes.
Mattoon: Nestled in the heart of Coles County, Mattoon offers a glimpse into small-town charm and hospitality. Passengers can explore local boutiques, discover historic landmarks, or enjoy a leisurely stroll in the picturesque Peterson Park.
Effingham: Known as the "Crossroads of Opportunity," Effingham is a vibrant city with a rich history and a thriving arts and culture scene. Visitors can explore the Effingham Performance Center, visit local museums, or take in the beauty of Lake Sara.
City of New Orleans
Amtrak's City of New Orleans offers a historic journey through Illinois, showcasing the state's vibrant cities, scenic landscapes, and rich cultural heritage. This long-distance train route connects Chicago to New Orleans, passing through the heart of Illinois and offering passengers a unique perspective on the state's history, music, and hospitality. 
Key Stops in Illinois
While the City of New Orleans route stretches from Chicago to New Orleans, it stops at several significant destinations within Illinois, each offering its own allure and cultural experiences. Some notable stops include:
Chicago: The journey begins in the bustling metropolis of Chicago, where passengers can explore iconic attractions such as Millennium Park, Navy Pier, and the Art Institute of Chicago. The city's vibrant music scene, from blues clubs to jazz lounges, sets the stage for an unforgettable start to the journey.
Homewood: Located south of Chicago, Homewood is known for its rich history and charming downtown area. Passengers can explore local shops, dine at cozy restaurants, and soak up the town's welcoming atmosphere.
Kankakee: This riverside city offers a blend of natural beauty and cultural attractions. Passengers can enjoy a stroll along the scenic Kankakee Riverwalk, visit the Kankakee County Museum, or discover local art galleries.
Carbondale: Located in southern Illinois, Carbondale is home to Southern Illinois University and is a vibrant college town. Passengers can explore the university campus, discover local arts and music scenes, or venture into the nearby Shawnee National Forest for outdoor adventures.
Empire Builder
Amtrak's Empire Builder service offers a majestic and captivating journey through the state of Illinois. This renowned long-distance train route connects Chicago to major cities in the Pacific Northwest, providing passengers with breathtaking views of Illinois' diverse landscapes, historic towns, and natural wonders. 
Key Stops in Illinois
While the Empire Builder's route extends beyond Illinois, it makes notable stops within the state, allowing passengers to explore and discover its hidden gems. Some of the key stops include:
Chicago: With its diverse culinary scene and vibrant cultural offerings, Chicago serves as an excellent starting point for the Empire Builder's Illinois leg.
Galesburg: Located in western Illinois, Galesburg is a city steeped in history and charm. Passengers can explore the Galesburg Railroad Museum, visit Carl Sandburg's birthplace, or wander through the historic downtown district with its unique shops and boutiques.
Princeton: This picturesque town is known for its preserved historic architecture and quaint Main Street. Passengers can take a leisurely stroll, browse antique shops, or indulge in local cuisine.
Mendota: Located in north-central Illinois, Mendota provides a glimpse into small-town America with its charming downtown, historic sites, and welcoming community. Visitors can explore the Union Depot Railroad Museum or enjoy a peaceful walk along the scenic Hume-Carnegie Museum Trail.
California Zephyr
Amtrak's California Zephyr offers a breathtaking journey through the heart of Illinois. This iconic long-distance train route connects Chicago to the West Coast, traversing the state and showcasing Illinois' stunning landscapes, historic towns, and cultural heritage. 
As the California Zephyr winds its way through Illinois, passengers are treated to mesmerizing vistas and encounters with the state's natural splendors. The train journey reveals the beauty of Illinois' rolling prairies, picturesque rivers, and charming small towns.
The route also offers glimpses of the mighty Mississippi River and showcases the changing landscapes as travelers move from the bustling cityscape of Chicago to the serene countryside.
Key Stops in Illinois
While the California Zephyr's route extends beyond Illinois, it makes notable stops within the state, allowing passengers to explore and appreciate its hidden treasures. Some key stops include:
Chicago: The journey commences in the vibrant city of Chicago, where passengers can immerse themselves in its world-class attractions, cultural institutions, and renowned architecture. 
Princeton: Nestled in north-central Illinois, Princeton beckons with its preserved historic charm. Passengers can explore the town's charming Main Street, discover unique shops and galleries, or visit the Lovejoy Homestead, which pays homage to abolitionist Owen Lovejoy.
Galesburg: Steeped in history, Galesburg offers passengers a glimpse into the past. Visitors can explore the Galesburg Railroad Museum, take a walk through the historic downtown district, or learn about Carl Sandburg's legacy at the Carl Sandburg State Historic Site.
Quincy: Located along the Mississippi River, Quincy is rich in history and architectural beauty. Passengers can admire the city's well-preserved Victorian-era buildings, explore the Quincy Museum, or stroll along the riverfront for scenic views.
In addition to Amtrak, Illinois boasts an extensive commuter rail network operated by Metra. Primarily serving the Chicago metropolitan area, Metra connects the city's suburbs with downtown Chicago, providing an efficient and convenient mode of transportation for daily commuters.
With multiple lines, including the Union Pacific North, BNSF Railway, and Metra Electric, travelers can easily access various neighborhoods, downtown attractions, and business districts.
For commuters traveling between South Bend, Indiana and Chicago, the 90-mile South Shore Line is a convenient transportation option that seamlessly combines efficient travel with affordability and breathtaking scenic views.
Operating since the early 1900s, the South Shore Line has been a reliable mode of transportation for thousands of passengers, connecting communities, businesses, and travelers along its route. 
While convenience and reliability are undoubtedly key factors in the popularity of the South Shore Line, the stunning scenic beauty along its route is an added bonus that sets it apart from other commuter train services.
As the electrified trains glide along the tracks, passengers are treated to breathtaking views of the picturesque Indiana Dunes National Park, the tranquil shores of Lake Michigan, and the charming landscapes of the region. Whether you're a nature enthusiast or simply appreciate the serenity of a scenic journey, the South Shore Line offers a feast for the eyes during your commute.
Future Developments
Illinois is also investing in the future of passenger rail by actively pursuing projects that will enhance connectivity and improve service.
The proposed Chicago-St. Louis Higher-Speed Rail project aims to reduce travel times and enhance reliability on the Lincoln Service route. Additionally, efforts are underway to establish new routes, such as the proposed Chicago-Rockford service, which would offer increased connectivity to northern Illinois.
---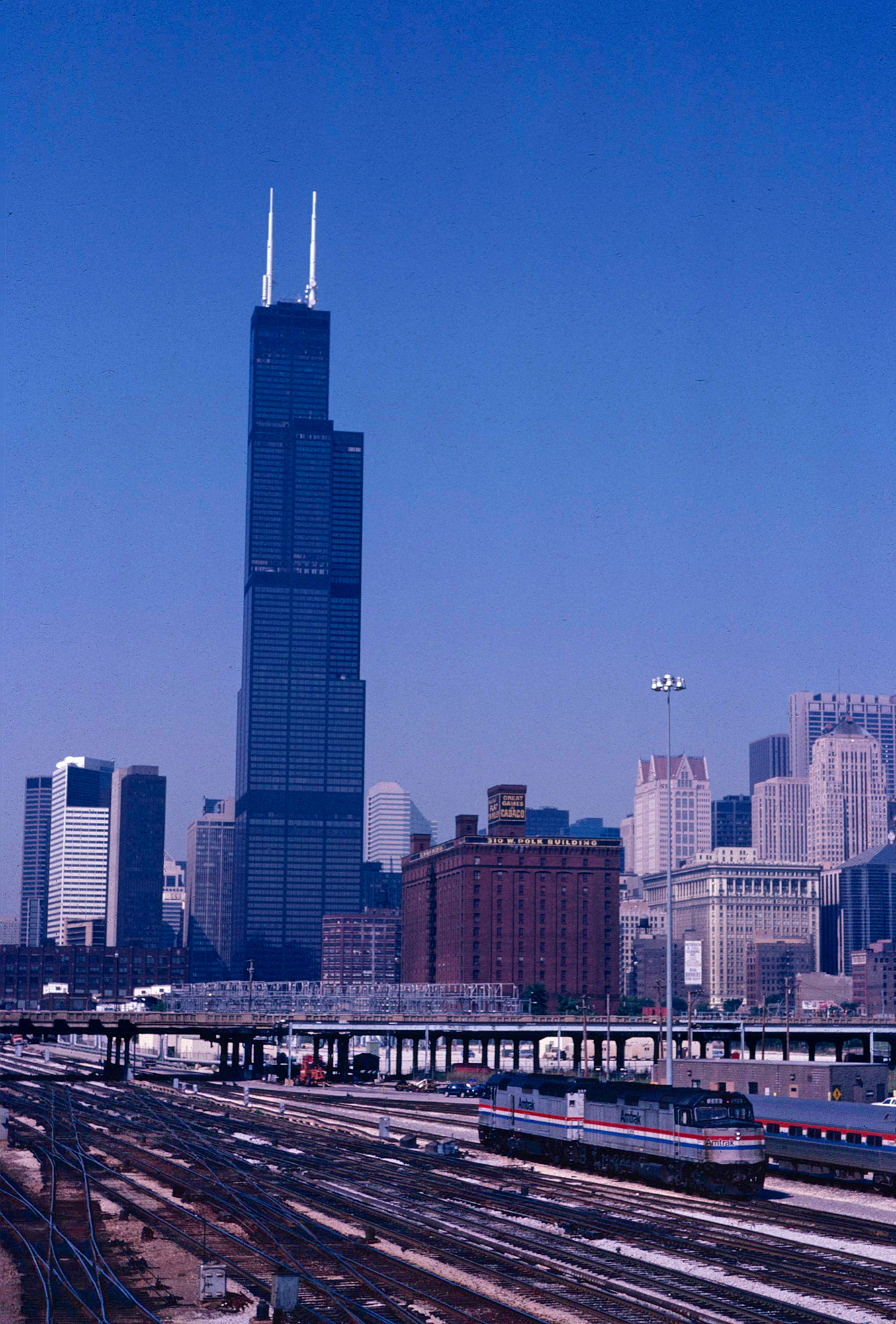 Amtrak F40PH's sit outside of Chicago Union Station as Sears Tower looms in the background during September of 1987. American-Rails.com collection.
Conclusion
Passenger rail services in Illinois provide an excellent opportunity to explore the state's vibrant cities, picturesque landscapes, and cultural treasures. Whether you're traveling within the state or embarking on a longer journey, the combination of Amtrak's routes and Metra's commuter rail network ensures seamless connectivity and convenience. Embrace the charm of rail travel and embark on an adventure through Illinois to discover the unique experiences this diverse state has to offer.