Los Angeles Union Station

Last revised: April 28, 2023
By: Adam Burns

Union Station Los Angeles (LAUS), better known as its original name, Los Angeles Union Passenger Terminal (LAUPT) is one of the best-recognized such facilities in the western United States.

When built LAUPT was served by the Union Pacific, Southern Pacific, and Santa Fe hosting some of the West's most prominent passenger trains.
Unfortunately, it was completed during the waning days of rail travel as the public abandoned trains for other modes of transportation.  
The station's high water mark occurred only during its first decade of operation.  After World War II its importance dwindled but its fate proved far brighter than several others across the country.
Despite its late construction LAUPT has been in continual use since it opened and is ready to handle the resurgence of passenger rail in the 21st century.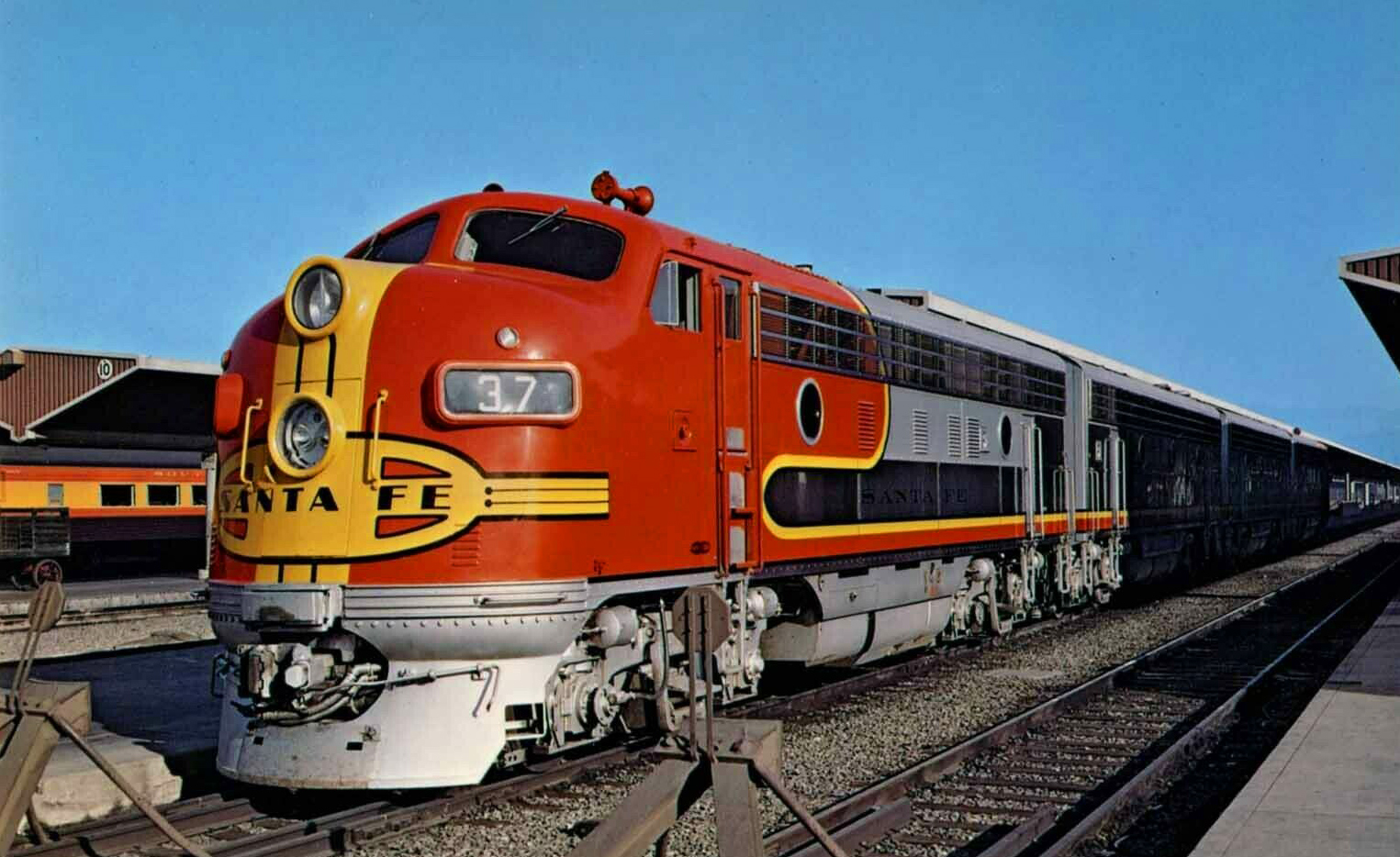 This stunning Santa Fe publicity photo features F7A #37-L at Los Angeles Union Passenger Terminal with the flagship, "Super Chief," circa 1950. Note the Southern Pacific train at left.
History
Los Angeles owes its growth to the railroad.  California's first was the small Sacramento Valley, which opened a 22-mile line connecting Sacramento with Folsom in early 1856.  
However, the city wouldn't receive its first train until the Los Angeles & San Pedro opened a 21-mile route between San Pedro Bay and Los Angeles on October 26, 1869.
At the time the small community numbered only around 5,000 residents but would explode over the next three decades to more than 100,000.  During this time the West's three principal railroads would reach Los Angeles.  
---
Union Station At The Oscars
In 2021, Union Station added another historical notch in its belt by playing host to the 93rd Oscars on April 25th.  The station has made numerous cameos in movies and commercials over the years.
One of the most recent was scenes in the 2012 movie "The Dark Knight Rises" in which the facility played host to Bane's faux courtroom.
---
The first was the Southern Pacific, which conquered the Tehachapi's (via the grand Tehachapi Loop still in service today) and completed a link to Los Angeles via San Francisco on September 5, 1876.
The second was the the Atchison, Topeka & Santa Fe (Santa Fe), incorporating a subsidiary known as the San Bernardino & Los Angeles Railway on November 20, 1886.  This little system linked its namesake cities less than a year later on May 31, 1887.
Finally, there was the Union Pacific, the last to arrive.  It opened service to the City of Angels in 1905 with the completion of subsidiary Los Angeles & Salt Lake.  
All three railroads served different passenger terminals at this time.  According to the KCETLink article, "Lost Train Depots of Los Angeles," by Nathan Masters the city's first depot was built by Southern Pacific predecessor Los Angeles & San Pedro, which opened a very small facility at the southwest corner of Commercial and Alameda Streets on October 26, 1869.  
In the following half-century SP would construct a handful of different terminals, each a bit more architecturally impressive than the previous.  The first was River Station which opened in 1876 at the current site of the Los Angeles State Historic Park.  
Unfortunately, the public never cared much for this terminal, located within the railroad's bustling freight yards and very far from the downtown area.  
Just over a decade later it was replaced by Arcade Station in 1888.  A wooden structure built in the Victorian style it was located at Fourth Avenue and Alameda Street.  
A far improvement from earlier terminals, Arcade was elegant both inside and out situated in a much better location but as the city continued to grow SP realized yet another facility would be needed.  
In 1912 it announced plans for this new terminal called Central Station.  
According to Holly Kane's thesis entitled, "Arriving in Los Angeles: Railroad Depots As Gateways To The California Dream," it was built by the firm Parkinson & Bergstrom, which based its design from Washington Union Station (D.C.) in the Beaux-Arts style.  It opened in 1914 and remained in regular use over the next two decades.
The Santa Fe's station was arguably the most handsome.  Named the La Grande Station and located at the corner of Santa Fe Avenue and Second Street it was the work of company employee Frank Levet.  
The brick terminal was a lavish facility featuring an intricate roofline of towers and domes, culminating in the great Moorish Dome above the building.  
While it was damaged in the 1933 Long Beach Earthquake (resulting in the removal of its great dome) it remained Santa Fe's primary station until Los Angeles Union Passenger Terminal was built.  
Lastly was Union Pacific's simple but elegant two-story Victorian station completed by predecessor Los Angeles & Salt Lake (LA&SL) in 1891.  
Appearing as a classic "Gingerbread" style structure with ornate trim and brackets the wooden building sat across the Los Angeles River from La Grande Station.
In early 1915 the LA&SL began plans for a new terminal, even hiring architects Sumner Hunt and Silas Burns. 

However, it was ultimately never built and after catching fire on March 11, 1924 Union Pacific elected to share Southern Pacific's Central Station.  
The idea for what later became today's union station began as early as 1911 when the Los Angeles City Council first studied the project.  
Then, it gained significant traction with the California Railroad Commission's report released in 1920 detailing that the facility would cost nearly $11 million (a figure which proved to be almost exactly correct).  
However, delays ensued, the most pressing of which was the railroads' reluctance to build a centralized terminal.  The ensuing battle would eventually reach all the way to the U.S. Supreme Court.  The nation's top court ultimately sided with the Railroad Commission, issuing its decision on May 31, 1931.
The railroads' hesitation was not without merit.  The Great Depression hit the country hard and passenger traffic dropped precipitously, remaining low throughout the 1930s. 
They simply felt there was no need to build a costly terminal, which would never meet capacity.  However, having lost their court fight the trio begrudgingly submitted proposals and the commission selected a stub-ended design in early 1932.  
Yet, for another year the three railroads continued to fight the terminal's construction but finally announced on June 16, 1933 they would suspend these efforts.
What became known as Los Angeles Union Passenger Terminal (LAUPT) was located within Los Angeles' original Chinatown along what is today North Alameda Street and East Cesar E. Chavez Avenue.  
Construction
As Brian Solomon notes in his book, "Railway Depots, Stations & Terminals,"  Union Station Los Angeles is often credited as being the last great passenger terminal built in this country.  
Its architecture was a mix of California's traditional mission-style with Art Deco touches. The facility, utilizing 25.5 acres, was completed at a cost of $11 million in 1939 financed by the Union Pacific, Santa Fe, and Southern Pacific.
The history of what would become LAUPT dates back to 1926 when the city gave residents the option of voting for a new train station or build an "El", also known as an elevated railroad.
They would narrowly pass the measure and despite some the previously mentioned controversy the new station greatly improved traffic flow by allowing both trains and passengers to meet at a centralized location.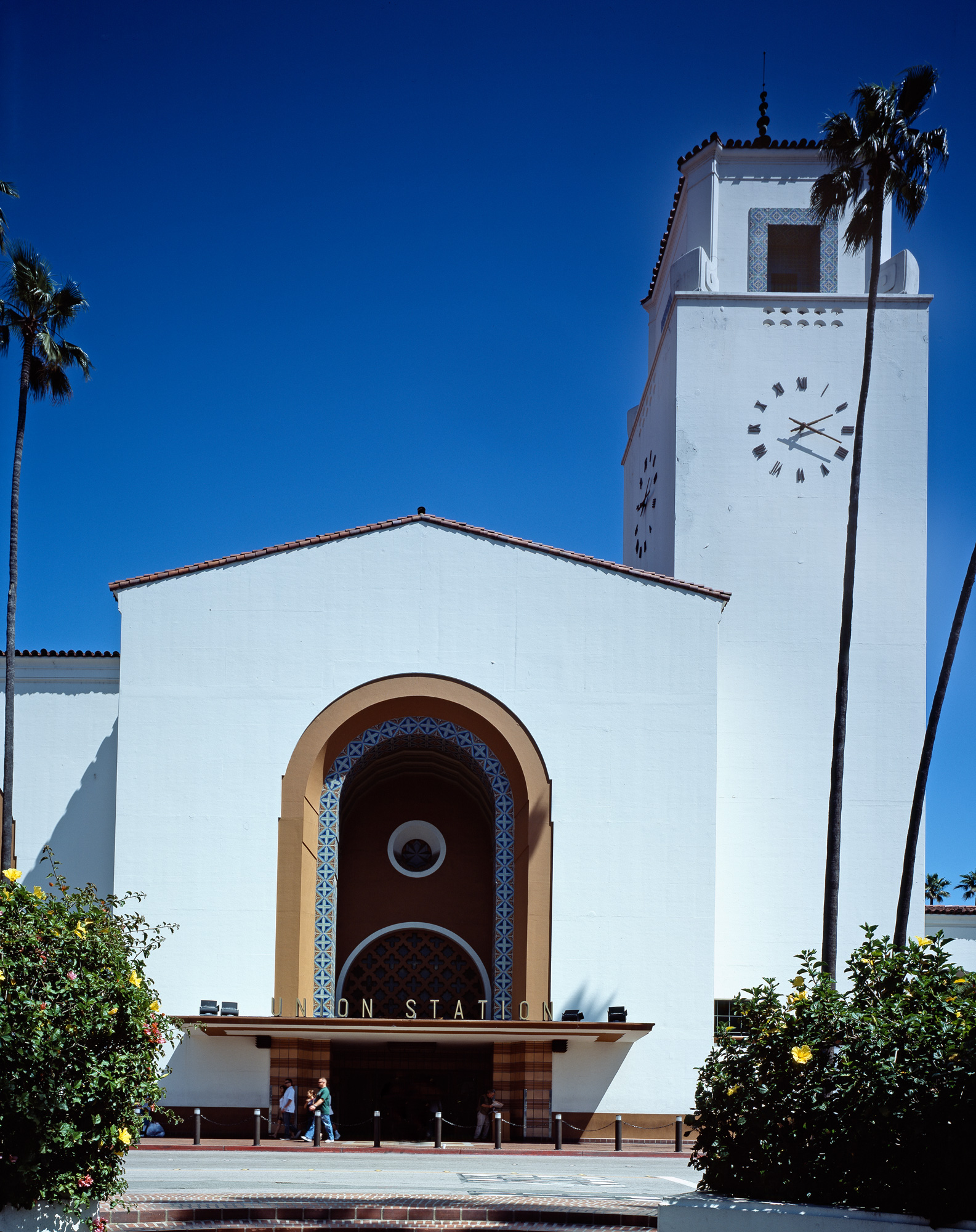 The clock tower at front entrance at Los Angeles Union Station as seen in 2005. Carol Highsmith photo.
Los Angeles Union Passenger Terminal was designed by John Parkinson and Donald Parkinson, a father and son architect team, and its overall finished appearance fit in very well with the region in which it was located.
In addition to their work each railroad hired their own architects including H. L. Gilman for the Santa Fe, J.H. Christie for Southern Pacific and R. J. Wirth for Union Pacific. 
While the building's design carried an overall Spanish Mission theme it also employed elements of the Dutch Colonial Revival and Streamline Moderne styles.
For instance, inside Union Station Los Angeles one could find terra cotta tiles and Travertine marble used to create beautiful floor designs while interior garden patios gave the terminal a unique feel that most simply did not have. 
Considering the late era in which it was constructed, LAUPT was a beautiful building that evoked earlier masterpieces such as Grand Central Terminal, King Street Station, St. Louis Union Station, and others.

Unfortunately, John Parkinson would not live to see LAUPT completed, passing away during its planning stages on December 9, 1935.  
When Los Angeles Union Passenger Terminal opened in 1939 a fabulous railroad gala was held mirroring the "Pageant of the Iron Horse" which had taken place in Baltimore during 1927.  
Bill Bradley notes in his book, "The Last Of The Great Stations," that LAUPT attracted a half-million visitors for its grand opening.  The first scheduled train to arrive was Southern Pacific's Imperial, a secondary transcontinental service to Chicago.
Unfortunately, the terminal had long since missed the "Golden Age," which peaked during the first few decades of the 20th century but did witness throngs of travelers during World War II.  
At this time the facility witnessed over 7,000 folks and 100 trains daily. The station also saw its three builders' most prominent passenger trains with names like the Santa Fe's Super Chief and El Capitan, Southern Pacific's Sunset Limited and Daylight, and the Union Pacific's City of Los Angeles.
Modern Era
According to architect Paul Hunter in Tom Zoellner's book "Train" Union Station Los Angeles provided a grand entrance into the city and Southern California:
"Certainly I know of no other city in which arriving passengers leave the station through an open patio, filled with bright flowers, shady pepper trees, and flanked with tall palms. 
This scheme undoubtedly originated with publicity men, but they have certainly hit upon the ideal introduction to Southern California."  
Rail travel slowly died away after the war as folks found automobiles much more convenient and airlines a faster means of traveling from city to city.  
As the public abandoned trains the famous consists had largely stopped calling to LAUPT by 1970 and were gone altogether by 1971 when Amtrak took over most of the nation's intercity passenger services.

Thankfully for both architecture's sake and that of our transportation infrastructure LAUPT (renamed Union Station Los Angeles, LAUS for short, by one-time owner Catellus Development) found new life beginning in the 1990s.  
Prior to this the facility had limped along under Amtrak serving a few of the carrier's long-distance trains. In 1992 the station was completely restored and, its future continues to look bright:
"The most visible change is the Gateway Center, a bus terminal and park & ride facility which provides better connections between buses and trains.
The Gateway, which opened in October 1995, also includes shops, restaurants and offices, all located on the Union Station property.
In the 21st century, Union Station Los Angeles will also be a major destination in the proposed high-speed rail system for California."
(The previous was courtesy of Los Angeles Rail Transit.)  
---
Today, Los Angeles Union Station is owned by the city after it was purchased in the spring of 2011 following approval of the Metro Board.
In 1980 it was placed on the National Register of Historic Places and is one of the city's true landmarks. Amtrak still calls five of its intercity passenger trains to the terminal (Coast Starlight, Pacific Surfliner, Southwest Chief, Sunset Limited, and Texas Eagle) while commuter service Metrolink makes six station stops to the terminal via all of its different lines.
Additionally, the terminal continues to use all of its original 14 staging tracks although the stub-ended design is increasingly becoming a considerable liability as service continues to increase.  
Due to this bottleneck there are plans to convert several of the staging tracks as run-through corridors, which should greatly help efficiency.   To read more about Union Station Los Angeles's history please click here.