Steam locomotives were nothing new even by 1830 as Richard Trevithick of England was the first to successfully develop such when he showcased his initial design on February 21, 1804. The English were also the first to begin building and developing railroads around the same time, more than 20 years before such means of transportation began to appear in the States. Until the development of Stephenson's Rocket, locomotives were built with a single pipe within the boiler to transfer heat between the exhaust gasses and water, which produced steam to drive the pistons that then drove the rods and wheels. Additionally, most early steamers featured vertically mounted pistons that not only caused the locomotive to be unstable when in operation (causing it to sway) but also resulted in a bumpy, and uneven ride for passengers.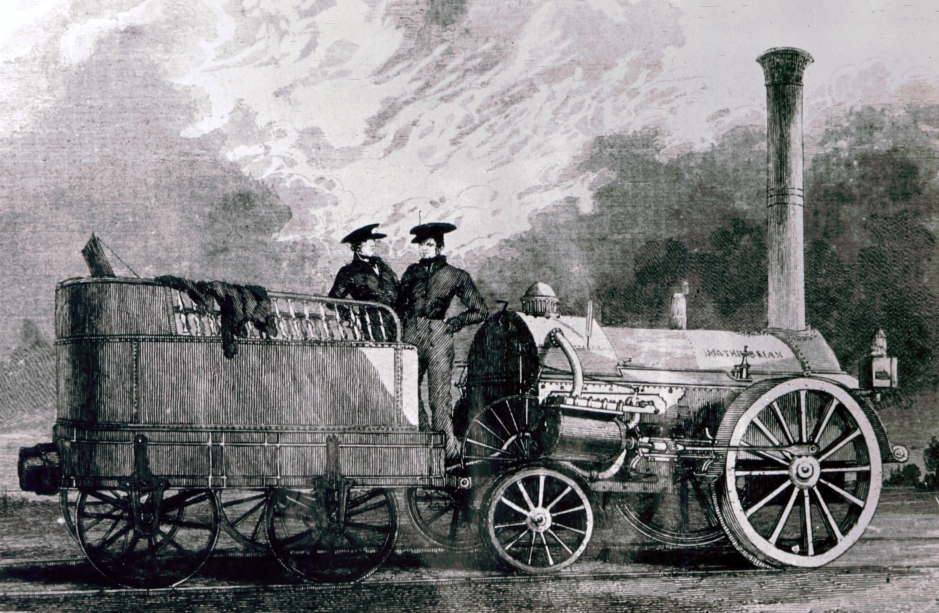 Credit for the Stephenson's Rocket has often been given to father, George Stephenson, although it remains unknown how much outside help he had in creating the new design particularly from his son, Robert. In any event, the purpose behind the locomotive's creation in the first place was to test new models for the Rainhill Trials being held by the Liverpool & Manchester  Railway in an attempt to build a technologically advanced machine that surpassed all others of its day. These trails were held in Rainhill, Lancashire (England) along the nearly completed L&MR. Several stipulations were set forth for the trails, however: locomotives must be started cold and able to then travel 35 miles with ten trips at 1.75 miles per journey; if fuel (water and wood/coal) is included on aboard it could be added as part of the locomotive's weight although may be subtracted; fuel was to be refilled after each trip; and finally all trips were to be accurately recorded.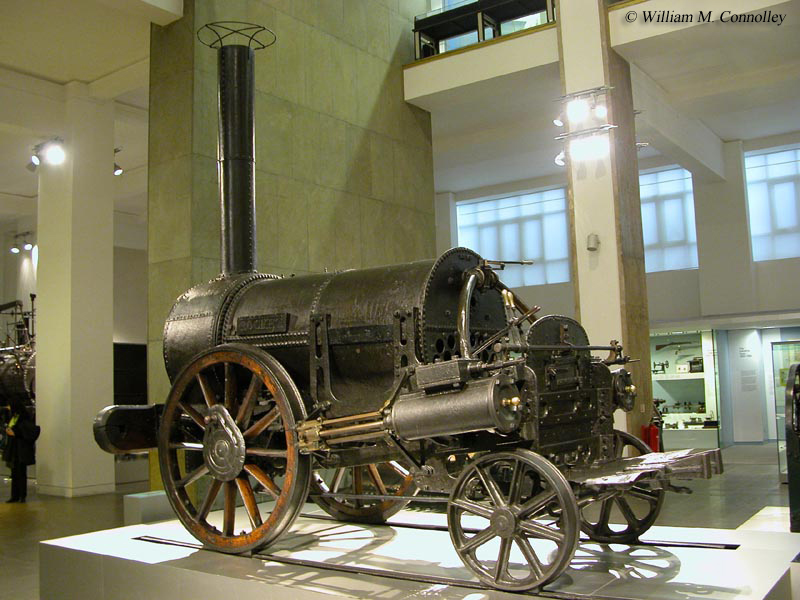 In total, five locomotives took part in the October 6, 1829 trials the Cycloped, Novelty, Perseverance, Rocket, and Sans Pareil. The Stephensons' locomotive was just four tons and burned coke, a more refined bi-product of coal. It featured a rather odd 0-2-2 wheel arrangement with just one axle of drivers, powered by pistons set at 35-degree angle. This setup gave the steamer more stability while in operation. Its firebox was unique in that it was separated from the boiler and surrounded by water with multiple copper flues (pipes) leading through the boiler, submerged in water themselves. This was then transferred to steam and sent to the two pistons, which drove the lead drivers. The addition of so many copper pipes made for a more efficient, and powerful, use of steam, which generated more speed and horsepower.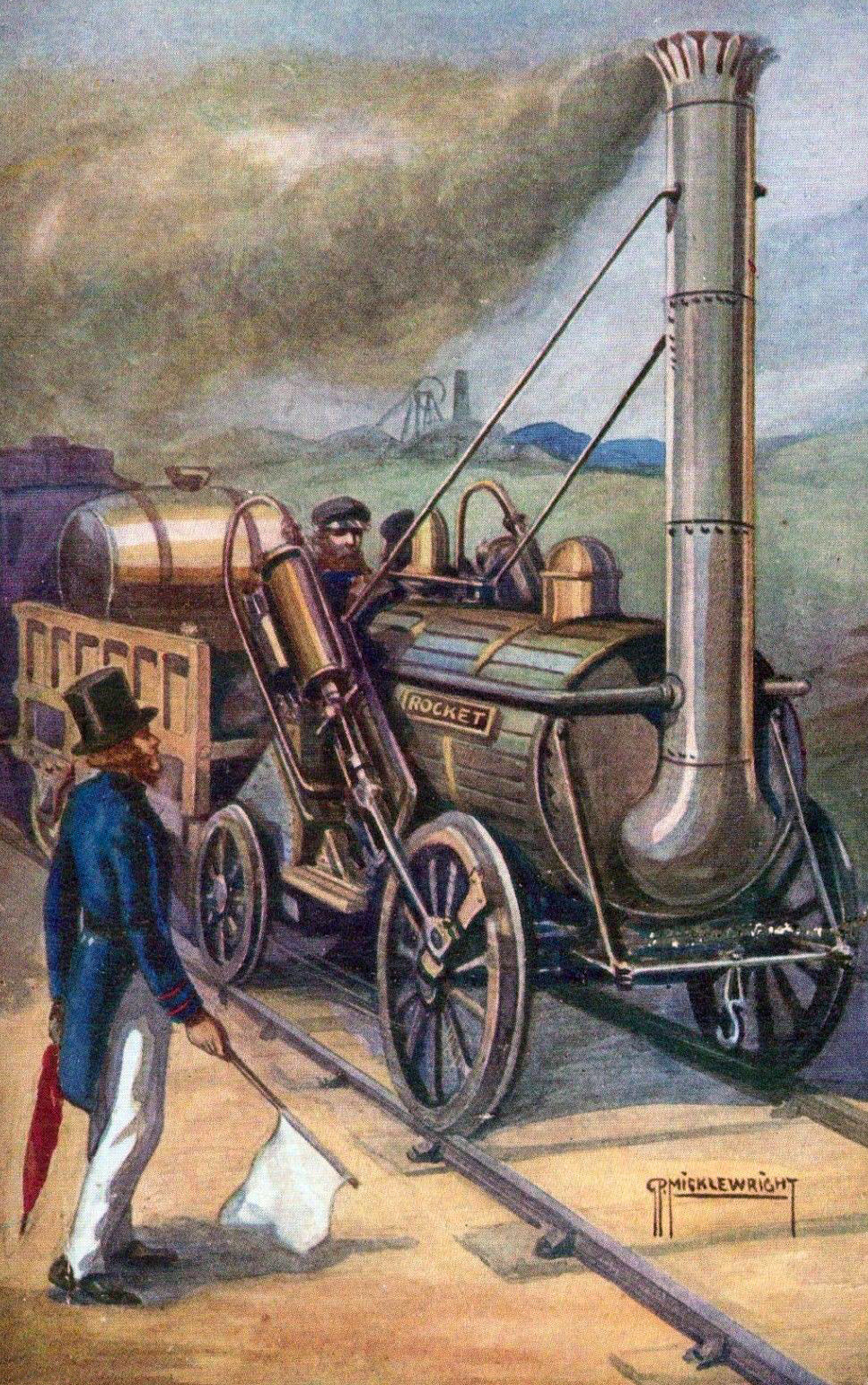 The Stephenson's Rocket was also the first to use a blastpipe. This contraption worked as a vacuum to feed spent steam from the pistons towards the base of the smokestack and by doing so pulled in air through the firebox. Oxygen, of course, allows fires to strive and the blastpipe allowed for more heat and efficient operations. During the trails the Rocket reached speeds of 24 mph to the spectacle of 15,000 folks in attendance the fastest of any locomotive that participated (it also completed 20 trips, twice the number specified in the rules). For its first few years of service the little 0-2-2 was used on the aforementioned Liverpool & Manchester Railway, which connected its namesake cities. After being sold for use on the Lord Carlisle's Railway, which served Tindale and Kirkhouse, it was retired in 1840.

In 1862 the locomotive was recognized for its historical significance and donated to London's Patent Office Museum still in relatively good condition but somewhat modified from its original design (such as nearly horizontal pistons that were no longer angled to 35 degrees). Today, the original Stephenson's Rocket is on full display at London's Science Museum albeit no longer sporting its trailing carriage (tender). Of note, there is also a replica of the locomotive on display at Nuremberg's Transport Museum in Germany. This version more closely resembles what the original model looked like and also features a matching tender.   To learn more about the Stephenson's Rocket please click here to visit the Science Museum's official website. 
Related Reading You May Enjoy


Home

›

Steam Locomotives

› Stephenson's "Rocket"